Baked chicken drumsticks (aka, baked chicken legs) are a simple and crazy delicious main dish that you will want to eat on repeat.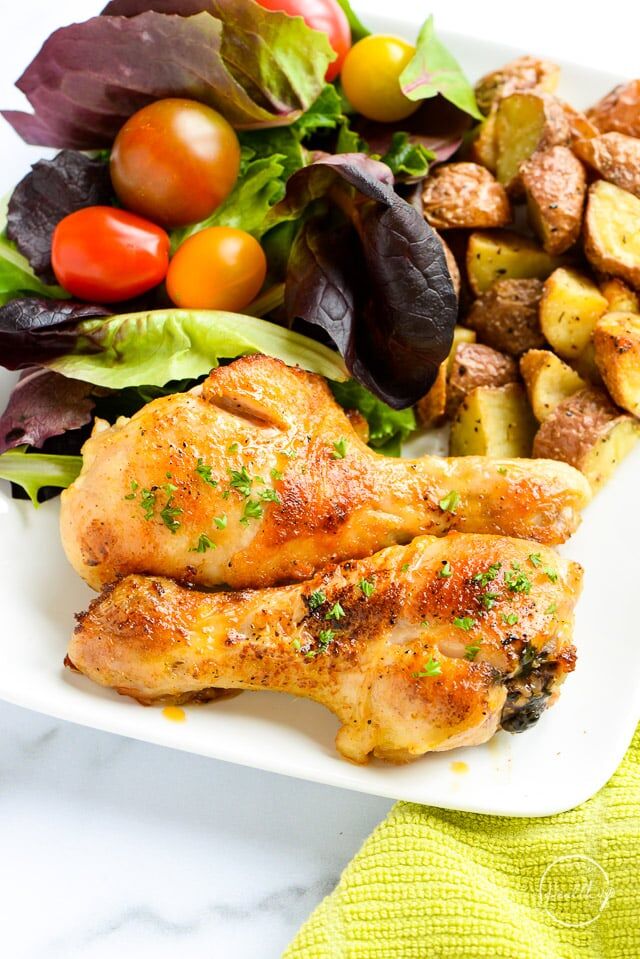 My family goes crazy for these baked chicken legs! Side note: What do you call them? Chicken legs? Or drumsticks?🧐Forgive me if I use these interchangeably throughout this post! Because I call them both.🙃
They make the house smell amazing while they are cooking, and they are easy enough to make on a weeknight. Pair them with a couple simple sides, and you have dinner.
We are huge ButcherBox fans over here, and they offer up specials every now and then, and we purchased (for a one time fee) 3 pounds of chicken legs in every one of our monthly boxes. For. Life. 🎉🎉🎉 Such a great deal!
Try out ButcherBox now and get 2 pounds of ground beef for life if you purchase through this link. (👈🏻affiliate link, but I purchase my own box every month.)
So we end up eating these baked chicken drumsticks a couple times a month, and none of us are mad about it.🙃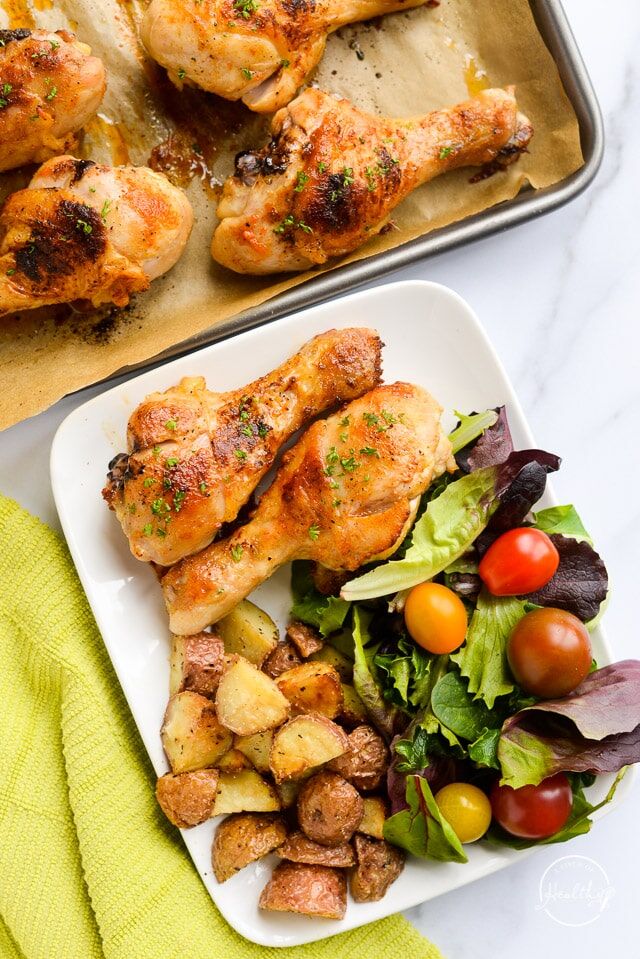 How to prep and season chicken legs
First, make sure the drumsticks are fully thawed (if you keep meat in the freezer). Then, remove the drumsticks from the package, and blot them with paper towels. This will help the skin to crisp up when you cook them.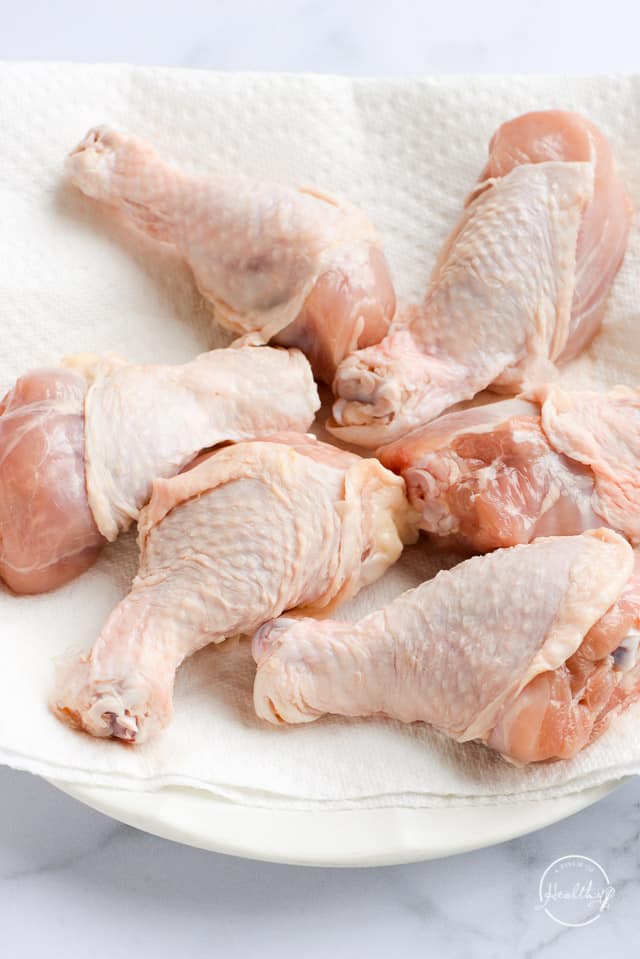 Next, transfer the drumsticks to a baking sheet, lined with parchment paper. Drizzle them with a little oil.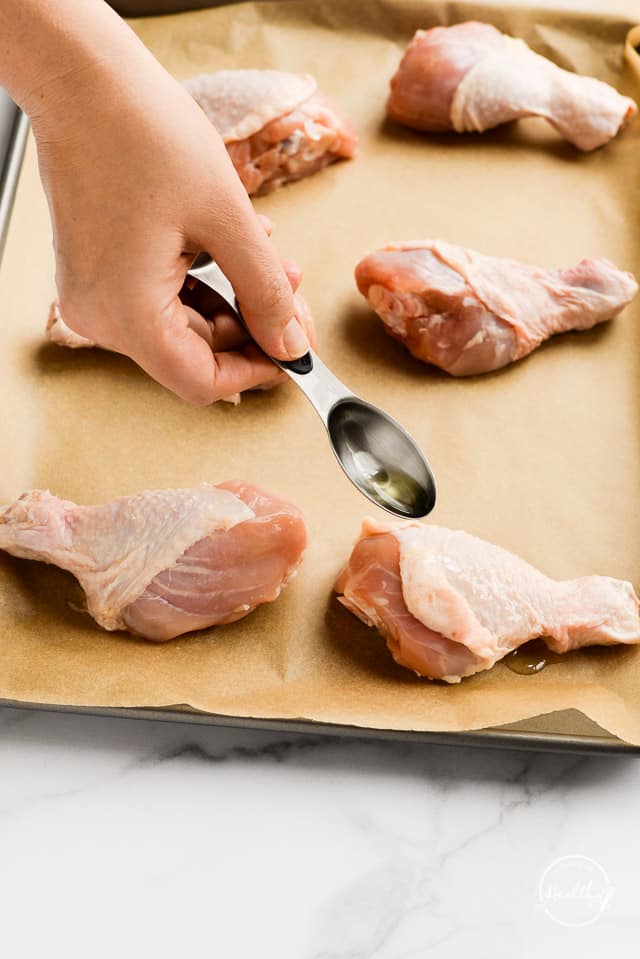 It doesn't take much! Just a little dab will do ya. 😉Then use your hand to rub it in and coat both sides.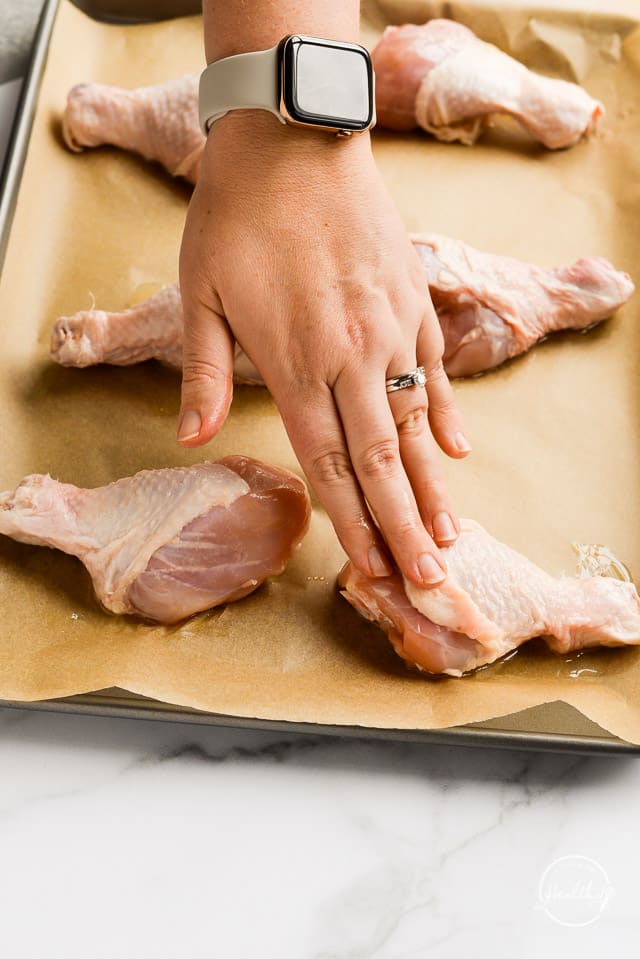 Next, sprinkle the seasoning mix on both sides. I am using a mixture of salt, pepper, garlic, onion powder and paprika. Exact amounts are in the recipe card below.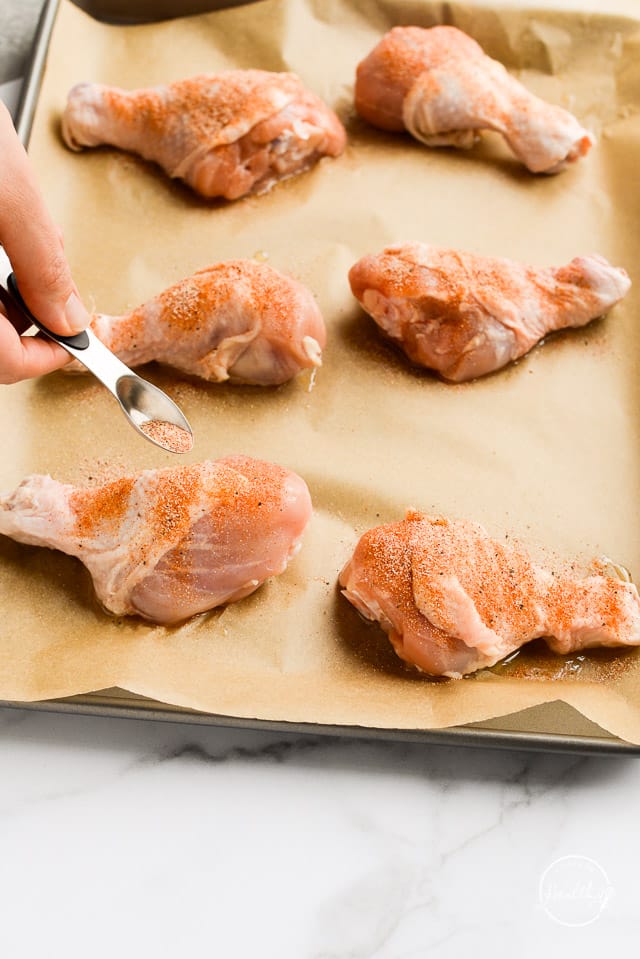 How to bake chicken drumsticks
Now that you have the chicken legs all seasoned up, it's time to bake them! Put them in an oven that has been preheated to 425 F degrees, and cook for twenty minutes.
Remove the baked chicken drumsticks, and using tongs, carefully flip each drumstick over. Return them to the oven to cook for another fifteen minutes. They come out looking like this.😍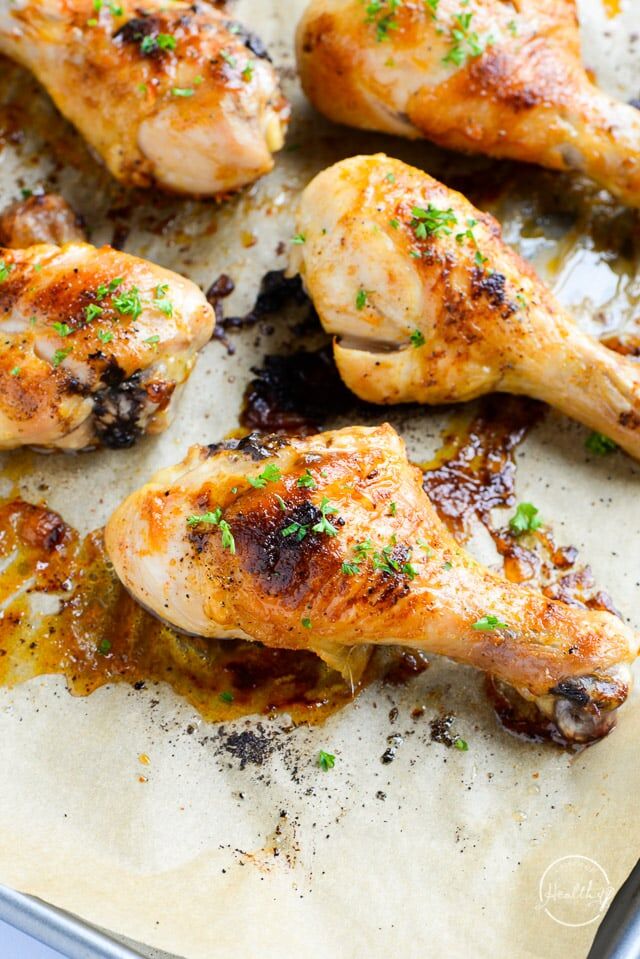 Let the baked chicken drumsticks rest for about 5 minutes before serving. We like ours with air fryer roasted potatoes and a side salad.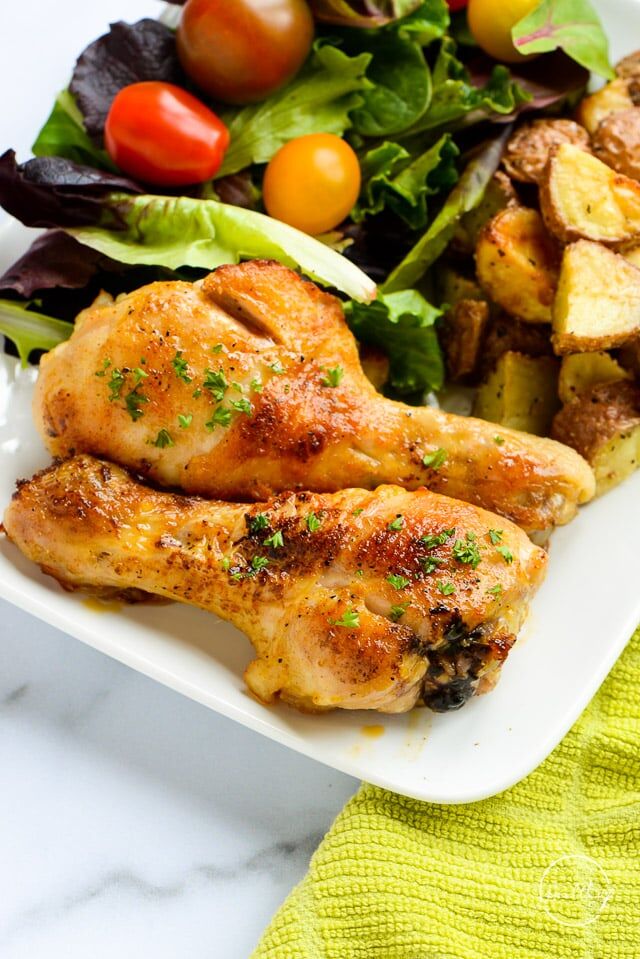 What to serve with baked chicken drumsticks
Here are some other side items (including recipe links!) that go great with baked chicken legs.
Baked chicken drumsticks recipe
Did you try my baked chicken drumsticks recipe? Give it a star rating. Pin it and share it if it looks good to you. And be sure and stay connected on social media!
Instagram | Pinterest | Facebook | YouTube | Twitter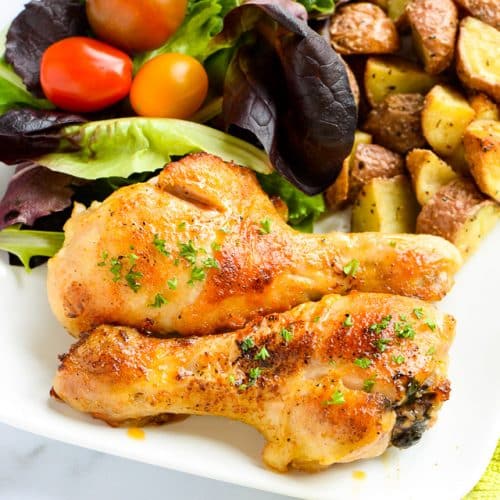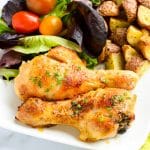 Baked Chicken Drumsticks
Baked chicken drumsticks (baked chicken legs) are a simple and crazy delicious main dish that you will want to eat on repeat. Tender, juicy, easy!
Prep Time 3 minutes
Cook Time 35 minutes
Rest time 5 minutes
Total Time 43 minutes
Servings 6 drumsticks
Calories 292 kcal
Ingredients
6 chicken legs raw, with skin
2 teaspoons avocado oil
1 teaspoon salt (I used Himalayan pink salt)
1/4 teaspoon black pepper
1 teaspoon granulated garlic (or garlic powder)
1/4 teaspoon paprika
1/2 teaspoon onion powder
Instructions
Preheat oven to 425 F degrees

Mix the salt, pepper, granulated garlic, paprika and onion powder in a small dish, and set aside.

Blot the drumsticks with paper towels, and place on a baking sheet lined with parchment paper.

Drizzle the oil over the drumsticks, and massage to coat both sides.

Sprinkle the seasoning mixture on the chicken legs; flip them over and season the other side.

Bake in the preheated oven for 20 minutes, and remove the baking sheet to a heat safe surface.

Use tongs to carefully flip each drumstick over, and return to the oven for another 15 minutes.

Remove from the oven, and allow the chicken legs to rest for about 5 minutes before serving.
Recipe Video
Recipe Notes
Nutritional information is approximate and was calculated using a recipe nutrition label generator.
Nutrition Facts
Baked Chicken Drumsticks
Amount Per Serving
Calories 292 Calories from Fat 198
% Daily Value*
Fat 22g34%
Saturated Fat 6g38%
Cholesterol 120mg40%
Sodium 496mg22%
Potassium 267mg8%
Carbohydrates 1g0%
Fiber 1g4%
Sugar 1g1%
Protein 21g42%
Vitamin A 160IU3%
Vitamin C 1mg1%
Calcium 12mg1%
Iron 1mg6%
* Percent Daily Values are based on a 2000 calorie diet.
(Visited 57,243 times, 11 visits today)