Instant pot black-eyed peas and ham is the perfect dish to make for good luck on New Year's Day, and pressure cooking makes it so easy!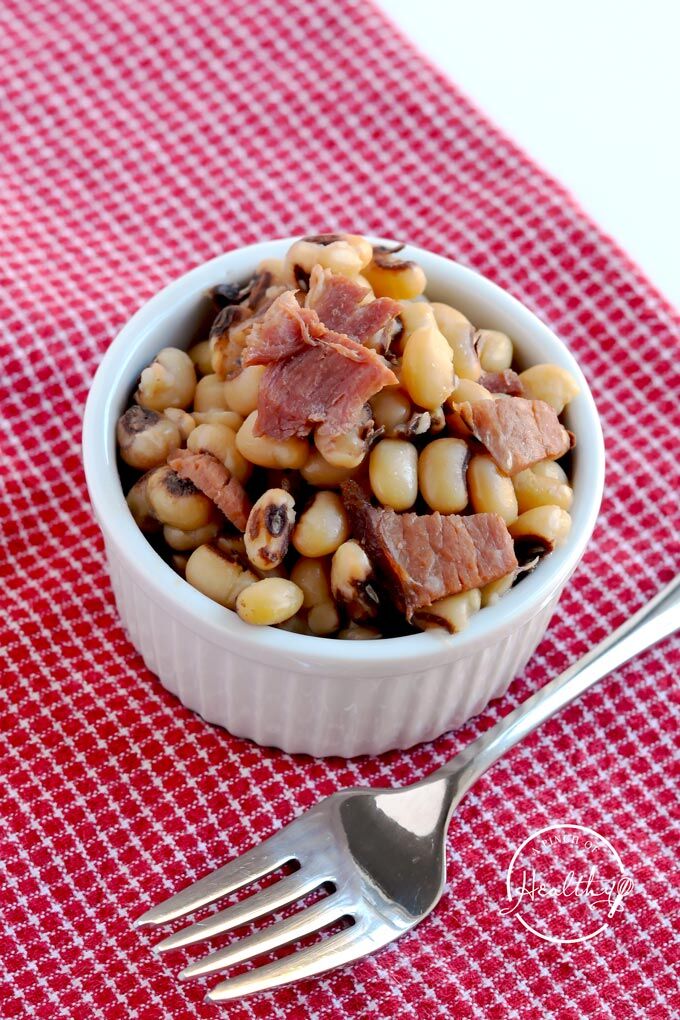 This is my favorite way to make dried black eyed peas, and we make these all times of the year.
They make a terrific side dish that is mostly hands off. And if you want a vegan/ meat-free version, I include instructions for that as well.
Note: This post contains Amazon affiliate links. See my full affiliate disclosure policy here.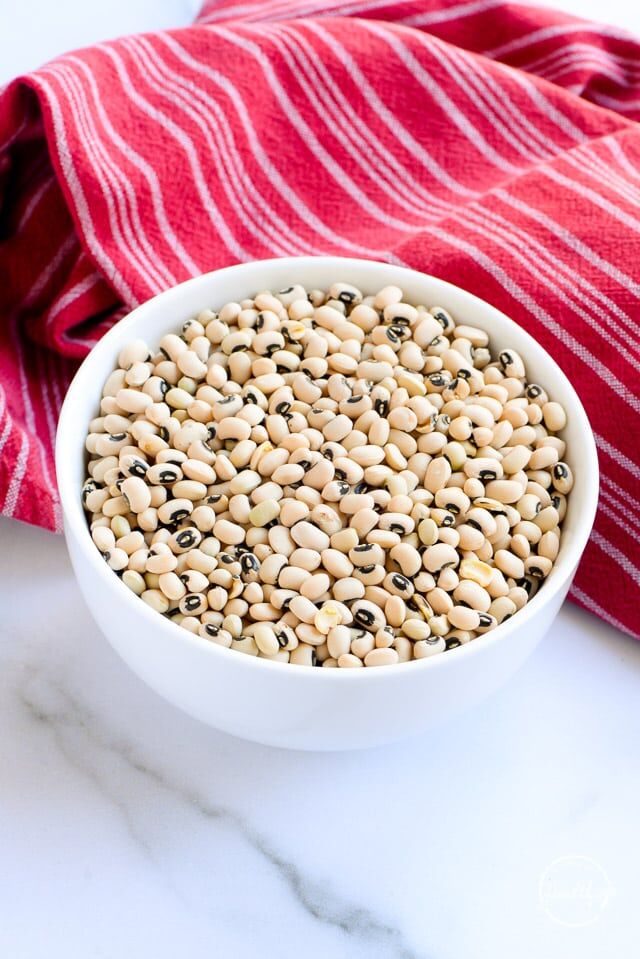 The dry beans in the bulk section at Sprouts totally caught my eye. They were practically begging to be thrown in my Instant Pot(Amazon affiliate) with our leftover Christmas ham!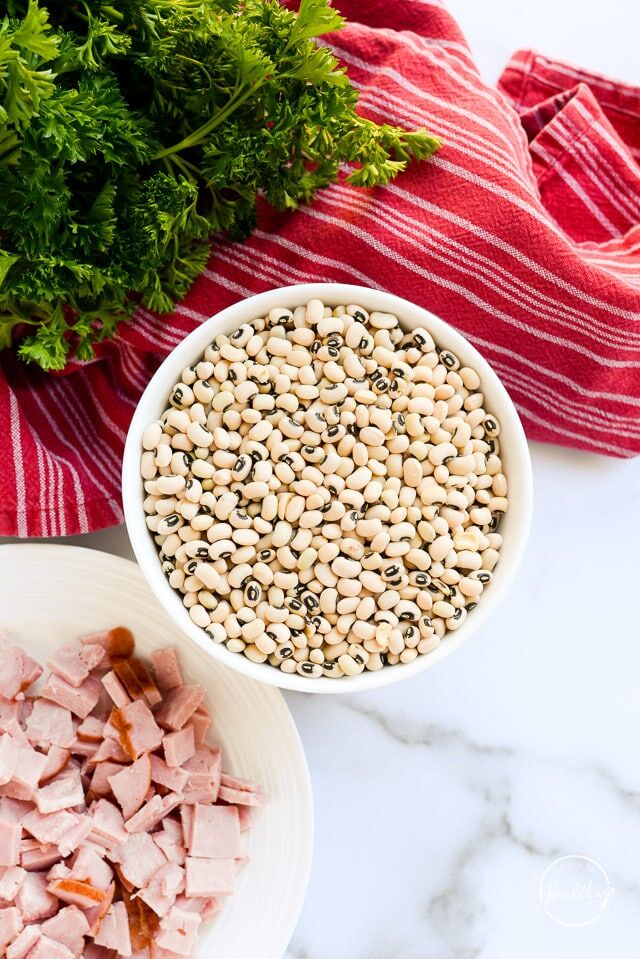 After I made them and saw how easy it was, I knew I had to share it on the blog. I mean, water plus three ingredients?! Dump it all in and press a few buttons…it doesn't get much easier than that.
Basic recipes like this with simple ingredients are really are the most used in our house.
How to make Instant Pot black eyed peas
First, gather your ingredients.
Ingredients
For Instant Pot black eyed peas, you will need the following:
Dried black eyed peas
Better than bullion ( I used the vegetable base, but chicken base works too)
water
leftover ham, diced – optional
For tastiest results, always use the best quality ingredients you have access to. You can use vegetable broth or vegetable stock in place of the bullion + water.
To soak or not soak?
I made mine from dried (not soaked) black-eyed peas. Fresh ones may not need as much cooking time.
If you have a ham hock, that would be perfect for this. Or you can use diced ham like I did here.

Adding black eyed peas to the Instant Pot
Making this recipe is super simple! Just add all ingredients to the pot, close and lock the lid, turn the lever to sealing position and start your pressure cooking cycle.
How long to cook dried black eyed peas in the Instant Pot
For tender, soft peas cook for 30 minutes on high pressure, plus 30 minutes of natural release (plus extra time to come up to pressure). This timing has worked for me dozens of times. If the Instant Pot is still sealed after 30 minutes of natural release, you can manually release any remaining pressure.
However! Some factors can cause you to need more time, such as the age of the dried peas. And honestly, you have no way of knowing this most of the time. 🤷🏼‍♀️ This recipe is adaptable, though.
The great thing about the instant pot is that it is super easy to put the lid back on and cook a few extra minutes, if needed.👌🏻
How to make vegan black-eyed peas
This recipe is super easy to modify for the vegetarians/ vegans in your life. We make it like this all the time, actually, and we are omnivores. So you know it tastes good. 👌🏻
Use the same cook time, leave out the ham (duh!😜), and use 2 tablespoons of Better than Bullion vegetable base. Alternatively, you could use chicken stock or vegetable broth/ stock.
What to serve with black-eyed peas
Here are some main dish serving suggestions that go great with black-eyed peas.
I wanted y'all to have this in time for New Year. I hope you enjoy them. Happy 2020!
Instant Pot Black-eyed Peas and Ham Recipe
Did you try my Instant Pot black eyed peas recipe? If this recipe looks good to you, pin it and share it. Give it a star rating. And be sure and stay connected on social media!
Instagram | Pinterest | Facebook | YouTube | TikTok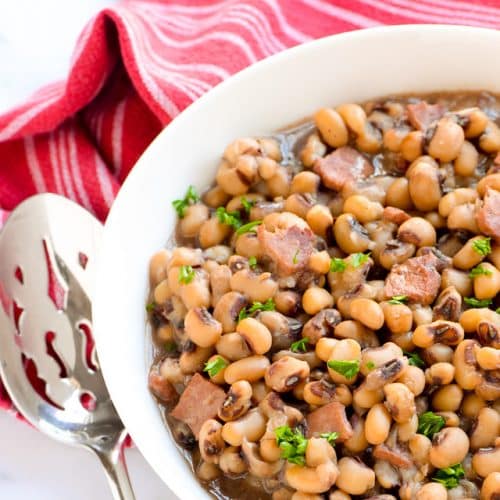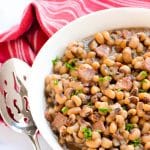 Instant Pot Black-eyed peas and Ham
Instant pot black-eyed peas and ham is the perfect dish to make for New Years Day, and pressure cooking makes it so easy!
Prep Time 2 minutes
Cook Time 1 hour 20 minutes
Total Time 1 hour 22 minutes
Servings 12
Calories 186 kcal
Ingredients
1 pound dried black-eyed peas (rinsed, but not pre-soaked)
6.5 cups stock (chicken, ham or vegetable – I used 6.5 cups water, plus 2 Tablespoons Better Than Bullion Chicken Base)
5 ounces diced ham
Instructions
Add all ingredients to the Instant Pot, place the lid on and lock it.

Cook for 30 minutes at high manual pressure. (Note: It will take a little while to come to pressure)

Allow the pot to release naturally. Mine took about 30 minutes, FYI.

Salt and pepper to taste. (Note: Mine did not need any salt since the ham and the Better Than Bullion was so salty.)
Recipe Notes
I like my black-eyed peas really soft and well-done, with a few falling apart. These were perfect for me! If you like yours more firm, reduce cook time by a few minutes.
Nutrition Facts
Instant Pot Black-eyed peas and Ham
Amount Per Serving
Calories 186 Calories from Fat 18
% Daily Value*
Fat 2g3%
Cholesterol 10mg3%
Sodium 345mg15%
Potassium 556mg16%
Carbohydrates 27g9%
Fiber 4g17%
Sugar 4g4%
Protein 14g28%
Vitamin A 20IU0%
Vitamin C 0.8mg1%
Calcium 45mg5%
Iron 3.5mg19%
* Percent Daily Values are based on a 2000 calorie diet.
(Visited 193,414 times, 3 visits today)