Lemon garlic roasted Brussels sprouts are an easy and yummy side dish that will have you wanting to eat your greens!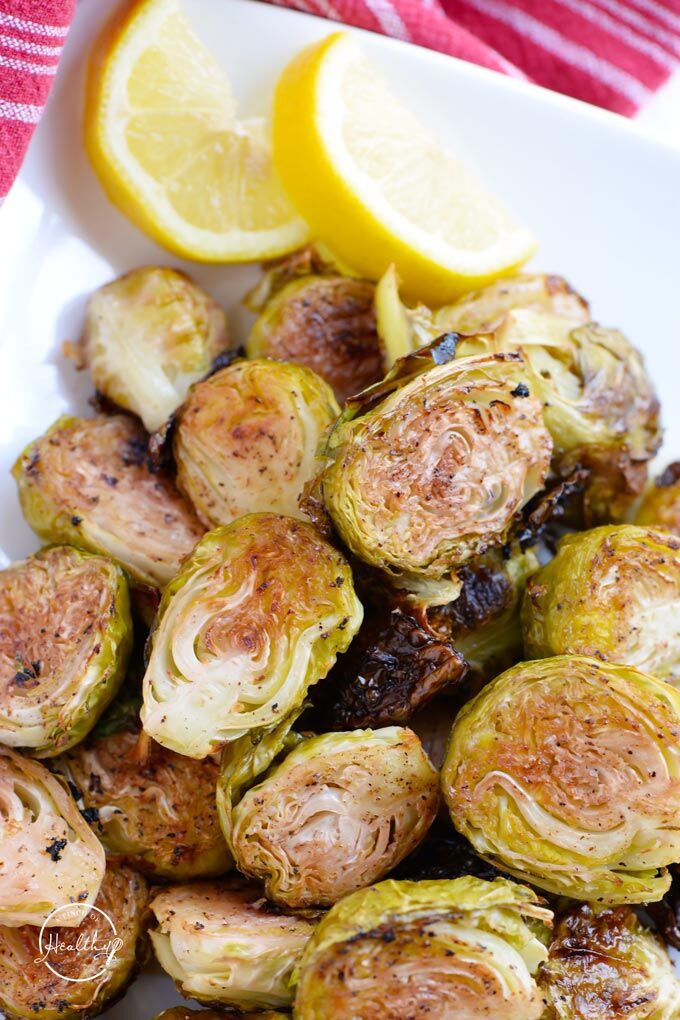 I love the texture of roasted Brussels sprouts, cooked to crispy perfection. 😍😋👌🏻 All of those yummy, caramelized pieces make it taste so delicious!
And the lemon totally changes the flavor. I added this one day on a whim, and I have never made it any other way since. Lemon every time. Yes, yes, yes!🙌🏻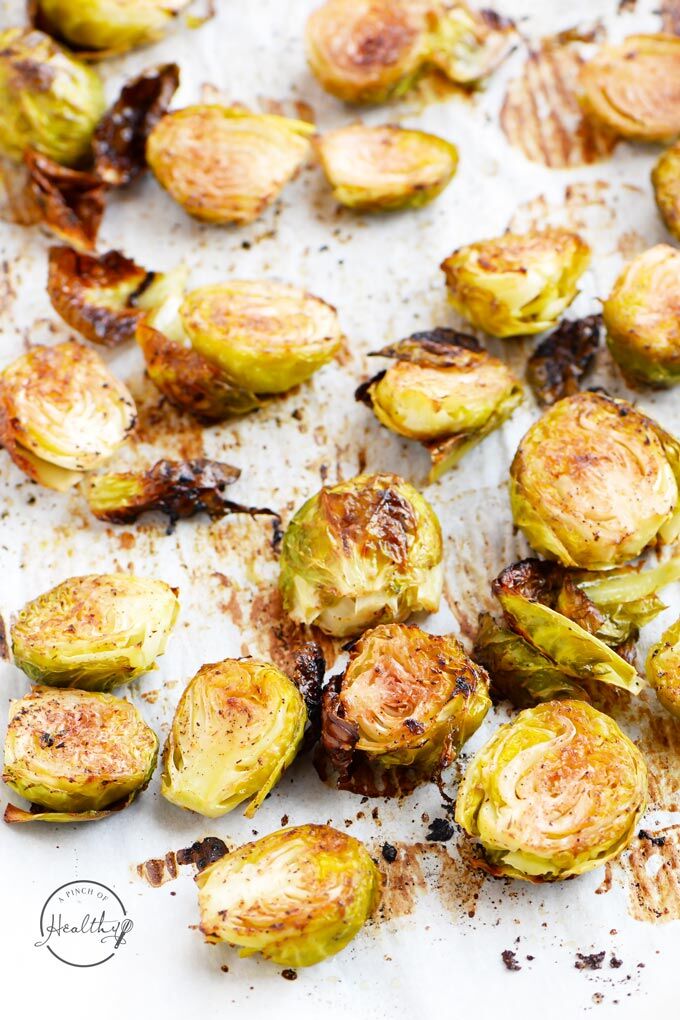 To get started, just trim your Brussels sprouts by chopping off the stem end. Then cut the sprout in half.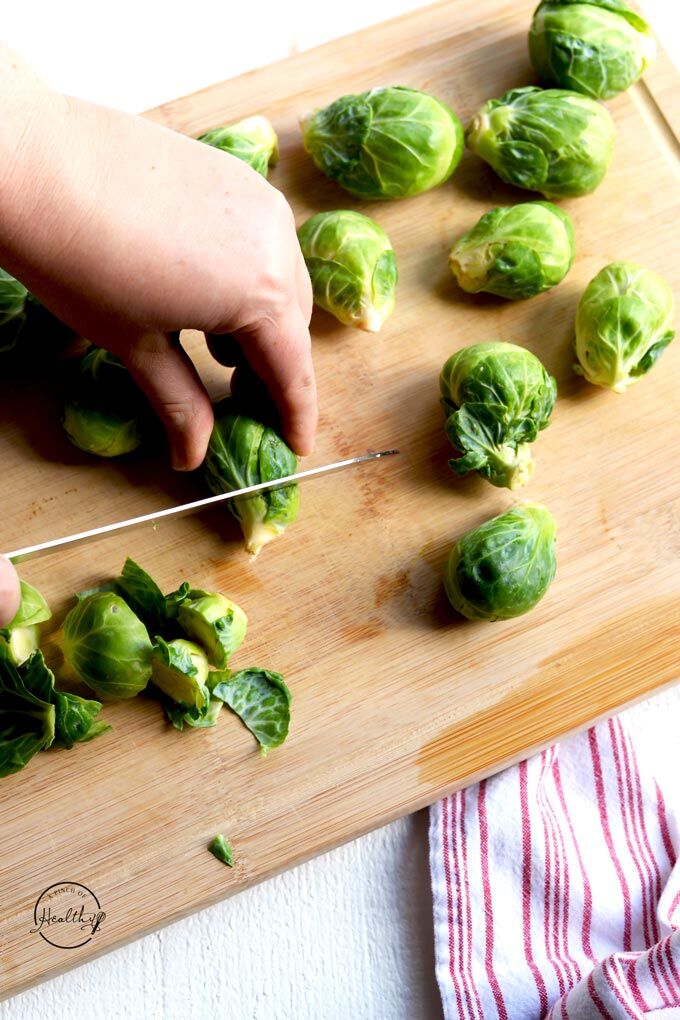 Next, you are going to toss the sprouts with the lemon juice, olive oil and garlic. You can do it in a bowl, if you prefer.
But having fewer dishes to wash is priority for me. ✅😆🤸🏼‍♂️ So I just toss everything together right there on the pan with my hands.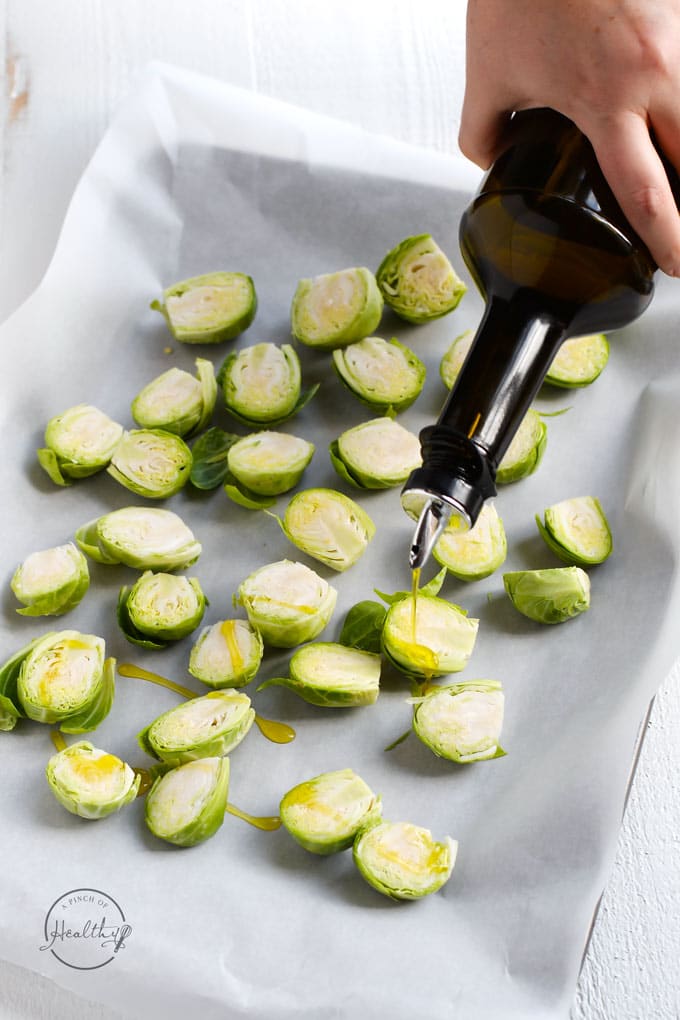 Of course, I included measurements for the roasted Brussels sprouts recipe in the recipe card below. But just to let you know the level of flexibility, I never measure when I am making these myself. I intuitively know how much to sprinkle and drizzle, and it works out perfect.👌🏻
You do want to be sure and toss the Brussels sprouts a time or two while they are cooking, just to make sure everything cooks evenly. It helps to have a flipper tool to scoop everything up and flip it over.
Tools Used to Make Lemon Garlic Roasted Brussels Sprouts
This post may contain affiliate links, which pay a referral fee to me at no additional cost to you. My full affiliate disclosure can be seen here.
👉🏻👉🏻To shop more of my kitchen favorites, click here. 👈🏻👈🏻
Lemon Garlic Brussels Sprouts Recipe
Did you try my roasted Brussels sprouts recipe? Give it a star rating. Pin it and share it if it looks good to you. And be sure and stay connected on social media!
Instagram | Pinterest | Facebook | YouTube | Twitter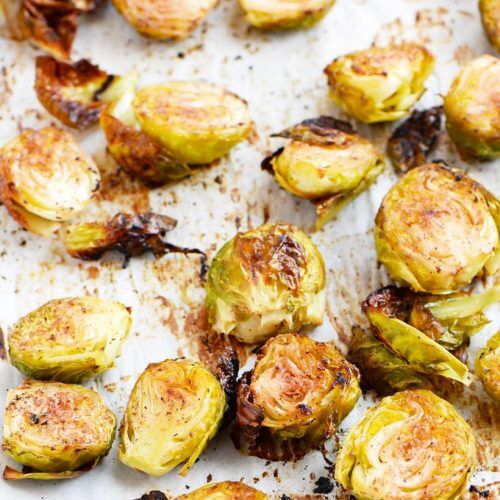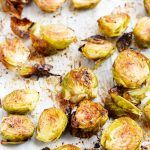 Lemon Garlic Roasted Brussels Sprouts
Lemon garlic roasted Brussels sprouts are an easy and yummy side dish that will have you wanting to eat your greens. Crispy and delicious!

Prep Time 8 minutes
Cook Time 25 minutes
Total Time 33 minutes
Servings 4
Calories 95 kcal
Ingredients
1 pound brussels sprouts, trimmed
1.5 Tablespoons olive oil
1/4 teaspoon garlic powder
salt and pepper to taste
Juice of 1 medium lemon
Instructions
Preheat oven to 400 degrees.

Cut the rough stems off the ends of the Brussels sprouts, and cut the remaining sprout in half, peeling away any leaves that look shriveled.

Place the halves on a sheet pan, lined with parchment to prevent sticking, and drizzle with olive oil.

Sprinkle on lemon juice, salt, pepper and garlic powder, and toss with hands to help coat all the pieces.

Cook in the oven for about 10 minutes, and then remove carefully toss and flip everything over to make sure it gets cooked evenly.

Cook an additional 15 minutes or so, until your Brussels sprouts reach desired golden brown crispiness.

Add more lemon juice if desired, salt or pepper (to taste), and serve warm.
Nutrition Facts
Lemon Garlic Roasted Brussels Sprouts
Amount Per Serving
Calories 95 Calories from Fat 45
% Daily Value*
Fat 5g8%
Sodium 28mg1%
Potassium 441mg13%
Carbohydrates 10g3%
Fiber 4g17%
Sugar 2g2%
Protein 3g6%
Vitamin A 855IU17%
Vitamin C 96.4mg117%
Calcium 48mg5%
Iron 1.6mg9%
* Percent Daily Values are based on a 2000 calorie diet.
Note: This post originally appeared on A Pinch of Healthy April 4, 2018.
(Visited 320,890 times, 11 visits today)