Wedge salad is something I used to only get at restaurants, but this one is super simple to make and so delicious. It truly is the BEST wedge salad recipe.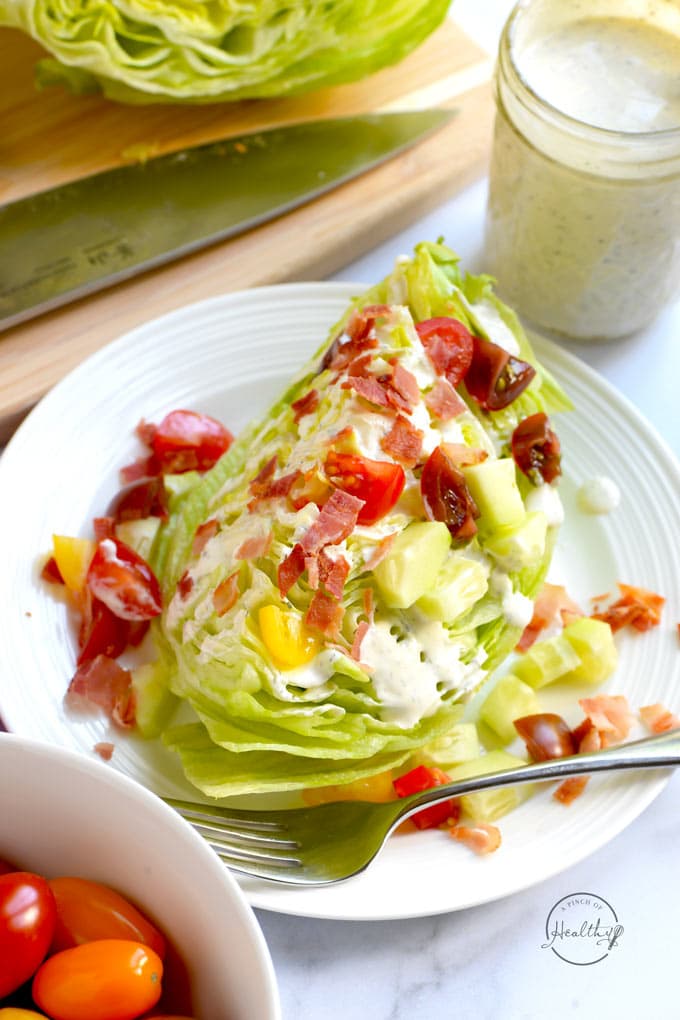 Side note: you may want to check out my entire salad recipe archives for more salad ideas. 👌🏻
What type of lettuce to use
First, you always want to use iceberg lettuce for wedge salad. Iceberg got a bad rep a few years ago as the "least nutritious lettuce." Cue all the eye rolls. 🙄 Eat Romaine, they said. It has more vitamins, they said.
Don't listen to the naysayers, y'all. Let me assure you that iceberg is the only way to go for a wedge salad. No other variety that I know of is as crisp. No other variety that I know of will stay in perfect slices.
How to cut lettuce for wedge salad
You always want to remove the core from your head of iceberg lettuce. I usually like to use the bang-it-on-the-cutting-board method. 😆 But every once in a while I'll get a stubborn head of iceberg. So here is what to do if that happens to you.
You can cut the core out very easily. Just take a small knife and trace around the stem. The core will pop right out, as seen below.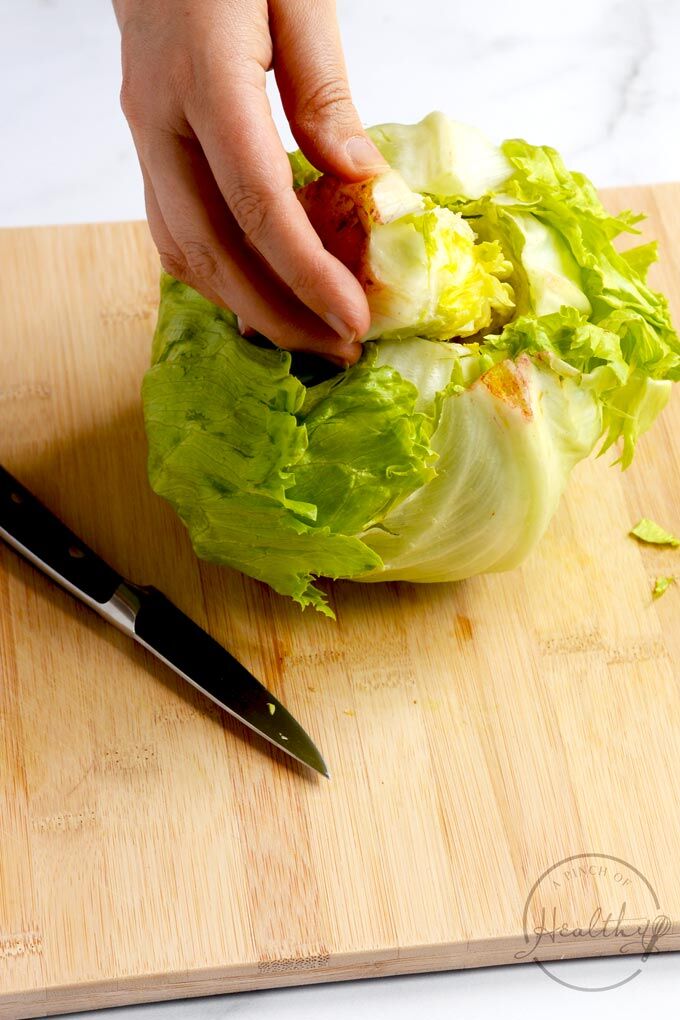 I think a small paring knife works best. But this can be done with any knife.
After you remove the core, place the core side down on the board for best stability. Then cut the head of lettuce (larger chef's knife works best for this) into four equal parts by using your knife to cut a giant + sign, right down the middle.
What to put on wedge salad
Bleu cheese dressing is what I usually think of when I hear wedge salad. But I do not like bleu cheese dressing!😜 So I am using ranch dressing on mine.😎🙌🏻
If you've never made your own ranch, you need to. And I just so happen to have the BEST homemade ranch dressing recipe. It is what I am using here.
I really like the flavors of a BLT, and so that is the theme I am going with here people. I suggest using 1 to 2 slices of bacon per person. Just dice that up into small pieces. My slices were pretty big, so just 1 slice worked well for me.
And now for tomatoes. You can use any type. I love the baby heirloom tomatoes from Trader Joe's. They are seasonal, but they are so good! And so pretty on the wedge salad with all the different colors.😍 That is what I am using here.
Also, I add some diced and peeled cucumber. Simply because I love the way cucumbers taste with ranch.
Feel free to modify your toppings to your liking. You do you, friends. But this is what I like best.
How to assemble
First, put one of those lettuce wedges on a salad plate, with the straight cut sides facing upward.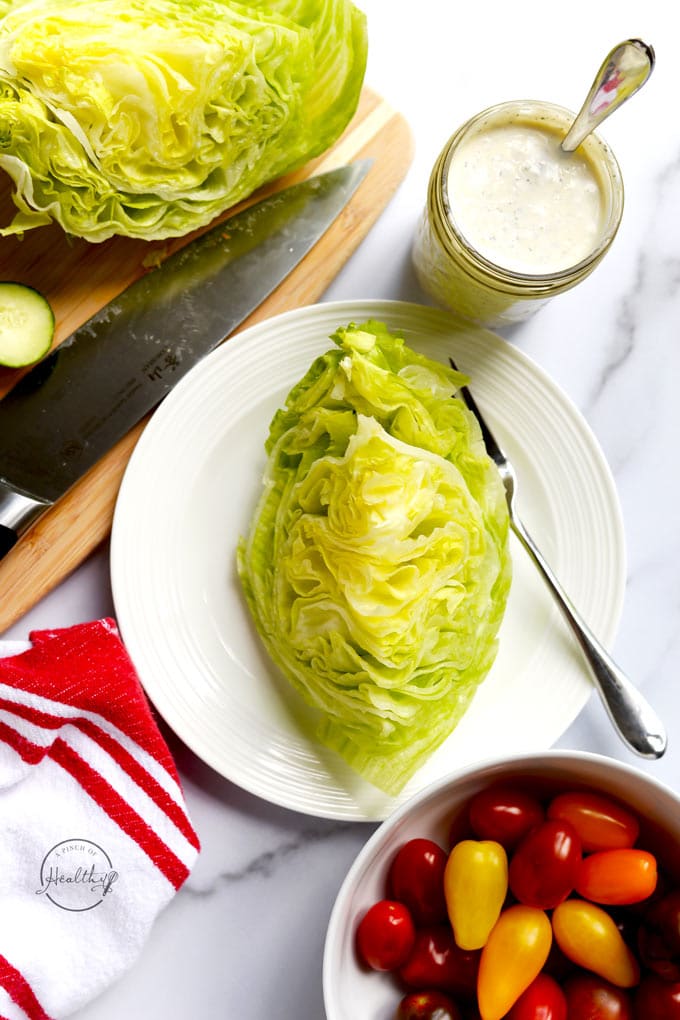 I like to start with the ranch dressing.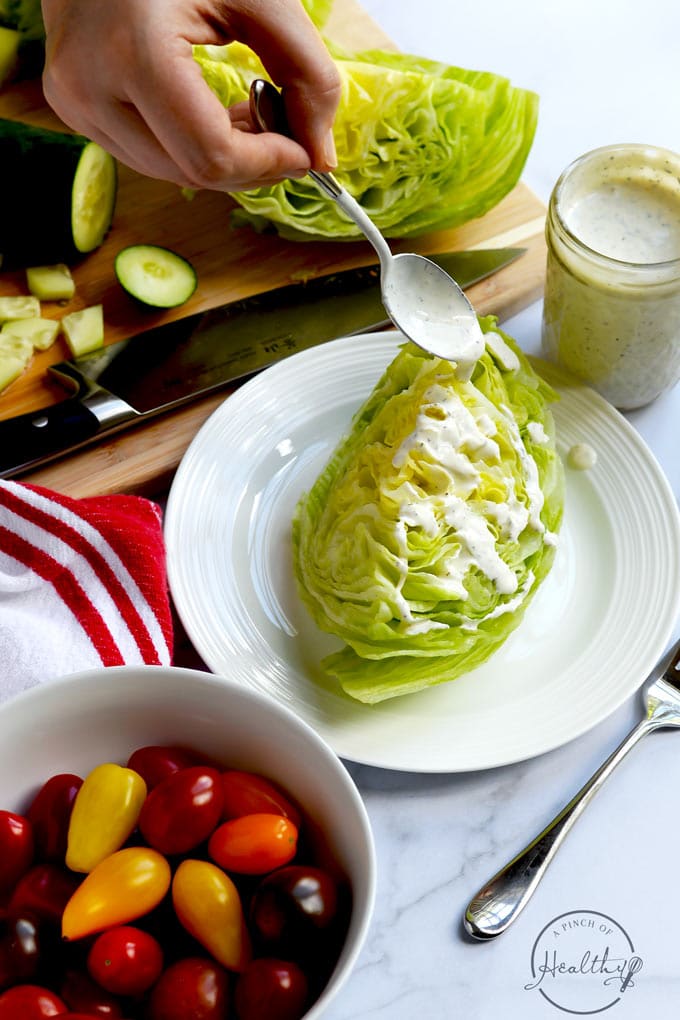 All of those little crevices of the iceberg wedge catch the dressing like little reservoirs. Next, I sprinkle on the tomato and cucumber. I like to top is off with the diced bacon last.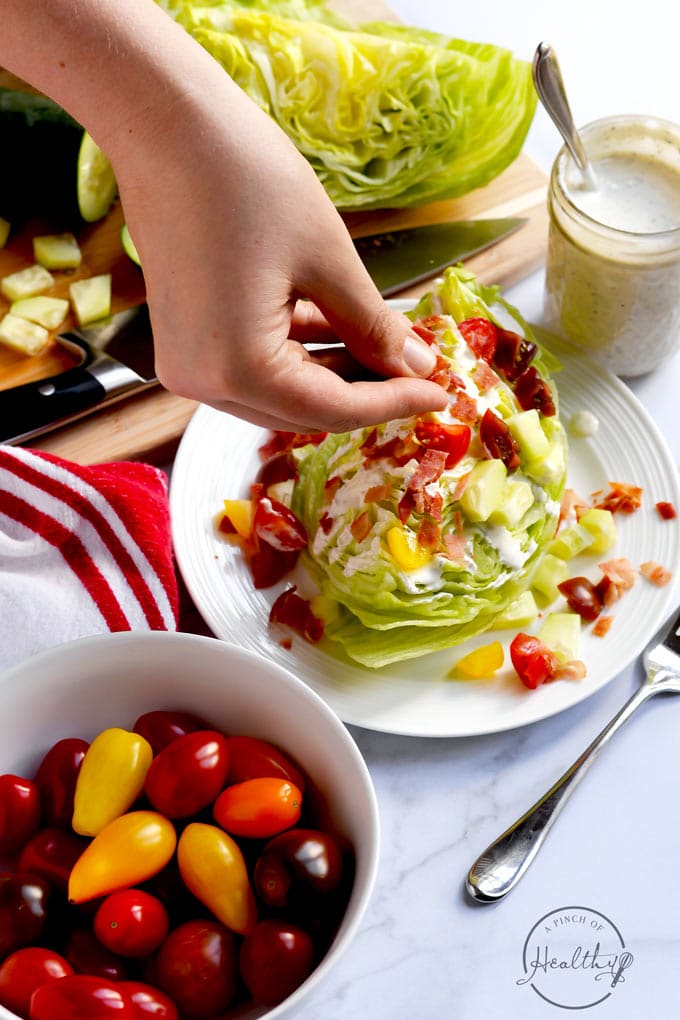 And I always, always serve it with extra dressing on the side.
Wedge Salad Recipe
Did you try my wedge salad recipe? Give it a star rating. Pin it and share it if it looks good to you. And be sure and stay connected on social media!
Instagram | Pinterest | Facebook | YouTube | Twitter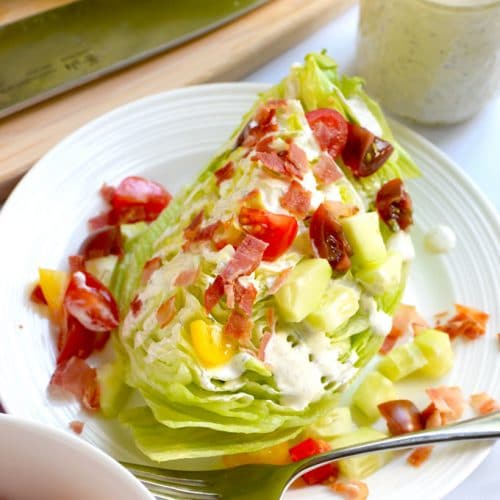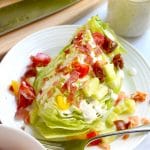 Wedge Salad
This wedge salad recipe is super simple to make and so yummy. Better than a restaurant! Made with bacon, cucumber tomato, homemade ranch.
Prep Time 9 minutes
Total Time 9 minutes
Servings 4 servings
Calories 157 kcal
Ingredients
1 head iceberg lettuce
3/4 cup ranch dressing plus extra for serving
1/2 cup cucumber finely diced
1 cup tomato diced
4 slices bacon cooked and diced - I use more if slices are small
Instructions
Core the lettuce by taking a small knife and tracing around the stem. The core will pop right out, as seen in the photos above.

Place the head of lettuce, core side down, on a cutting board. Cut into for equal parts by using your knife to make a giant + sign.

Place each wedge on a salad plate, and drizzle with about 3 Tablespoons of ranch dressing.

Sprinkle on the cucumber, tomatoes and bacon.
Recipe Notes
Nutritional information is approximate and was calculated using a recipe nutrition label generator. It includes 3 Tablespoons of the ranch dressing.
I always serve with extra dressing, just in case somebody wants more.
I recommend preparing this just prior to serving.
Nutrition Facts
Wedge Salad
Amount Per Serving
Calories 157 Calories from Fat 108
% Daily Value*
Fat 12g18%
Saturated Fat 3g19%
Cholesterol 18mg6%
Sodium 331mg14%
Potassium 372mg11%
Carbohydrates 7g2%
Fiber 2g8%
Sugar 5g6%
Protein 4g8%
Vitamin A 1065IU21%
Vitamin C 9.7mg12%
Calcium 56mg6%
Iron 0.7mg4%
* Percent Daily Values are based on a 2000 calorie diet.
Note: This post originally appeared on A Pinch of Healthy May 10, 2019.
(Visited 10,081 times, 2 visits today)