Pasta primavera is a light and flavorful main dish chocked full of vegetables, and it is perfect for spring and summer.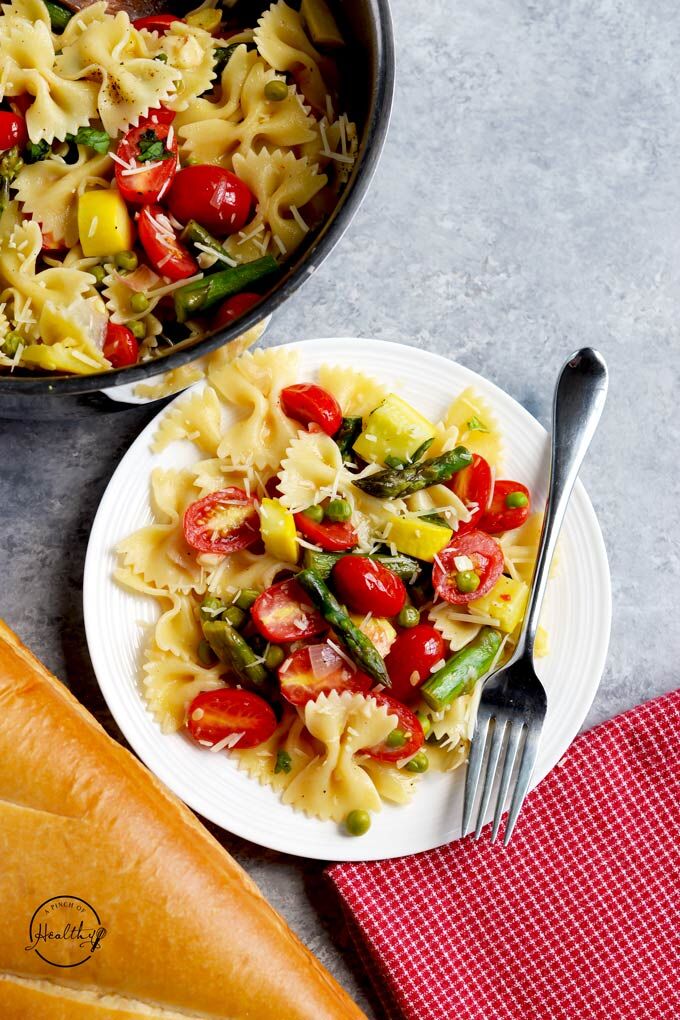 It makes a great meatless meal! You could also add a protein if you like – grilled salmon, grilled chicken, Instant Pot chicken breasts, Instant Pot chicken thighs or shrimp would be delicious with this.
Who has a vegetable garden? I used to have a big one, but then I had babies and got too busy to keep it up. 🤪😆 We recently replanted some veggies and herbs this year, though.
This recipe would be a great one to use your garden vegetables in. In my case, I just bought them at the grocery store. 🙌🏻 Even so, produce is extra beautiful this time of year, and it makes me want to eat all the veggies.
Just look at all those beautiful colors! 😍 So fresh, delicious and vibrant.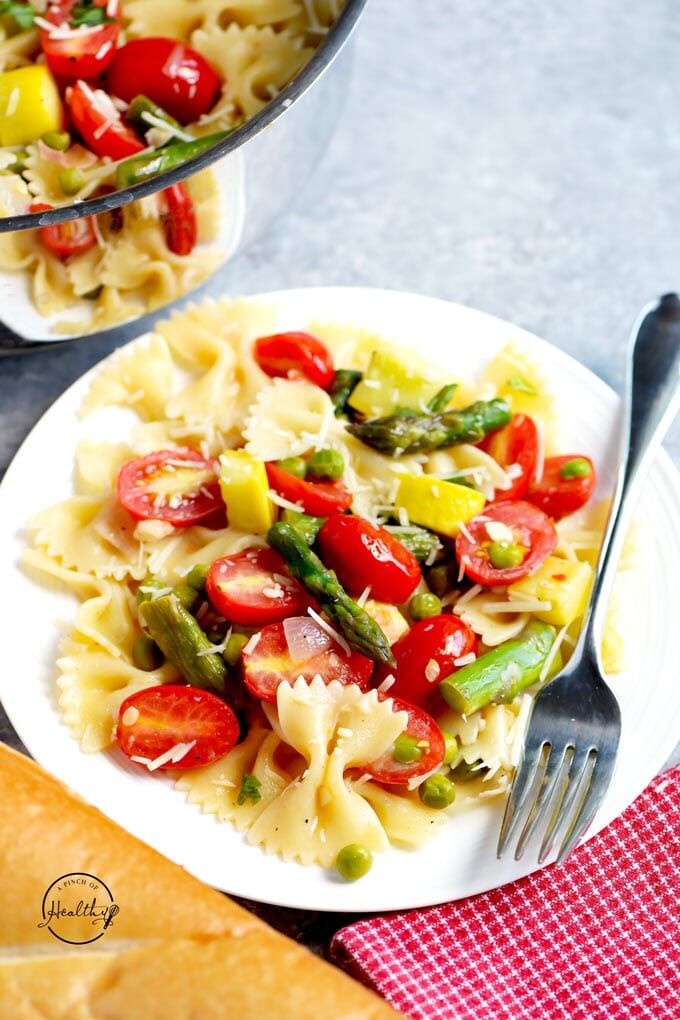 I can't remember which one of the famous TV foodies (Giada? Rachael?) always mentions how we eat with our eyes first.🤩 Pasta primavera definitely has that strong visual game.✅ All those colors draw me in!
Plus, I love the flavors too. I am using peas, asparagus, shallot, yellow squash and tomatoes as my veggies. Some butter, lemon, garlic and white wine round out the dish with lots of amazing flavor. It's a winning combination y'all!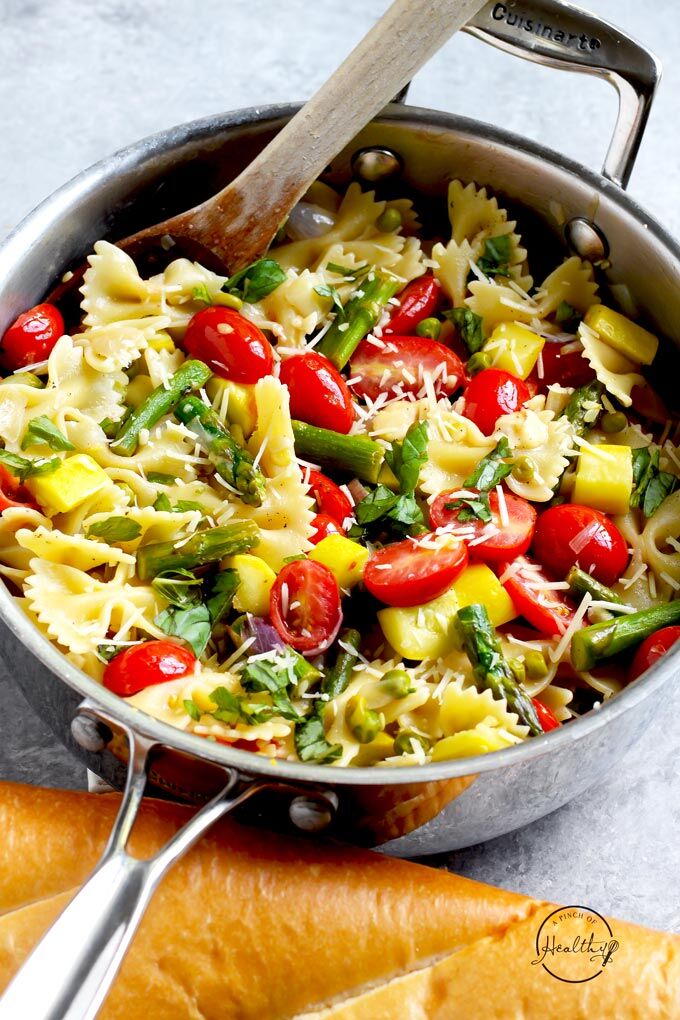 My taste buds want to do a little happy dance. 💃🏼🤸🏼‍♂️ If you don't have any white wine on hand, or if you abstain from alcohol, feel free to substitute with a dash of veggie stock (or even chicken stock for the omnivores).
I hope you enjoy this recipe as much as we have!
Make Vegan Pasta Primavera
So how do you make vegan pasta primavera? This recipe is very easy to adapt to a vegan/ dairy free dish. Simply use your favorite dairy free butter (such as Earth Balance) or olive oil, and leave off the cheese.💁🏼‍♀️😎 We have enjoyed it this way many times when I didn't have any on hand. It is still very delicious and enjoyable without the cheese.
If you want some suggestions for vegan-friendly toppings, I would suggest something like fresh basil, fresh parsley or pine nuts.😋👌🏻
Tools Used to Make Pasta Primavera
Note: These are Amazon affiliate links.
Pasta Primavera Recipe
Did you try this recipe? Give it a star rating. If this recipe looks good to you, please pin it and share it.
And be sure and stay connected on social media!
Instagram | Pinterest | Facebook | YouTube | Twitter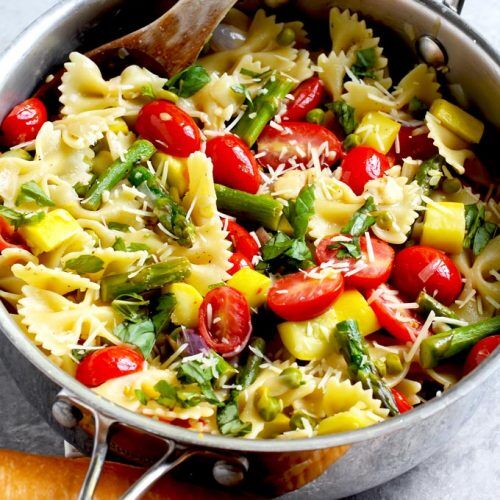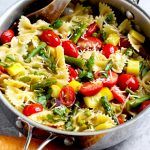 Pasta Primavera
Pasta primavera is a light and flavorful main dish chocked full of vegetables, and it is perfect for spring and summer. Tied together with a garlic, lemon, butter and white wine sauce.

Prep Time 15 minutes
Cook Time 13 minutes
Total Time 28 minutes
Servings 4
Calories 384 kcal
Ingredients
8 ounces pasta (I used farfalle/ bowtie) cooked to package instructions
reserved starchy cooking liquid from cooking the pasta (I ended up using only 1/4 cup)
3 Tablespoons butter
1 1/2 cups sliced asparagus chunks (1 inch pieces, rough bottom ends removed)
3 shallots, diced
1 summer squash diced
4 cloves garlic, finely minced (large cloves)
salt and pepper, to taste (I used about 1/4 teaspoon each)
1 cup frozen green peas
1/4 cup dry white wine (optional - can sub vegetable or chicken stock)
zest and juice of 1/2 lemon
1 /2 cup shredded parmesan cheese (plus more for garnish when serving)
1 pint baby grape tomatoes, halved
fresh basil or parsley for garnish
Instructions
Cook the pasta to package instructions in well-salted water, and don't forget to reserve a mug full of the cooking liquid, just prior to draining.

While the pasta is cooking, preheat a large skillet over medium low heat for a minute or 2, and add butter to the pan.

Add shallot and asparagus, and cook for 2 minuntes.

Add squash and cook another 2 minutes

Add the frozen peas, and cook another 2 minutes.

Add salt, pepper and garlic, and stir to combine, being careful not to burn the garlic. Cook one more minute.

Add the wine, and cook about another minute and a half.

Zest the lemon over the pan while the wine is cooking its alcohol out.

After the minute and a half is up, turn off the heat, and add the lemon juice tomatoes, and cooked pasta, stirring to combine.

Add a little reserved starchy cooking liquid from the pasta (I used 1/4 cup).

Sprinkle with parmesan and fresh basil, and serve immediately.
Recipe Video
Nutrition Facts
Pasta Primavera
Amount Per Serving
Calories 384 Calories from Fat 81
% Daily Value*
Fat 9g14%
Saturated Fat 5g31%
Cholesterol 22mg7%
Sodium 91mg4%
Potassium 810mg23%
Carbohydrates 60g20%
Fiber 7g29%
Sugar 10g11%
Protein 12g24%
Vitamin A 2005IU40%
Vitamin C 44.3mg54%
Calcium 67mg7%
Iron 3.1mg17%
* Percent Daily Values are based on a 2000 calorie diet.
(Visited 95,828 times, 13 visits today)