This Greek potato salad recipe tastes a lot like the potato salad from Zoe's Kitchen.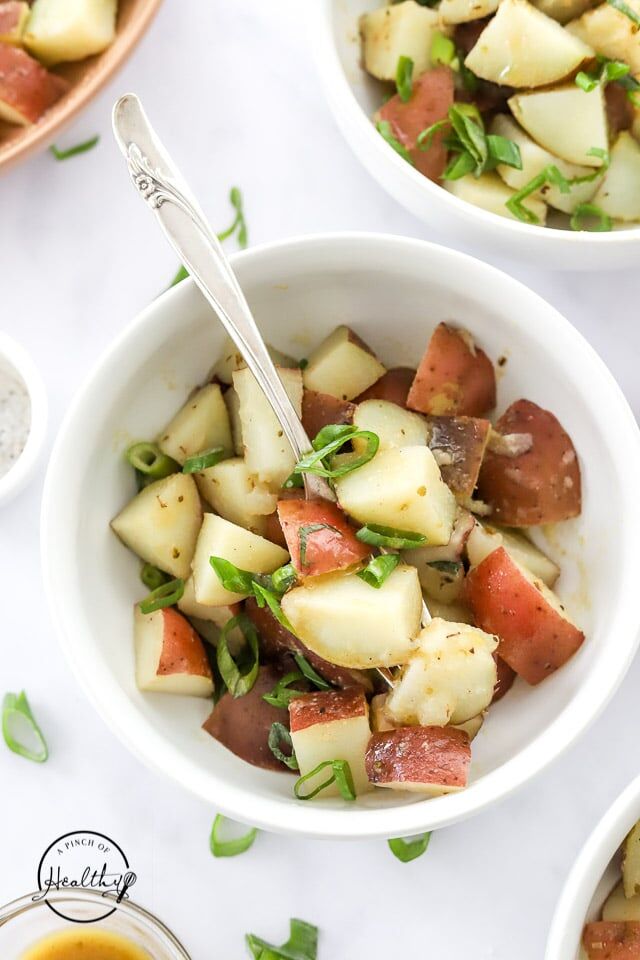 Dive into the refreshing Greek flavors with this Greek-inspired potato salad. This healthy potato salad takes a Greek spin on the classic potato salad, without the mayo potato salad's typical heaviness, making it a perfect side dish for your picnic or family barbecue.
What makes this potato salad a standout is that it doesn't have any mayo like the traditional kind, so you don't have to worry about it going bad if left out for a little while.
In fact, you should serve it at room temperature. Otherwise the dressing gets all solid. You will want to refrigerate leftovers, though.
This Greek potato salad also makes use of an existing recipe – my Greek red wine vinaigrette, boasting yummy herbs like oregano and basil. In fact, if that dressing is already prepared, this recipe will only end up being three simple ingredients! So simple, yet bursting with fresh flavors that will transport you straight to the Mediterranean shores. Definitely on-brand for those of you trying to lean toward more of a Mediterranean diet!
Now, let's delve into the instructions and cooking time of our best potato salad.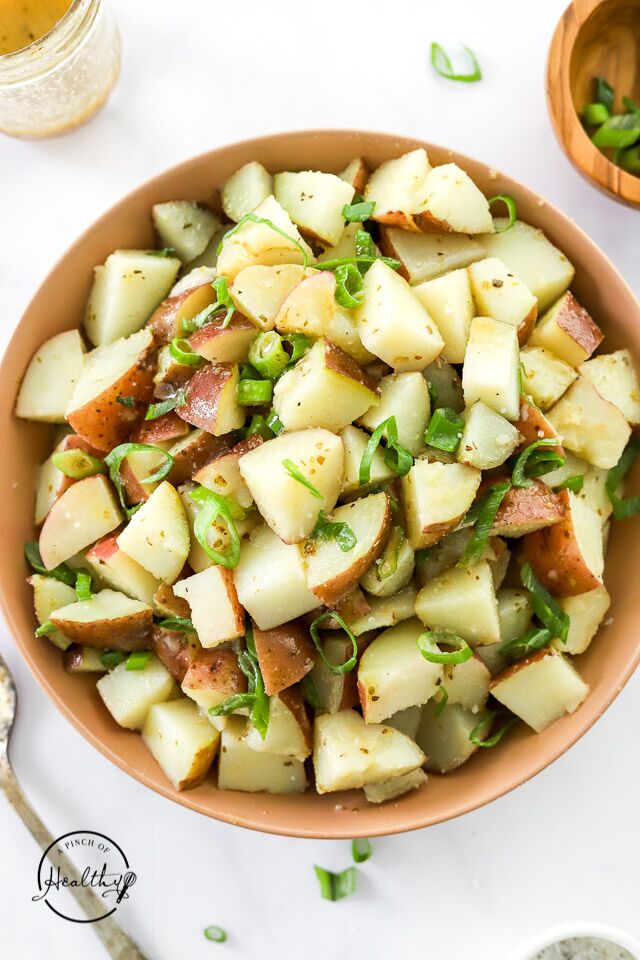 How to make Greek potato salad
First, gather your ingredients.
Ingredients
For tastiest results, always use the best quality ingredients you have access to.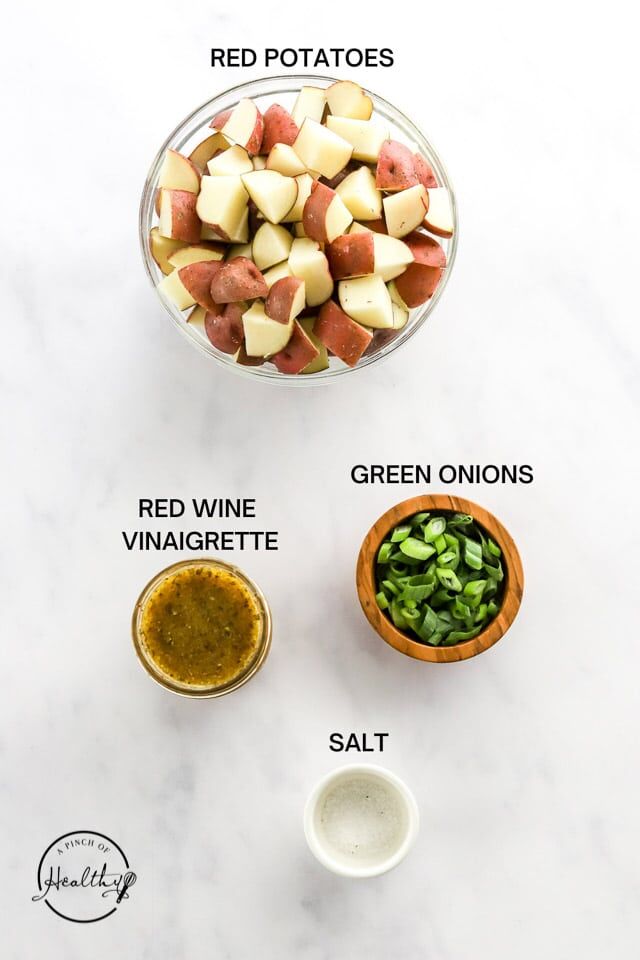 To make this Greek salad recipe, you will need the following ingredients:
red potatoes
salt
sliced green onions
Optional: your favorite feta cheese
Making Greek potato salad
First, place potatoes in a large pot filled with enough water to cover them. I quartered/ diced mine before boiling. If you are using larger potatoes, just dice them into bite-sized chunks, about an inch. Bring your pot of cold water to a boil, and then add 1/2 tsp salt.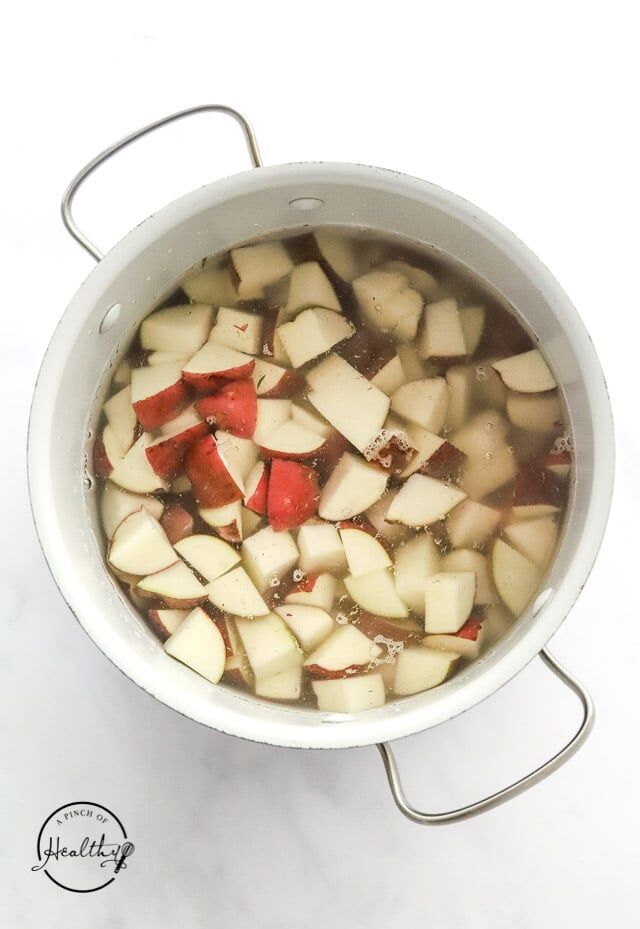 Reduce heat to medium or medium-high heat (gentle, rolling boil), and cook until tender, about 12 minutes. Make sure the potatoes maintain their firm texture, not too soft.
Drain and let the warm potatoes cool a bit. This allows the dressing to be absorbed better.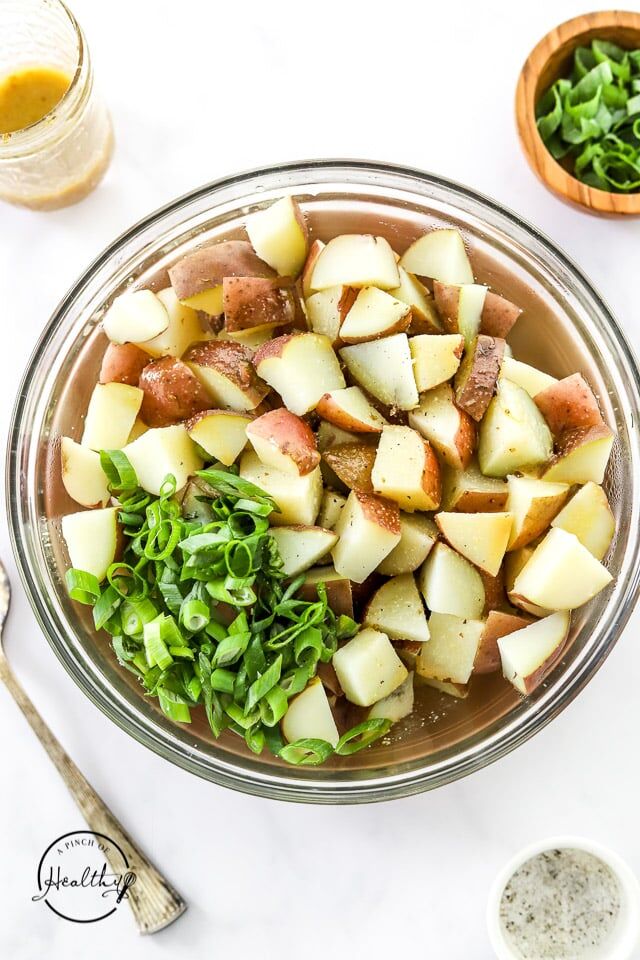 Stir in the Greek dressing and green onions into the cooked potatoes. Optional: add feta crumbles for an extra bit of Greek flare. Pour dressing over the potatoes, ensuring each potato is well-coated.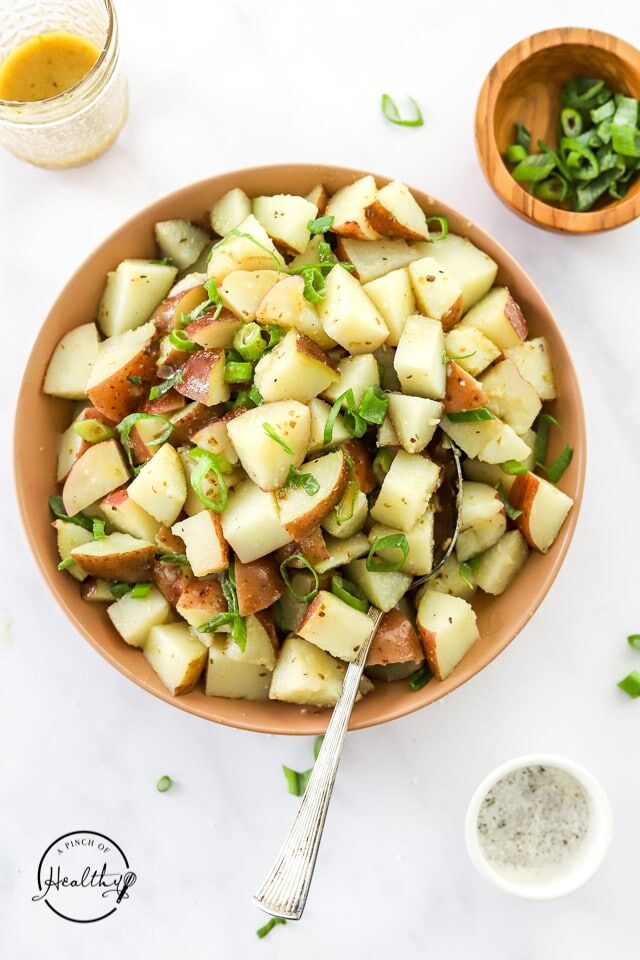 Serve room temperature. And feel free to garnish with some optional fresh herbs – fresh basil, fresh oregano or fresh parsley would all taste great.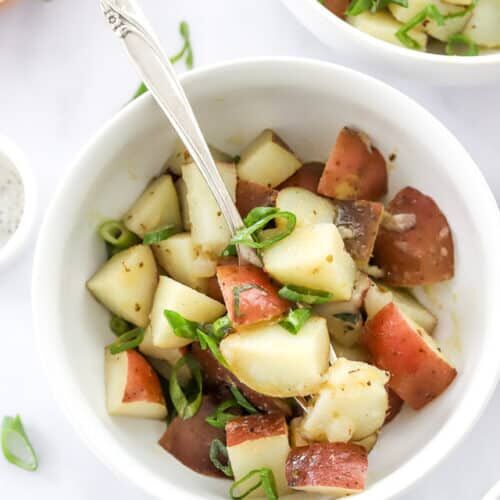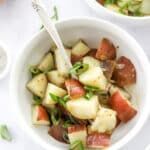 Greek Potato Salad
I will show you how to make Greek potato salad that tastes a lot like the potato salad from Zoe's Kitchen.
Prep Time 5 minutes
Cook Time 12 minutes
Total Time 17 minutes
Servings 5 servings
Calories 194 kcal
Instructions
Slice the potatoes. I quartered mine.

Place in a pot of water, and bring to a boil.

Add 1/2 tsp salt.

Reduce heat, and cook until tender, about 12 minutes.

Drain and cool.

Stir in dressing and green onions.

Serve room temperature.
Recipe Notes
Nutrition information is approximate and was calculated using a recipe nutrition label generator.
Nutrition Facts
Greek Potato Salad
Amount Per Serving
Calories 194 Calories from Fat 90
% Daily Value*
Fat 10g15%
Saturated Fat 1g6%
Sodium 260mg11%
Potassium 684mg20%
Carbohydrates 24g8%
Fiber 2g8%
Sugar 2g2%
Protein 2g4%
Vitamin A 60IU1%
Vitamin C 13.6mg16%
Calcium 18mg2%
Iron 1.2mg7%
* Percent Daily Values are based on a 2000 calorie diet.
PS…as an afterthought, I threw some feta cheese crumbles on. It was SO good.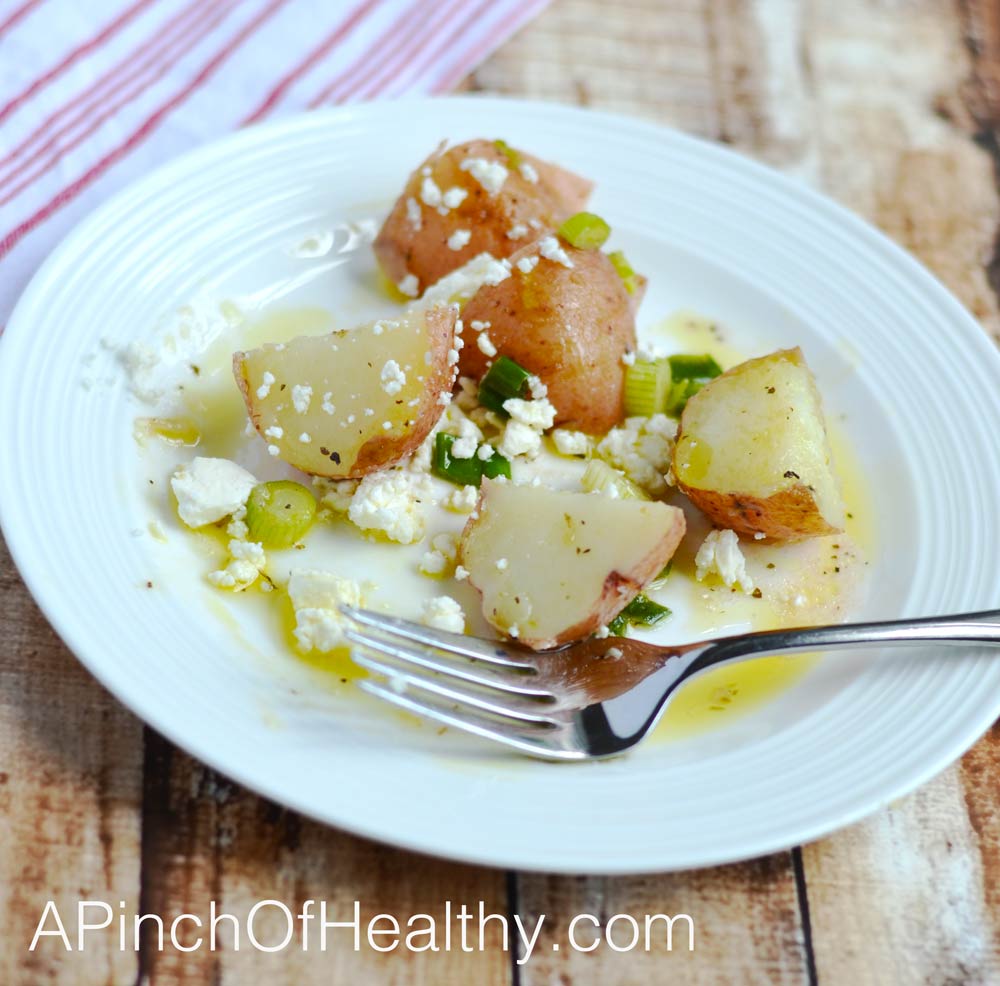 I felt obligated to share this little suggestion with you! It was just TOO good!
I hope you enjoy this recipe!
Note: Greek potato salad originally appeared on A Pinch of Healthy June 16, 2015. It has been updated with new photos. Here is what it used to look like.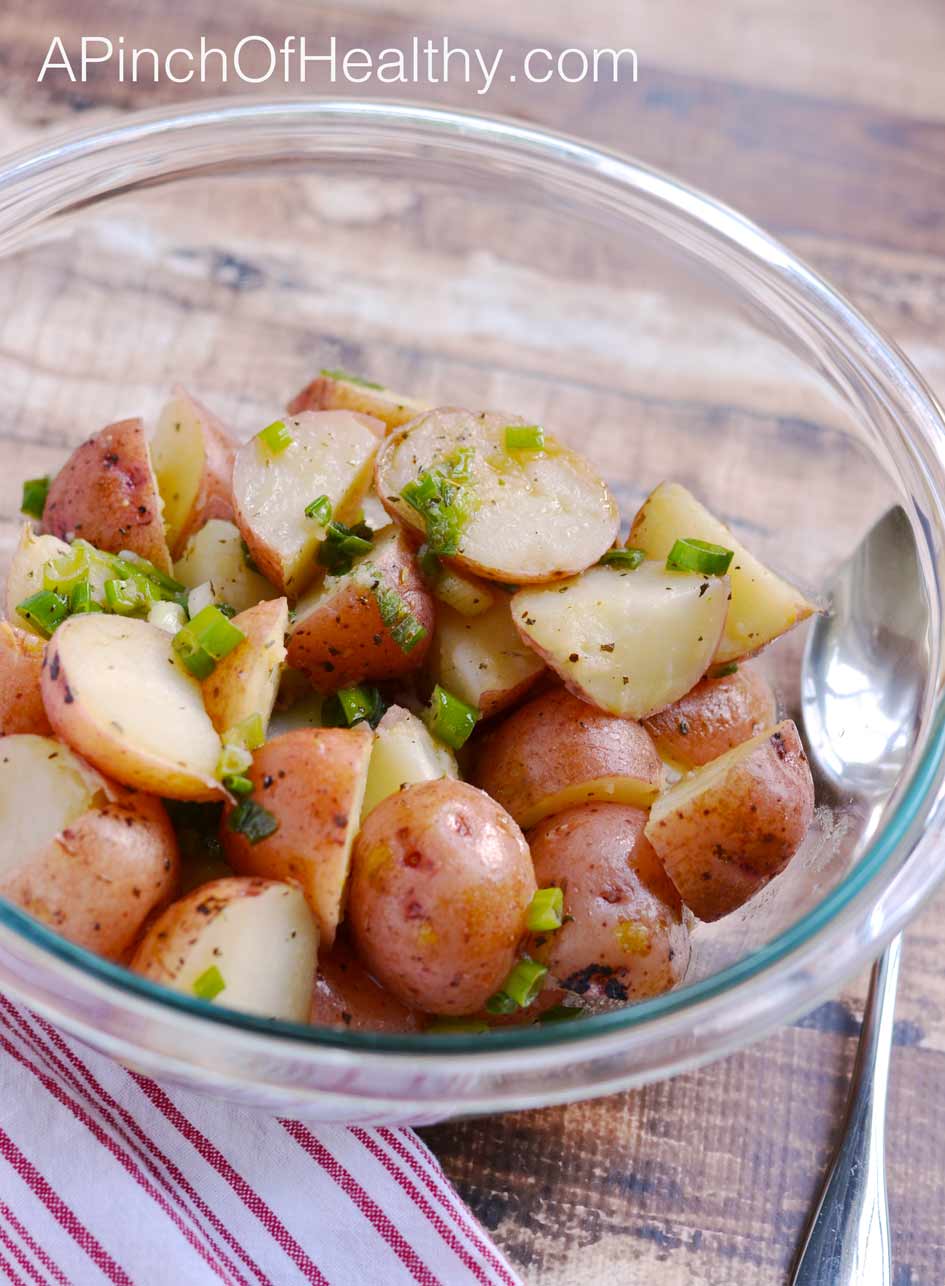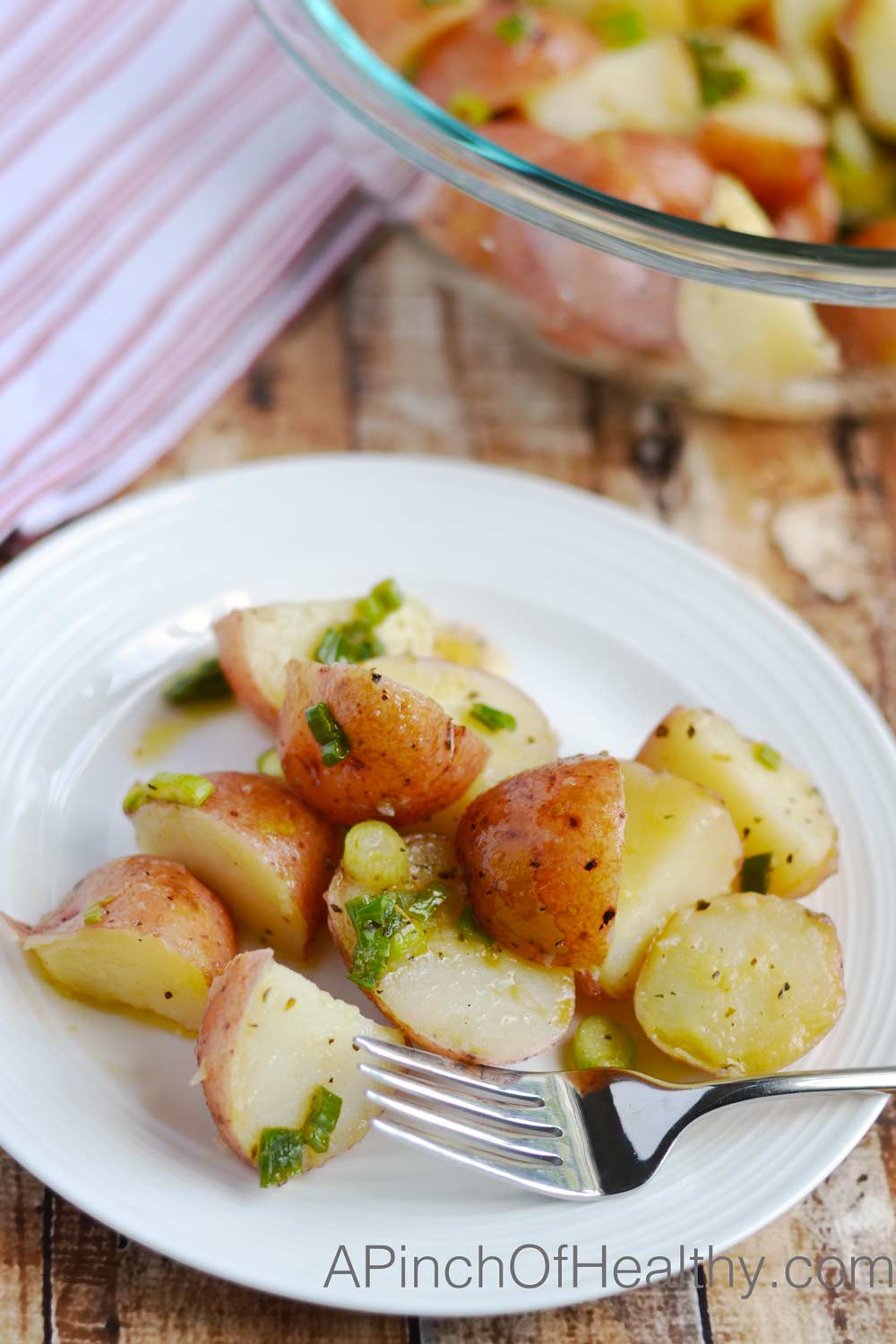 (Visited 146,446 times, 11 visits today)