This summer corn salad with avocado, tomato and lime dressing is a fresh and simple summer side dish that you are going to LOVE.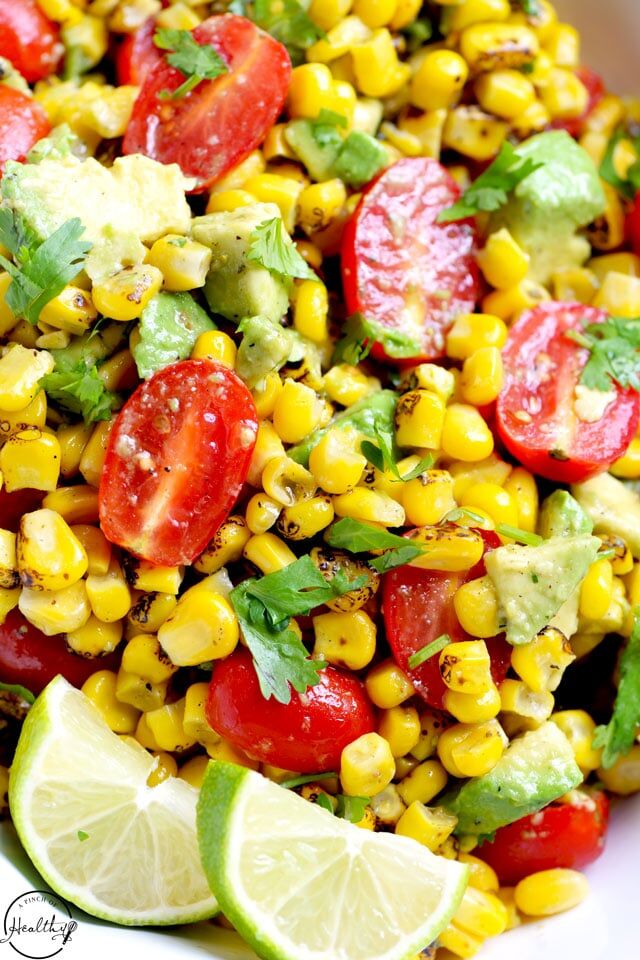 This is so good alongside some grilled chicken or grilled salmon. Corn salad is a perfect low-key summer side, full of flavor and freshness. I love working with LOTS of fresh produce, especially in the summer.
How to make corn salad
First, gather your ingredients.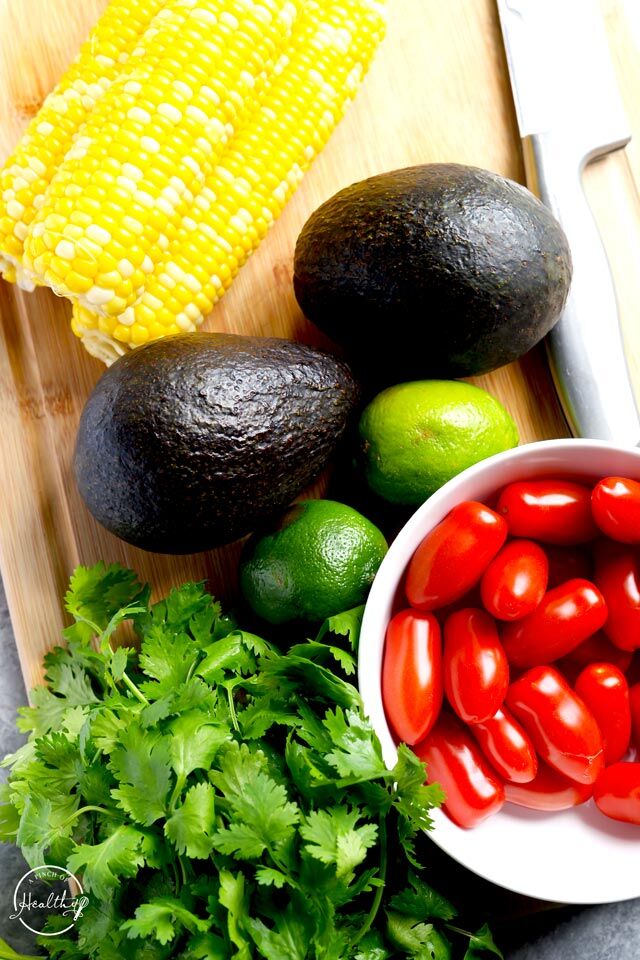 Ingredients
For tastiest results, always use the best quality ingredients you have access to. The colors and the flavors of this dish are divine!😍 This one definitely has a strong visual game. 🤩
So what is in corn salad? To make this corn, avocado tomato salad recipe, you will need the following ingredients:
corn (fresh or frozen kernels, thawed)
tomatoes
avocado
cilantro – you can skip or sub parsley if you are a cilantro hater!😉
lime juice
avocado oil
cumin
oregano
salt and pepper
What type of corn is best?
I made this summer corn salad a few times to get the recipe just right. The first time, I made it with fresh corn on the cob. I cooked it and then plunged it in an ice bath to maintain some of its crisp, as written in the instructions.
If you have access to corn from a garden or farmer's market, this is going to give you the best taste. 👌🏻
However! I ended up making it a second time, and I used Trader Joe's frozen roasted corn, thawed. This was much easier and I LOVED the added flavor of that char on the corn. You cannot go wrong, people.
You could even use canned corn, but this would be my last choice. Also, if you do use canned, you will likely want to bump down the salt level in this recipe since canned already has salt.
What herbs taste good in corn salad?
I did use cilantro in this, but you can totally substitute fresh flat-leafed parsley if you are one of those cilantro haters. 😂 Most of you like it, but I know there are a few of you out there. (Hi Dad! 😆)
Assembling summer corn salad
Next, I whipped up a simple dressing made with lime juice, avocado oil, cumin, oregano, plus some salt and pepper. I poured it right over the top.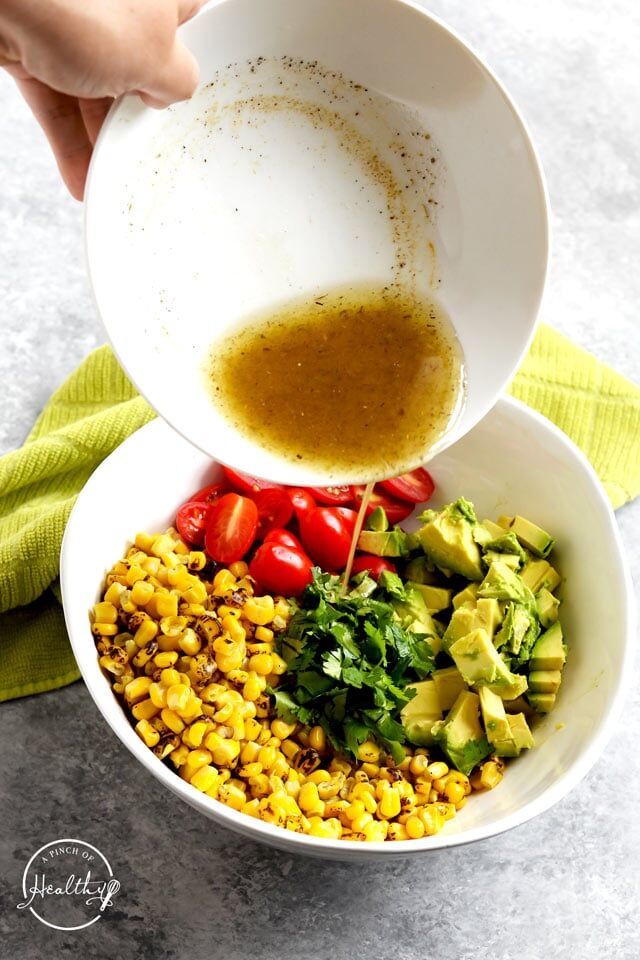 Tip: I went back and gave that bowl a good scrape with a silicone spatula (👈🏻my favorite ones, Amazon affiliate) to scrap our all the herbs. Then I used that spatula to gently fold everything together.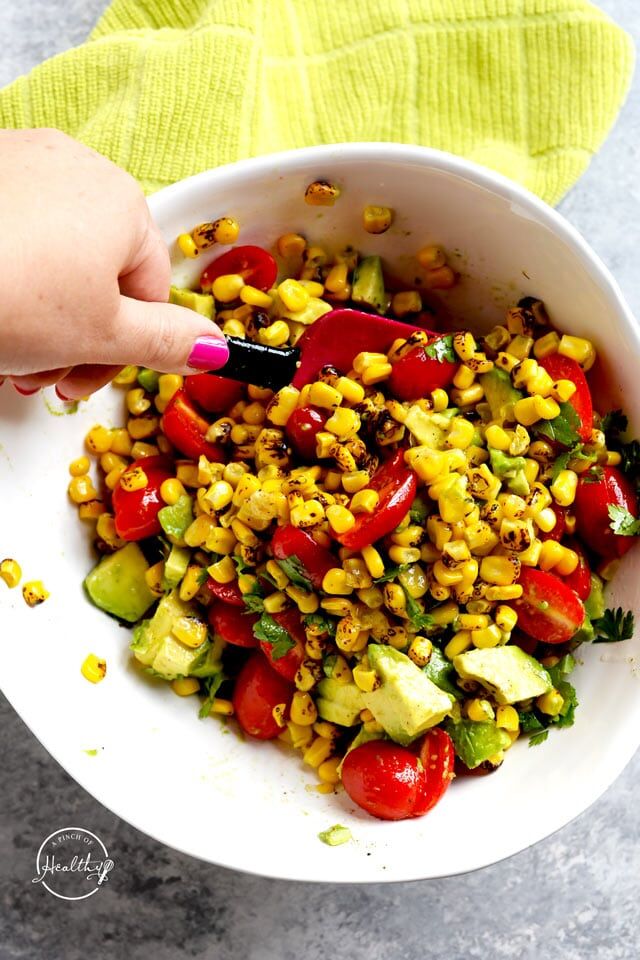 And that's it, friends! Simple, easy, fresh and delicious! 🙌🏻😎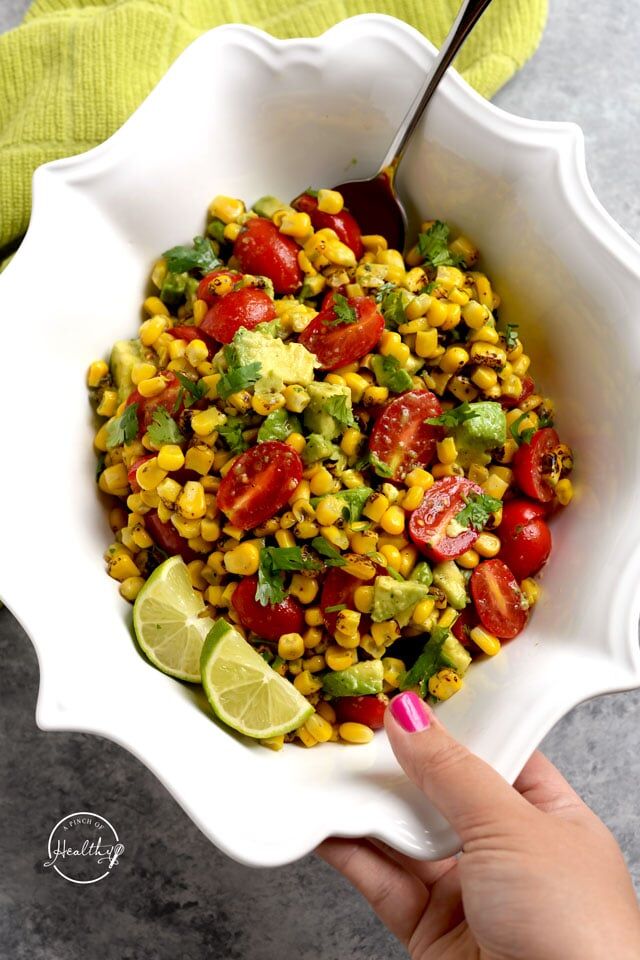 Share this recipe
Did you try this recipe? Give it a star rating. Pin it and share it if it looks good to you. And be sure and stay connected on social media!
Instagram | Pinterest | Facebook | YouTube | TikTok
Be sure and check out all my favorite kitchen tools in my Amazon store (affiliate).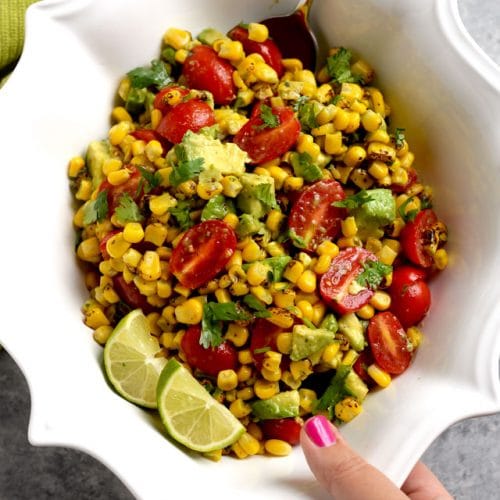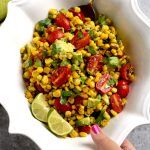 Corn salad with avocado, tomatoes, cilantro and lime dressing
This corn salad with avocado, tomato and lime dressing is a fresh and simple summer side dish that you are going to LOVE.

Prep Time 15 minutes
Cook Time 5 minutes
Total Time 20 minutes
Servings 6
Calories 190 kcal
Ingredients
3 ears fresh corn (shucked, OR 3.5 cups corn kernels, which is one 10 ounce bag)
1 pint grape tomatoes halved
1 avocado diced – I used a big one. If your avocados are small, you may want to use 2.
1/4 cup cilantro chopped – you can sub parsley if you are a cilantro hater!
For the dressing
2 Tablespoons lime juice
1/4 cup avocado oil
1/4 teaspoon cumin
1/4 teaspoon oregano
1/2 teaspoon salt
1/4 pepper
Instructions
Place the raw corn in a large pot, and cover with water. Bring to a boil, and cook for 5 minutes.*

Plunge the corn into ice water to stop the cooking.*

Cut the corn off the cob, and add kernels to a large mixing bowl.*

Add tomatoes, cilantro and avocado.

Whisk the dressing together (with a whisk or fork) in a separate bowl, and pour over top. Tip: use a spatula to scrape all the herbs into the salad.

Gently fold everything together. I like using a silicone spatula, but a spoon will work too.
Recipe Video
Recipe Notes
*skip the first three steps, if you are not using fresh corn on the cob.
Fresh corn tastes best. But! If you use a 10 ounce bag of frozen corn, cook it per package instructions and then let it cool completely. I love Trader Joe's frozen roasted corn in this recipe!
Canned corn would be my last choice, but it will work. Heads up, though! You may need to reduce the salt used in the dressing, since canned corn if often salted.
If you are making this ahead, I would save the avocado and cilantro to add just prior to serving. Otherwise it may brown/ wilt.
Nutritional information is approximate and was created using a recipe nutrition label generator.
Nutrition Facts
Corn salad with avocado, tomatoes, cilantro and lime dressing
Amount Per Serving
Calories 190 Calories from Fat 126
% Daily Value*
Fat 14g22%
Saturated Fat 1g6%
Sodium 207mg9%
Potassium 476mg14%
Carbohydrates 15g5%
Fiber 4g17%
Sugar 5g6%
Protein 2g4%
Vitamin A 840IU17%
Vitamin C 19.1mg23%
Calcium 12mg1%
Iron 0.7mg4%
* Percent Daily Values are based on a 2000 calorie diet.
Note: This post originally appeared on A Pinch of Healthy July 23, 2018.
(Visited 19,868 times, 12 visits today)