Air fryer roasted potatoes with garlic and herbs are cooked to golden, crispy perfection. They are the perfect side dish for breakfast, lunch or dinner.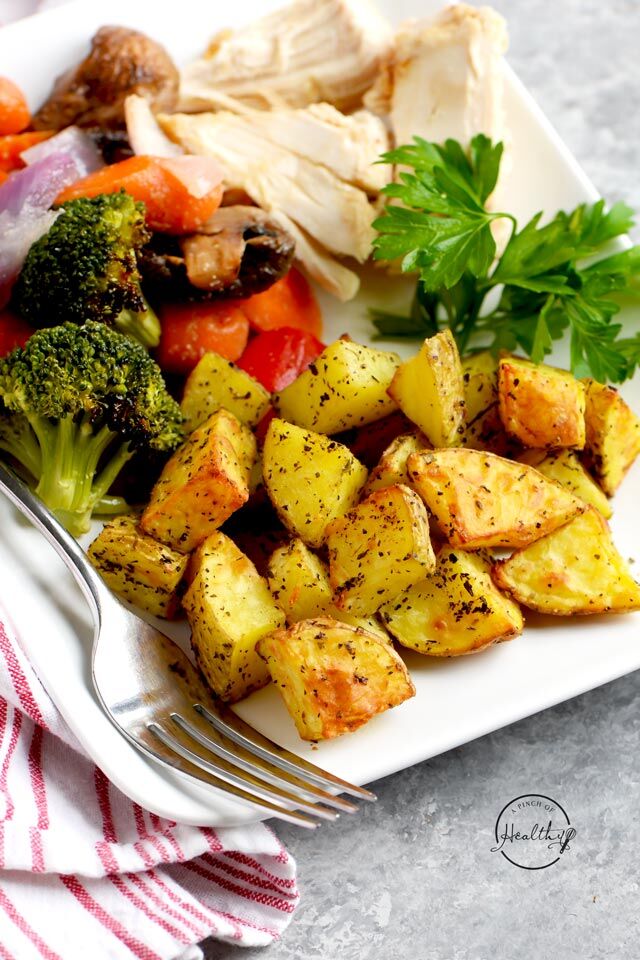 I promise I will be making more than just potatoes in my air fryer one day real soon. 🤣 I just cannot help myself!
This little device makes the perfect baked potato, French fries and now…may I introduce my newest air fryer potato obsession: roasted potatoes with garlic and herbs.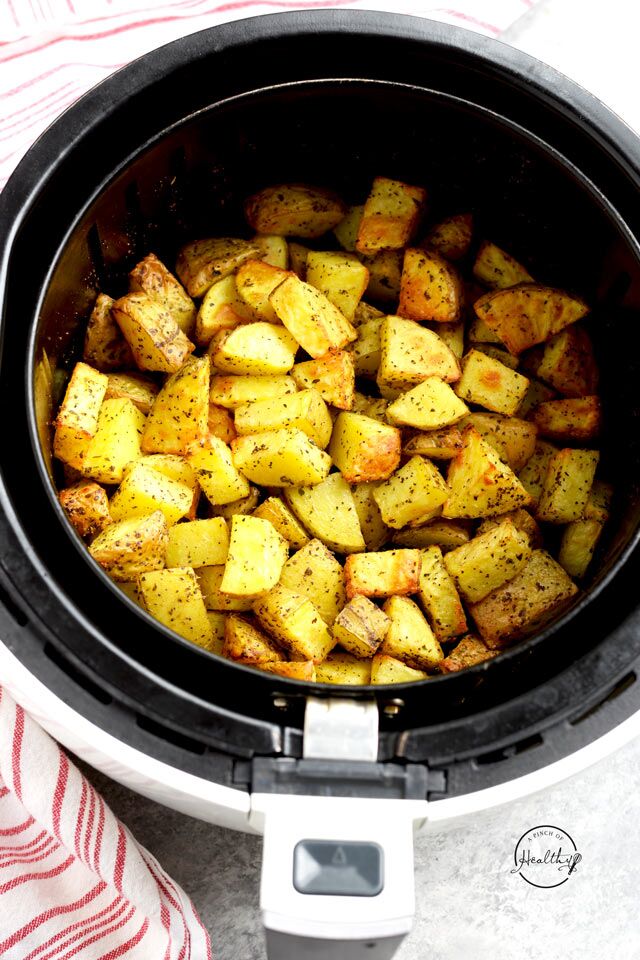 My mom was here, helping me with the kids since my recent cancer diagnosis. I made these twice while she was here, and she had a fit! I think she was about ready to get an air fryer only to make these potatoes…LOL!
Also, I started eating the leftovers with scrambled eggs for breakfast. I just reheat them in my toaster oven while my eggs are cooking. So yummy!
How to Make Air Fryer Roasted Potatoes
We have made these with Russets, red potatoes and Yukon golds. The Yukon golds are what you are seeing in these photos, but all of them work great!👍🏻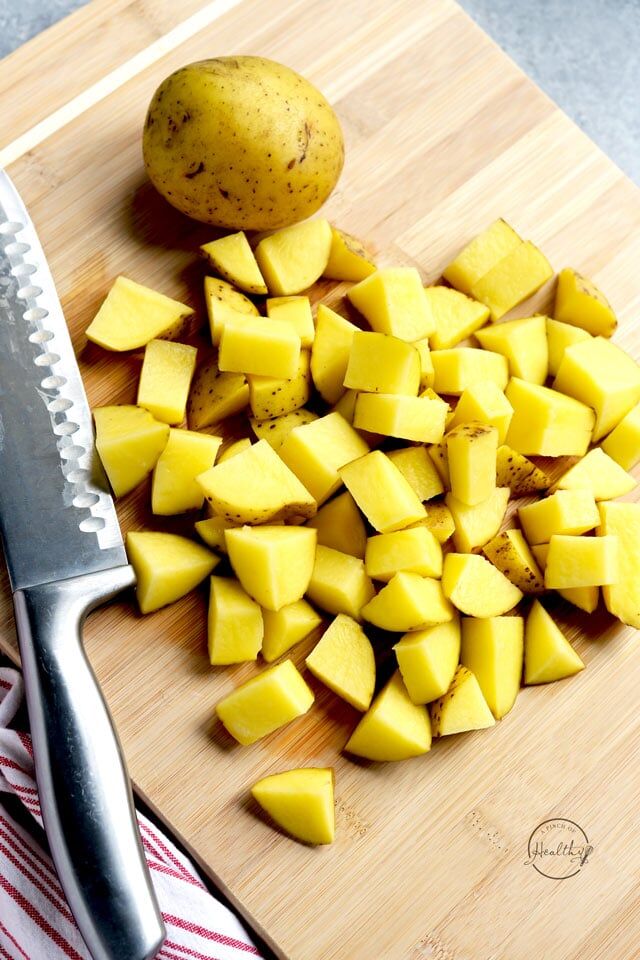 I chose not to peel my potatoes. We like the peeling, and my mom always said that's where all the vitamins are!😆 Even though we buy organic potatoes, I still give mine a good scrub first, and pat them dry with either a paper towel or a kitchen towel. Of course, you can always peel them if you prefer.
I use cooking spray for this recipe. It really helps to distribute the oil evenly, plus I do need very much of it.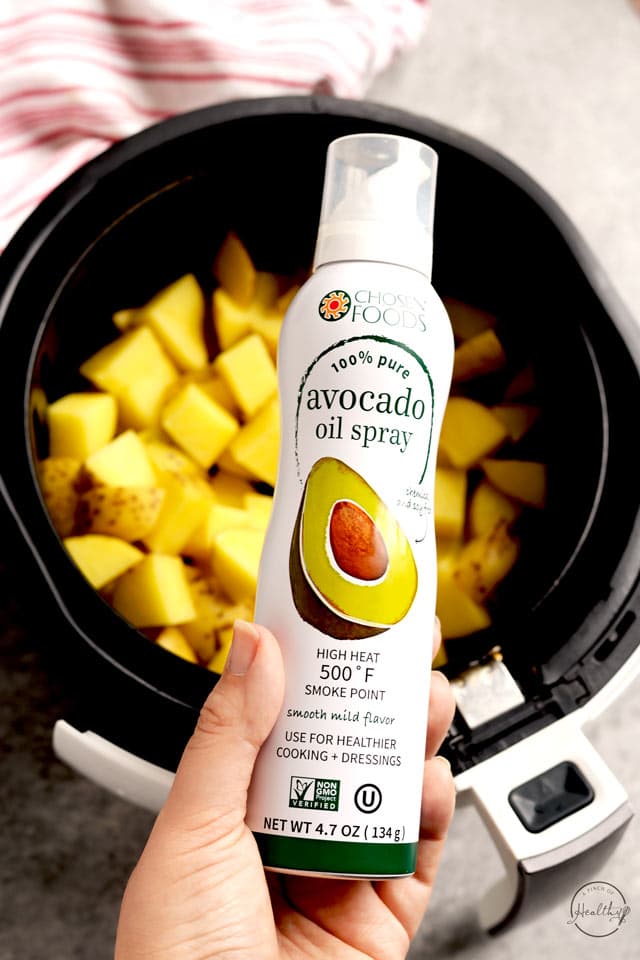 I love avocado oil spray! It is great for any recipe that uses high heat. Plus, it is very mild in taste. This is not sponsored, by the way.
I give the air fryer basket a good spray first. Then I add my potatoes in. I give the potatoes a good spray too.
Next, I add the salt, pepper, granulated garlic (or garlic powder), oregano and basil. Then I toss everything to make sure the potatoes get evenly coated. My hands work fine for this. But I used a spoon here to keep my hands clean for the camera.😉👌🏻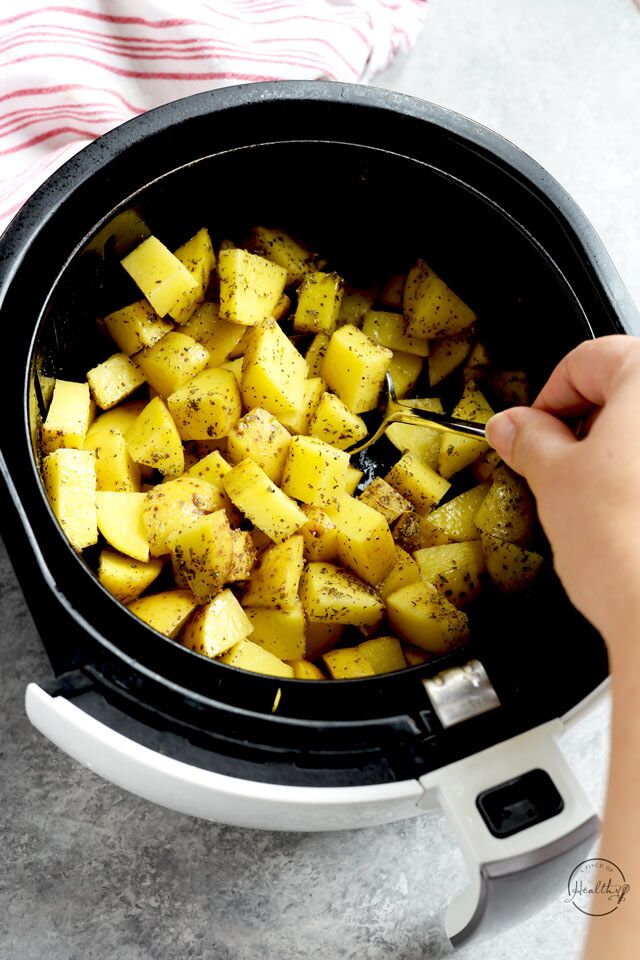 Then I cook it at 400 degrees until they get the crispy look that I am going for, which usually ends up being somewhere between 20 and 24 minutes.
This particular batch took 22 minutes, by the way. I do toss mine a couple times during those twenty-something minutes to ensure even cooking.
Also, side note, I have made this many times to figure out what is the maximum amount I can make with great results. The answer: 1.5 pounds of potatoes.
I used four medium Yukon golds. If you do more than this, the cooking seems to get uneven. That is my main complaint about the air fryer – limited capacity! But this recipe does make four hearty servings. Less than this is fine, but I would not recommend any more than 1.5 pounds.
The result? Roasted potato perfection!😍👌🏻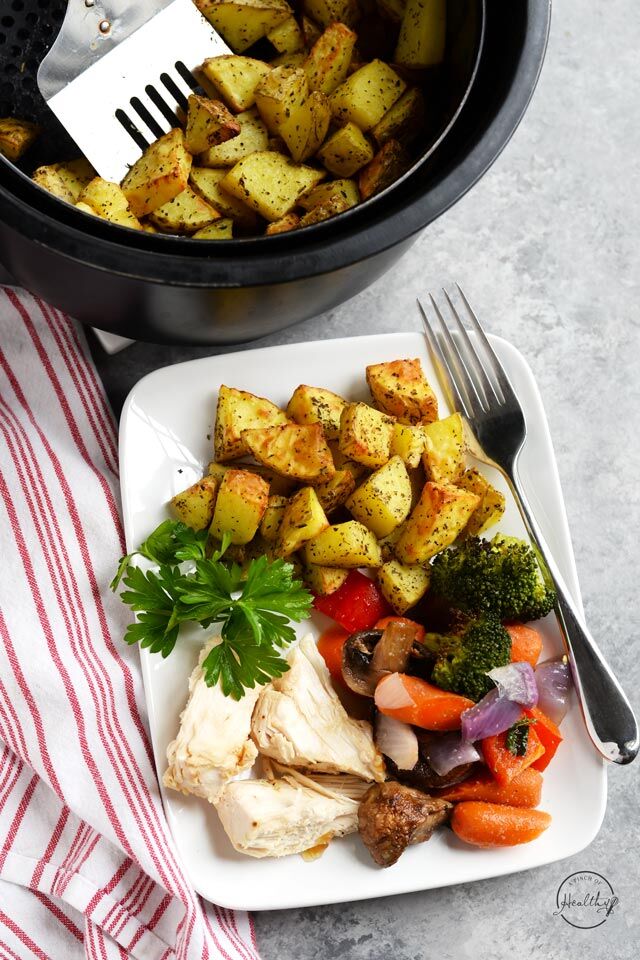 Tools Used to Make Air Fryer Roasted Potatoes
Note: These are Amazon affiliate links.
Air Fryer Roasted Potatoes Recipe
If this recipe looks good to you, pin it and share it. If you try it, give it a star rating. And be sure and stay connected on social media!
Instagram | Pinterest | Facebook | YouTube | Twitter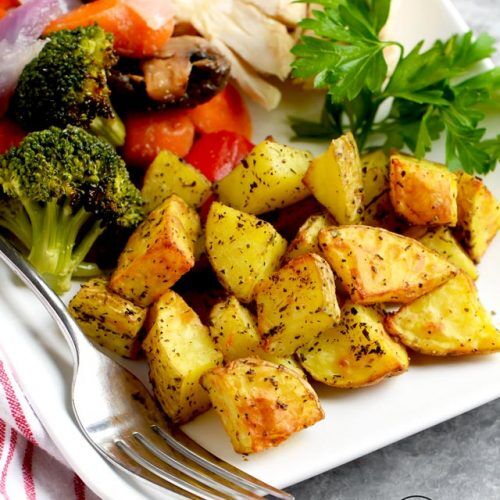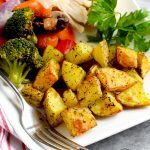 Air Fryer Roasted Potatoes
Air fryer roasted potatoes with garlic and herbs are cooked to golden, crispy perfection. They are the perfect side dish for breakfast, lunch or dinner.

Prep Time 5 minutes
Cook Time 22 minutes
Total Time 27 minutes
Servings 4
Calories 110 kcal
Ingredients
1.5 pounds potatoes (diced into 1 inch pieces - gold, red or russets)
1/2 teaspoon garlic powder or granulated garlic
1/2 teaspoon salt or more, to taste
1/4 teaspoon pepper
1/2 teaspoon oregano dried
1/2 teaspoon basil dried
cooking spray (I am using avocado oil cooking spray)
Instructions
Spray the air fryer cooking basket with the cooking spray.

Add diced potatoes to the basket, and give the potatoes a spray.

Add salt, pepper, garlic powder, oregano and basil, and toss to combine and evenly coat the potatoes.

Cook at 400 degrees (not preheated) until brown and crispy, about 20 to 24 minutes.

Toss them half way through with a flipper, and shake the basket once more to ensure even cooking.
Recipe Notes
Nutritional information is approximate and was calculated using a recipe nutrition label generator.
Any of the following types of potato will work well with this recipe: red potatoes, white potatoes, Russets, Yukon golds. I would not recommend sweet potatoes with this flavor profile.
Any type of cooking spray works with this recipe. I would recommend one with mild, neutral flavor. Avocado oil is my favorite to use. I would not recommend any of the flavored cooking sprays, such as butter flavor.
Nutrition Facts
Air Fryer Roasted Potatoes
Amount Per Serving
Calories 110 Calories from Fat 9
% Daily Value*
Fat 1g2%
Sodium 308mg13%
Potassium 702mg20%
Carbohydrates 21g7%
Fiber 4g17%
Protein 4g8%
Vitamin C 19.4mg24%
Calcium 51mg5%
Iron 5.6mg31%
* Percent Daily Values are based on a 2000 calorie diet.
(Visited 643,579 times, 43 visits today)