Are you sensitive? Do you sense or feel subtleties that others seem to miss? If you clicked on this, there is a pretty good chance that you are, friend.
Or perhaps you are married to/ friends with a sensitive soul that you would like to understand and support in a deeper way? If none of this applies, no worries.💁🏼‍♀️ You might want to check out my other life posts or my recipe archives. No offense taken here. For the group that this applies to, I hope it is helpful!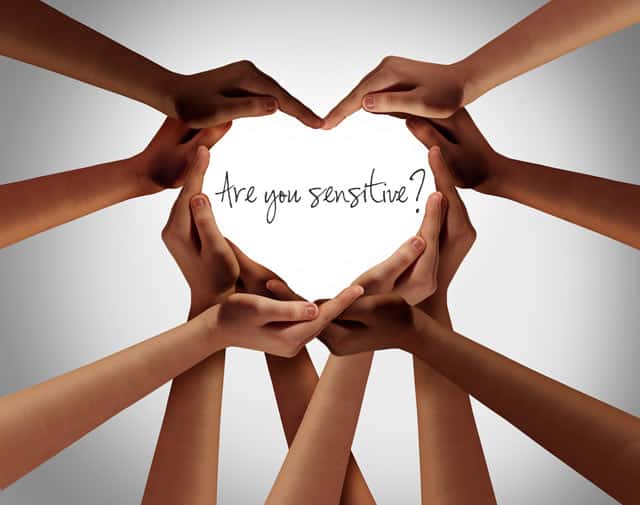 So that you know what I mean by sensitive, let me explain. Sensitivity can be present on multiple levels: physical, emotional and the intuitive/ abstract.
So what qualifies me to talk about this topic? I am sensitive in all of the above ways. Lucky me! 🙃I don't share personal details here just for the sake of talking about myself. I share my personal details with the intention and hope that you see yourself in my own personal experiences, and that you find it helpful in some way.
I often feel like I exist on a whole different plane of existence from most people. I'm weird y'all. 😜 I take in So. Much. Information! More than most people. I often think and process in visuals, symbols, colors and other things that make zero logical sense to many others. See? I told you I was weird!😂🤷🏼‍♀️ I am so okay with that, though. I actually kind of love that about myself these days.😎🙌🏻
In all seriousness, understanding more about how my sensitivity works and how to use it has been one of the most profound and life altering experiences of my life. It has been a process learning about all this, though.
I have taken in tons of information on this topic from a variety of different angles/ schools of thought. I have read everything from psychology, spiritual gifts in the Bible, quantum physics, hippy dippy woo woo mystical stuff…all of the things! Basically I have searched high and low to try and make sense of how I operate in the world.
Labels are fairly meaningless to me, to be honest. INFJ, empathic, clairsentient, claircognizant, sensitive, HSP, intuitive, having the spiritual gift of discernment…It doesn't matter what what words people use to describe this group of qualities I have. What matters most to me is my own experience.
I do fancy myself a free thinker, y'all. So I have read all the things and then taken the best pieces of everything to form a way of understanding that makes the most sense to me. This is my attempt to explain it to you.
Why talk about sensitivity?
So why am I talking about this? A lot of people are sensitive, and they experience a lot of suffering because of it. It doesn't have to be this way!
I used to feel like my sensitivity made me feel weak and fragile. Like it was a problem that I was constantly having to navigate and manage. Does anybody out there feel that way? I know some of you do. Take heart, friend. It doesn't have to be that way.
I began to realize that I was focusing on the drawbacks and totally ignoring the strengths of being this way. Once I finally understood my sensitivity better, I started to realize that being sensitive is a super power.💥💪🏻
This post is not about ME, calling attention to myself. This is a God-given gift that others have too, I have come to believe. One that can be harnessed to help ourselves and serve others. And I want that for my sensitive brothers and sisters out there! I want you to know how powerful you (and your sensitivity) are.
So first, allow me to elaborate a little on each type of sensitivity and how it manifests. A person can resonate with one or all of these.
Emotional sensitivity
Emotional sensitivity is probably the one most people are familiar with. Emotionally sensitive people are in tune with their own emotions, the emotions of others or both. We feel all the feels, y'all. 💖🙌🏻 We are people focused. We place value on connecting with others on a meaningful level, seeing what makes people tick, etc.
Many of us tend to gravitate to creative things, music and the arts. I was looking around at my choir and orchestra friends this week at church, realizing how many of us feel and express emotions very deeply. I love how that can translate into creating something beautiful.💖
Emotional sensitivity can be oriented to the external or internal. Internal means that you are very in touch with how you feel. External means that you are in tune with the emotions of others. I experience both, but I personally identify with being most oriented externally with my feeling function. This means that it is normal for me to notice how others are feeling, often before I know how I feel about something.
It's a weird problem to have, actually. Is it them I am feeling, or is it me? 🧐😂🤷🏼‍♀️This was super confusing to me for many, many years until I finally figured it out. This is not something many people were talking about back in the 80s and 90s when I was growing up.
Diving into psychology and personality types helped affirm for me that this is, in fact, a thing.
Physical sensitivity
Physically sensitive people can get overstimulated by any of their five senses: sight, touch, taste, smell or hearing. Bright lights, crowds, strong smells, loud noises and the like can overstimulate a physically sensitive person.
A new term came onto the scene recently for this – highly sensitive person or HSP. I definitely identify with this. And it can happen for a variety of reasons.
My personal pattern is to retreat back into my inner world when I get overwhelmed like this. It is like my five senses shut off, or turn way down, at least. I can miss things that are right in front of my face. Or sometimes I get tunnel vision toward one small slice of physical reality that I am tuning in to.
Intuitive sensitivity
I saved the weirdest and best for last.😜 Intuitive/ abstract sensitivity refers to people who pick up information in ways that are not fully understood, beyond the five senses. We do it subconsciously. This one is still largely mysterious, and yet very real for those of us who experience it. We can feel, sense or "see" (in our mind's eye) information beyond what is picked up by our five senses.
We just know stuff, even if we don't know how we know it. This one is very hard to explain, but I have learned to trust it like crazy. Again, this was affirmed to me by reading about INFJ typology, where introverted intuition is the dominant cognitive function I use to navigate the world. There are other types that operate this way too, by the way.
One thing that is very common is for our intuitive impressions to seemingly conflict with what we pick up logically and physically, with our five senses. It can cause us to doubt ourselves. I know I have talked myself out of my initial intuitive impressions LOTS of times, only to realize later (sometimes year later, even!) that my initial impressions were Spot. On.
Being intuitive does not mean we are always right. It does not mean we know everything. It doesn't mean we read minds. Well, most of the time anyway.😉😂🙃 And I am definitely not going around trying to figure out everybody's secrets or anything. Impressions come at me without me doing anything.🤷🏼‍♀️
I find that what most often makes my intuition off is being too attached to what I want it to tell me. If I remain relaxed and open to any outcome, that is where I am most accurate.
So why does it matter?
Why does sensitivity matter? We notice things that don't even register for other people. We see possibility. We see potential. We see what can be. We are visionaries. We are change makers. Sometimes, it can be super valuable to speak our impressions into collective awareness. It can help make things better for everybody.
Some of us have learned to channel that vision into creating things. We write. We create music or art. We make things. We create the actual physical structures that shape reality for everybody else. We can help others to see the The Best Path forward, if we are brave enough to speak up.
Growing up sensitive
The earliest memories I have of this are from my childhood. To me, two versions of people always existed: who they presented themselves to be and who they actually are. I knew that I could sense duality and dishonesty very early, with both my peers and adults. At some point I realized that not everyone could pick up on this, and so I kept my impressions to myself mostly.
Also, it caused me to gravitate toward people who were honest, authentic and straightforward. I did not have much regard for socioeconomic status, popularity, race, who my parents' friends kids were, who I "should" be friends with, etc. Most of that was meaningless to me, especially when I was very young. I just wanted to be around honest people I could connect with on a meaningful level.
This was very hard, actually. My desires for true connections would clash with societal norms. My rational mind would try to talk me out of my initial intuitive impressions. It caused a lot of self-doubt, overthinking and it played out with me to pulling away from people a lot. I was friendly and outgoing, but I felt like I had very few true friends.
I still struggle with this a little, honestly. It can be super isolating and lonely to feel like I understand everyone else pretty well, but nobody truly understands me. Can anybody relate to that?
In college, I noticed that even though I would go out with all of my friends, I would just get tapped out before everybody else. My roommates had this running joke about me always being the first one to say it was time for me to go to bed. 😂I now know that it was likely just multi-level sensory overload.
Adulting as a sensitive person
Dating in my early and mid twenties was a special kind of torture.😜 Sometimes I could sense when someone lost interest or was about to break up with me. I could sense if they were hiding something, even if I didn't know what. I would try and fix it (indirectly, of course, since I could not explain what was coming through), but that just usually made things worse.
Other times I was completely clueless about where the other person was at, because I let me overthinking mind talk me out of some painful truth I had initially picked up on. All of that overthinking battling my intuition caused me to be pretty insecure.
Or conversely, I would conclude 5 minutes into a first date that this was a hopeless waste of time. I would do my best to remain open and polite, but I would struggle to get through the remainder of the date, knowing that things would never work out.
I was one of those people who was really great in a relationship, but really bad at the dating part. So I just kind of would self isolate to avoid all the awkwardness, which caused me to be single most of the time.
As an adult, though, I also started to recognize some of the perks of being sensitive. At work, I was pretty good at problem solving. I could find innovative solutions that never much occurred to anybody else.
Also at work, even though I preferred to work alone, I noticed that I had the ability to get along with almost anybody. Even people that rubbed others the wrong way – I could usually understand them and work with them very easily, as long as they were fairly straightforward and honest.
I also noticed that wherever I was, I was the proverbial shoulder to cry on. People would spill their guts to me on the regular. It perplexed me a little. This still happens today. I think that people can just sense (albeit subconsciously) that I am an understanding and open-hearted person.
Advising and counseling others comes very naturally to me. I have the God-given ability to say the very thing that somebody needs to hear, at just the right time. It's like the gift of just-in-time wisdom. I don't know where it comes from sometimes. It literally feels like this sense of knowing can just drop into my head at just the right time. It feels like a God thing, to be honest. Like Divine wisdom being delivered to others through me.
Connecting with others
Because of my intuition, combined with my externally-oriented feeling, it is very easy for me to meet others wherever they are, on their own terms. This makes it super easy to understand and connect to almost anybody.
To try and explain, here is what I do. I soak in where somebody is at intuitively, observe their interaction style, and then I mirror that and bounce it back to them in their own way. I can chameleon myself. 😜 Not in an inauthentic way, just as a mechanism for connecting, if that makes sense.
It is also very easy to me to observe a wide range of different social scenarios, and adapt myself accordingly to bring about whatever I think the group needs.
If there is an extrovert present who is commanding all of the attention, I will sit back and let them have the floor.💁🏼‍♀️ If things get too awkwardly quiet, it is very easy for me to step up and fill the role of the extrovert and start engaging people to try and get interactions rolling. It is a weird skill set to have, but it can be super useful!
There is a third option, to sit back and just let things be as they are without interfering, if I don't feel like expending my energy. This is part of that discernment factor that is so important to practice. More on that in a minute!
Said another way, I can acknowledge my own power to influence a situation, without feeling like I have to use it. I don't feel responsible to run around and make everybody comfortable, at my own expense.
Reading the collective
Ready to dive even deeper into the weird zone? Okay, goody!😜 Another thing I do is read collective groups, big or small. Cities, countries, churches, families, companies, rooms of people…all of these give off certain impressions to me.
Taking the temperature of the room is something I do, even if it is subconscious. Certain cities or countries have different personality traits, almost as if they are beings unto themselves. One example: NYC = impatient, fast-paced, restless, get-to-the-point, city of dreamers. Make sense?
I never get political here, and I still won't…but the most recent inauguration day in 2016 was suuuuper intense. I could feel both the collective panic and the collective elation from both sides. It was intense and weird.
Timelines and predictions
This is not fortune telling. I just felt like I needed to say that.😂 The future is not fixed, but it is bendable by our current choice points. But I can usually get a good feel for the trajectory of a person's (or a collective's) choice points, and how that will play out into the future.
I am really good about seeing patterns and many different potential timelines and sort of predicting which one is the best and/ or most likely to occur. I can sometimes do this better for other people than I can for myself. I think it has something to do with the ability to be more objective/ less attached to certain outcomes for other people than I am for myself. Being overly attached to a desired outcome makes me anxious and more likely to resort to that overthinking loop.
Although there are many cases where I have very much done this for myself. Seen The One Path and made it my reality. I have seen the ending I want, gotten laser focused and made it happen many times, most especially in my career.
I can kind of pick out pivotal choice points for myself or other people, and I can see how this closes out other possibilities. It's a weird, yet super useful, tool to have in my tool belt.
This can be super painful at times. Sometimes the future is not so rosy. For example, when I see something catapulting toward a bad ending, like a marriage ending or something. I don't want to be right about that stuff.
Tools, tips and resources
Here are a few things that have really helped me understand and manage my sensitivities better.
Practicing discernment
Discernment is probably the biggest thing that helped me. Getting clear on yes's and no's is a great first step to tackle, if you want to try it. I get specific physical sensations for when something is a yes and when it is a no. This is something you can start practicing for yourself right now. Ask yourself obvious yes/ no questions, and see what you feel for your yes's and no's.
Also, just because I pick up on something doesn't mean I have to do anything about it. I have learned to discern when to act and when to just let things go.
I have learned to discern if a feeling I am having is my own, or just somebody else's vibe I am picking up on. I use my own intention, plus creative visualization, to help me do this.
One visual I regularly use for this specific issue is two volume knobs: one that is labeled "me" and one that is labeled "everybody else." In my mind's eye, I will picture myself turning down everybody else, and turning myself up. Or I can imagine the reverse, if I need to. Usually it is the former, rather than the latter that is the problem for me personally.😜 I do not have to stop and close my eyes or anything. I can do this with my eyes open, as I am going about my day.
Good boundaries
I am careful with what I let in my mind and in my space. I guard my energy and my attention. I have learned to discern if somebody is open to hearing my advice, or if they are just a human black hole that sucks up whatever energy it can latch onto. Oh yes, that's a thing, people.
I am careful about what TV and movies I watch, what social media accounts I follow, etc. I cannot view too much extreme violence or abusive content. It haunts me, especially visuals. I distance myself from mean and vindictive people pretty quickly.
I seek out inspiring inputs for myself too. Things that are going to energize me and fill my tank. I love listening to great music, inspiring podcasts, reading great books, having meaningful conversations with other people, etc.
I have learned to say no when something isn't aligned, even if it is initially awkward or uncomfortable. And I have learned what my best yes feels like.
Self awareness and self care
I feel like the term "self care" gets hijacked by marketers trying to get us to spend our money on massages, manicures and self pampering. 😜Not that I hate any of those things. Boy, I could write a whole post just on that concept alone! But this is already sooo long!
So in a nut shell, actual self care starts with being able to tune in to yourself, notice what's coming up and what is the best way to advocate for and nurture yourself, in a very loving and caring way.
Sensitive people tend to need more alone time, more quiet time, more time to recharge, more space to process, etc. It helps to get in touch with your natural rhythms and patterns, and know when this need for quiet time might crop up. I know that after interacting in a large crowd, I will eventually hit a wall and need to retreat.
For myself specifically, I know that I also need physical movement. I love to walk and swim. You can read more about this in my post about intuitive exercise. Moving my body helps me to feel centered and un-stuck.
It takes some practice, but learning how to do this for yourself can be super helpful! It make take some trial and error. But just knowing what you need is a great place to start.
Resources
Here are a couple of the resources that helped me. I will circle back and add more as I find them. Honestly a lot of the info I gathered was from therapy, business coaches, talking to like-minded friends and reading anything and everything I could get my hands on.
Elaine Aaron – One of the first to being the study of the innate temperament trait of high sensitivity in 1991, she, along with her husband Dr. Arthur Aron, are two of the leading scientists studying the psychology of love and close relationships. She came up with the term HSP.
C. S. Joseph – His YouTube channel has TONS of free information about personality types and interaction styles. It is helpful if you already have an idea of what type you are, but he has videos to help you type yourself too. A lot of people criticize him for being an insensitive jerk, but I have to say I disagree. He is just very unfiltered, which I happen to appreciate. I am not easily offended either, y'all. If you are easily offended, consider yourself warned. 😜
I like his work in particular because he dives deep into all four sides of the mind, not just the ego like most personality resources do. He goes into the weeds, y'all. Lots and lots of detail. 🤯 He dives into energetics a bit too, which I freakin' love. Like relationships behaving like subatomic particles or solar systems. It is weirdly wonderful and fascinating. ✨
Side note: He also has mentioned that an inordinate amount of his viewers are, or believe themselves to be, INFJs. 😂 (👈🏻one of the most sensitive types, if you are not familiar. And what type I feel myself to be.) I find this hilarious and believable…because most of us are trying to understand why the hell we are so weird. 😜
In conclusion
Thank you for reading this far! I hope it helped, even if in some small way. I believe that we are all sensitive on some level. It is just a matter of degree and awareness of it.
If your sensitivity has felt like a burden, I hope this has perhaps given you some insights into your strengths that you haven't though about. And hopefully a few tools and tips to help nurture yourself. Hugs and high fives to all my fellow sensitive brothers and sisters out there. Go use those gifts!
(Visited 4,349 times, 1 visits today)