Today I am showing you how to make chicken bone broth, a nutrient dense super food, and you can make it in the slow cooker, or my recent favorite – the Instant Pot (Amazon affiliate).
I sometimes call this chicken stock, even though using the two interchangeably is not completely accurate. Bone broth cooks the bones very long, until they become soft. Here is a great article that explains the difference, in case you are curious.
How to make chicken bone broth
First, gather your ingredients.
Ingredients
To make chicken bone broth you will need the following:
chicken bones (I use the bones from roasted chicken or store-bought rotisserie chicken)
water
apple cider vinegar
salt and pepper
bay leaf
other aromatic veggie scraps – onions, celery garlic, carrot
Keeping a scrap bag in the freezer
The cool thing about chicken bone broth is that is a food that can be made from things that you normally throw away. You could store chicken bones in an airtight container in the freezer until you are ready to make it.
Heck, I even save the ends of my veggies (carrots, celery, onions, garlic, already used bay leaves). Talk about frugal! Those all can also be saved in the freezer in a freezer bag.
Cooking the chicken bone broth
Place all ingredients in a slow cooker, instant pot or in a stick pot on the stovetop, and fill with water.

For the slow cooker, cook on low for at least 12 hours, up to 24 hours.
In the Instant Pot, cook for 120 minutes on high pressure.
For the stovetop, after bringing to a boil, reduce to a simmer, partially cover, and cook for no less than 5 hours. (Note: For the stovetop method, you will likely need to add/ use more water as evaporation is much more of a factor.)
Once the cooking time is complete, use a strainer to separate the liquids from the solids.
How to Use Chicken Bone Broth
As for uses? When I am sick, I will drink a little bit warmed up, just straight out of a mug. It is actually pretty tasty, warm and comforting all by itself, if you ask me.
I use is to cook veggies in, like green beans, peas or lima beans. You can also use bone broths as the base for many sauces or gravies.
I also love to use it as a base for homemade chicken noodle soup. Chicken bone broth is a great base for many soups, actually.
Soup Recipes to Use Chicken Bone Broth
You may enjoy some of these recipes. They are some of my family's favorites. You can make them with your chicken bone broth!🙌🏻 Some of them are Instant Pot recipes, some slow cooker and some are made on the stovetop.
Chicken Bone Broth FAQ's
How long will this keep?
For about a week in the refrigerator.
Is it really bone broth if I use the Instant Pot method?
As far as I can tell, yes. What makes it "bone broth" is the high levels of collagen. This is indicated by a gel-like texture once it is refrigerated. Mine gels every time I make it. Your bones-to-water ratio will determine how much collagen you get. For thicker stock, use less water or more bones.

If you are a stickler for the length of time, use the slow cooker method, provided in the recipe card. Either way works!
Can I use the bones from a home roasted chicken or Instant Pot rotisserie chicken?
Yes! You can use any liquid that comes out from roasting that as well, as well as any skin, or any other part.
If there is still some meat on it that I plan to use, should I remove it first?
Yes. I often remove any leftover meat and set it aside. That being said, if you don't plan on consuming the meat left on the bones, you can just go ahead and leave it on there.
What's the difference between chicken broth and chicken bone broth?
They are both chicken broth by definition. However, chicken bone broth refers to a cooking process that extract the maximum nutrition, collagen, etc. out of the bones. This requires longer/ more cook time. Regular chicken broth can be made a bit quicker and will likely have less dense nutrition in the final product.
Do I need to roast the bones?
I do not find this necessary, especially if I am using the bones from an already-roasted chicken.
Can I use chicken feet?
Yes! I have never used chicken feet, but they are said to be highest in collagen, and they make great chicken bone broth. We have been happy with the results we have using bones from a whole roasted chicken.
Should I use filtered water?
We have a reverse osmosis, so I use that for all of our cooking liquids. That being said, use the water that is available to you. Filtering is not a requirement.
Tools You Will Need to Make Bone Broth
Note: These are Amazon affiliate links.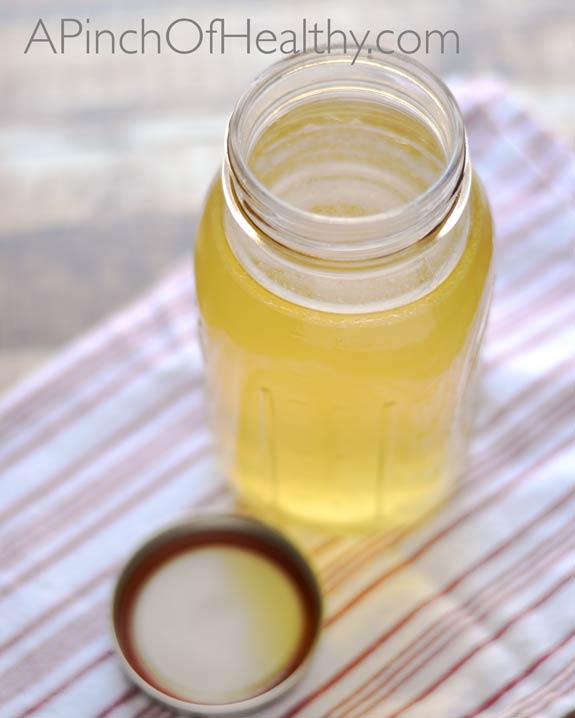 Share this recipe
Give this recipe a star rating if you try it. If this recipe looks good to you, please pin it and share it! And don't forget to stay connected on social media.
Instagram | Pinterest | Facebook | YouTube | Twitter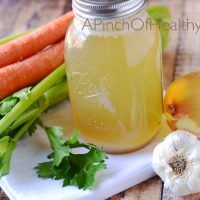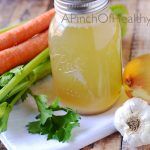 Chicken Bone Broth
This chicken bone broth is a nutrient dense super food, and it is made from ingredients that you may normally throw away.
Prep Time 5 minutes
Cook Time 2 hours
Total Time 2 hours 5 minutes
Servings 10
Calories 74 kcal
Ingredients
Bones from a whole chicken (I used the carcass of a store bought rotisserie chicken)
2 stalks of celery roughly chopped
2 large carrots roughly chopped
3 cloves of garlic smashed and peeled
1 onion quartered
2 tablespoons apple cider vinegar
Fresh herbs (optional – I used parsley and thyme from the garden)
salt and pepper to taste
inches Cold water covering the chicken carcass by about 3-4
2 leaves bay (optional)
Instructions
STOVETOP
Place the chicken bones into a 12-quart stock pot, and cover with water. In the Instant Pot, do not exceed about 2/3 full.

Add the veggies, herbs and apple cider vinegar.

Bring to a low boil.

Reduce heat to the lowest setting.

Partially cover, and simmer for at least 5 hours. You can cook it longer, but I would say no less than 5 hours. The longer the better!

Strain and store in the refrigerator.
INSTANT POT
Place all ingredients in the Instant Pot, and add water until it is about 2/3 full.

Place the lid on, lock it, seal the vent.

Use the manual setting to cook for 120 minutes.

Use the quick release valve when time is up, or feel free to let it release naturally. Both ways work!

After releasing pressure, remove the lid, and use a strainer to separate the liquids from the solids.
SLOW COOKER
Place all ingredients in a slow cooker, and fill with water.

Cook on low for at least 12 hours, up to 24 hours.

Use a strainer to separate the liquids from the solids.
Nutrition Facts
Chicken Bone Broth
Amount Per Serving
Calories 74 Calories from Fat 18
% Daily Value*
Fat 2g3%
Cholesterol 5mg2%
Sodium 275mg12%
Potassium 217mg6%
Carbohydrates 7g2%
Sugar 3g3%
Protein 4g8%
Vitamin A 20IU0%
Vitamin C 1.3mg2%
Calcium 10mg1%
Iron 0.5mg3%
* Percent Daily Values are based on a 2000 calorie diet.
Have you ever made bone broth?
Are there any additional uses for bone broth that I didn't mention?
This post may contain affiliate links, which pay a referral fee to me at no additional cost to you. My full affiliate disclosure can be seen here.
(Visited 585,326 times, 48 visits today)