Chicken corn chowder is a creamy, delicious and filling soup that is like a little hug in a bowl. Chicken, corn, potatoes, carrots, celery, onion, garlic in a creamy broth, topped with bacon, green onions and cheese.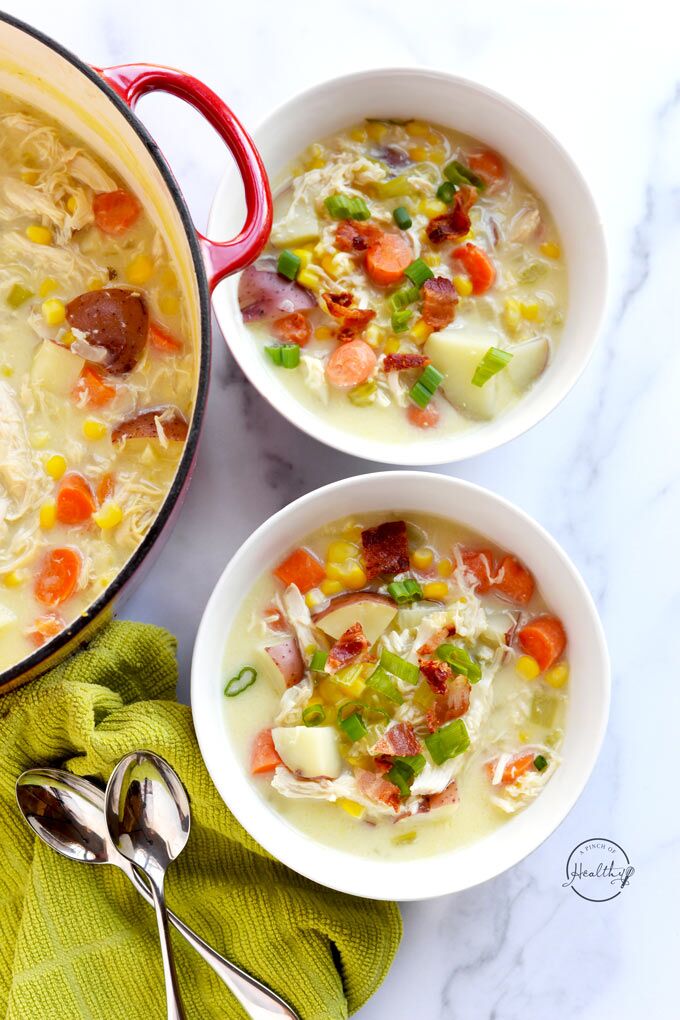 And who couldn't use a hug in a bowl right about now?!🙋🏼‍♀️
One day I was craving some soup – something comforting and filling. Instead of my usual chicken noodle soup from scratch, I knew I wanted something creamier.
This chicken and corn chowder is what happened! It is so creamy, dreamy and delicious.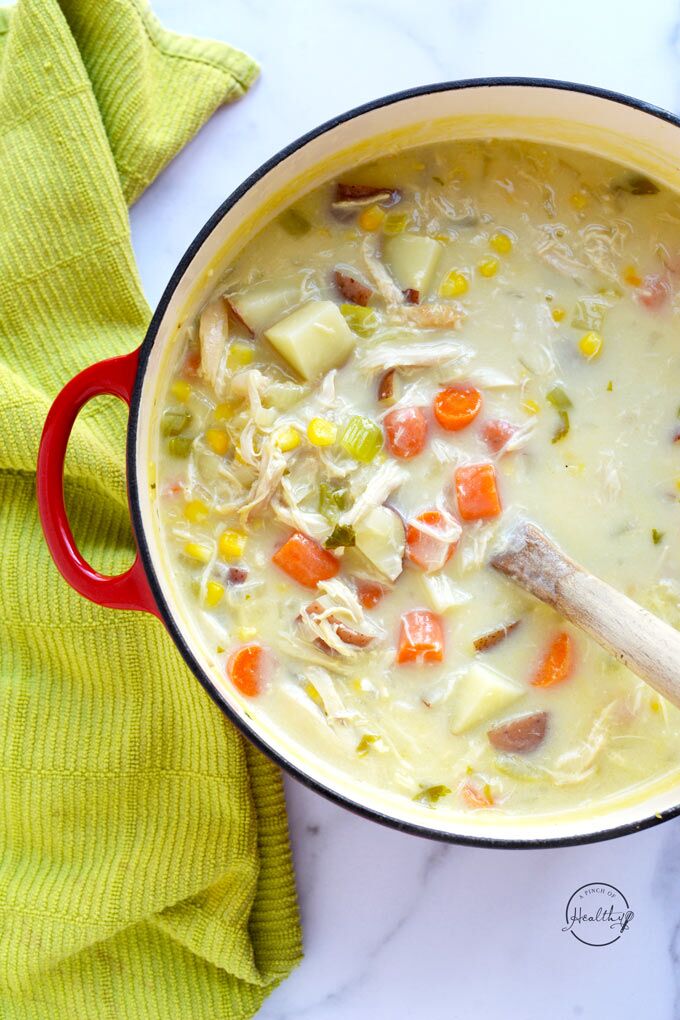 If you are familiar with many of my other soup recipes, you know that I LOVE me some toppings on soup. The chicken corn chowder is perfectly delicious on its own.
But MAN, with just a little sprinkle of bacon and green onions…it adds SO much flavor to the soup. Side note: I used my favorite air fryer bacon on this batch.
And CHEESE! A tiny sprinkle of cheese just put things over the top. I used cheddar jack…MMM!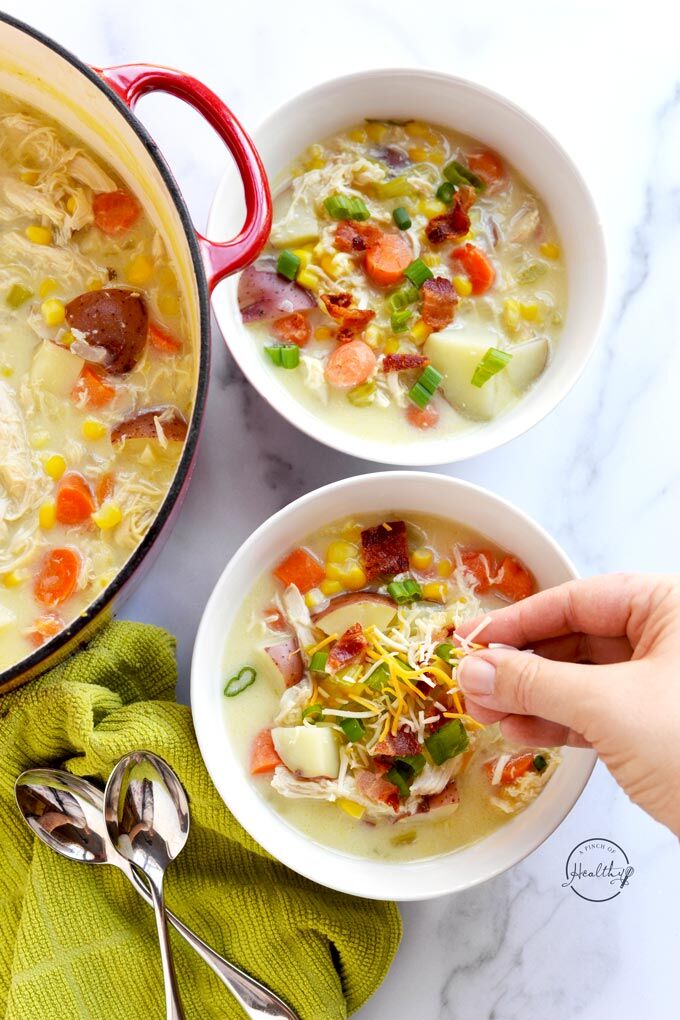 Doesn't cheese just make everything a little bit better?! 😍👌🏻
Can I freeze chicken corn chowder?
I would not recommend it. Why? This soup tends to get a funky texture when frozen. It separates into thin watery liquid and clumps. Not good!
You can, however, save leftovers in the fridge for up to five days, depending on the freshness of your ingredients.
Can I use dairy free milk?
I think cow's milk gives the best results, and it is what I recommend for this recipe. I have used 1%, 2% and whole milk successfully myself. If you do try a plant based milk, make sure it is plain unsweetened.
Can I make this in the slow cooker and/or Instant Pot?
I have not tested this recipe in the slow cooker myself, and I am not completely sure how well it would work. If I end up trying it, I will report back!
I have tried similar soups in my Instant Pot, but soups thickened using a butter and flour roux like this one have not worked well for me. So for now, I can only recommend this one on the stovetop.
Can I make this vegetarian?
Yes! Just use vegetable stock instead of chicken stock, omit the chicken, and add a few more of the veggies if you like.
What type of potatoes are best to use?
You have several options here. So I have used russets, Yukon golds and red potatoes successfully. After using all those different types over the years, they all work equally great.
But I would definitely recommend peeling russets since their skins tend to be a bit tougher. I used reds in the batch pictured, and I did not peel them.
Tools Used to Make Chicken Corn Chowder
Note: These are Amazon affiliate links.
Chicken Corn Chowder Recipe
Did you try this recipe? Give it a star rating. Pin it and share it if it looks good to you. And be sure and stay connected on social media!
Instagram | Pinterest | Facebook | YouTube | Twitter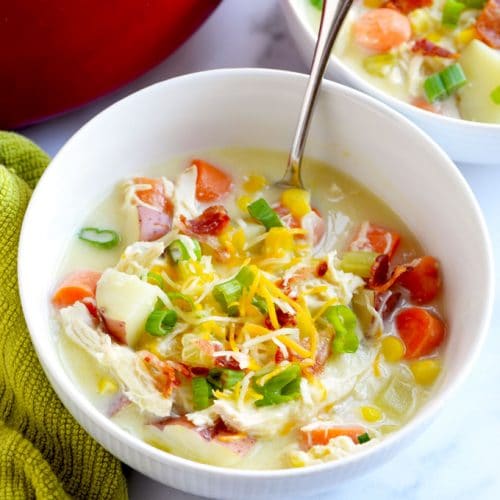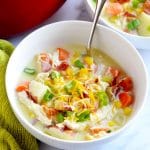 Chicken Corn Chowder
Chicken corn chowder is creamy and delicious! Chicken, corn, potatoes, carrots, celery, onion, garlic in creamy broth, topped with bacon and cheese.

Prep Time 10 minutes
Cook Time 35 minutes
Total Time 45 minutes
Servings 8 servings
Calories 286 kcal
Ingredients
9 ounces chicken cooked and shredded - I used leftover store-bought rotisserie chicken
1/4 cup butter diced into 1 tbsp pieces
1 medium yellow onion diced
1 cup carrots diced
1 stalk celery diced
2 leaves bay
4 cloves medium garlic minced
1/3 cup all-purpose flour
6 cups chicken broth (I used 6 cups water + 2 Tablespoons Better than Bullion chicken base)
1 1/2 cups of 1% milk
3 medium russet potatoes peeled and diced to 1/2-inch thickness
Salt and freshly ground black pepper to taste
3 1/3 cups frozen corn kernels (or 1 16 ounce package)
Optional toppings: bacon shredded cheese, green onions, parsley
Instructions
Melt butter over medium heat.

Add onions, carrots, celery and bay leaves and cook until the veggies begin to get tender, about 5 minutes.

Add garlic, plus a pinch of salt and pepper, stir, and cook about 30 seconds more.

Add the flour, stirring constantly to combine, and cook for 2 minutes.

Stir in the chicken broth and the milk, and use a whisk if necessary to break up any lumps.

Increase the heat slightly to medium-high.

Add the potatoes, and bring to a low boil; reduce heat to medium low (maintain a low simmer) and cook uncovered for about 12 minutes.

Add the cooked chicken and corn kernels, and cook for another 10 minutes, uncovered.

Add toppings, if desired (not included in nutritional information), and serve immediately.
Recipe Video
Recipe Notes
Nutritional information is approximate and was calculated using a recipe nutrition label generator. Toppings were not included in the nutritional info.
I used leftover rotisserie chicken for this recipe. You can also use my make-ahead easy shredded chicken.
You can use any type of potatoes for this recipe. I would recommend peeling the russets, though. Varieties with softer skin such as reds and Yukon golds I don't peel.
Refrigerate leftovers for up to 5 days, depending on the freshness of your ingredients.
I do not recommend freezing this recipe, as it tends to lose texture and separate when frozen.
Better than Bullion is very salty, and I almost never need any additional salt when I use it. Other stocks and broth will vary. If your soup tastes bland, add more salt!
Nutrition Facts
Chicken Corn Chowder
Amount Per Serving
Calories 286 Calories from Fat 81
% Daily Value*
Fat 9g14%
Saturated Fat 4g25%
Cholesterol 37mg12%
Sodium 307mg13%
Potassium 859mg25%
Carbohydrates 38g13%
Fiber 3g13%
Sugar 6g7%
Protein 16g32%
Vitamin A 3015IU60%
Vitamin C 8.7mg11%
Calcium 94mg9%
Iron 2mg11%
* Percent Daily Values are based on a 2000 calorie diet.
Note: This recipe originally appeared on A Pinch of Healthy on November 5, 2015.
(Visited 34,773 times, 3 visits today)