Broccoli cheese soup is creamy, comforting and delicious, and you would never know that this recipe uses no heavy cream.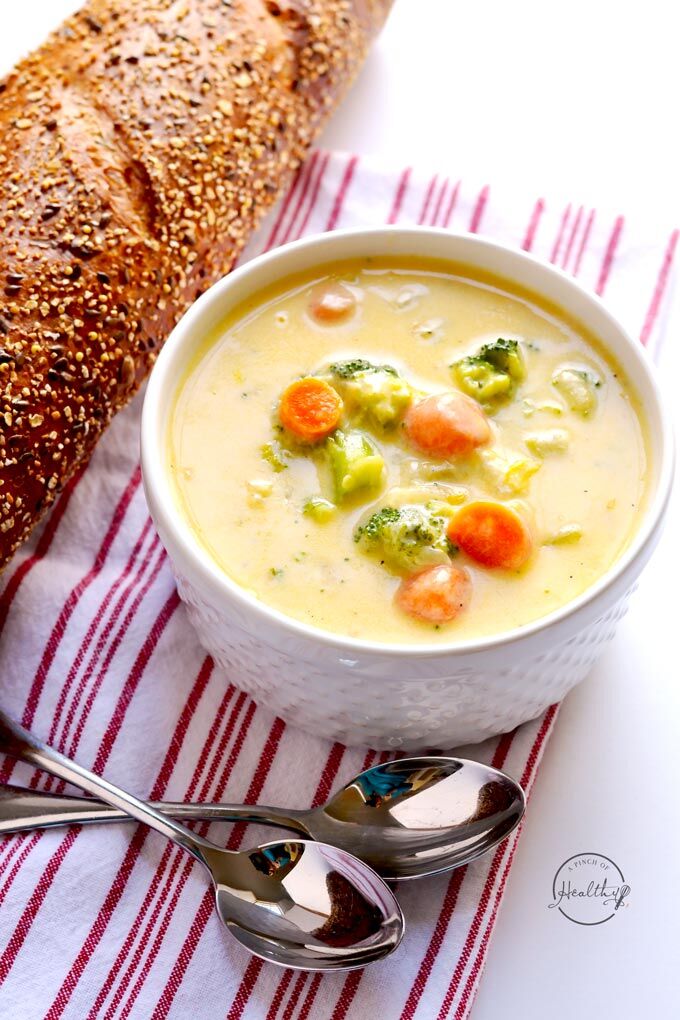 Alabama winters can range anywhere from mild to cold-ish. And it is finally getting legit cold in Alabama. (Translation: below forty degrees most days).
And on those cold days, nothing beats a bowl of this creamy, dreamy broccoli cheese soup.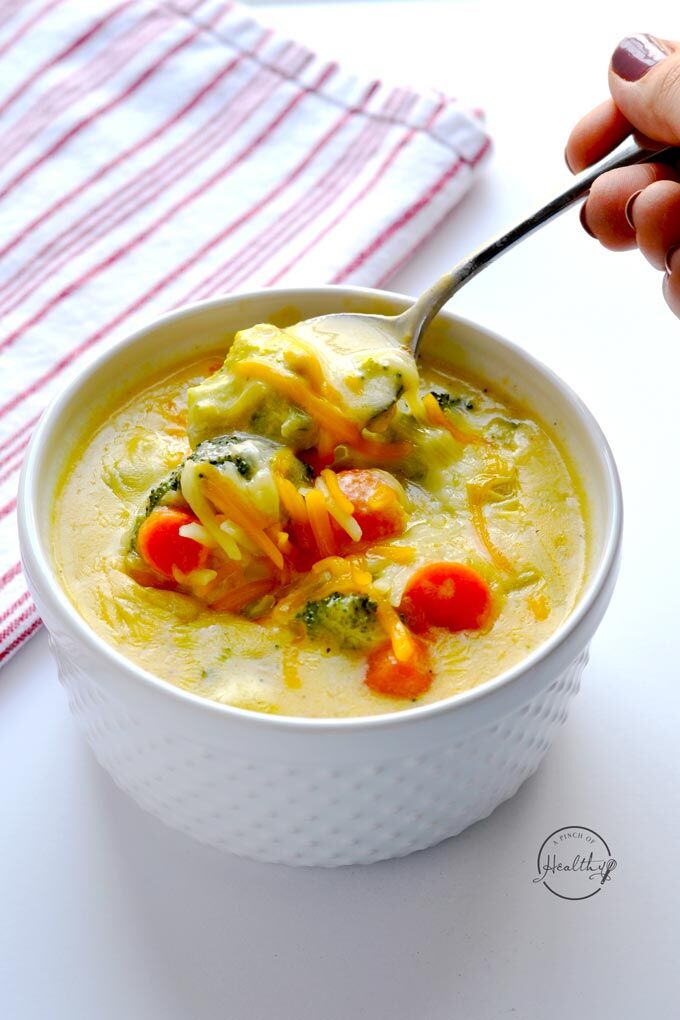 Broccoli cheese soup is very kid-friendly too. This recipe has my son wanting to eat his broccoli. Like, for reals.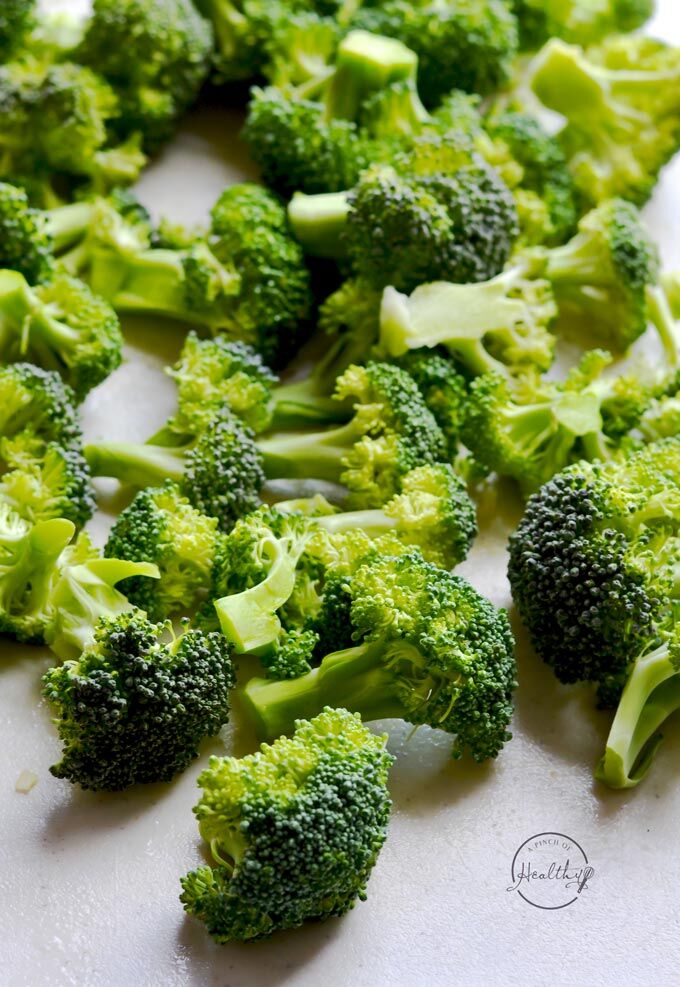 My son is four years old, and getting vegetables in him is no easy task. He is a tough critic. So I consider it a win that he went back for a second bowl of this broccoli cheese soup. Of course, the extra cheese on top doesn't hurt.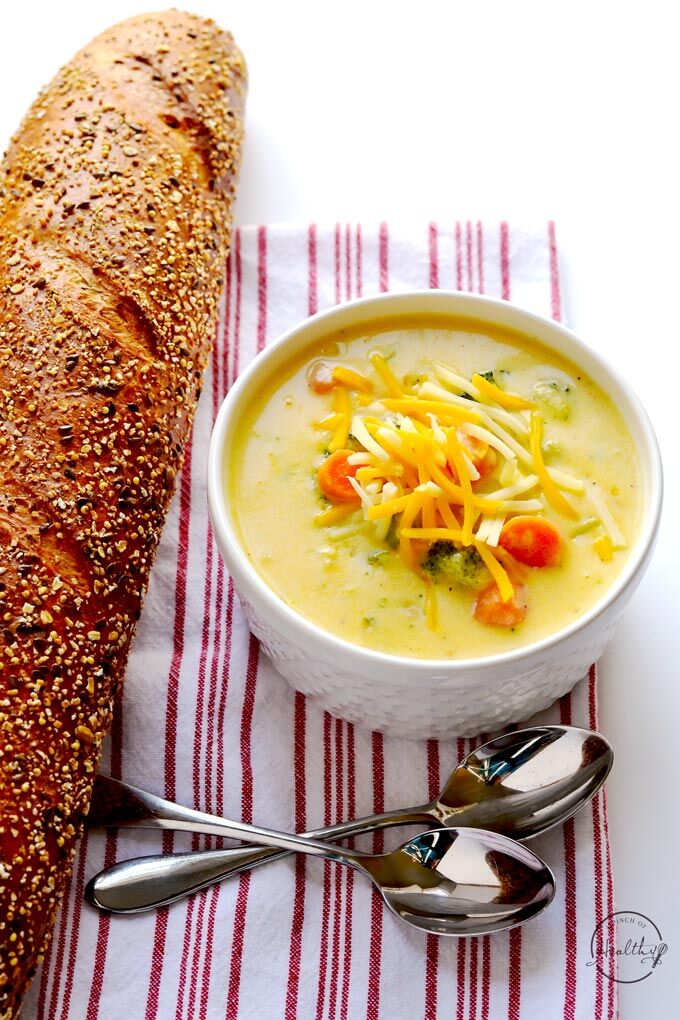 I just wanted to tell y'all that I reeeeally wanted to make this in my Instant Pot. I tried. Four times. And my beloved Instant Pot did not play well with my thickened or choice: a butter and flour roux.
I tried to use evaporated milk too, and it was just gross. No bueno.
I was trying to stay away from the heavy cream to lighten this up a bit. Using a roux (fancy work for butter and flour) just works best.
I use a similar technique in several other soups, like my chicken corn chowder and my tomato basil soup. And it works great! On the stovetop, that is.
So after the fourth fail in the Instant Pot, I decided that some things are just better on the stove.
Last, if you are making this for more then three people, I'd say go ahead and double what is written below. It is almost guaranteed that at least one or two people will go back for seconds. And you want to make sure and have enough!
To adjust the number of servings, just hover your mouse over the number of servings below, and use the slider to adjust to eight. It's a new trick that my new recipe plugin does. Pretty slick, huh!?
Tools Used to Make Broccoli Cheese Soup
This post may contain affiliate links, which pay a referral fee to me at no additional cost to you. My full affiliate disclosure can be seen here.
Broccoli Cheese Soup Recipe
If this broccoli cheese soup recipe looks good to you, please pin it and share it.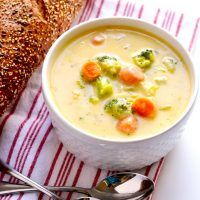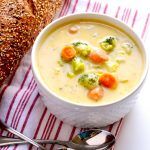 Broccoli Cheese Soup
Broccoli cheese soup is creamy, comforting and delicious, and you would never know that this recipe uses no heavy cream. So delicious!

Prep Time 12 minutes
Cook Time 17 minutes
Total Time 29 minutes
Servings 5
Calories 402 kcal
Ingredients
3 Tablespoons butter, divided
1 medium yellow onion diced
3 carrots diced
2 stalks celery, diced
2 cloves garlic finely minced
3 Tablespoons flour
2.5 cups chicken stock
2 cups 2% milk
1 bay leaf
4 cups broccoli, chopped into bite-sized florets
salt and pepper to taste
pinch nutmeg (optional)
8 ounce block of cheese, shredded by hand*** (I used Colby jack, but you could also use cheddar)
Optional: bacon bits and more shredded cheese
Instructions
Preheat a large pot or dutch oven over medium heat.

Add 2 Tablespoons of butter to the pot to melt.

Add onions, celery and carrots, and cook for about 5 minutes.

Add garlic, and cook 1 minute more.

Add the other 1 tablespoon of butter, and give it a few seconds until it melts.

Then add flour, stir to coat, and cook for another minute.

Whisk in the stock and milk to incorporate the flour and break up any lumps.

Add in the bay leaf and broccoli florets.

Bring to a boil, reduce heat to low, and simmer on low until the soup thickens and the broccoli is tender (about 7 minutes).

Remove the bay leaf, and turn off the heat.

Add the cheese and a pinch of nutmeg (optional), and stir until it is well-incorporated.

Garnish with more shredded cheese and bacon bits if desired and serve immediately.
Recipe Video
Recipe Notes
***Do not use pre-shredded cheese. Your soup will be clumpy. Buy a block of cheese, and shred your own using a box grater, or the food processor.
Nutrition Facts
Broccoli Cheese Soup
Amount Per Serving
Calories 402 Calories from Fat 225
% Daily Value*
Fat 25g38%
Saturated Fat 15g94%
Cholesterol 76mg25%
Sodium 620mg27%
Potassium 723mg21%
Carbohydrates 24g8%
Fiber 3g13%
Sugar 11g12%
Protein 20g40%
Vitamin A 7400IU148%
Vitamin C 70mg85%
Calcium 506mg51%
Iron 1.5mg8%
* Percent Daily Values are based on a 2000 calorie diet.
(Visited 9,816 times, 1 visits today)