Shrimp scampi over linguine is a delicious and simple dinner that comes together in less than thirty minutes.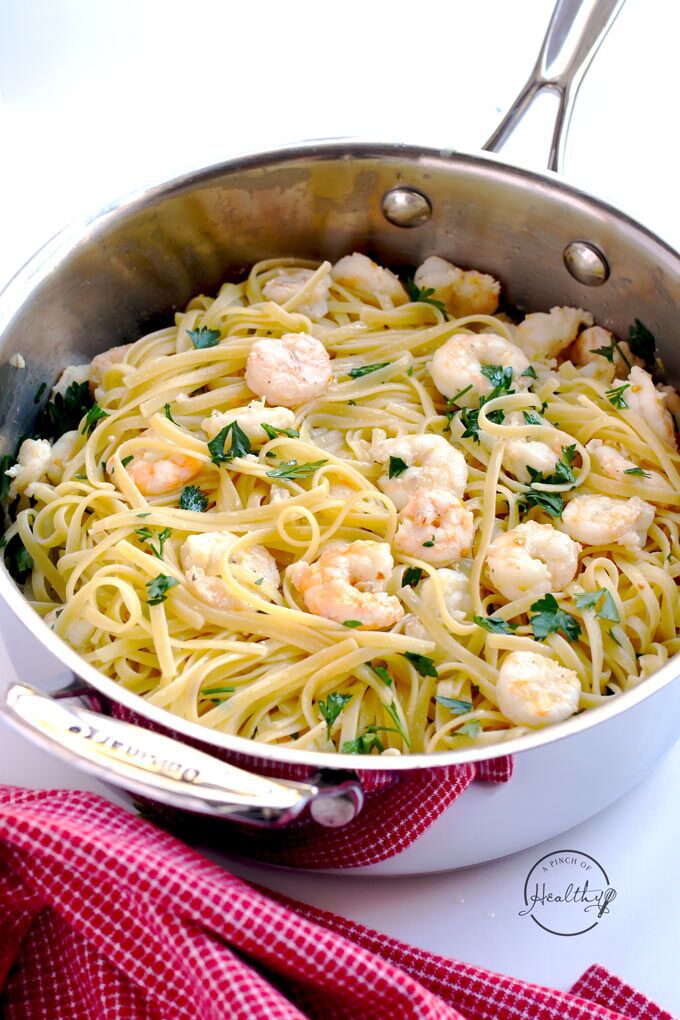 Spring has sprung here is Alabama! The weather has been warmer, and we have loved getting outdoors more. It has me looking for more recipes that (1) can be prepared quickly and (2) don't heat up my whole house.
This shrimp scampi over linguine fits the bill!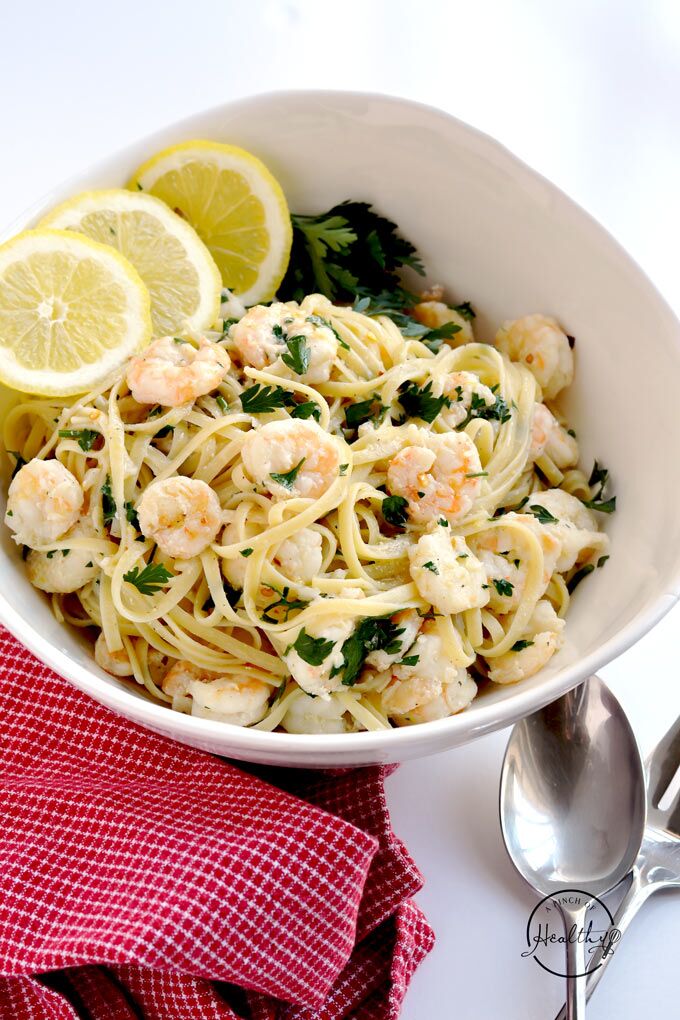 I adapted this from Ina Garten's recipe. (AKA Barefoot Contessa) So you know it's good, y'all! The flavor of butter, garlic and lemon is sooooo delicious!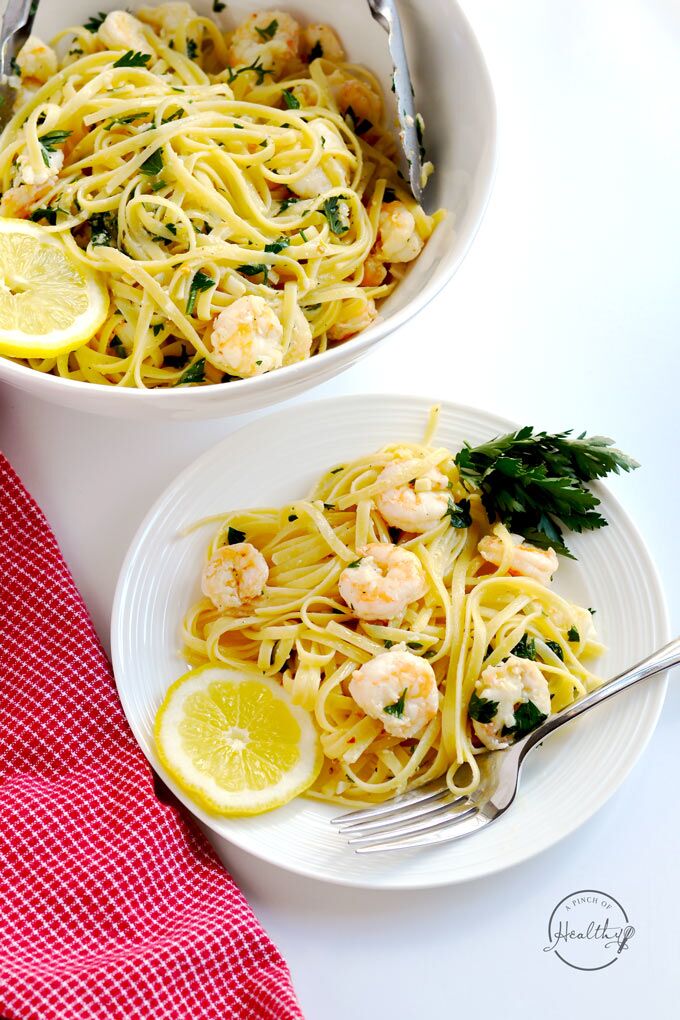 But! I added a little something extra to my version: cooking sherry. And that, my friends, was a good call. I had to give myself a little high five on that one. 😉 It was SO good.
You can get that cooking sherry at your grocery store, but I linked it to Amazon (affiliate) so you can see the bottle. Prior to this recipe, the only thing I ever used cooking sherry for is my chicken divan. (<- also a GEM of a recipe)
If you don't have cooking sherry, you can substitute the same amount of white wine. All the alcohol will cook out, and you are left with the best flavor! YUM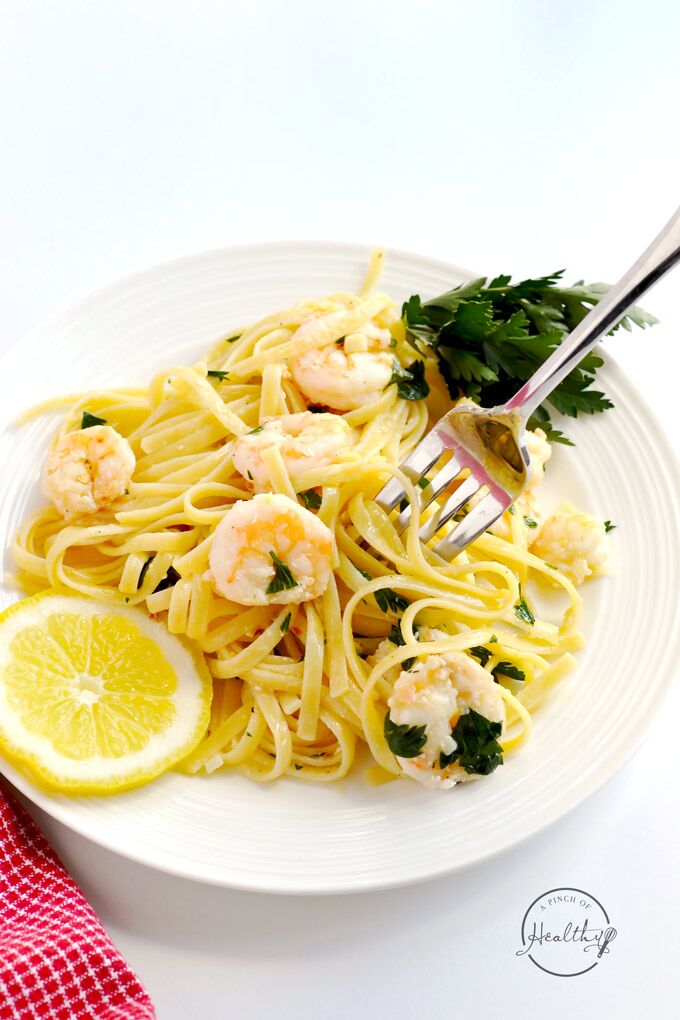 Just a note on the shrimp: this recipe will taste best with fresh, wild-caught shrimp. But if you can't find any, the recipe will still be really delicious with frozen shrimp. Just make sure you fully thaw it first. And do your best to find some that is already peeled and deveined for you. That will save you a ton of work!
Tools Used to Make Shrimp Scampi Over Linguine
This post may contain affiliate links, which pay a referral fee to me at no additional cost to you. My full affiliate disclosure can be seen here.
Shrimp Scampi Over Linguine Recipe
If this recipe looks good to you, please pin it and share it.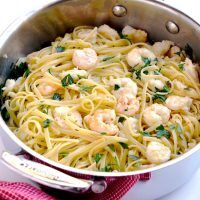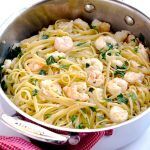 Shrimp Scampi Over Linguine
Shrimp scampi over linguine is a delicious and simple dinner that comes together in less than thirty minutes. SO delicious and simple!
Prep Time 5 minutes
Cook Time 15 minutes
Total Time 20 minutes
Servings 4 to 6
Calories 613 kcal
Ingredients
12 ounces linguine pasta (about 3/4 of a 1 pound box)
3 Tablespoons butter
2 Tablespoons olive oil
5 cloves garlic (minced, medium to large cloves - use more if the cloves are small)
1.25 pounds large shrimp, peeled and deveined (Fresh, wild-caught shrimp is best, but if you use frozen be sure it is fully thawed.)
Salt and pepper to taste
2 Tablespoons cooking sherry*
zest of half large lemon
1/4 teaspoon red pepper flakes
juice of one large lemon
1/3 cup fresh Italian flat leaf parsley, chopped
parmesan cheese (optional garnish)
lemon slices (optional garnish)
Instructions
Cook the pasta according to pasta package instructions. (Note: be sure and generously salt the pasta water!)

While the pasta is cooking, add the olive oil, and melt the butter over low heat in a large, high sided skillet.

Add the garlic, and cook for one minute, being careful not to burn.

Add the shrimp, salt and pepper, and increase heat a little to medium low, and cook until the turn fully pink, about 5 minutes. (Note: This may vary based on the size of your shrimp)

Add in the cooking sherry, lemon juice, lemon zest and red pepper flakes, stirring to combine; cook for about a minute, and turn off the heat.

Toss the shrimp mixture with the (drained, cooked) pasta and fresh parsley.

Optional: Garnish with parmesan cheese and lemon slices.
Recipe Video
Recipe Notes
*You can substitute some white wine or chicken stock for the cooking sherry if you like, or just make it without the wine (no subs), and it will still be really good.
Adapted from Barefoot Contessa.
Nutrition Facts
Shrimp Scampi Over Linguine
Amount Per Serving
Calories 613 Calories from Fat 171
% Daily Value*
Fat 19g29%
Saturated Fat 7g44%
Cholesterol 380mg127%
Sodium 1207mg52%
Potassium 345mg10%
Carbohydrates 65g22%
Fiber 2g8%
Sugar 2g2%
Protein 40g80%
Vitamin A 720IU14%
Vitamin C 13.6mg16%
Calcium 254mg25%
Iron 4.5mg25%
* Percent Daily Values are based on a 2000 calorie diet.
(Visited 8,019 times, 1 visits today)