This oven baked salmon recipe is the perfect quick and easy dinner that you can get on the table quickly.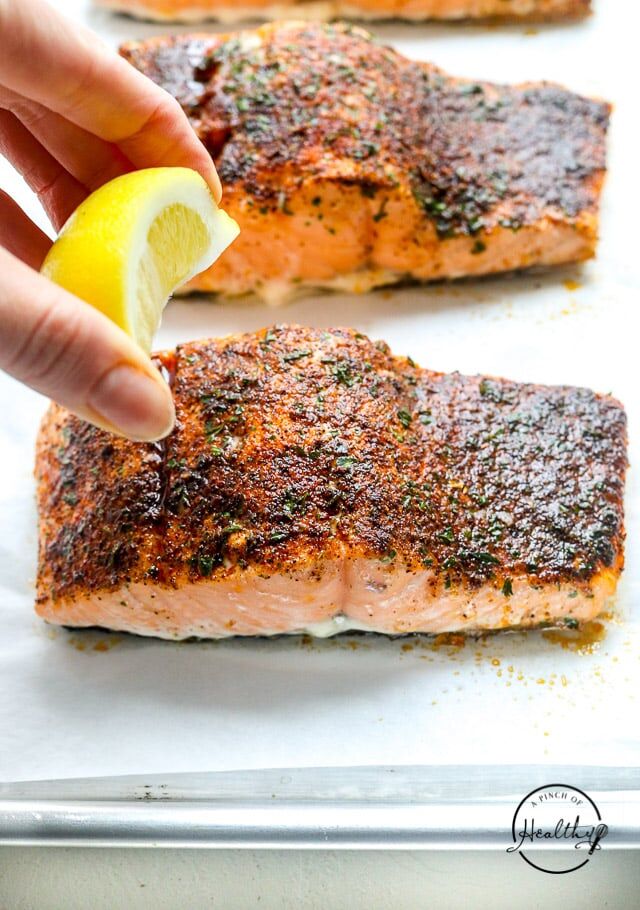 Fish is a great option for a quick and healthy dinner. And salmon in particular is packed with tons of nutrition, including lots of healthy fats. And this method is the simplest, best way to bake salmon in the oven
We love our fish with a few simple sides to round it out.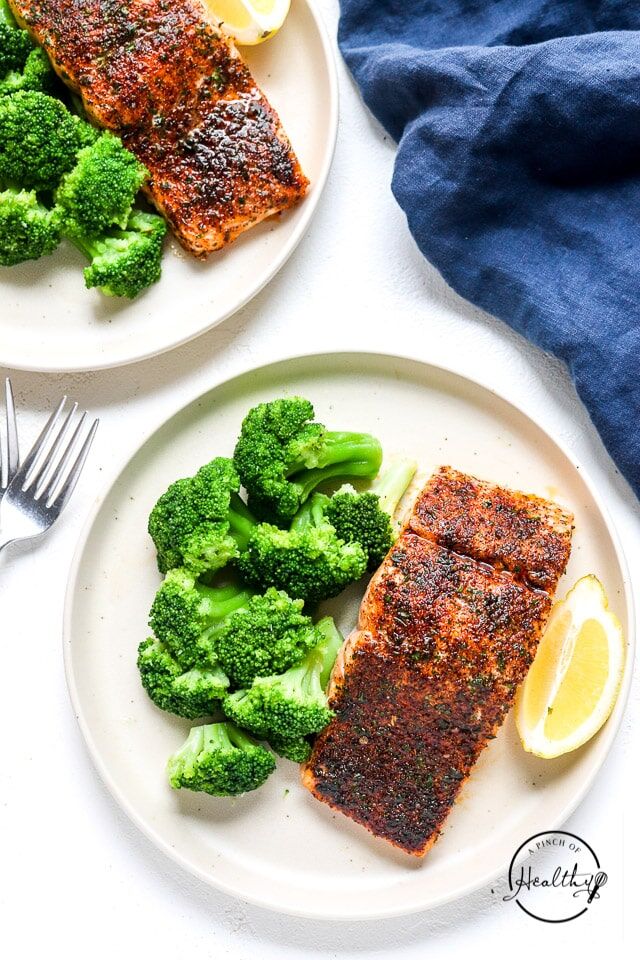 More sides suggestions in a minute! 😉👌🏻
How to make oven baked salmon
First, gather your ingredients.
Ingredients
This ingredient lineup for oven baked salmon is super simple.
This easy salmon recipe really does not need a lot to taste sooo good! To make this easy baked salmon recipe, you will need the following ingredients:
salmon filets – I recommend wild-caught salmon
avocado oil (or oil of choice, olive oil, etc.)
chili powder
garlic powder
onion powder
salt and black pepper
Lemon slices/ lemon juice and fresh parsley for garnish – optional
Specific measurements can be found in the recipe card below.
How to prepare salmon for baking
Pat the salmon filets dry with a paper towel. This helps the seasoning stick, and helps the meat to brown better.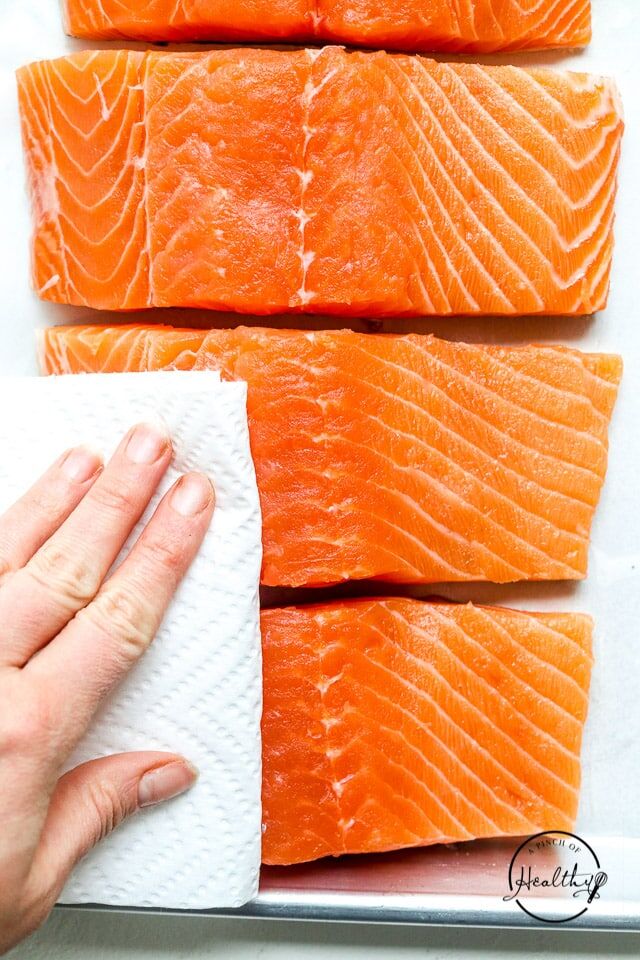 Brush with a little oil. We prefer avocado oil as our go-to for cooking, but feel free to substitute another oil, such as olive oil.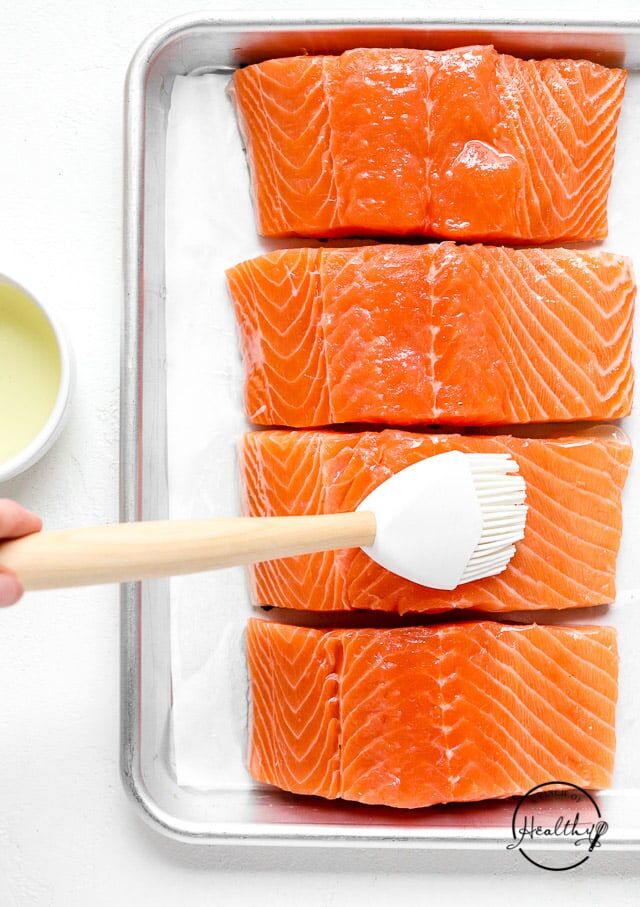 You can sprinkle you seasoning on one at a time. But for best even distribution, I like to mix it all up, and stir it together in a small bowl.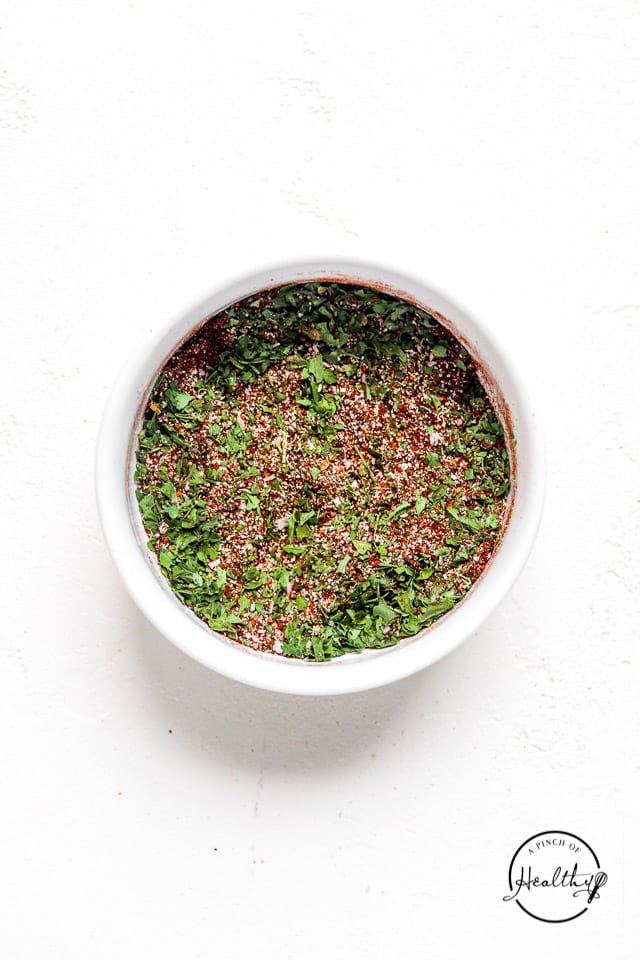 Sprinkle on the mixture, and you are good to go! Your salmon is ready for the oven. Use your favorite baking dish, or a rimmed baking sheet like I did below.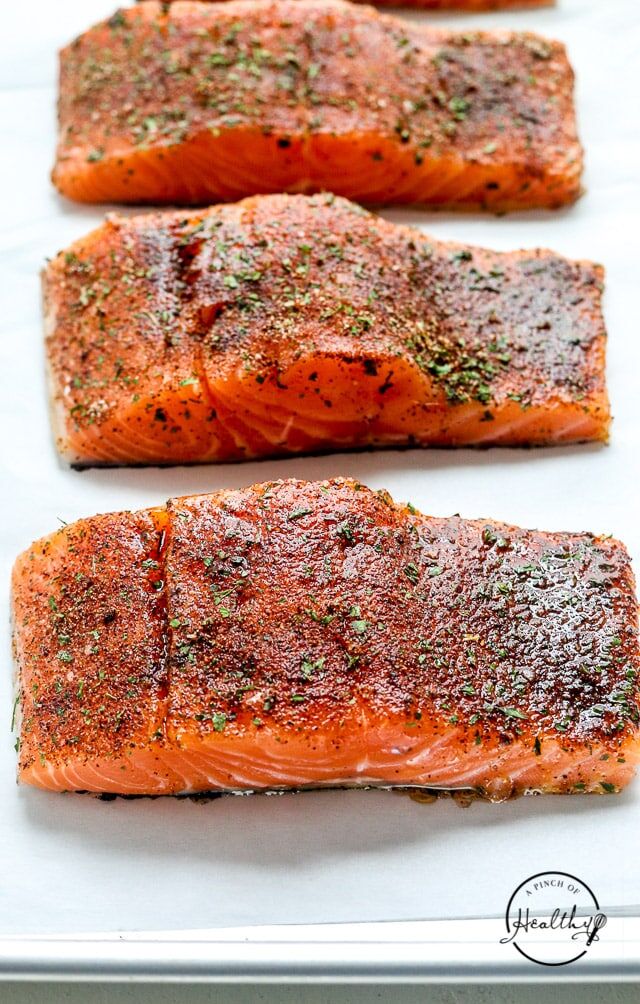 Lining with parchment paper helps the salmon not to stick.
How to bake salmon in oven
How long do you cook salmon? This recipe cooks salmon in a preheated oven at 425 degrees F, and fifteen minutes (plus an extra two minutes of broil to brown the top) worked out perfectly!👌🏻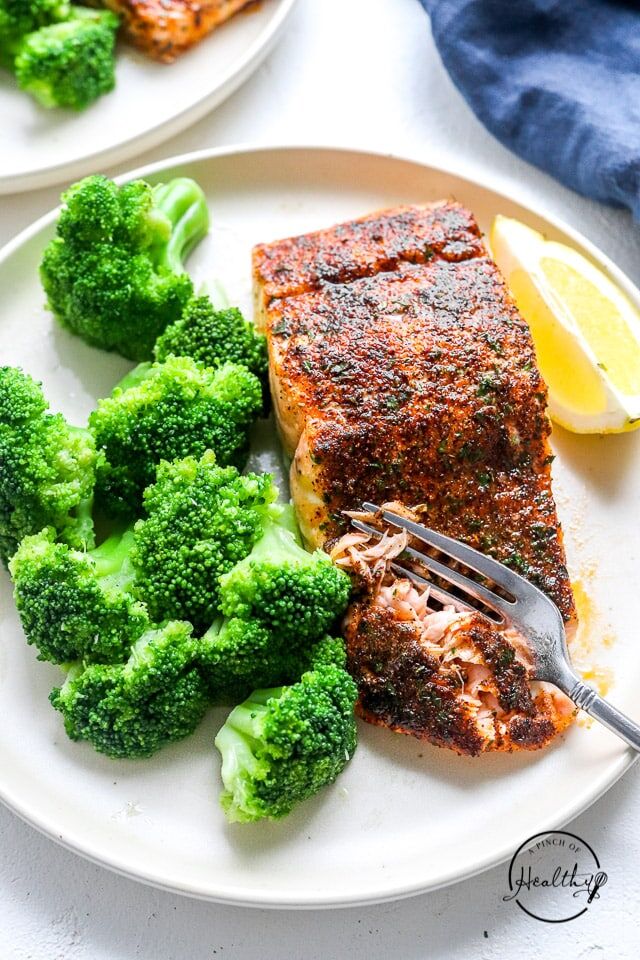 If you have an instant-read thermometer, 125 degrees Fahrenheit is the official "done" temperature for wild salmon, according to Cooks Illustrated.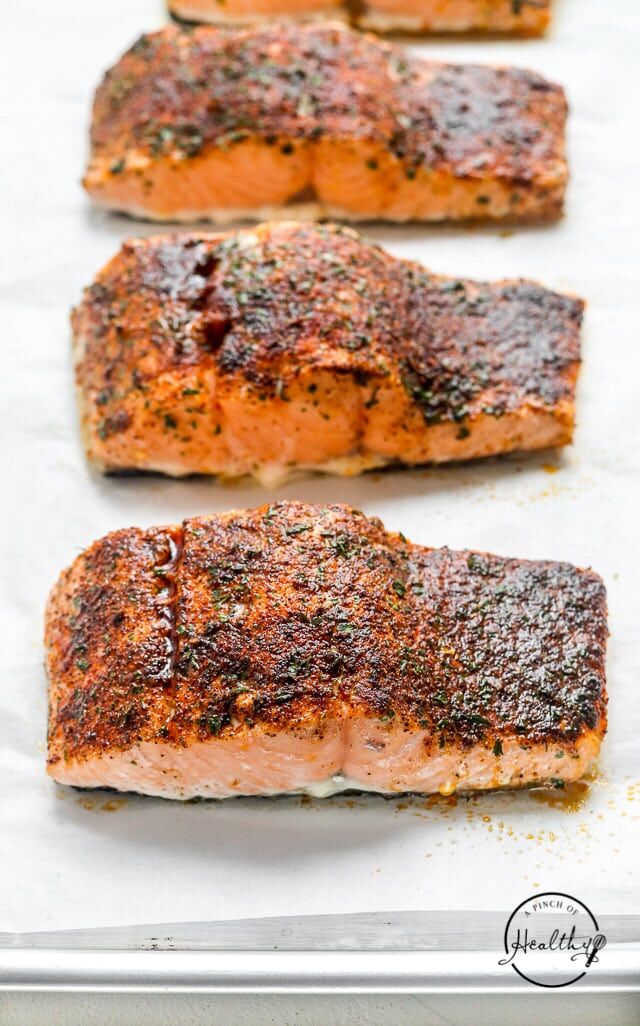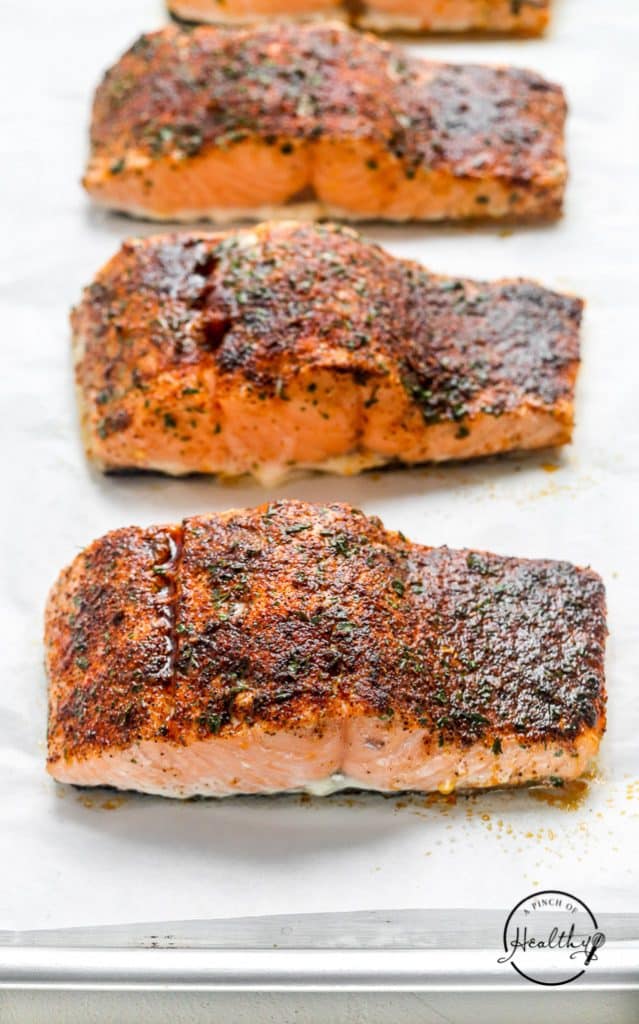 Farmed salmon, on the other hand, tends to have more fat and can go a little hotter without drying out. The temperature will continue to rise a little, so you can remove it just a few degrees prior to that.
This could vary, based on the thickness of your filets. Cook a little shorter for thin filets, for example, to prevent drying out.
Tip: look for filets that are similar in size and thickness to ensure even cooking.
Leftovers
Store leftover salmon in an airtight container in the refrigerator for up to 3 days.
What to serve with oven baked salmon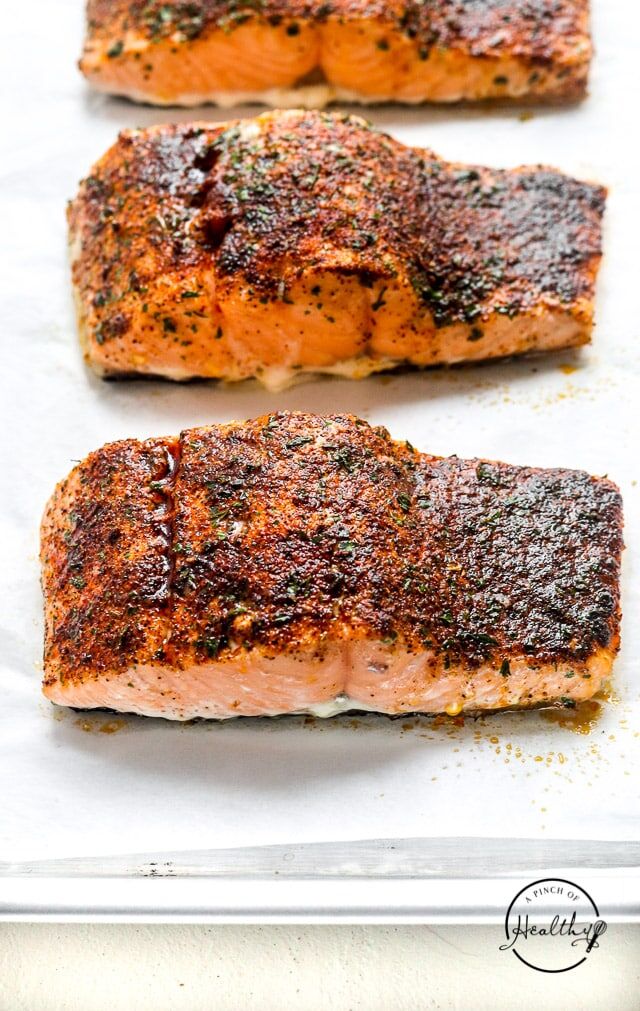 Here are some side dishes (with links) that go great with salmon!
Be sure and check out all my side dishes recipes here.
Oven Baked Salmon Recipe
Did you try this easy oven baked salmon recipe?
Give it a star rating. Pin it and share it if it looks good to you. And be sure and stay connected on social media!
Instagram | Pinterest | Facebook | YouTube | Twitter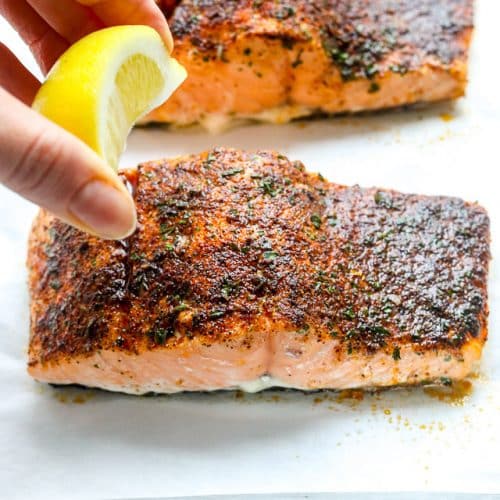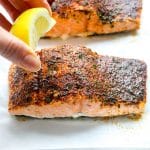 Oven Baked Salmon
This easy oven baked salmon is a super quick dinner that everybody goes crazy for! Perfect for week nights, ready in a snap.
Prep Time 10 minutes
Cook Time 15 minutes
Total Time 25 minutes
Servings 4
Calories 269 kcal
Ingredients
4 salmon filets (around 5 ounces each, skin on or off)
2 Tablespoons avocado oil
1 teaspoon chili powder
1 teaspoon garlic powder
1 teaspoon onion powder
1 ¼ teaspoon kosher salt
½ teaspoon ground black pepper
Lemon and fresh parsley for garnish – optional
Instructions
Preheat the oven to 425 degrees F and line a baking sheet with parchment paper or foil (spray the foil with cooking spray if using).

Lay the salmon onto the lined pan and pat it dry all over with clean paper towels. Brush each piece of salmon with avocado oil.

In a small mixing bowl combine the chili powder, garlic powder, onion powder, salt and pepper.

Rub the seasoning evenly all over the salmon filets and let them sit for a few minutes while the oven is preheating.

Once the oven is ready place the salmon into the oven on the middle rack and bake for 15 minutes. Increase the oven temperature to broil and cook the salmon for 2 minutes to brown the top of the salmon.

Remove and garnish with a squeeze of lemon and fresh chopped parsley.
Recipe Notes
Nutrition
Nutritional information is approximate and was calculated using a recipe nutrition label generator.
Recipe Tips
Try to use salmon filets that are all similar in size to allow all of the salmon to fully cook at the same time.
Cook the salmon at high heat. Cooking the salmon at 425 degrees F will allow if to crisp up around the edges but also to cook all of the way through.
Once the salmon is done cooking, garnish it with a squeeze of fresh lemon juice and a sprinkle of fresh chopped parsley for even more added flavor.
I recommend eating this fresh for best flavor, and I don't do leftover salmon myself. However, it is perfectly fine to do so! To store this salmon after it is cooked, let it cool completely, place it into an airtight container and store it in the refrigerator for up to 2 days. Reheat in the oven or microwave.
Nutrition Facts
Oven Baked Salmon
Amount Per Serving
Calories 269 Calories from Fat 144
% Daily Value*
Fat 16g25%
Saturated Fat 2g13%
Cholesterol 78mg26%
Sodium 798mg35%
Potassium 722mg21%
Carbohydrates 1g0%
Fiber 1g4%
Sugar 1g1%
Protein 28g56%
Vitamin A 206IU4%
Vitamin C 1mg1%
Calcium 23mg2%
Iron 1mg6%
* Percent Daily Values are based on a 2000 calorie diet.
Note: Oven baked salmon first appeared on A Pinch of Healthy March 22, 2021.
(Visited 20,305 times, 7 visits today)