Chicken nachos are the perfect appetizer, low key supper or game-watching snack, and they are very simple to make.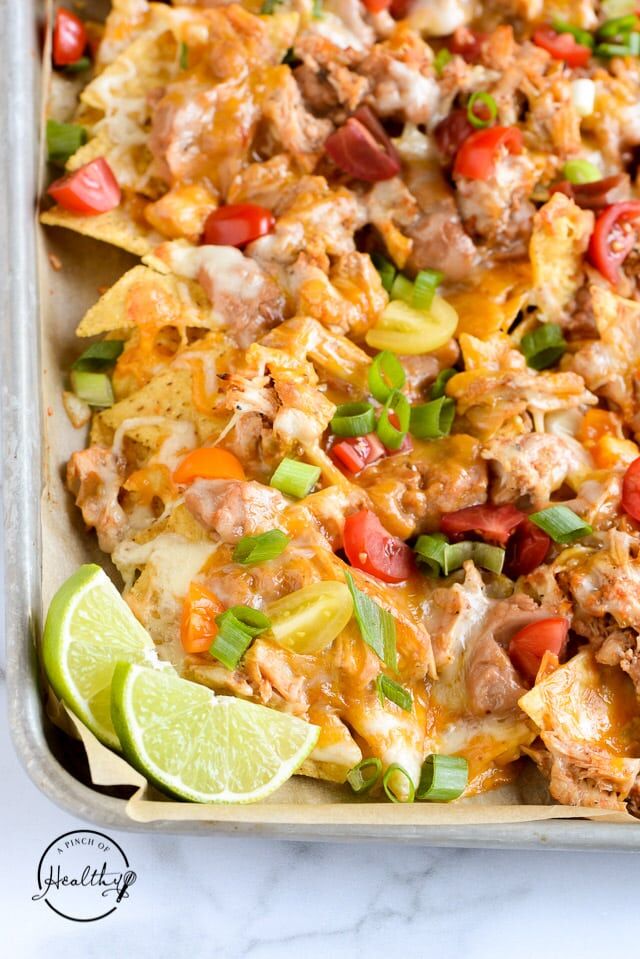 I make these using my Mexican shredded chicken. This batch was made with regular tomato salsa. We have also used salsa verde and chipotle salsa, and all are great options.
Also, I will often make a double batch of Mexican shredded chicken a day or so ahead. For example, we may eat some of it in chicken burrito bowls, and then I save the leftovers to make these chicken nachos. That saves on prep time, and it gets two meals for about the same effort.😎👌🏻
Side note: If chicken nachos aren't your jam, you may want to check out my vegetarian nachos or my epic beef nachos supreme recipes.
Ingredient recommendations
Of course, you always want to get the best ingredients you can find, whether making these chicken nachos, or any of my other recipes.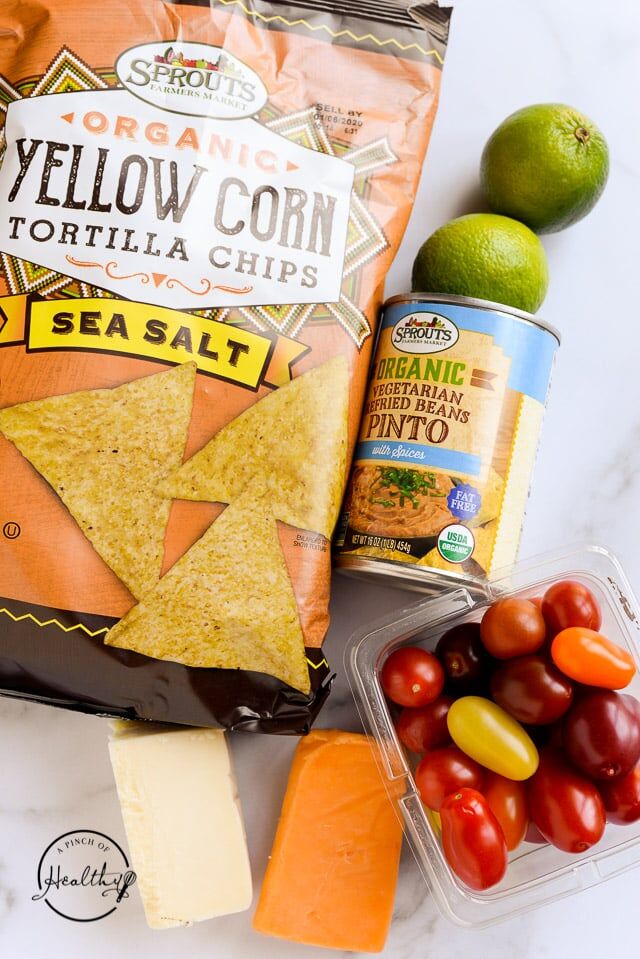 I must insist on sturdy chips, y'all. I used these from Sprouts, and they worked out great. Costco Kirkland brand organic tortilla chips are another one of my favorites. Basically you want to avoid the thin ones. They will collapse under the pressure of all these ingredients.
And the cheese! I am using a mix of cheddar and Monterey jack. I highly recommend that you use blocks of cheese and shred them yourself. Why? It just melts better, y'all. You will get all the ooey gooey melty-ness and those cheese pulls that are a cheese lover's dream!😍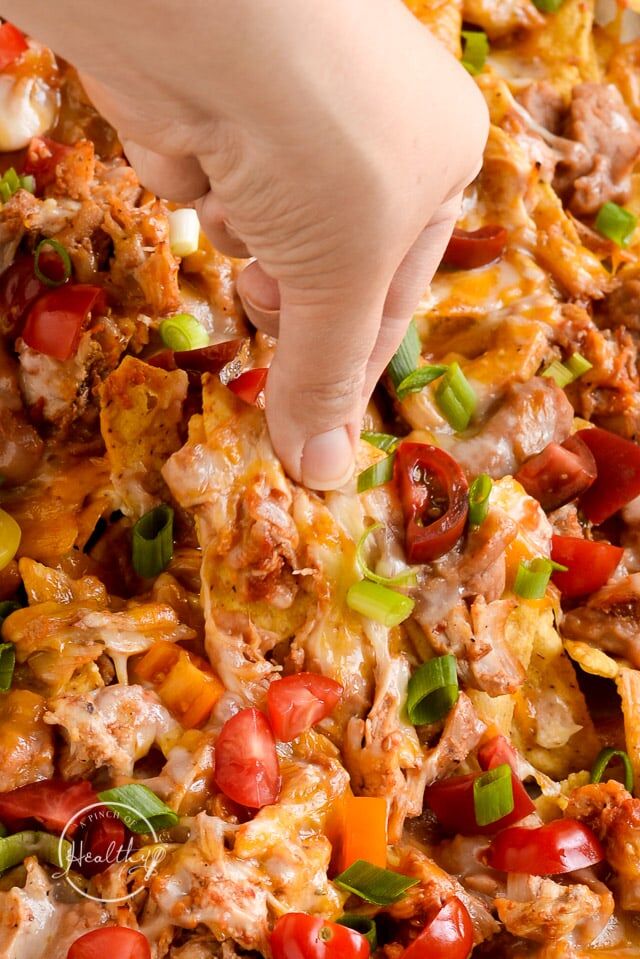 I always use my food processor to shred my cheese, which takes like less than 10 seconds.💁🏼‍♀️
The reason I avoid pre-shredded cheese is that it often contains additives that prevent clumping. This affects the melting factor.
That being said, if you use the pre-shredded cheese, these will still taste really good. They may not be as pretty. We have done it many times, though, and nobody complained. So no worries!
Assembling chicken nachos
Here is how I assemble chicken nachos. I always line my baking sheet with parchment paper. It prevents sticking and makes for easy cleanup.👌🏻
Next, I make a base of chips. I used one 8-ounce bag, plus about 1/3 of a second 8-ounce bag. So around 10 to 11 ounces. Then I spoon on the refried beans.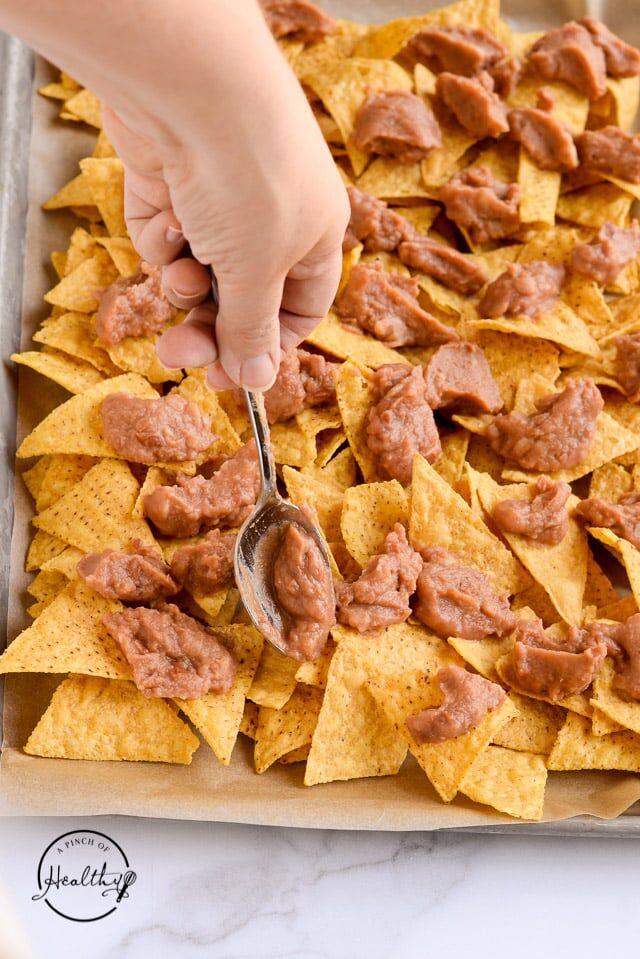 I am using canned refried beans, but feel free to use homemade ones if you prefer.
Then I add my Mexican shredded chicken, and I sprinkle the cheese on top.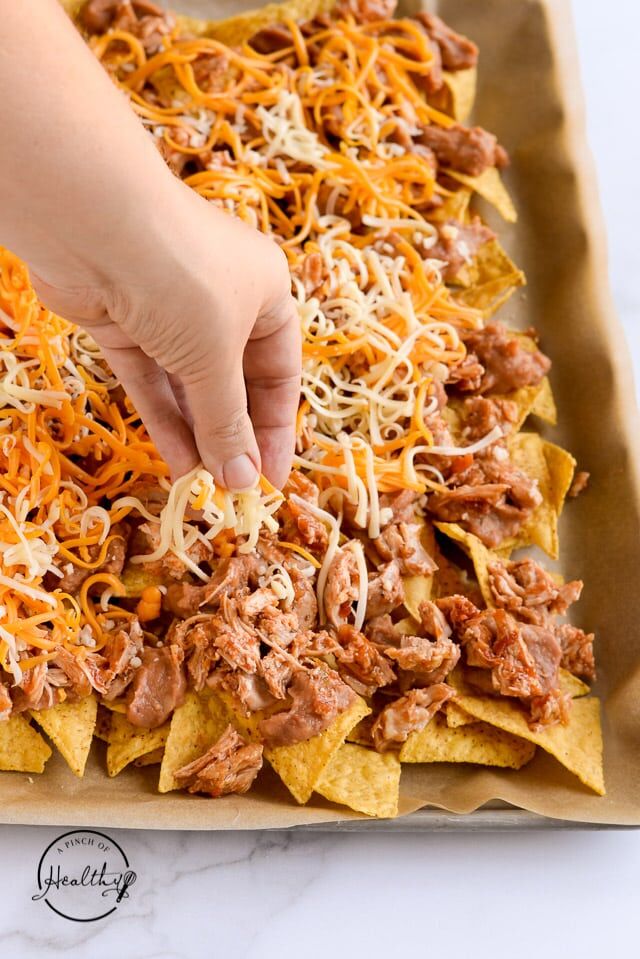 I bake these in a preheated oven at 375 degrees, until the cheese is melted. This comes out to be about 14 to 15 minutes. After they are done, I remove them from the oven.
I finish my chicken nachos off with some diced tomatoes and green onions.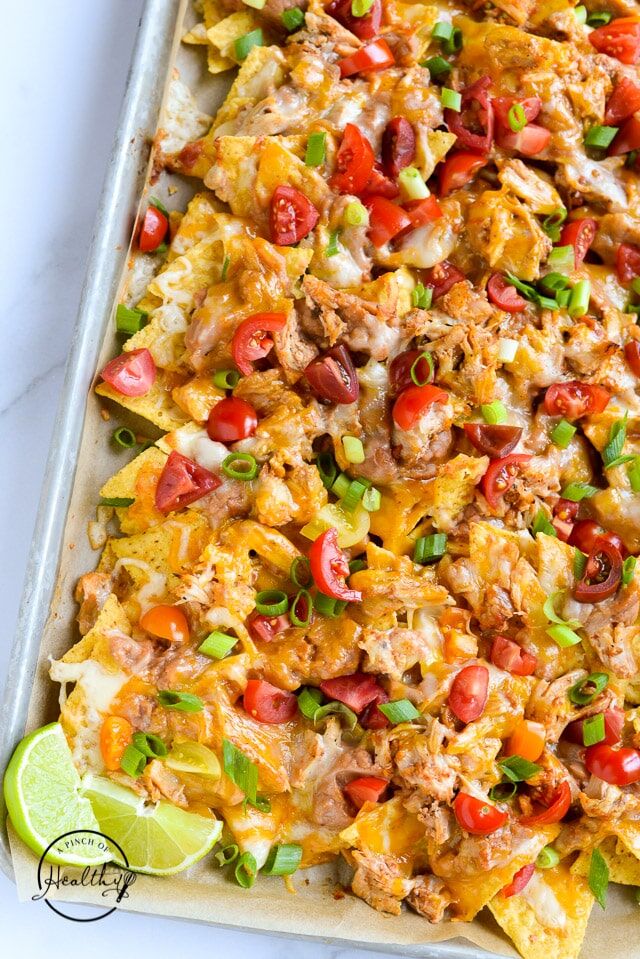 You have lots of other topping options here, though! Jalapeño rings, sliced olives, diced avocado, cilantro, etc. The possibilities are endless!
I always serve my chicken nachos with salsa, whether it is homemade salsa or the store-bought kind. Feel free to serve with guacamole or sour cream as well.
Chicken Nachos Recipe
Below is a printer friendly version of this recipe. Did you try this chicken nachos recipe? Give it a star rating. Pin it and share it if it looks good to you. And be sure and stay connected on social media!
Instagram | Pinterest | Facebook | YouTube | Twitter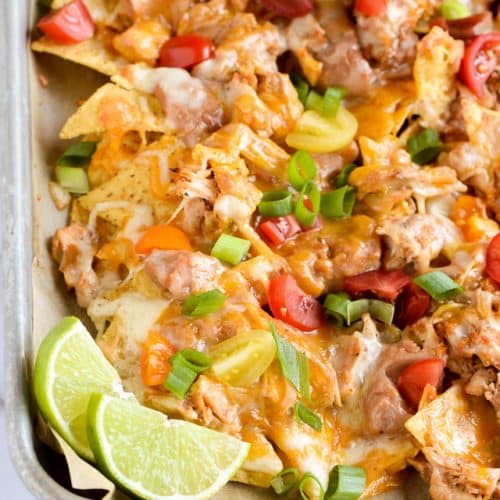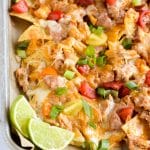 Chicken Nachos
Chicken nachos are the perfect appetizer, low key supper or game-watching snack, and they are very simple to make.
Prep Time 10 minutes
Cook Time 15 minutes
Total Time 25 minutes
Servings 6
Calories 508 kcal
Ingredients
12 ounces Mexican shredded chicken (drain most of the liquid off with a slotted spoon)
11 ounces tortilla chips (one 8 ounce bag + 1/3 of a 2nd bag )
1 can refried beans (15 ounces)
8 ounces cheese shredded - I am using half cheddar, half Monterey jack
1 cup tomatoes diced
2 green onions sliced
salsa homemade or store-bought, on the side, for serving
Instructions
Prepare the Mexican shredded chicken ahead of time. (I always make extra, and use leftovers to make this.)

Preheat the oven at 375 degrees.

Add a generous layer of chips to a baking sheet lined with parchment paper.

Spoon on refried beans. These are thick, but I just add spoon fulls all over the chips. (The spoon fulls will spread with the heat of the oven.)

Spoon on the Mexican shredded chicken to the pan of chips.

Sprinkle shredded cheese on top.

Bake at 375 degrees until cheese is melted, about 15 minutes.

Remove from the oven, and sprinkle on diced tomatoes and green onions.

Serve immediately.

Add any optional toppings you like. Here are some suggestions: salsa, diced avocado, guacamole, pickled jalapeños, sliced olives, sour cream, cilantro, etc.
Recipe Notes
Nutritional information is approximate and was calculated using a recipe nutrition label generator.
This recipe makes 6 fairly generous servings. You can feed more people as an appetizer or snack.
I highly recommend using a block of cheese and shredding it yourself. It just melts and tastes better. That being said, if you need to use pre-shredded cheese, it will still taste great. We have done that many times, and nobody complained.👌🏻
Save the extra chips if anybody needs extra. I loaded these nachos up pretty generously, so extra chips may come in handy!
Sturdy chips, y'all! Do not use the thin ones, or you will be disappointed (and eating this with a fork😂😜👌🏻). I like the Kirkland brand organic ones from Costco best. I used Sprouts brand here, and they were good. Aldi organic ones work well too.
Nutrition Facts
Chicken Nachos
Amount Per Serving
Calories 508 Calories from Fat 243
% Daily Value*
Fat 27g42%
Saturated Fat 10g63%
Cholesterol 94mg31%
Sodium 745mg32%
Potassium 358mg10%
Carbohydrates 40g13%
Fiber 5g21%
Sugar 3g3%
Protein 26g52%
Vitamin A 674IU13%
Vitamin C 4mg5%
Calcium 387mg39%
Iron 2mg11%
* Percent Daily Values are based on a 2000 calorie diet.
(Visited 18,082 times, 2 visits today)