This is the seriously BEST guacamole recipe, and it is super simple and easy to make. It also has amazing flavor thanks to my super secret, game-changing ingredient. 🤩🤓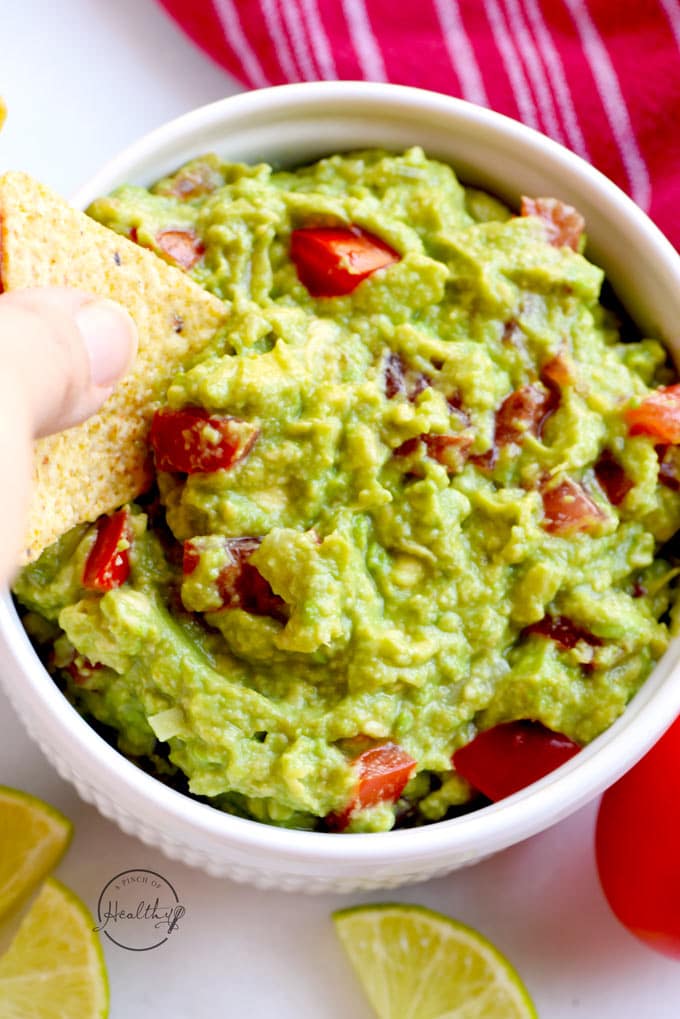 You probably won't be able to detect the secret ingredient because it is subtle and not overpowering at all. Most people who eat this guacamole say something like…
"Why is this the best guacamole I've ever had?!"
"What is this that makes this taste so amazing?"
"Why is this so good?"
And my personal favorite from my own Dad, "I don't even like guacamole, but I LOVE this." 😂 Side note: I think my Dad actually just hates cilantro, which is in most guacamole. So don't worry friends, this recipes still tastes like guacamole!😉
Secret ingredient for the best guacamole recipe
I have been on mission to create the best guacamole recipe, and I think I finally nailed it thanks to an unusual secret ingredient.
So what is my secret ingredient? Roasted garlic, y'all. Roasted garlic has a mellow, savory taste that is very toned down from the raw version. It is somewhat similar to caramelized onions.
So even though I use a lot of it (12 cloves for this recipe!), the result does not scream garlic. In fact, most people will not be able to tell what makes this guacamole taste so amazing. So be ready for the all the questions and recipe requests.😆
My strategy for creating the best guacamole recipe
I wanted this to be simple guacamole with minimal ingredients and maximum flavor. So I left out a lot of ingredients that are in traditional guac.
I did not put a ton of veggies. No fillers, and nothing unnecessary. I wanted the focus to be the creamy avocados and the amazing flavor from the roasted garlic.
I did not want you all to be chopping endlessly, or buying a ton of ingredients. So this here is my minimalist, easy approach for the most amazing guacamole you may ever taste.
How to make the best guacamole ever
First, you are going to want to make your roasted garlic. This would be so easy to do the night before. If you do it the day of, that is totally fine too. Just be sure and let is cool before adding to the avocados.
You will need to mash it up until it is almost a paste. You can do this part while it is warm if you want to. It'll actually help it cool faster. I use a fork to mash mine.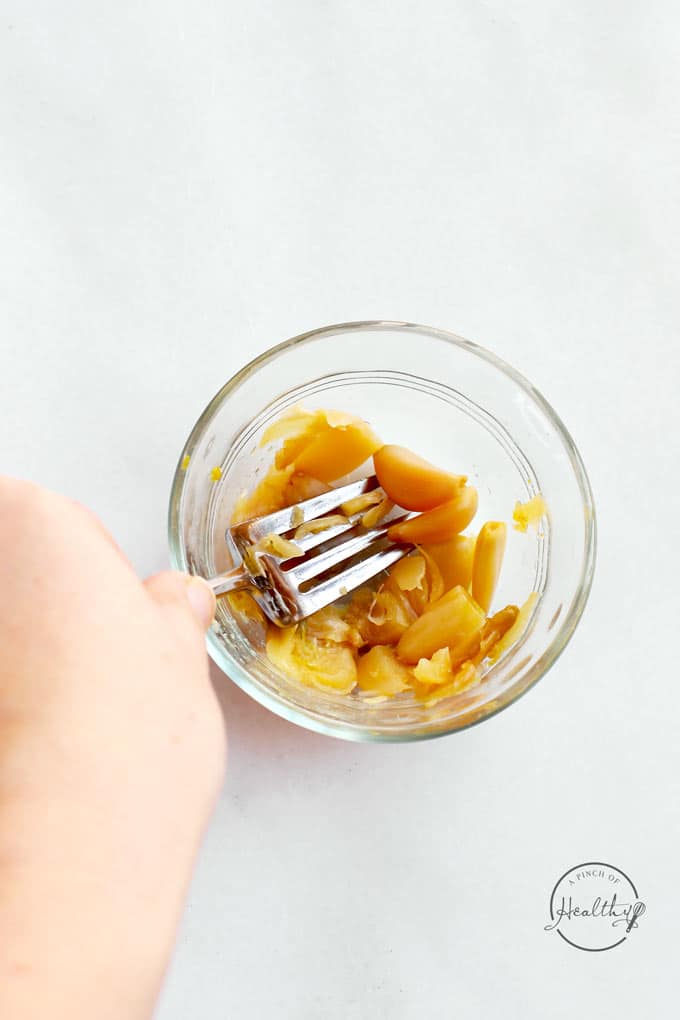 Next, I scoop out the seeds and pulp from my tomatoes. I prefer to use Roma tomatoes. A simple spoon does the trick, and you can discard the pulp and seeds.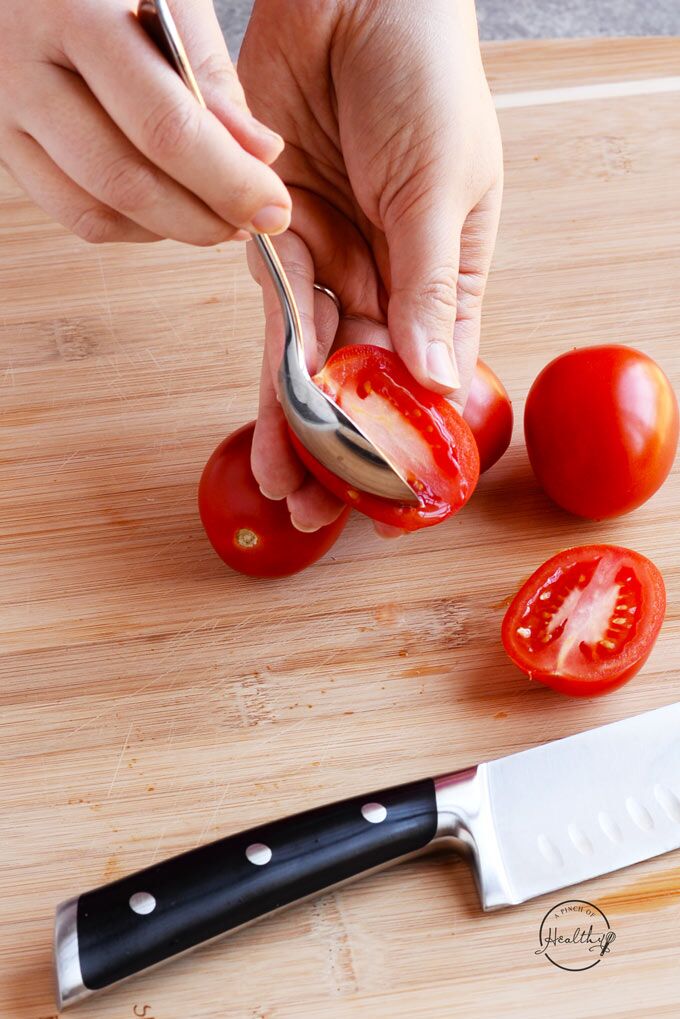 I used to skip this step, but I decided I like it much better with seeds and pulp removed. I dice my tomatoes up pretty small, and I set them aside.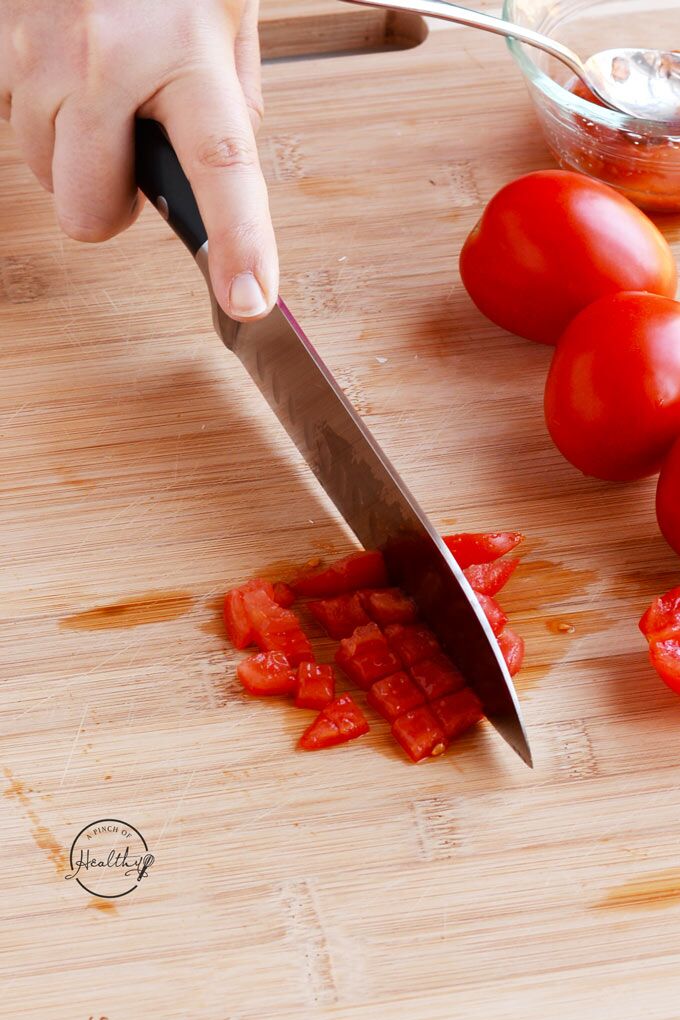 Next I peel and pit the avocados. You are going to want to use ripe avocados. If you press them gently, they should have a little give.
Sometimes if I buy some not-yet-ripe avocados I let them ripen in the produce bag a couple days on my kitchen counter.
I cut my avocados in half, and I use a spoon to remove the pit (discard) and the avocado flesh. I add the avocado to a medium mixing bowl, along with the lime juice, mashed roasted garlic, salt and cumin.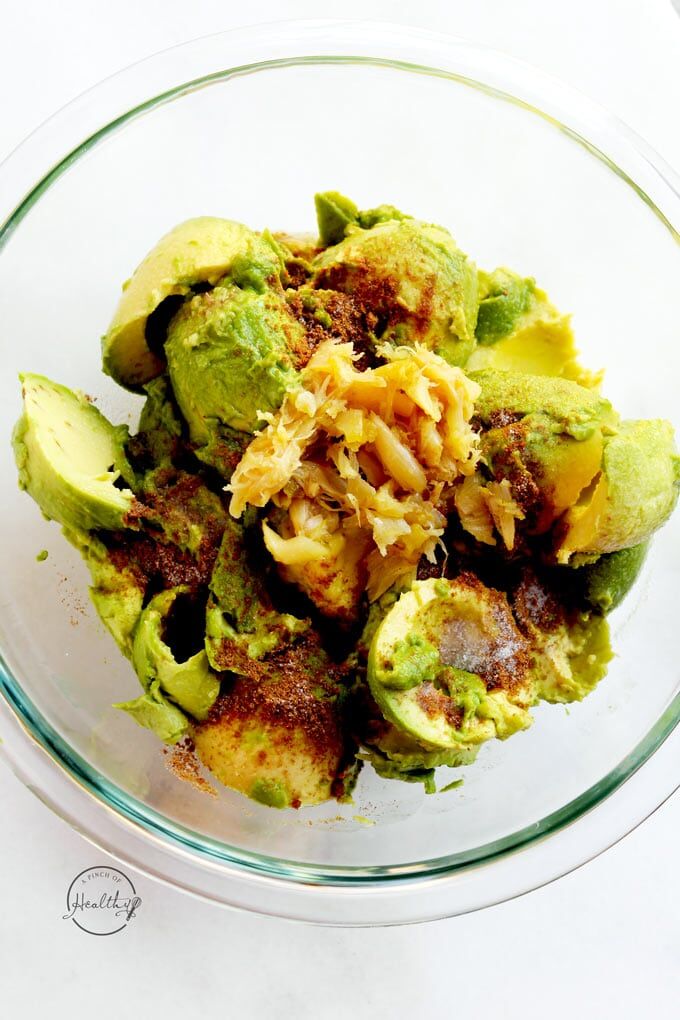 Then I use a potato masher (or fork) to mash everything together. I like to leave some texture, since I like having some avocado chunks in my guacamole. Mine looks like this.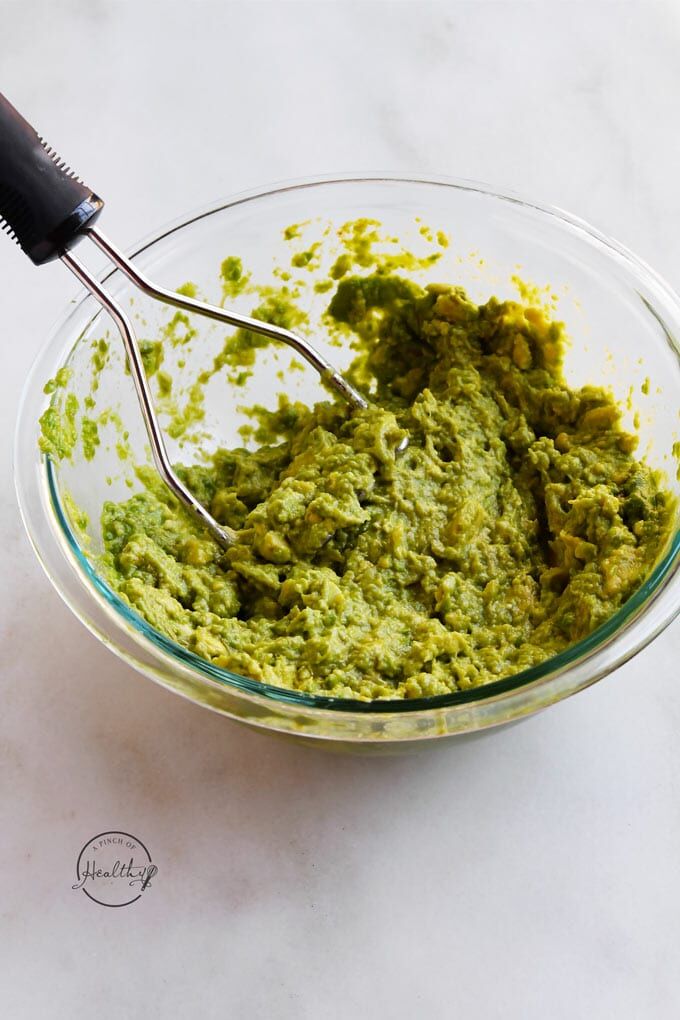 Then I gently fold in my diced tomatoes. You can reserve a few of the diced tomatoes for garnish on top when serving, if you wish.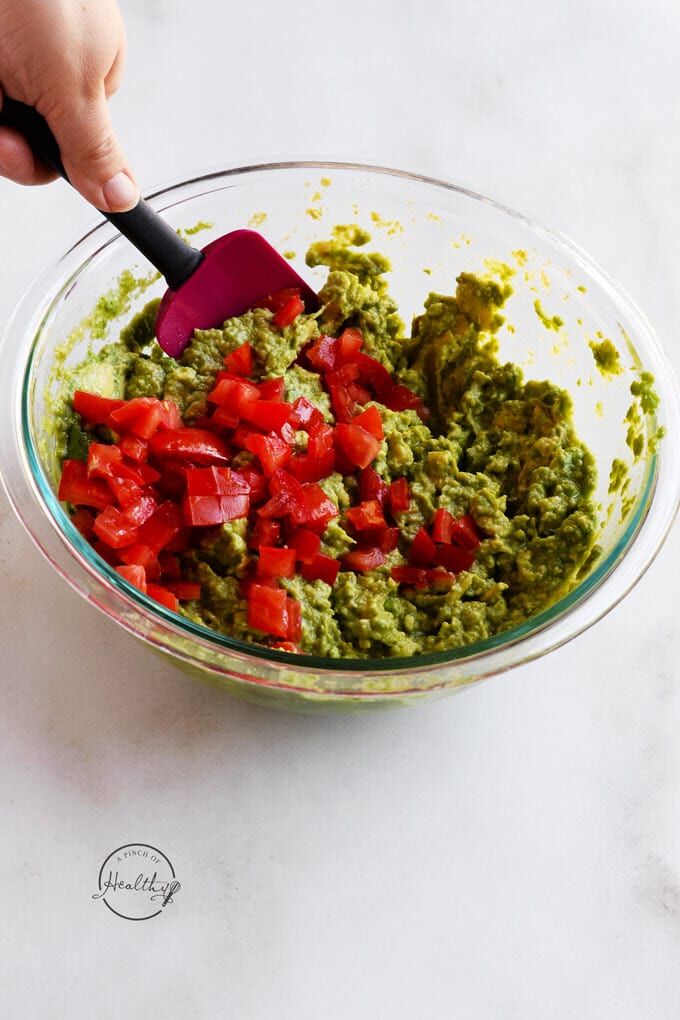 You will want to taste your guacamole at this point. Heads up: Chips can vary in saltiness, so I'd taste it with the chips you will be serving it with. You can add more salt if needed. Don't be shy! If it tastes bland, add a bit more salt.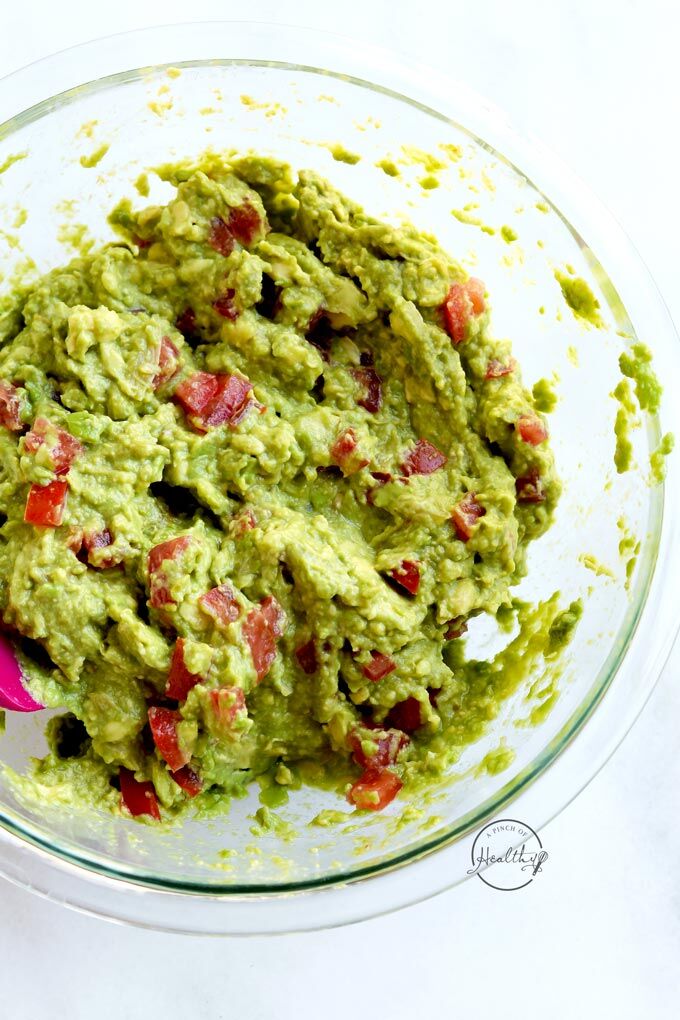 Finally, I transfer to a cute serving dish, and I like to serve it with tortilla chips (duh) and maybe some sliced veggies.
Here's what it looks like with those diced tomatoes on top. I added a little cilantro for garnish too. Cilantro haters can skip that. (Hi Dad!😆) Or if you don't have any, it will still be completely delicious without it.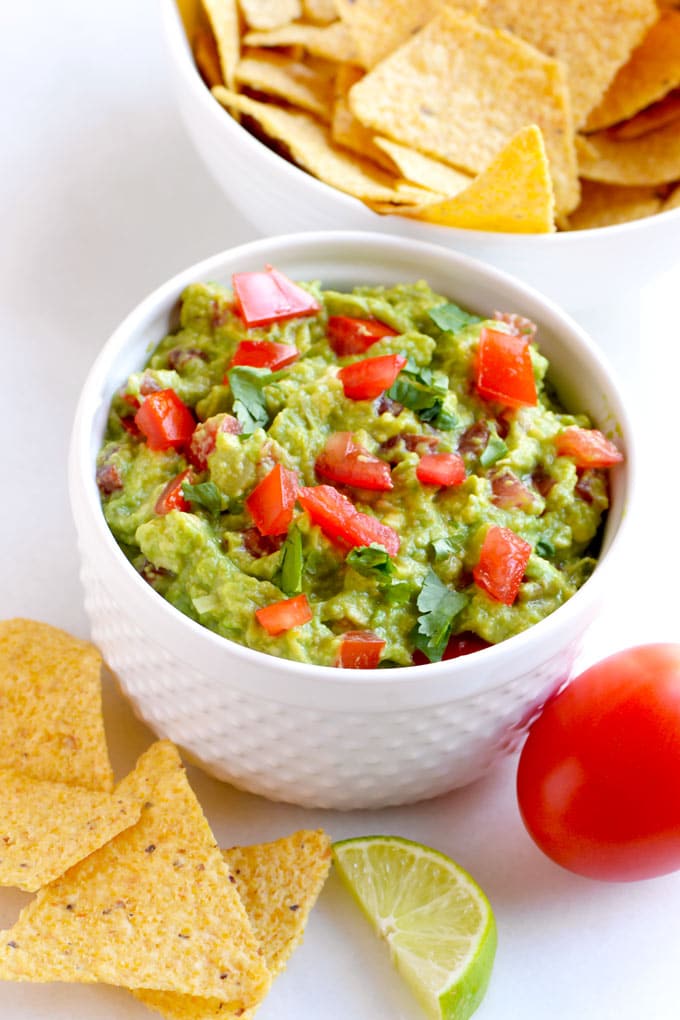 How to keep guacamole from turning brown
Avocados oxidize once they are sliced open. Translation: exposing the avocado flesh to the air makes them turn brown. 😫And brown guacamole is not too appetizing. 😬
But don't worry, friends! I have a few suggestions to help your guacamole from turning brown. 😎👍🏻
I always recommend making the guacamole the day you plan to eat it, ideally just before you eat it.
Lime juice (already included in the recipe) slows down oxidation. High five! You already have that going for you.
Use some plastic wrap, and press down so that the plastic is touching the guacamole. Smooth over it with your hands to remove any air bubbles, as shown below.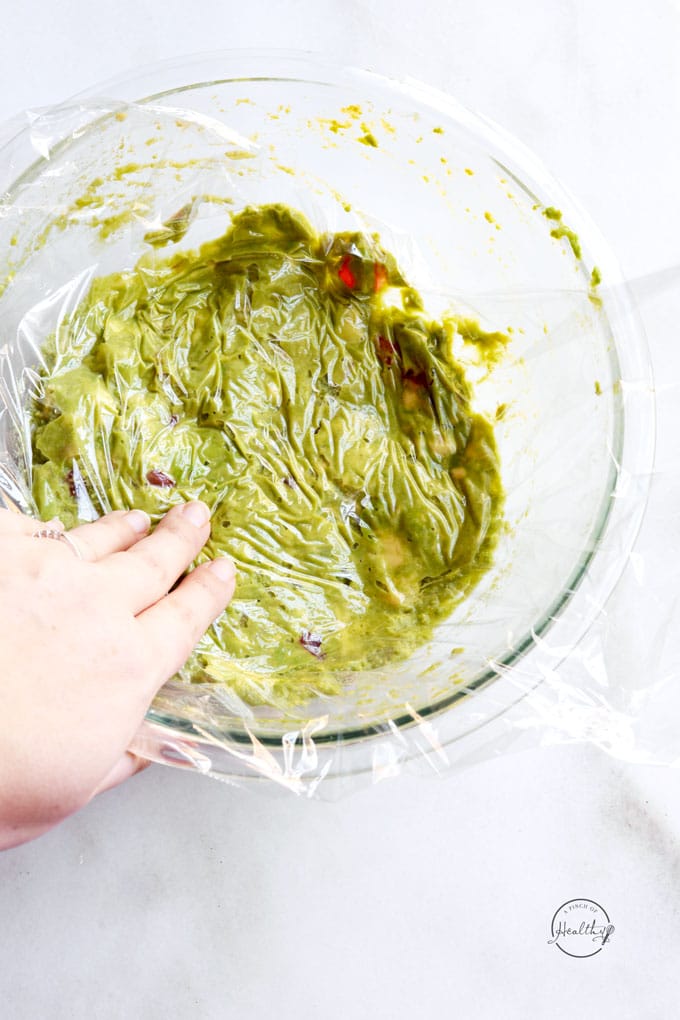 This pro tip will buy you at least a couple hours in the fridge. Since this recipe makes such a large batch (hey there Super Bowl parties!🏈), this trick is ideal for refilling the serving dish with beautiful, fresh green guacamole.
If you are making this for four people or less, I would recommend making half of this recipe. I usually estimate that each person will eat a fairly large serving, so I portioned my serving sizes accordingly (a generous 1/3 cup per serving). 😂
Recipes that use guacamole
If you are looking for some recipes to use this guacamole on, other than the standard tortilla chips, here are some yummy suggestions.
Best Guacamole Recipe
I hope y'all enjoy this as much as we have. To us, it is the best guacamole recipe we have ever tasted. If you make it, leave a star rating and a comment to let me know. Pin it and share it if it looks good to you. And be sure and stay connected on social media!
Instagram | Pinterest | Facebook | YouTube | Twitter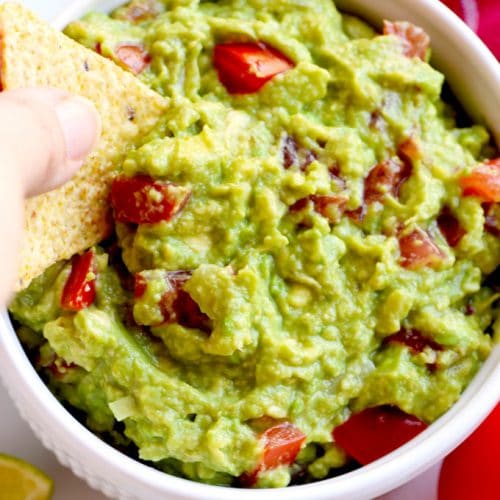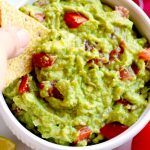 Best Guacamole Recipe
This is the seriously BEST guacamole recipe, and it is super simple to make. It also has amazing flavor thanks to my super secret, game-changing ingredient.

Prep Time 15 minutes
Total Time 15 minutes
Servings 12 big servings
Calories 169 kcal
Ingredients
12 cloves roasted garlic
6 avocados ripe
1/4 cup lime juice fresh, about 2 limes
1 teaspoon cumin
1 teaspoon salt
2 to 4 roma tomatoes seeded and finely diced - I used 3 small ones
Instructions
Mash the cloves of roasted garlic, and place in a medium mixing bowl.

Cut the avocados in half, and remove the seeds.

Scoop the avocado into the mixing bowl with the mashed garlic until it forms a paste.

Add the lime juice, cumin, salt and pepper, and mash with a potato masher or fork.

Add the tomato, and stir until well-combined. You can eyeball how much tomato you want.

Serve immediately with tortilla chips or cut veggies.
Recipe Video
Recipe Notes
I used large serving sizes for this recipe. A large serving size is a generous 1/3 cup.
Nutritional information is approximate and was calculated using a recipe nutrition label generator.
Nutrition Facts
Best Guacamole Recipe
Amount Per Serving
Calories 169 Calories from Fat 126
% Daily Value*
Fat 14g22%
Saturated Fat 2g13%
Sodium 202mg9%
Potassium 539mg15%
Carbohydrates 10g3%
Fiber 6g25%
Sugar 1g1%
Protein 2g4%
Vitamin A 275IU6%
Vitamin C 13.9mg17%
Calcium 21mg2%
Iron 0.8mg4%
* Percent Daily Values are based on a 2000 calorie diet.
(Visited 36,429 times, 4 visits today)