We have enjoyed this southern sweet potato casserole recipe every Thanksgiving and Christmas in my family for many, many years.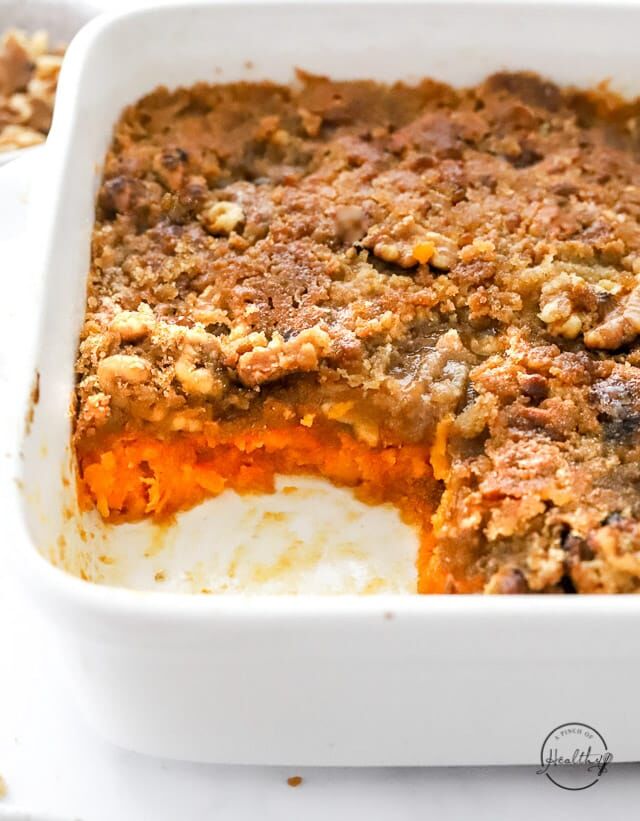 So, a few things about my favorite sweet potato casserole recipe. Some people like marshmallows on top, but my family loves the brown sugar/ butter/ walnut topping. It is my favorite!
You can also make this sweet potato casserole with pecans, if you prefer. The topping gives the casserole that crunchy topping that is so delicious.
Making this is much easier than you may think.
How to make sweet potato casserole
First, gather your ingredients.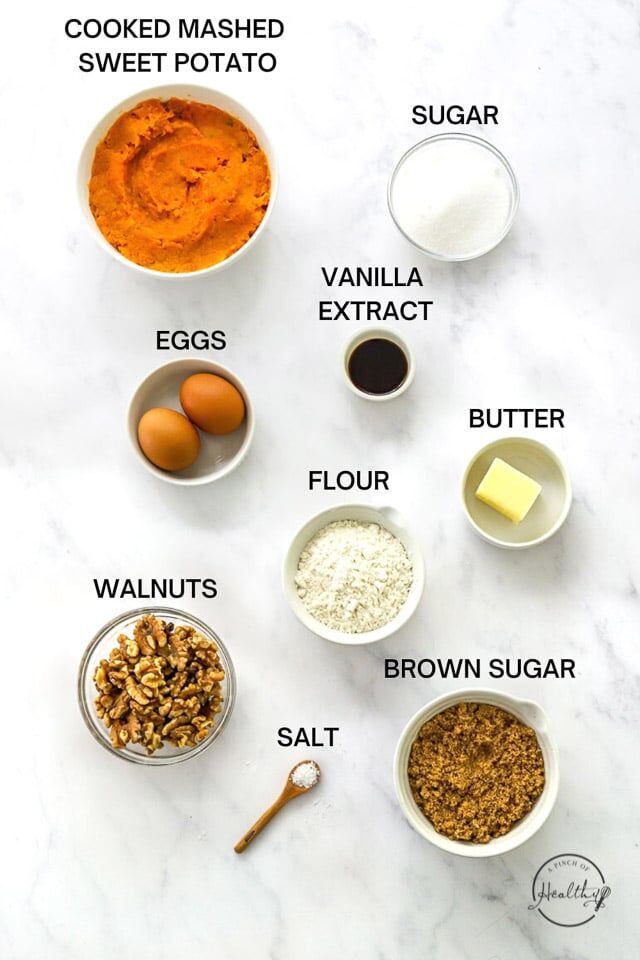 Ingredients
For tastiest results, always use the best quality ingredients you have access to. For this recipe, you will need.
sweet potatoes – enough to make 3 cups of puree
brown sugar
white sugar
butter
eggs
vanilla extract
all purpose flour
walnuts (pecans and almonds work too)
Making the sweet potato casserole filling
I start by cooking up some sweet potatoes. You can bake them, boil them or steam them. OR you can use my new favorite method for cooking sweet potatoes in my Instant Pot. That is the method I used this time, as well as in the video.
Once I cooked and peeled my sweet potatoes, I mash them together with some sugar, butter, vanilla extract and egg. I use a potato masher to smash the sweet potatoes and mix everything up.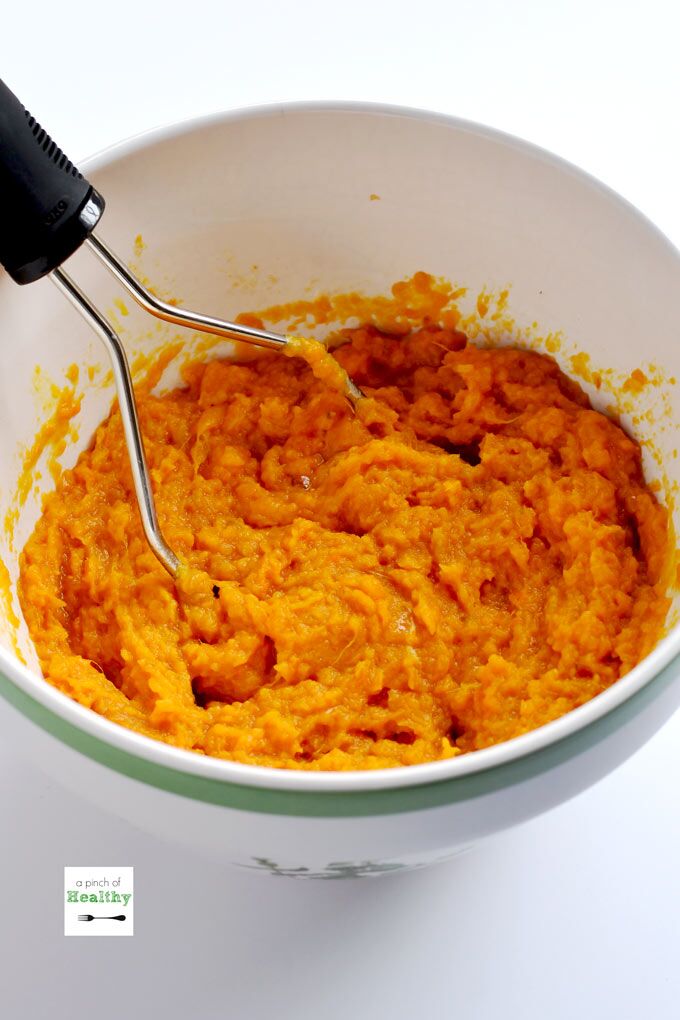 Quick tip: Make sure you don't add the eggs over piping hot potatoes. Or you might get scrambled eggs!😜
I let mine cool a little bit after peeling and mashing them up. They can still be warm, just not piping hot.
Brown sugar and walnut topping
Then I mix up the topping. I use my hands to break up the butter and mix everything until well-incorporated.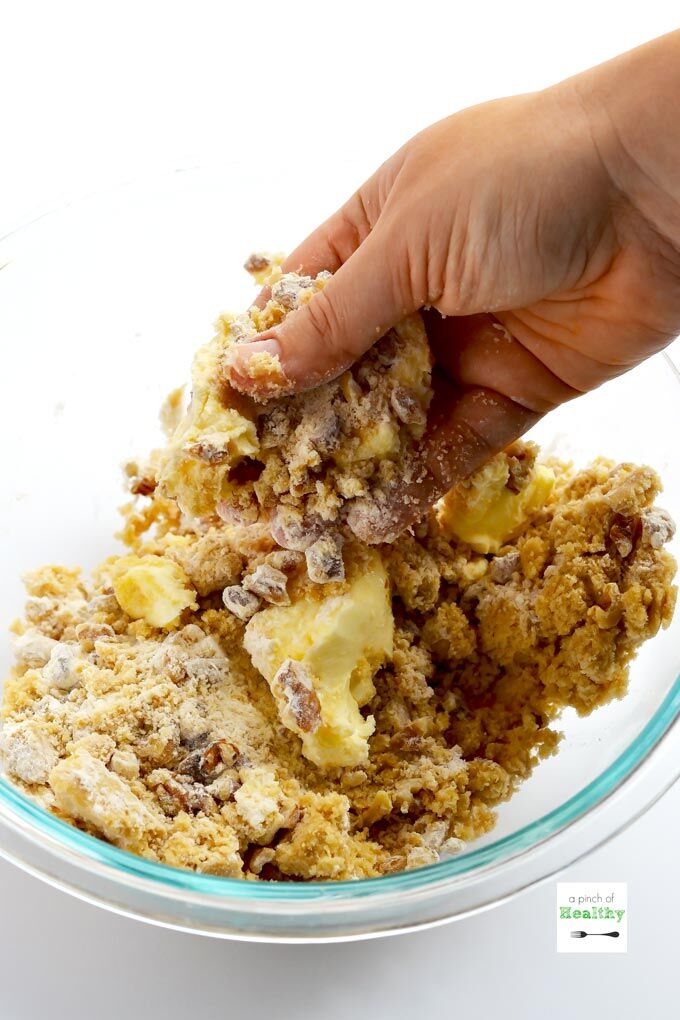 I just keep squeezing those chunks of butter until they break down into coarse crumbs.
Then I pour the sweet potato mash into a casserole dish, and I sprinkle that topping over it.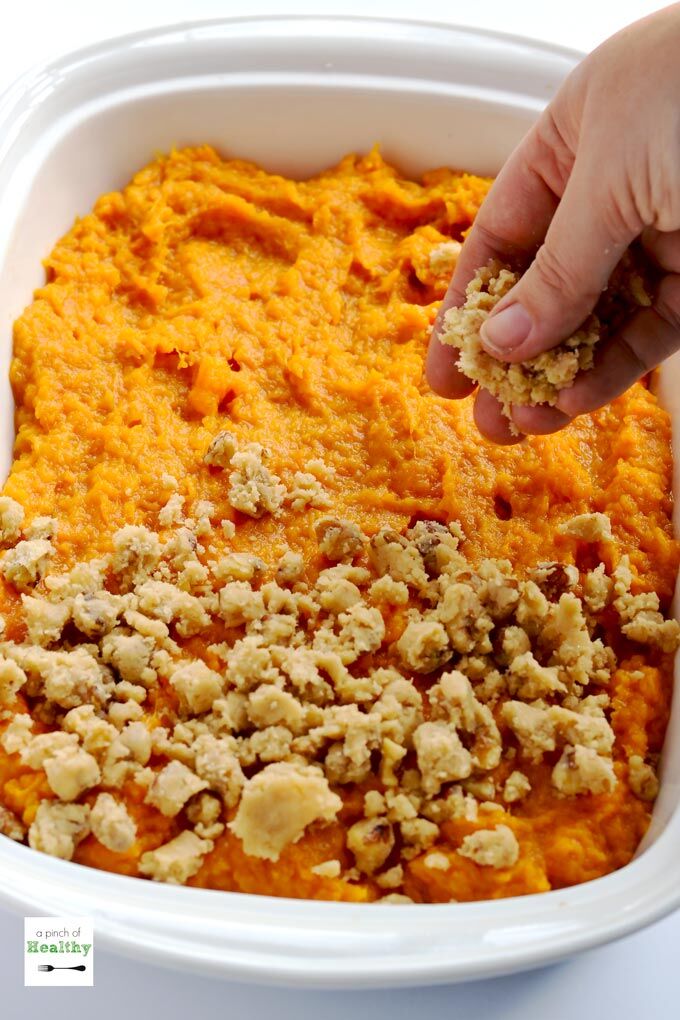 Bake
Next, I bake the sweet potato casserole in the oven until the topping gets a little brown and crunchy.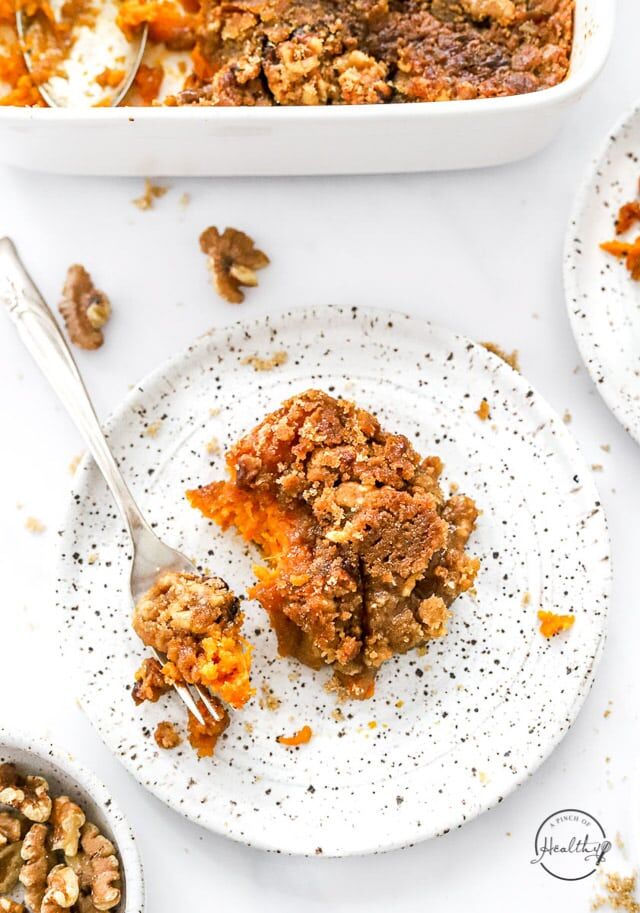 I hope y'all enjoy this recipe! Let me know if you try it. And be sure and check out all my best Thanksgiving recipes.
Tools Used to Make Sweet Potato Casserole
Note: These are Amazon affiliate links.
Two mixing bowls – one medium for the topping, and one large for the sweet potato filling
Frequently asked questions
What is the difference between sweet potato pie and sweet potato casserole?
Sweet potato pie has more of the texture of an actual pie, and is baked in na pie dish, sliced in to pie slices. Sweet potato casserole is usually considered a side dish, as opposed to a dessert. It's texture more resembled mashed sweet potatoes, and is baked in a casserole dish. People use either the brown sugar and nut topping here, or alternatively, you can top with marshmallows.
Can I substitute yams for sweet potatoes in this recipe?
Yes, you can use yams in this recipe.
Is sweet potato casserole a side or dessert?
It is traditionally a side dish.
How do I make vegan sweet potato casserole?
This recipe would be very easy to adapt to be vegan/ dairy free/ egg free. Simply eliminate the eggs and use a vegan butter. We like Earth Balance and Mikoyos.
Can I freeze sweet potato casserole?
Yes! I would suggest freezing the unbaked filling and topping separate. Thaw both prior to cooking, and sprinkle the topping on just prior to baking. You can also wait until the day of baking to make the topping. We actually do this almost every year to help with holiday prep, and it works great!
How long does this last in the fridge?
About 3 to 5 days, in a covered container.
Share this recipe
Did you try this recipe? Give it a star rating. Pin it and share it if it looks good to you. And be sure and stay connected on social media!
Instagram | Pinterest | Facebook | YouTube | TikTok
Be sure and check out all my favorite kitchen tools in my Amazon store (affiliate).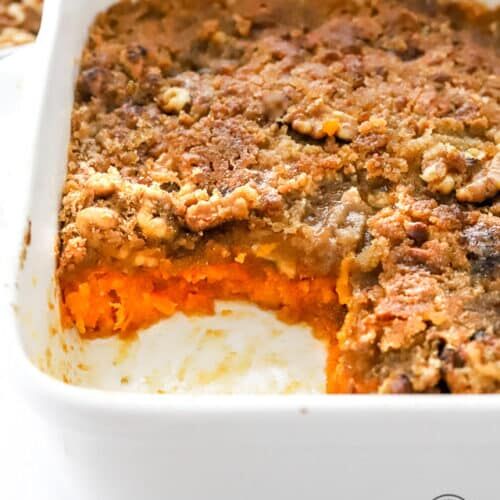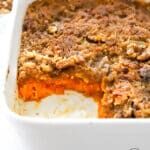 Sweet Potato Casserole
We have enjoyed this sweet potato casserole every Thanksgiving and Christmas in my family for many, many years.
Prep Time 15 minutes
Cook Time 40 minutes
Total Time 55 minutes
Servings 12
Calories 338 kcal
Ingredients
Sweet potato filling
3 cups cooked sweet potato peeled and mashed
1/2 cup sugar
2 eggs beaten
1 teaspoon vanilla extract
1/4 cup melted butter
Topping
1/2 cup all purpose flour
1 cup nuts (I used walnuts, but pecans or almonds are good too)
1/3 cup butter* softened
1 cup brown sugar (packet)
pinch salt, if unsalted butter was used (you don't need any if you use salted butter)
cooking spray, butter or oil to grease the casserole dish
Instructions
In a large mixing bowl, use a potato masher to mix up the cooked sweet potato, eggs, butter, vanilla and sugar.

Transfer to a greased casserole dish and set aside.

In a separate bowl, mix up the topping ingredients: flour, nuts, butter, brown sugar and (optional) pinch of salt.

Use your hands to break down the butter chunks, and work the other ingredients in until well-incorporated.

Sprinkle on top of sweet potatoes.

Cook in a preheated oven at 350 degreed, until topping is slightly brown and crunchy, about 35 to 40 minutes.
Recipe Video
Recipe Notes
Nutritional information is approximate and was calculated using a recipe nutrition label generator.
Let the sweet potatoes cool slightly before adding the eggs. They can be warm. Just avoid pouring them over piping hot potatoes, as you might get scrambled eggs!
I often make the potato mixture and freeze it in a well-covered container. I thaw the potato mixture and make the topping on the day we plan to bake it.
Nutrition Facts
Sweet Potato Casserole
Amount Per Serving
Calories 338 Calories from Fat 144
% Daily Value*
Fat 16g25%
Saturated Fat 6g38%
Cholesterol 51mg17%
Sodium 119mg5%
Potassium 415mg12%
Carbohydrates 46g15%
Fiber 3g13%
Sugar 30g33%
Protein 4g8%
Vitamin A 13770IU275%
Vitamin C 13.9mg17%
Calcium 58mg6%
Iron 1.3mg7%
* Percent Daily Values are based on a 2000 calorie diet.
This recipe originally appeared on A Pinch of Healthy November 19, 2017. It has been updated with new photos. Here is what it used to look like.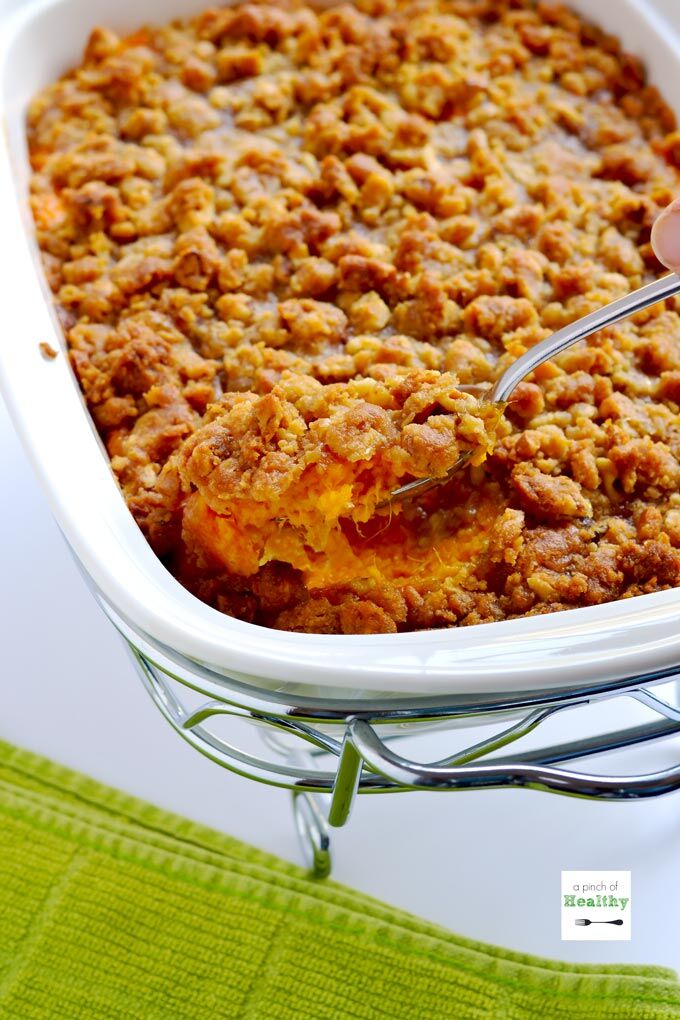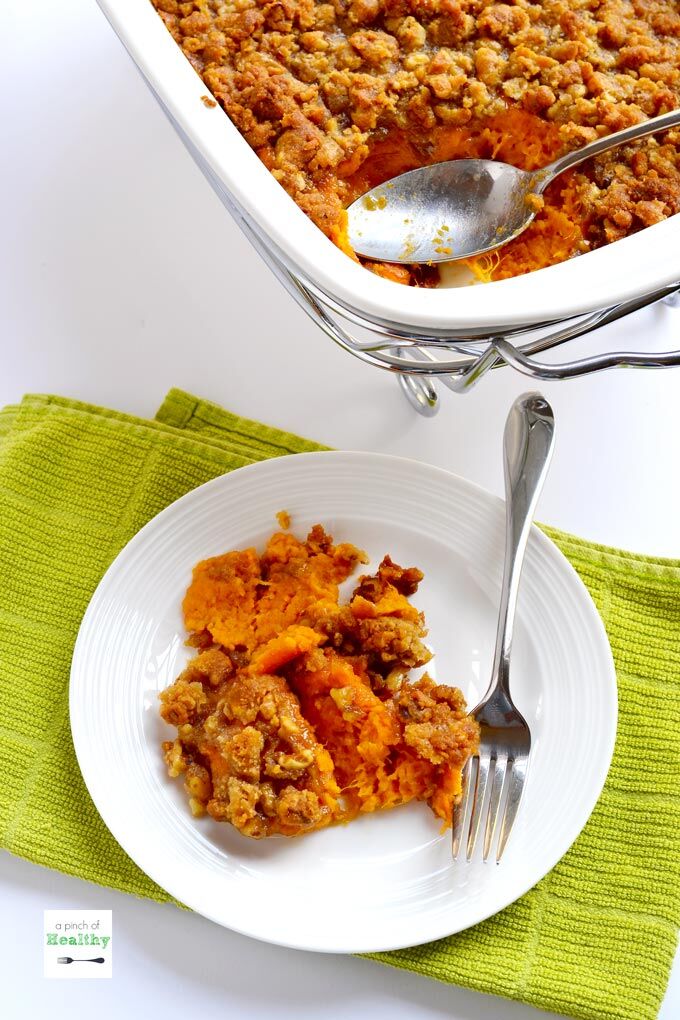 (Visited 25,307 times, 7 visits today)