Today I am sharing a delicious Spiralizer recipe: sweet potato with goat cheese, caramelized onion and pine nuts.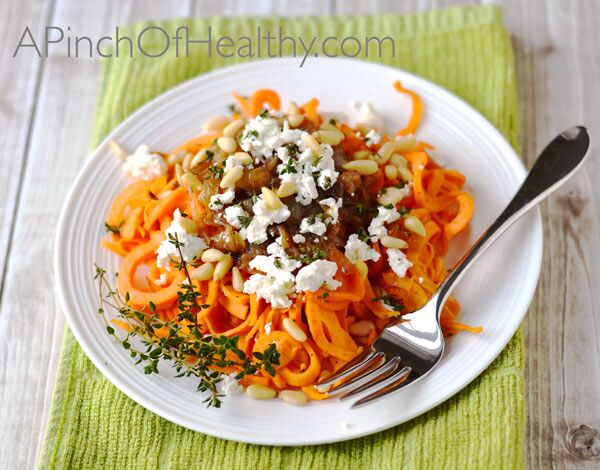 This makes a killer side dish or vegetarian main dish that will knock your socks off.
The Spiralizer
It is my second Spiralizer
recipe (see the other one here). The Spiralizer
is a cool kitchen device that slices vegetables into noodle shapes. I did a full product review on it here if you are interested.
I love the concept of using veggies to make "noodles." It opens up so many different flavor combinations. And there is something so fun about eating food in this form. Plus it is a great way to lighten up traditional pasta dishes if you are watching your weight.
Recipe Notes
This is one of those recipes that is more about the method than the actual recipe. But I did measure everything out for the recipe. So feel free to make it your own.
For example, this particular recipe is made with sweet potatoes. You can lighten it up even more by using butternut squash in place of sweet potato if you want to.
I liked using the sweet potatoes, though. It is slightly more filling to me. In fact, even though I made this as a side dish, a double portion would be a great vegetarian main dish. You could totally make a meal out of this!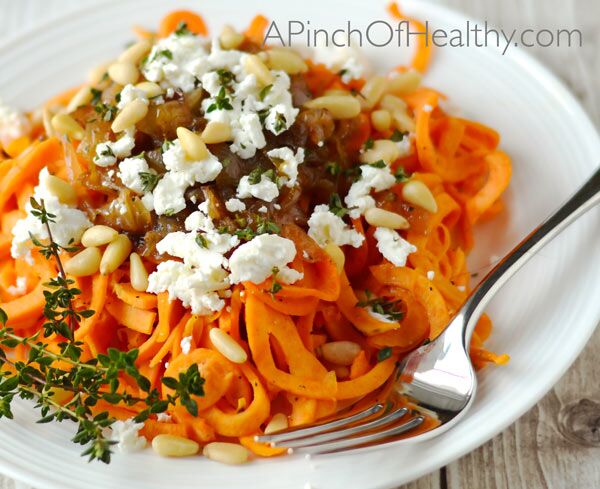 Spiralizer Sweet Potato Recipe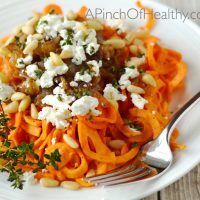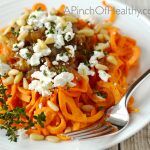 Spiralizer Sweet Potato with Goat Cheese, Caramelized Onion and Pine Nuts
Spiralizer sweet potato with caramelized onion, goat cheese and pine nuts makes a killer side dish or vegetarian main dish that will knock your socks off.
Prep Time 15 minutes
Cook Time 20 minutes
Total Time 35 minutes
Servings 4 servings
Calories 216 kcal
Ingredients
12 ounces raw sweet potatoes spiralized (*see Notes below)
1.5 Tablespoon olive oil divided
1/2 Tablespoon butter
1 large yellow onion sliced
pinch of sugar
salt and pepper to taste
2 ounces goat cheese crumbled
2 Tablespoons pine nuts
1 tablespoon fresh thyme leaves (optional for garnish)
1/3 cup vegetable stock or chicken stock (optional to add to caramelized onions a few tablespoons at a time to deglaze pan)
Instructions
Preheat the oven to 400 degrees.

Add 1/2 tablespoon of olive oil and 1/2 tablespoon of butter to a sautee pan or skillet, and heat over medium heat.

Once the butter is melted, add the sliced onions, pinch of sugar, pinch of salt and pepper, and stir to combine.

Reduce heat to low, and cook the onions low and slow for about 20 minutes, stirring frequently.

While the onions begin cooking, toss the raw spiralized sweet potato with 1 Tablespoon of olive oil in a large bowl, salt and pepper to taste (1/4 teaspoon salt salt and 1/8 teaspoon pepper).

Spread the sweet potato "noodles" on a baking sheet line with parchment paper.

Baked for 10 minutes, remove the pan and rearrange the noodles, and bake for another 4 minutes.

Keep an eye on the onions, and stir frequently. If the onions start to look too dry, add a tablespoon or two of chicken stock (optional) to deglaze the pan.

Once the onions and sweet potatoes are cooked, assemble in a serving dish: add the cooked noodles to the bottom, top with the caramelized onions, goat cheese and pine nuts.

Garnish with chopped fresh thyme.

Serve immediately.
Recipe Notes
* I started with 15 ounces of raw sweet potato. After peeling and running through the spiralizer, it was reduced to 12 ounces.
I used the #2 blade - 1/4 inch spacing blade - to slice the potatoes.
Baking time - I wanted the sweet potatoes to have a slight "bite" (al dente), so if you want softer noodles, bake slightly longer.
Nutritional information is approximate and was calculated using a nutrition label generator.
Nutrition Facts
Spiralizer Sweet Potato with Goat Cheese, Caramelized Onion and Pine Nuts
Amount Per Serving
Calories 216 Calories from Fat 117
% Daily Value*
Fat 13g20%
Saturated Fat 3g19%
Cholesterol 10mg3%
Sodium 191mg8%
Potassium 367mg10%
Carbohydrates 21g7%
Fiber 3g13%
Sugar 5g6%
Protein 5g10%
Vitamin A 12380IU248%
Vitamin C 6.8mg8%
Calcium 59mg6%
Iron 1.4mg8%
* Percent Daily Values are based on a 2000 calorie diet.
I hope you enjoy this recipe. Pin and share if you like it!
This post may contain affiliate links, which pay a referral fee to me at no additional cost to you. My full affiliate disclosure can be seen here.
(Visited 102,836 times, 9 visits today)