This cinnamon maple oatmeal is a warm and hearty start to the day.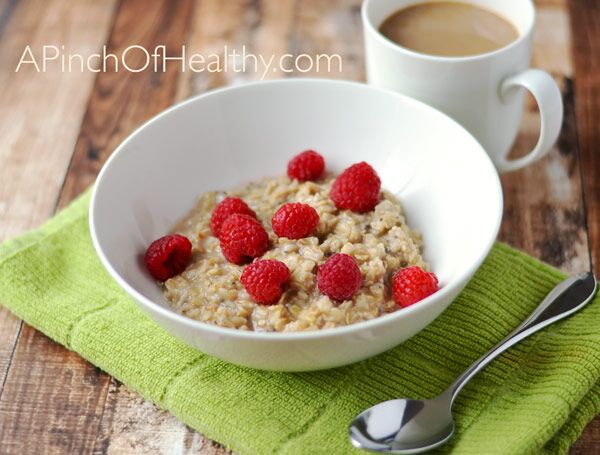 It also happen to be vegan, gluten free and refined sugar free. (Note: Gluten free depends on the oats that you buy.)
With the chill of late December, I am eating a lot of oatmeal. There is just something so warm and comforting about a bowl of oatmeal. My mom used to make it for us growing up, and it reminds me of home.
Lately I have been all about the add-ins! Layering in some flavors just makes things so much more enjoyable, no matter what you are cooking. My flavors are pretty simple. I use almond milk, pure vanilla extract, cinnamon, salt and maple syrup.
I also love to top off my oatmeal with some yummy fruit – mostly berries. But I have used a variety of any of the following: pomegranate tendrils, apples, bananas, strawberries, peaches, blueberries, raspberries, blackberries, walnuts (adds more PointsPlus), chocolate chips (more points)…the possibilities are endless! Let your imagination run wild. I usually just top it with whatever I happen to have on hand.
Also, I am becoming more fascinated with this refined sugar free movement. Have y'all heard about this? You don't have to go without sweets entirely! You just sweeten things with natural sweeteners such as honey or maple syrup. I am not sure if I could give up sugar 100%, but the idea of it is very interesting to me. So I have been playing around with this in my recipes.
Recipe Modifications
I did a YouTube video of a similar oatmeal recipe (using cow's milk and sugar) in the microwave. You can totally make this one in the microwave.
You may also like my pumpkin spice oatmeal recipe.
Cinnamon Maple Oatmeal Recipe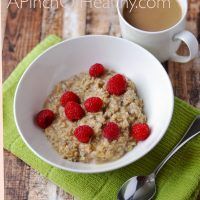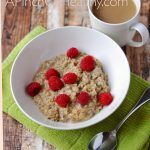 Cinnamon Maple Oatmeal
This cinnamon maple oatmeal is a warm and hearty start to the day. It also happens to be vegan, gluten free and refined sugar free.
Prep Time 2 minutes
Cook Time 5 minutes
Total Time 7 minutes
Servings 1 serving
Calories 248 kcal
Ingredients
1/2 cup unsweetened almond milk
1/2 cup water
1/2 cup old fashioned oats
1 teaspoon chia seeds
1/4 teaspoon pure vanilla extract
1/8 teaspoon salt
1/4 teaspoon cinnamon
1 tablespoon pure maple syrup
Instructions
Bring the water, almond milk, vanilla and salt to a low boil on the stovetop.

Add oats and chia seed, and reduce heat to simmer.

Simmer on low for 3-5 minutes, and remove from heat.

Let sit 5 minutes to thicken.

Stir in cinnamon and maple syrup, and top with fruit if desired.

Serve immediately.
Recipe Notes
This recipe is 6 PointsPlus on Weight Watchers. PointsPlus were calculated using the recipe builder. Additional nutrition information was calculated using a nutrition label generator.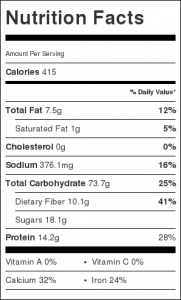 Nutrition Facts
Cinnamon Maple Oatmeal
Amount Per Serving
Calories 248 Calories from Fat 45
% Daily Value*
Fat 5g8%
Sodium 464mg20%
Potassium 191mg5%
Carbohydrates 43g14%
Fiber 6g25%
Sugar 12g13%
Protein 6g12%
Calcium 218mg22%
Iron 2mg11%
* Percent Daily Values are based on a 2000 calorie diet.
I hope you enjoy this recipe! If you like it, please pin and share it.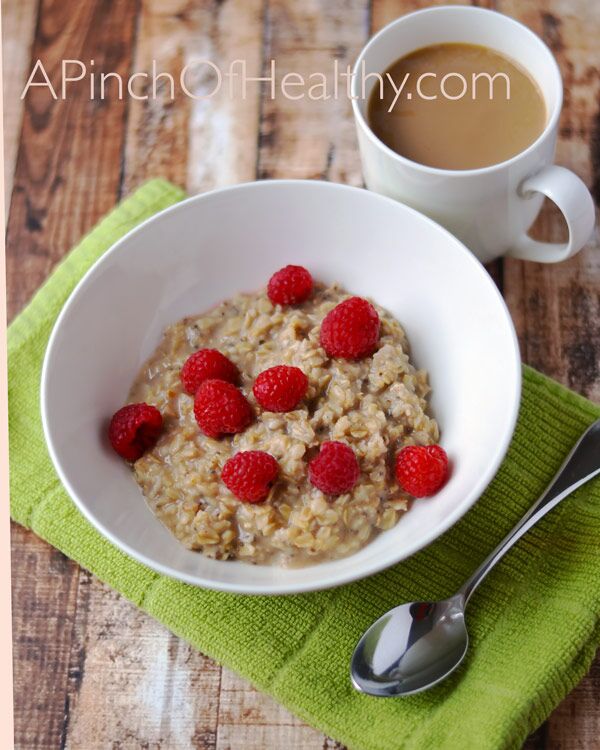 (Visited 69,798 times, 16 visits today)