Air fryer French fries are the perfect way to make fries at home , and my family loves these!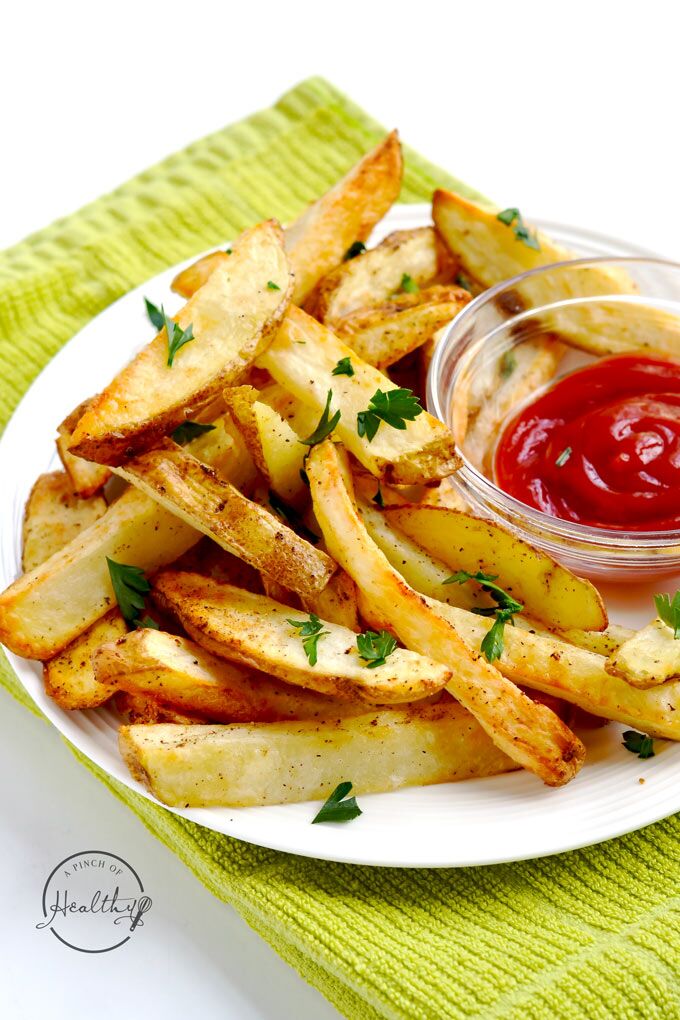 Note: This post contains affiliate links.
This is my very first Air Fryer recipe…yay! I am starting off super simple, with our favorite use for our Air Fryer so far – French fries! 😍👌🏻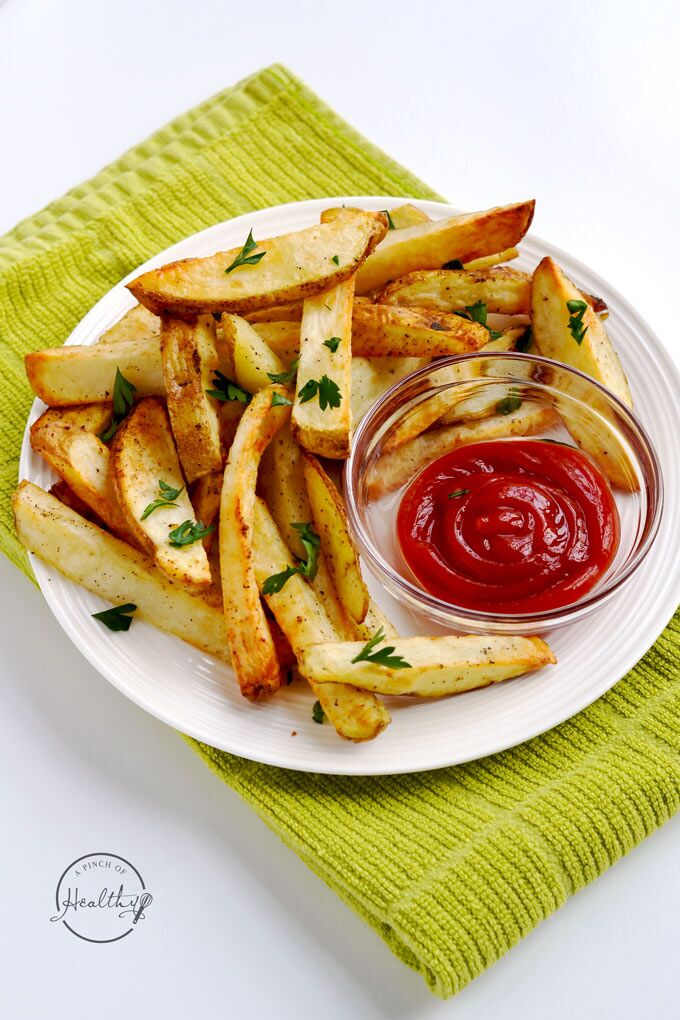 Side note: Since this post was originally published, I have made MANY more air fryer recipes. So you might want to check out my entire air fryer recipes collection here.
How to make air fryer French fries
Here is how to make the best, easiest air fryer French fries!
Tips – to soak or not to soak?
While I was doing my internet research for making Air Fryer French fries, I was surprised to see how many people were soaking them in water first.
With a hefty dose of ignorance and confidence, I charged ahead with making some fries pretty much as soon as my Air Fryer was delivered (thank you, Amazon Prime). This was pre-internet-research, so I was not aware that people were soaking them.
And y'all! I did not even peel my potatoes. 😂 I just sliced them up and made them like I always did in the oven pre-Air Fryer.
And you know what? I don't think I will ever bother with soaking them. I like them just as they are!
Laziness for the win! 😆👍🏻
Maybe I'll try soaking them one day, just to see if it actually makes a difference. But I know myself.
I know that I have two needy little kids always vying for my attention, especially at dinner time. Mamas, can I get and amen?! And I am adopting my lazy version for the foreseeable future. 👍🏻
Seasoning
Also on the lines of laziness, I toss mine with the oil and seasonings in the air fryer basket because…less dishes!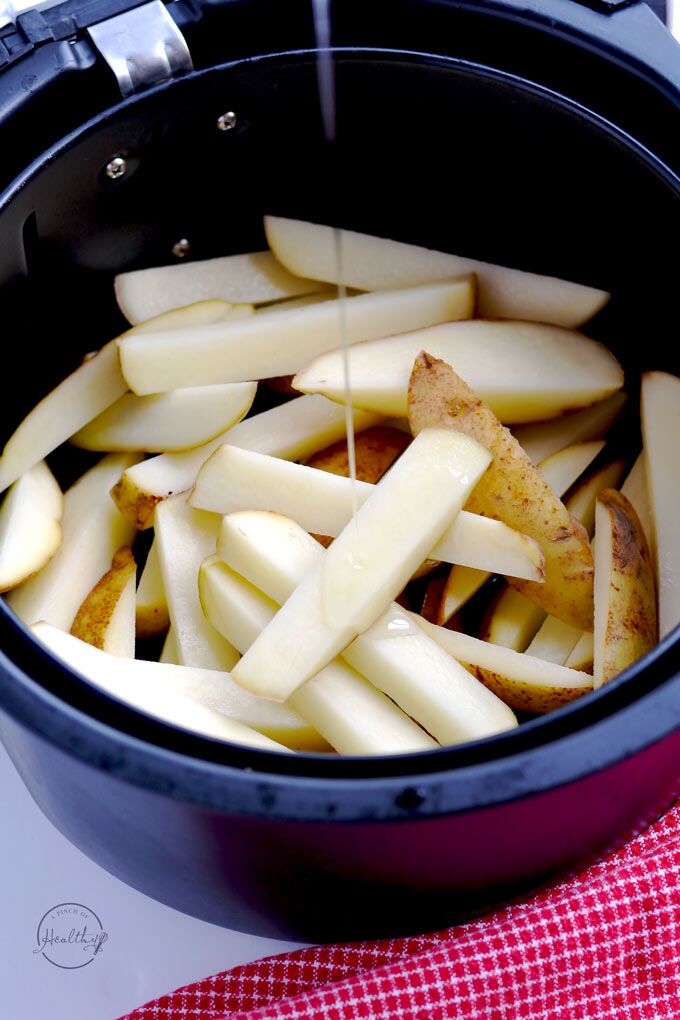 You have to be willing to move sort of quickly, because if you wait all that oil will run through/ beneath the basket.
Now for a few notes on seasonings! I seasoned mine up with what Paula Deen calls her "house seasoning" – salt, pepper and garlic powder.
I don't bother to mix mine together first, but I just apply all three and trust that they will get evenly distributed during tossing.
For even more flavor: These would also be great with a little onion powder and paprika added in.
Or for even more simple, we often do just salt and pepper. So season however you wish!
How to cook air fryer French fries
So what temperature do you cook air fryer French fries? I have done anywhere from 375 to 400 degrees Fahrenheit. I landed on 400 F, because that is easiest for me to remember and seems to work best with my particular air fryer model.
I am realizing that some models may vary slightly in temperature and cooking speed. So use common sense and adjust accordingly!
And how long to air fry French fries at 400? These fries were done in about 20 minutes! If you cut larger cuts, like steak fries, these may need to go longer. Just keep an eye on them.
As for preheating, I have not noticed much of a difference. So I just don't do it anymore.🤷🏼‍♀️ Again, experiment with your model and adapt accordingly.
Can I make these oil free?
Yes! It changes the texture a little bit, but they are still very tasty, and I have done this many times. The seasoning may also tend to fall off a little more without oil.
Another alternative is to use an oil sprayer to reduce the amount of oil.
There are many reasons some may need to reduce or eliminate oil. And sometimes, in more practical terms, we run out of things! Either way, these will still be good without oil.
Tools Used To Make Air Fryer French Fries
This post may contain affiliate links, which pay a referral fee to me at no additional cost to you. My full affiliate disclosure can be seen here.
Air Fryer French Fries Recipe
Did you try this recipe? Give it a star rating. Pin it and share it if it looks good to you. And be sure and stay connected on social media!
Instagram | Pinterest | Facebook | YouTube | Twitter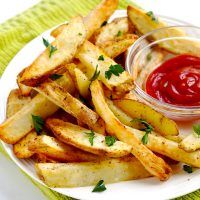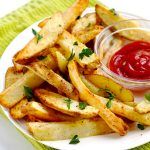 Air Fryer French Fries
Air fryer French fries are the perfect way to make fries at home, and my family loves these!
Prep Time 5 minutes
Cook Time 20 minutes
Total Time 25 minutes
Servings 2
Calories 278 kcal
Ingredients
3 medium potatoes (I am using russet)
1/4 teaspoon garlic powder/ granulated garlic
salt and pepper to taste
1 1/2 tablespoons oil of choice (I love using avocado oil because it has a high smoke point. Coconut also works well.)
Instructions
Wash your potatoes, and pat them dry. I do not peel mine (#lazy 😆), but feel free to do that.

Slice your potatoes to the size fries you want, and try to be somewhat consistent with the size to allow for even cooking. (Note: larger fries may require slightly more cook time.)

Toss your fries with the oil, garlic, salt and pepper. You can toss them in a bowl, or toss them in your air fryer basket if you are lazy like me! 😆👌🏻

Cook them on 400 in the air fryer for about 20 minutes (more for larger, steak fries), and toss them around a couple times during the cooking to help evenly cook.

Taste to see if you need more salt and pepper.

If you want to make them look fancy, sprinkle some chopped fresh parsley on top. Honestly, I just did this for the pictures. We never add parsley in real life. 😉👍🏻
Recipe Notes
Nutrition information is approximate and was calculated using a recipe nutrition label generator.
Nutrition Facts
Air Fryer French Fries
Amount Per Serving
Calories 278 Calories from Fat 90
% Daily Value*
Fat 10g15%
Saturated Fat 1g6%
Sodium 31mg1%
Potassium 1319mg38%
Carbohydrates 39g13%
Fiber 7g29%
Protein 8g16%
Vitamin C 36.4mg44%
Calcium 96mg10%
Iron 10.4mg58%
* Percent Daily Values are based on a 2000 calorie diet.
(Visited 549,502 times, 5 visits today)