Earth Day is here, and I thought it'd be the perfect time to share my favorite eco-friendly, non-toxic products.
This post may contain affiliate links, which pay a referral fee to me at no additional cost to you. My full affiliate disclosure can be seen here.
Non Toxic Cleaning Products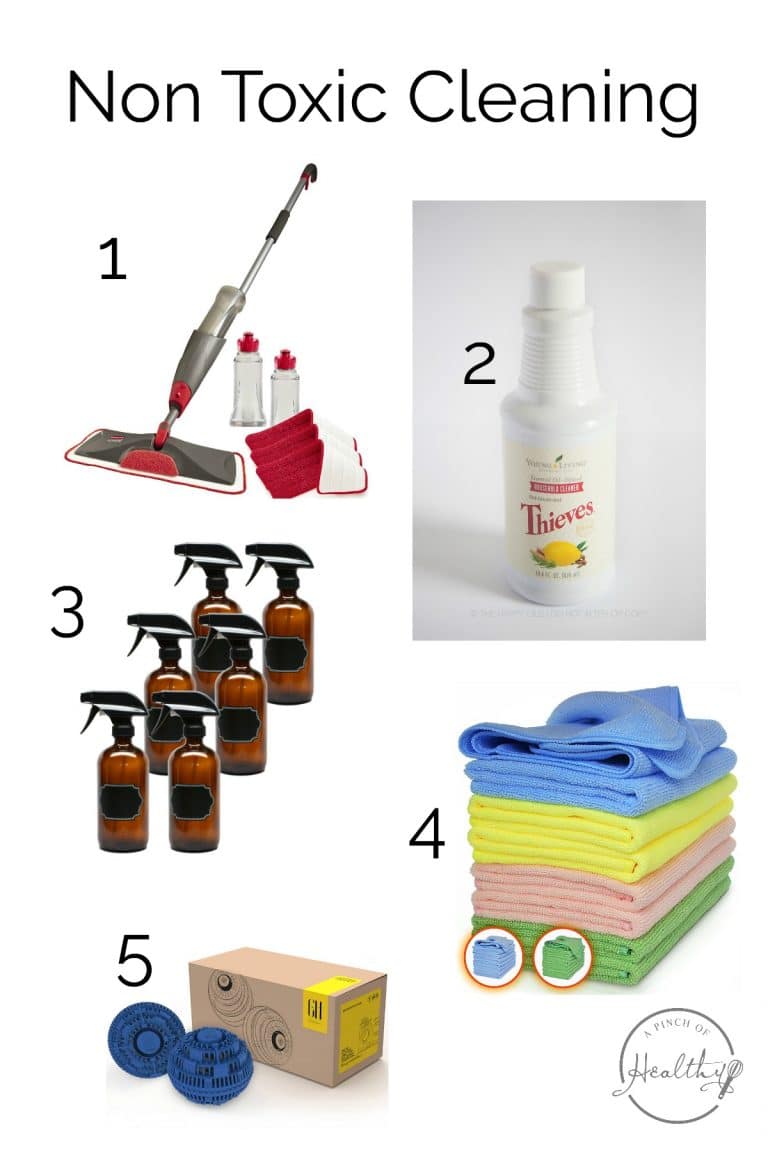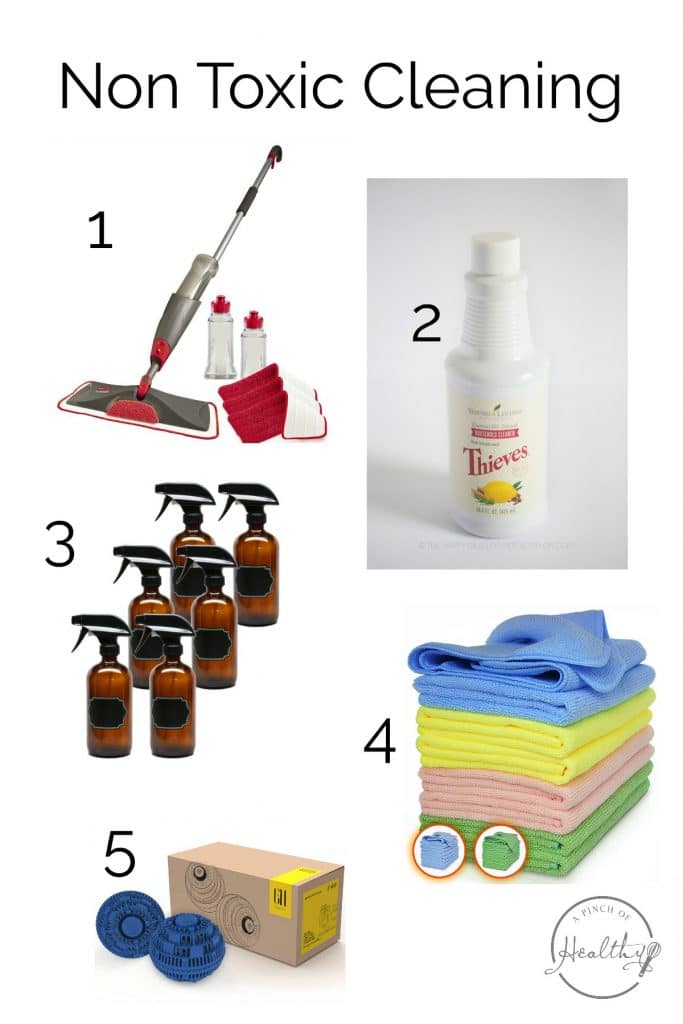 (1) Rubbermaid Reveal Spray Mop – this mop is such a gem! I love using my own cleaner (more on that in a sec👌🏻). Plus the cleaning pads are machine washable. This works SO well to get our floors sparkling clean. You can buy extra cleaning pads too, which is super helpful. We have two, so I always have an extra. Double thumbs up.👍🏻👍🏻
(2) Thieves all-purpose cleaner – this stuff is the BEST non toxic, eco-friendly cleaner I have found. It is a concentrate, so one bottle makes 28+ bottles of cleaner, which puts it around a dollar a bottle (retail). It costs even less than that if you grab a membership with a starter kit. That gets you wholesale prices for life (no annual fee or monthly minimums), which is of course what I would recommend. 🙌🏻
We use Thieves cleaner for cleaning ALL the things in our house: windows, mirrors, leather, showers, tubs, floors, countertops, ovens, sinks, stainless steel, granite, carpet spot removal, toys. It replaces a ton of products, cleans great, smells like a dream, keeps us safe and saves us a ton of money. 👏🏻👌🏻✅
(3) Amber spray bottles (with cute labels!) – these are so great if you make your own cleaning products. They are really pretty and durable too. We have a few of them with different dilutions (used for different purposes) of the Thieves cleaner mentioned above.
(4) Microfiber cleaning cloths – We recycle old towels and use them for cleaning, which works fine most of the time. I like these microfiber cloths for cleaning glass surfaces and stainless steel, though. They are also great for cleaning your smart phones and tablets. These leave a lint-free, streak-free shine. And you can use them over and over.
(5) Eco Detergent Free Laundry Balls – I do not use these, but I must admit I am intrigued. They claim to wash 1500 loads, and get this…without detergent! Say whaaaaat?! We use the Thieves laundry detergent, but I am super curious about these. Have any of y'all tried them?
Eco Beauty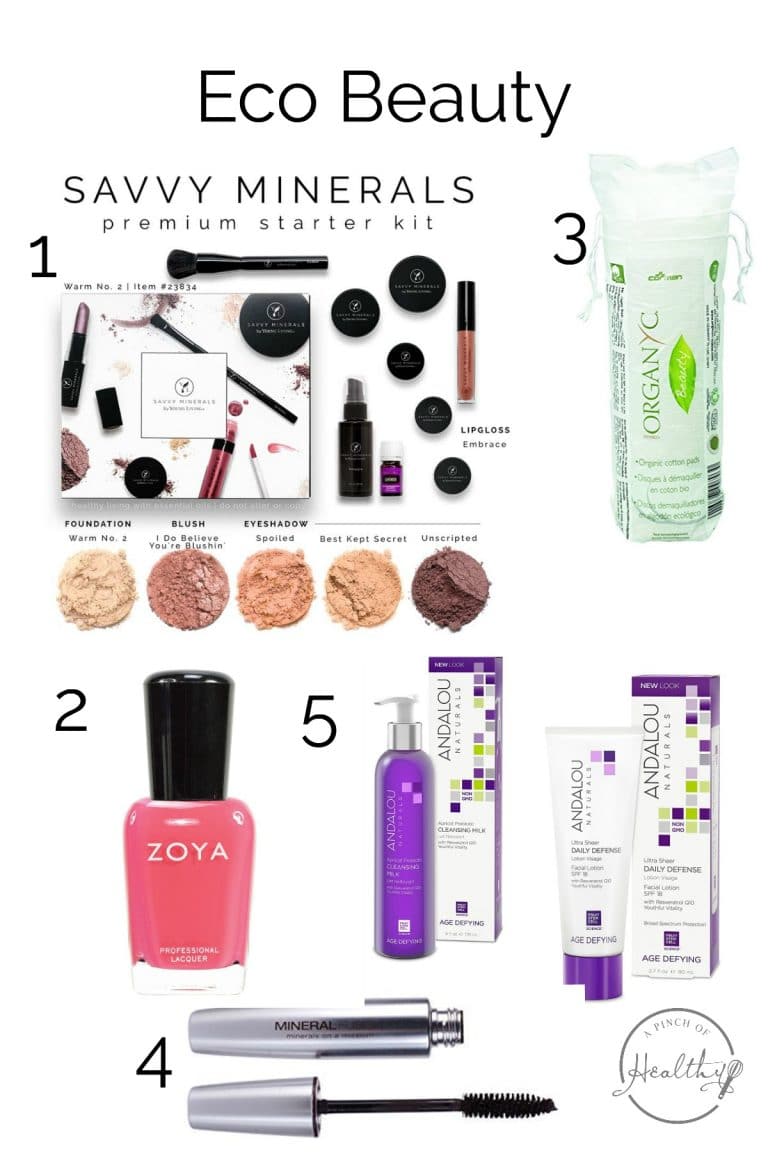 (1) Savvy Minerals Makeup by Young Living – It is beautiful makeup and so fun to use! I recommend purchasing a makeup starter kit, which gets you wholesale membership prices for life.
I have already covered my love for Savvy Minerals in more detail here, if you want to read up on it and watch a video of me applying the make-up.
(2) Zoya Nail Polish (color: Maya) – My most favorite brand of nail polish! This brand is free from formaldehyde, toluene, DBP, formaldehyde resin, and camphor.
For a spring and summer color recommendation, I am going to recommend Maya. It is a bright, beautiful, soft coral color (my favorite!). It is actually on my nails right now.
I also use the Zoya Anchor Base Coat and Armor Top Coat. And y'all! I can get a whole week's wear out of my polish! I might add here that I do a lot with my hands too, between mothering and food blogging. I love it!
(3) Organic cotton rounds – I love these for removing makeup, using toner, etc. They are great and won't irritate your skin.
(4) Mineral Fusion Mascara – this is good mascara. I have been using it since the Savvy mascara has been out of stock. I like it!
(5) Andalou Naturals skincare – I love this line! Very affordable and my skin likes it. 👍🏻 I use the probiotic cleansing milk, the daily defense moisturizer, the refreshing toner and the 1000 Roses shower gel. They all work great for me. Just FYI, I have very dry skin.
Clean Drinking Water
The last product I will mention in this roundup is our APEC 5-Tier Reverse Osmosis water filter. It removes up to 99% of contaminants including arsenic, chlorine, lead, fluoride, heavy metals, bacteria, virus and 1000+ contaminants. You can click on the link to read more.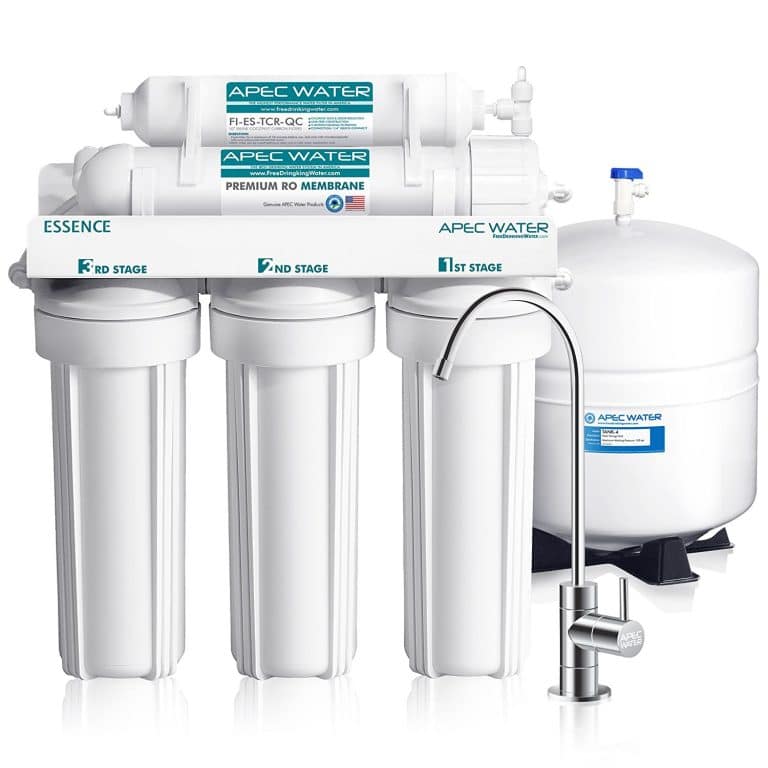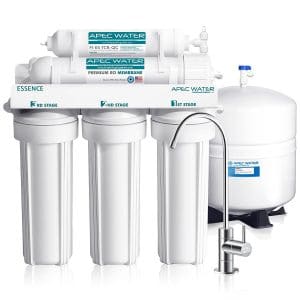 To bottom line it for y'all, after reading up on fluoride, I decided that I wanted it OUT of our family's water supply. I say that not to make you afraid, but so that you will educate yourselves. Dr. Axe wrote a good article on fluoride that you might find helpful.
In Alabama (and a LOT of other states), fluoride is added to the water supply. 👎🏻 🤦🏼‍♀️😫 We had a refrigerator filter, but after researching I found no refrigerator filters that remove fluoride.
Also, I want to add that you cannot eliminate fluoride all together. But purchasing a filter like this drastically reduces the amount of fluoride consumed. That, and using a great fluoride free toothpaste. (Thieves for the win again, y'all! 🙌🏻 I use and love their safe, non-toxic toothpaste!)
So we purchased this in January and have been using it for drinking water, making coffee and tea, cooking, etc. We love it!👍🏻
That wraps up the round-up, y'all!
What are your favorite eco-friendly products? I would love to hear! Happy Earth Day!!🌎🌱🎉
(Visited 1,366 times, 1 visits today)