You need to make this epic beef nachos supreme at your next game day. Seasoned ground beef, refried beans, cheese, tomatoes and green onions make such a great flavor combination.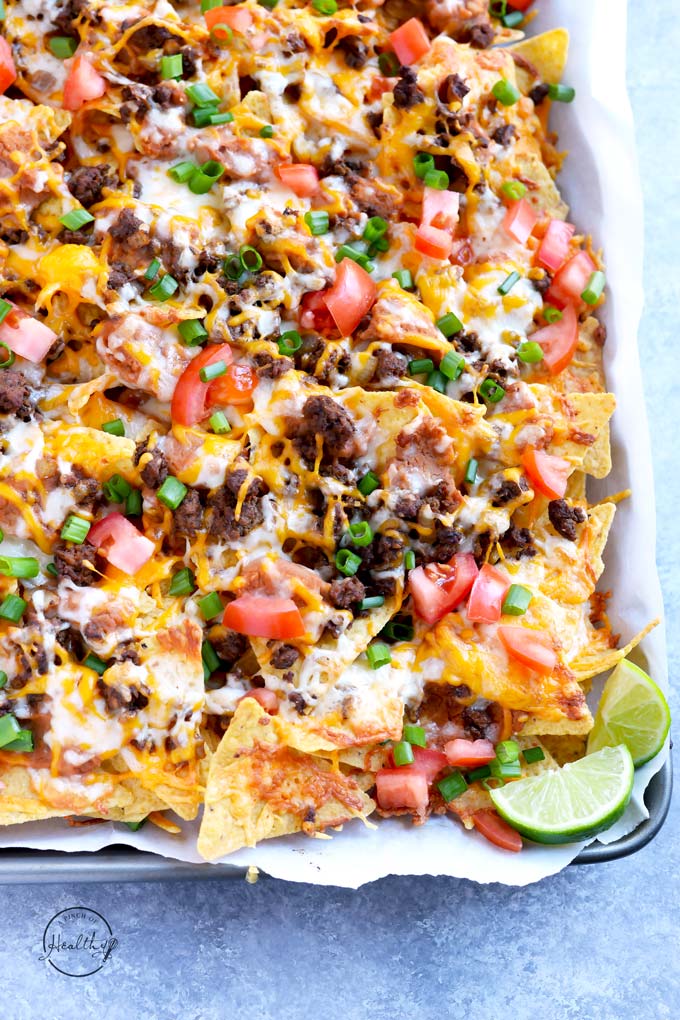 Have you got your menu all set for Super Bowl Sunday this weekend? If not, you do now. 😉👊🏻
These nachos were inspired by my teenage days when we used to frequent Taco Bell. My repeat order was beef nachos supreme.
This recipe is the next level version of that. Way better quality and taste, with the same familiar flavor combination.🙌🏻
😍😍😍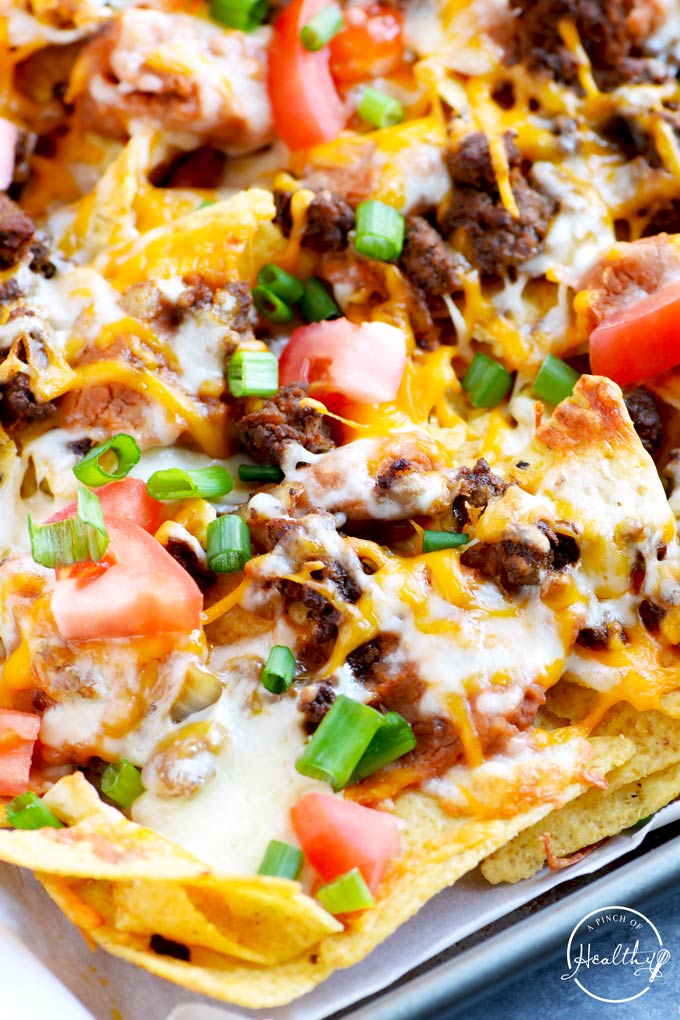 Sturdy chips, y'all
You want to start with a good, sturdy tortilla chip. None of the thin and crispy ones.🙅🏼‍♀️
You want something that can easily handle the epic toppings. I like the Costco Kirkland brand organic tortilla chips. That is what is pictured here. You can use any brand, but just aim to get the sturdy ones.
I lined a baking sheet with parchment paper and put a generous layer of the chips on it. Then I start to layer on my ingredients.
Refried beans
I spooned on canned refried beans. They are thick, but I just make little evenly-dispersed piles. They will spread as they heat up.
Or, as one commenter smartly suggested, you could heat them a little first (in the microwave, in a glass container) to help them spread.
Seasoning the ground beef
About the ground beef: I like to use the best I can find. We are really loving ButcherBox right now! (I am an affiliate, but I purchase a box every month). The beef is grass fed, grass finished, and tastes fantastic!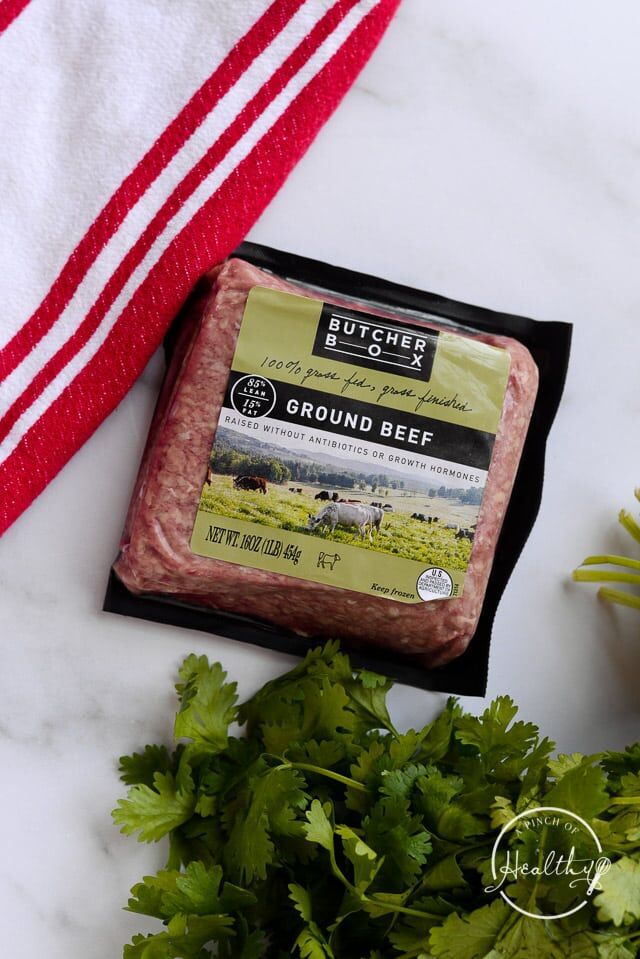 I season the ground beef with my homemade taco seasoning.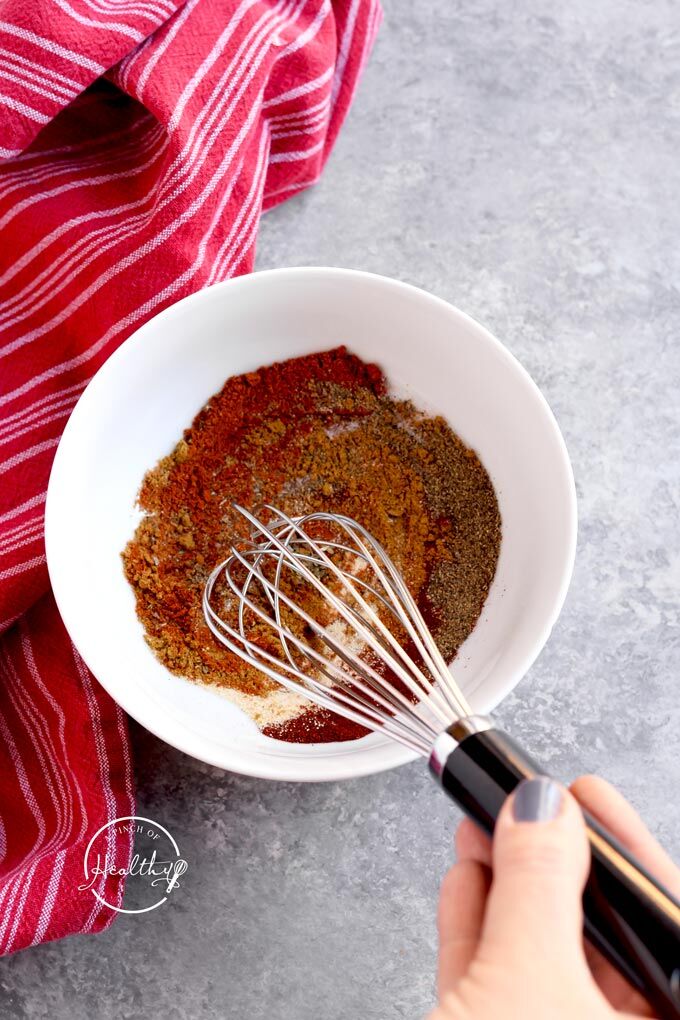 It is super easy to mix up, pinkie promise! It is a GEM of a recipe, in and of itself. We use it for so many things!
Feel free to substitute a seasoning packet if you wish. But I dare you to try mine! You may never buy the packets again.😎👌🏻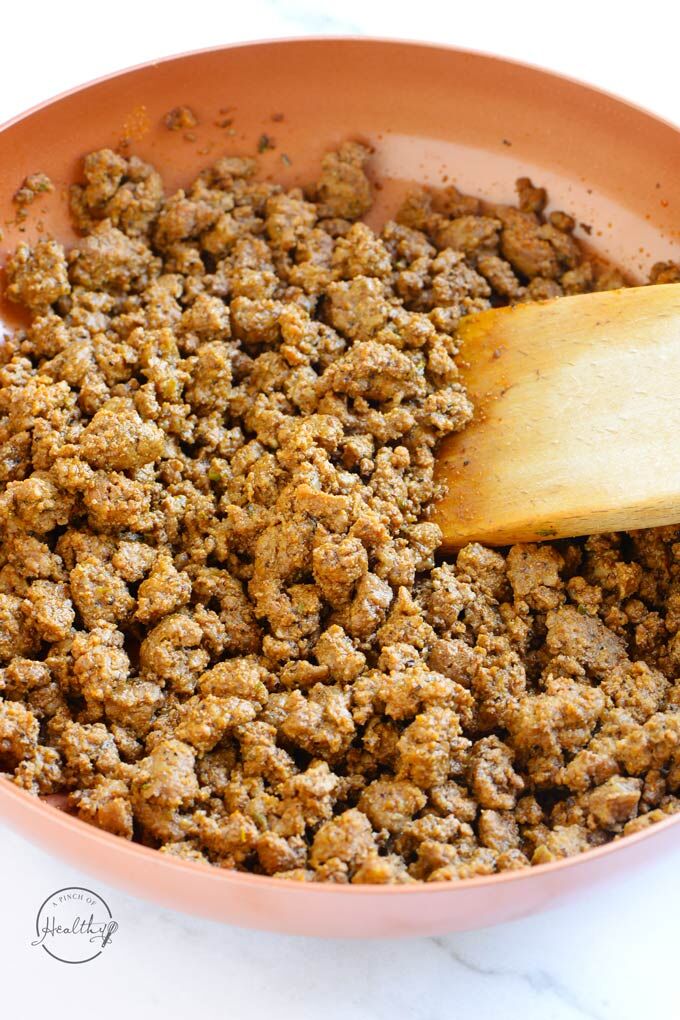 Best type of cheese for beef nachos
Next I sprinkled on the cooked seasoned ground beef and TWO kinds of cheese – cheddar.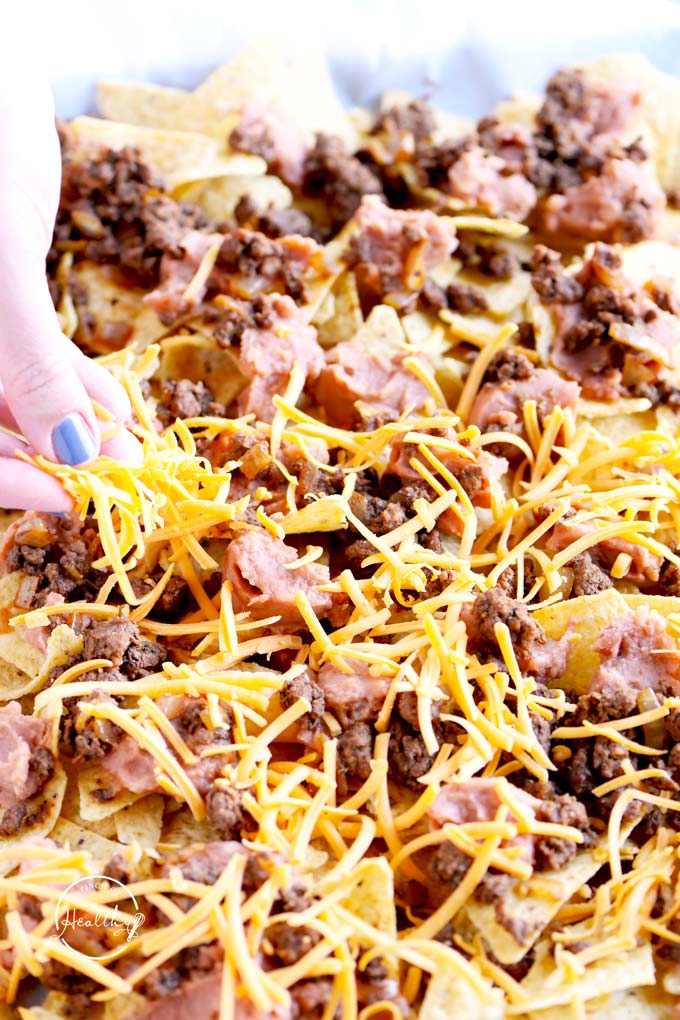 And Monterey jack.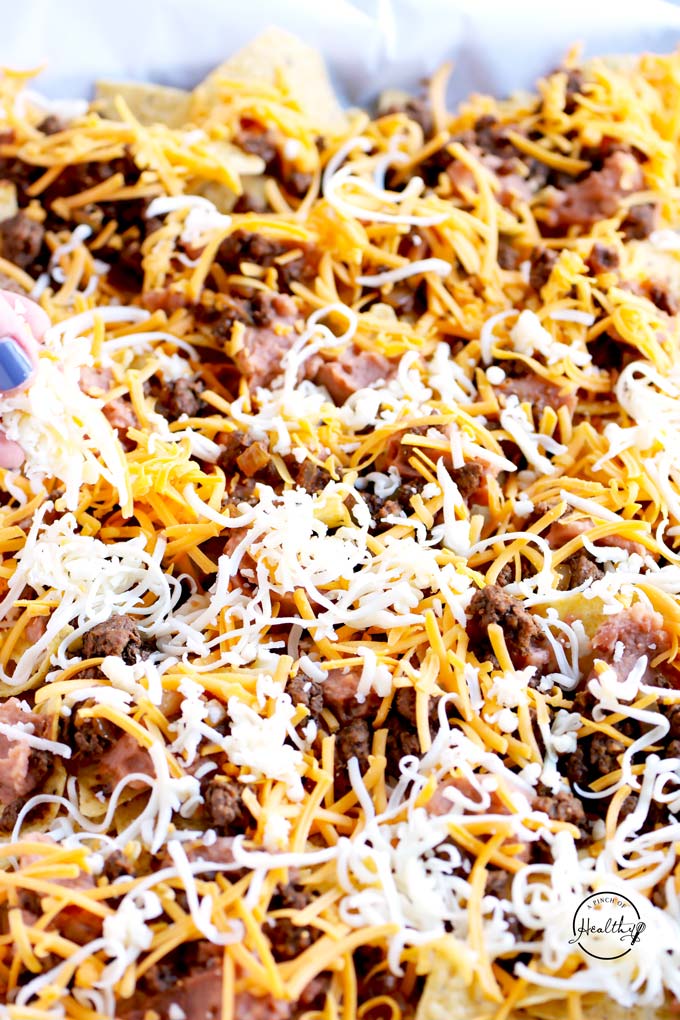 If you want the cheese to melt smoothly, I suggest buying a block and shredding it yourself.
If you have a food processor, you can grate two blocks in a minute or less using the grater attachment. ✅✅ That being said, it will still be delicious with pre-shredded cheese.
Then I bake it for 15 minutes at 400 degrees. After taking it out, I add on the tomatoes and green onions.
Of course you can do more add on toppings if you want. But this is a solid base recipe.
And since I am super-fancy, I serve them right on the sheet pan. 😆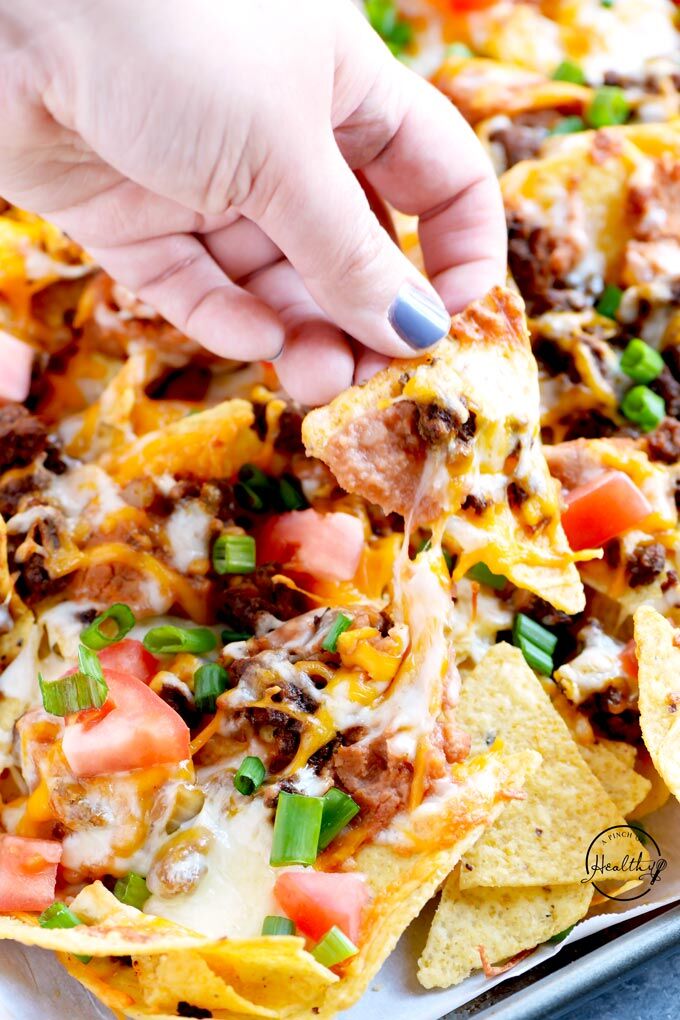 And voila, you have a better-than-Taco-Bell version of beef nachos supreme! Hey, that's why football watching food is my favorite. Super casual, super chill and epically delicious!
Tools Used to Make Epic Beef Nachos Supreme
This post may contain affiliate links, which pay a referral fee to me at no additional cost to you. My full affiliate disclosure can be seen here.
Epic Beef Nachos Supreme Recipe (Better Than Taco Bell)
Did you try this beef nachos supreme recipe? Give it a star rating. Pin it and share it if it looks good to you. And be sure and stay connected on social media!
Instagram | Pinterest | Facebook | YouTube | Twitter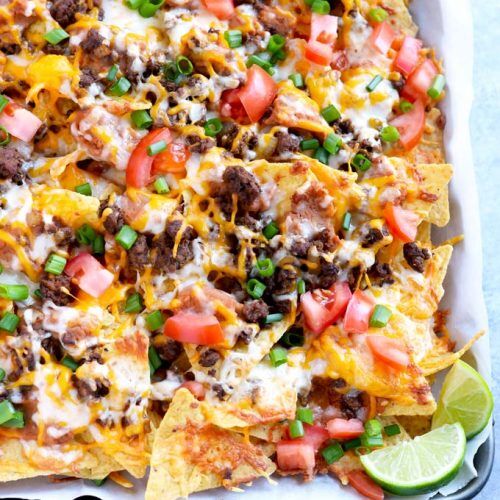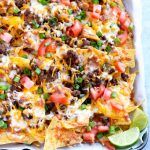 Epic Beef Nachos Supreme
You need to make this epic beef nachos supreme at your next game day. Seasoned ground beef, refried beans, cheese, tomatoes and green onions make such a great flavor combination.

Prep Time 15 minutes
Cook Time 15 minutes
Total Time 30 minutes
Servings 10 to 12
Calories 764 kcal
Ingredients
Taco Seasoning (or you can use one packet/ serving of store-bought taco seasoning)
1 pound ground beef
1/2 yellow onion diced
2 bags tortilla chips (16 ounces each)
1 can refried beans
16 ounces shredded cheese of choice (I used cheddar and Monterey jack)
3 roma tomatoes diced
2 to 3 green onions sliced
Instructions
Preheat the oven at 400 degrees.

Meanwhile on the stovetop, brown the ground beef and diced onions over medium-high heat until fully cooked (about 8 minutes) and drain.

Return the beef to the pan, and sprinkle on the taco seasoning.

Stir in 3/4 cup water, bring it to a simmer, reduce heat and simmer until the liquid mostly evaporates, about 5 minutes.

While the beef is cooking, add a generous layer of chips to two baking sheets lined with parchment paper.

Spoon on refried beans, half on each pan. These are thick, but I just add spoon fulls all over the chips. (The spoon fulls will spread with the heat of the oven.)

Spoon on half the ground beef to each pan of chips.

Sprinkle shredded cheese on top.

Bake at 400 degrees for 15 minutes.

Remove from the oven, and sprinkle on diced tomatoes and green onions.
Recipe Notes
Make sure your tortilla chips are thick and sturdy. NO thin ones. I recommend Costco's Kirkland organic tortilla chips, or a similar brand.
I wrote this recipe with entertaining in mind. If you are making this for a smaller crown (4 to 6), I think half the recipe would work just fine. Just change the number of servings on the recipe card to adjust all measurements.
Nutrition Facts
Epic Beef Nachos Supreme
Amount Per Serving
Calories 764 Calories from Fat 405
% Daily Value*
Fat 45g69%
Saturated Fat 15g94%
Cholesterol 79mg26%
Sodium 839mg36%
Potassium 414mg12%
Carbohydrates 64g21%
Fiber 6g25%
Sugar 2g2%
Protein 27g54%
Vitamin A 640IU13%
Vitamin C 3.2mg4%
Calcium 504mg50%
Iron 3.6mg20%
* Percent Daily Values are based on a 2000 calorie diet.
(Visited 1,959,680 times, 243 visits today)