Stuffed sweet potatoes are a wholesome, easy and satisfying meal that the whole family will love!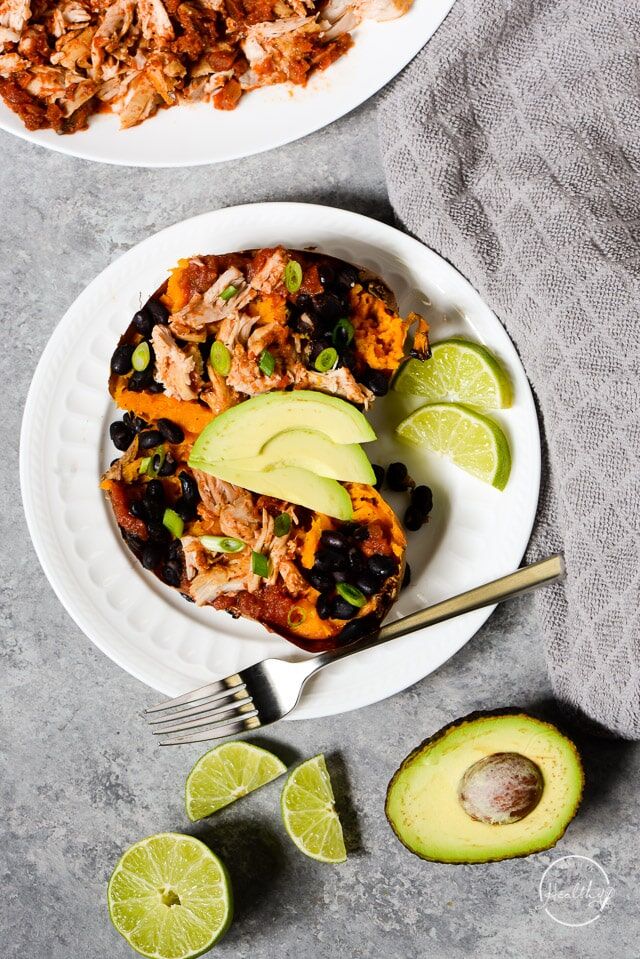 This stuffed baked sweet potato is just one of the ways I use my Mexican shredded chicken. You can make the chicken specifically for this, or you can make use of the leftovers, like I did here.
Sweet Potato Nutrition
But before we get to the stuffed sweet potato recipe…
Can we just take a minute and marvel at the glorious sweet potato?! I mean, they taste awesome for one. But do you know they are very nutrient dense?
Sweet potatoes are packed with Vitamin A and Vitamin C, plus they also contain some protein, potassium, iron, calcium and fiber.
I am no nutritionist, people, but I am a top-notch Googl-er!😉👌🏻 They are basically a nutritional slam dunk.
I love to eat them baked with some real butter and a little cinnamon sprinkled on top.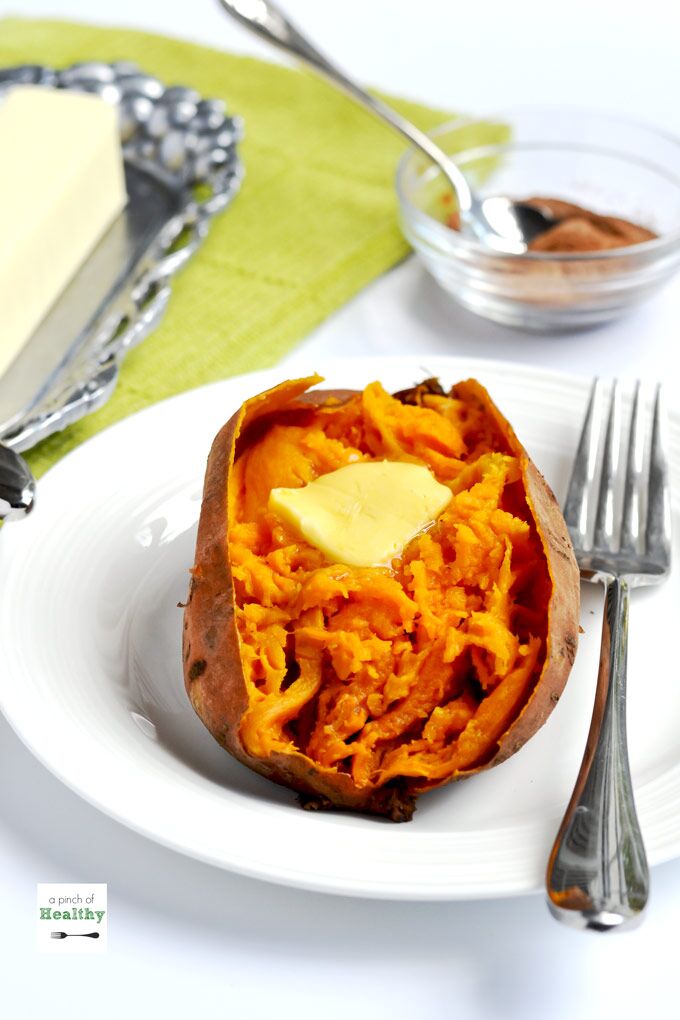 Or make oven baked sweet potato fries and/ or air fryer sweet potato fries. And I also love to use them as a base and load them up with yummy toppings, which is kind of what I am doing here.
And don't even get me started on the sweet potato casserole that my mom makes at Thanksgiving! But back to this stuffed sweet potato recipe.
How to cook sweet potato
You have options for how to cook your sweet potato. The first is to simply bake it at 400 degrees for about an hour, or until it is cooked all the way through the middle.
The second is to make Instant Pot sweet potato, which is a great option too.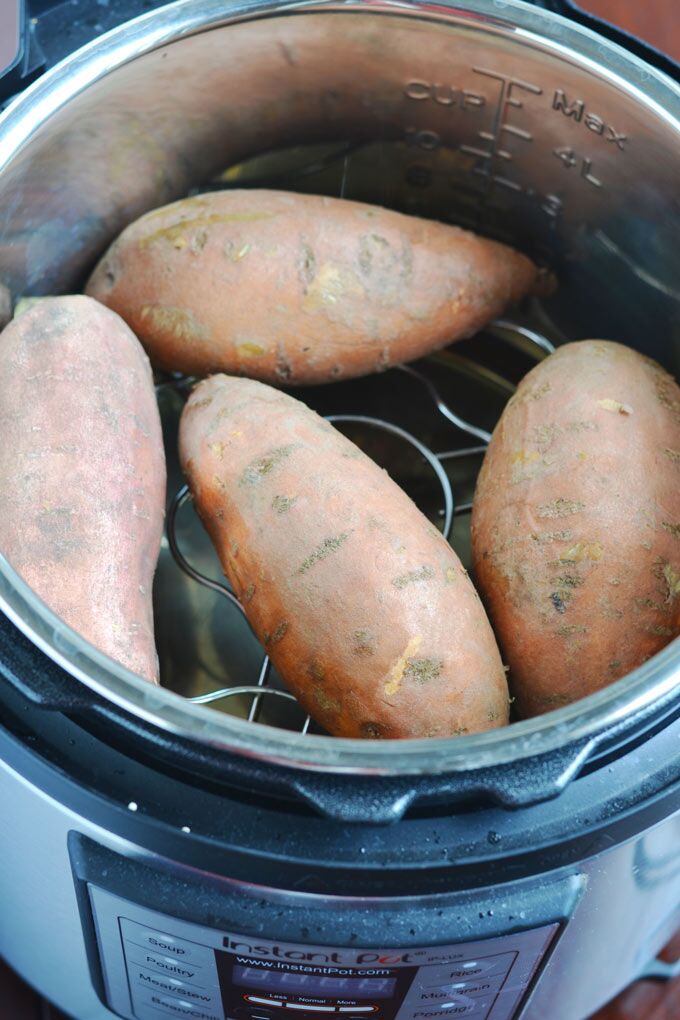 It is a bit quicker. The skins will not be crisp, but that never bothers anybody in my house.
Once your sweet potato is cooked, cut it in half, and loosen up the insides with a fork, like this.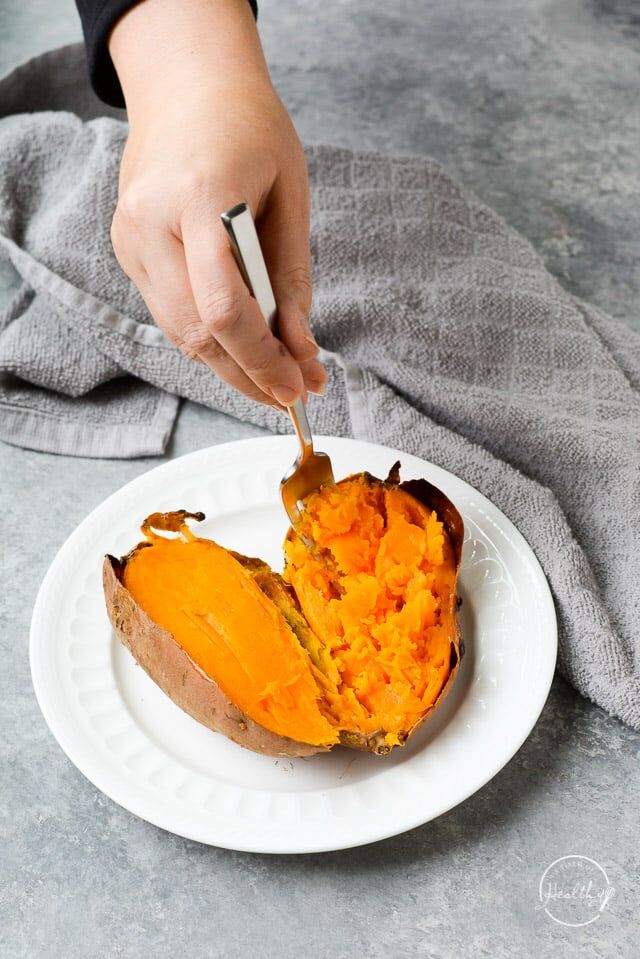 It is up you to if you wish to add any butter at this point. We did not, but you do you.😉
Toppings options
Once you have your cooked sweet potato ready, you have lots of options. We went with my go-to combination: Mexican shredded chicken, black beans, salsa, avocado and a squeeze of lime. It is pretty hard to beat!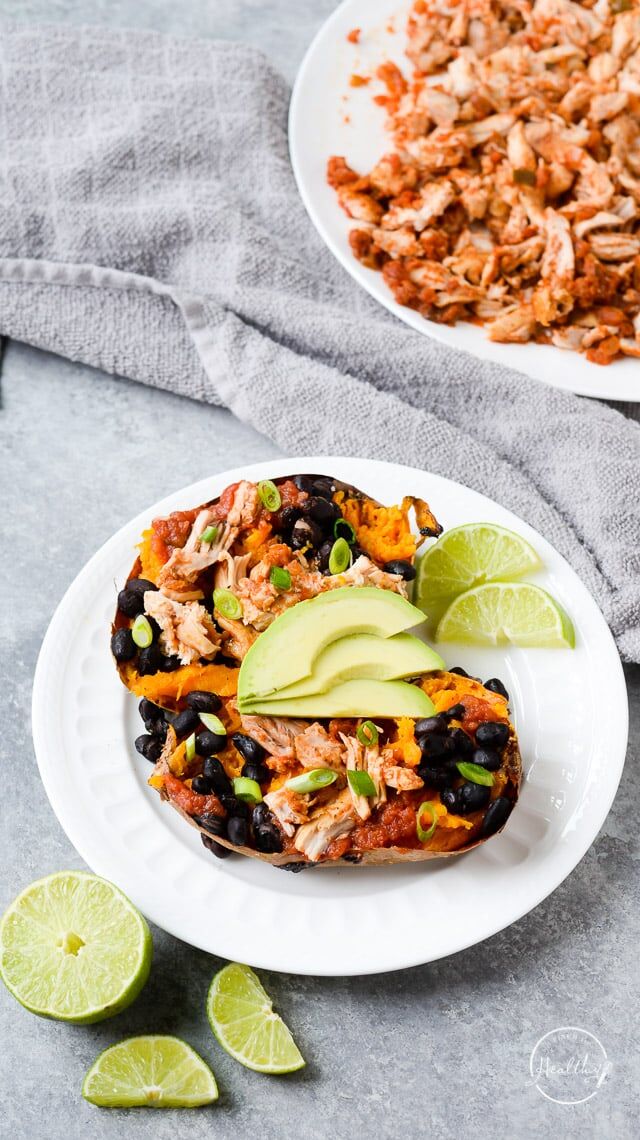 Other great options for stuffed sweet potatoes:
shredded cheese
vegan cheese
sour cream
cashew cream/ vegan sour cream
queso (never a bad idea, imho)
corn kernels or corn salsa
cowboy caviar
fajita veggies (such as cooked pepper and onion strips)
beef taco meat
jalapeno peppers
creamy jalapeno dressing
The possibilities are endless here. And this is super easy to customize with what you have on hand.
Stuffed Sweet Potato Recipe
Did you try this recipe? Give it a star rating. Pin it and share it if it looks good to you. And be sure and stay connected on social media!
Instagram | Pinterest | Facebook | YouTube | Twitter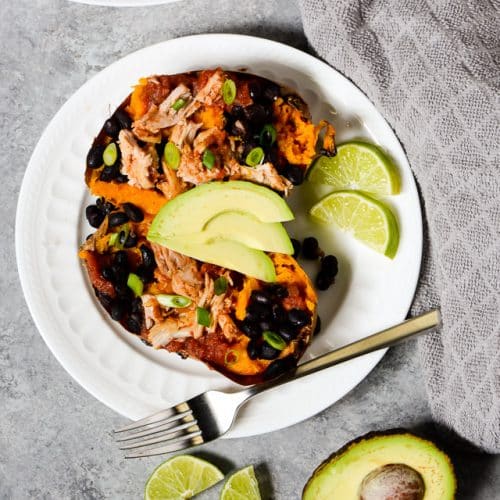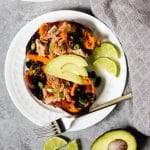 Stuffed Baked Sweet Potato
This stuffed baked sweet potato is a healthy meal option, sure to please the whole family.
Prep Time 10 minutes
Cook Time 1 hour
Total Time 1 hour 10 minutes
Servings 1
Calories 370 kcal
Ingredients
1 sweet potato (medium, mine was 9 ounces)
2 ounces Mexican shredded chicken
1/8 cup black beans (canned or homemade)
2 Tablespoons salsa (any type)
1 ounce Avocado sliced or cubed
chives for garnish
juice from one slice of lime
Instructions
Wash the sweet potatoes, and pierce with a knife.

Bake on 400 degrees until soft (about an hour).

Cut in half and loosen each half of the potato flesh with a fork.

Top with the chicken, back beans, avocado, chives and lime juice.

Serve immediately.
Recipe Notes
Nutritional information is approximate and was calculated using a recipe nutrition label generator.
Topping amounts are just suggestions. Feel free to customize to your liking.
Nutrition Facts
Stuffed Baked Sweet Potato
Amount Per Serving
Calories 370 Calories from Fat 63
% Daily Value*
Fat 7g11%
Saturated Fat 1g6%
Trans Fat 1g
Polyunsaturated Fat 1g
Monounsaturated Fat 4g
Cholesterol 54mg18%
Sodium 419mg18%
Potassium 1304mg37%
Carbohydrates 61g20%
Fiber 12g50%
Sugar 12g13%
Protein 18g36%
Vitamin A 36407IU728%
Vitamin C 10mg12%
Calcium 100mg10%
Iron 3mg17%
* Percent Daily Values are based on a 2000 calorie diet.
Baked stuffed sweet potatoes originally appeared on A Pinch of Healthy December 2, 2014. This recipe was recently re-shot. This is what it used to look like.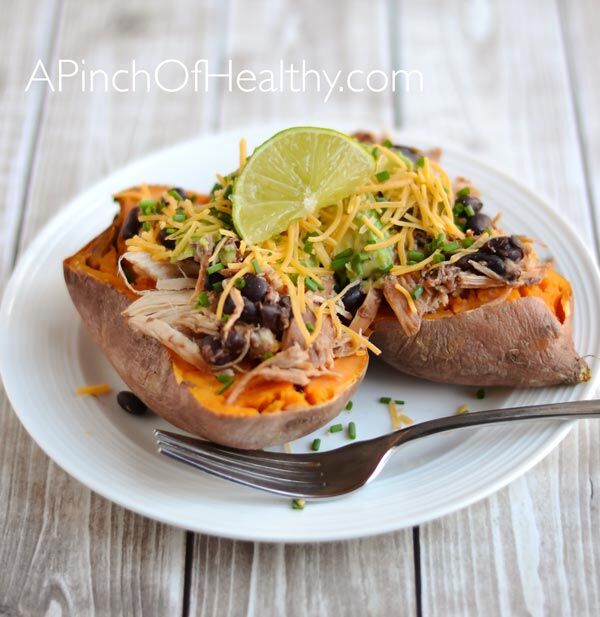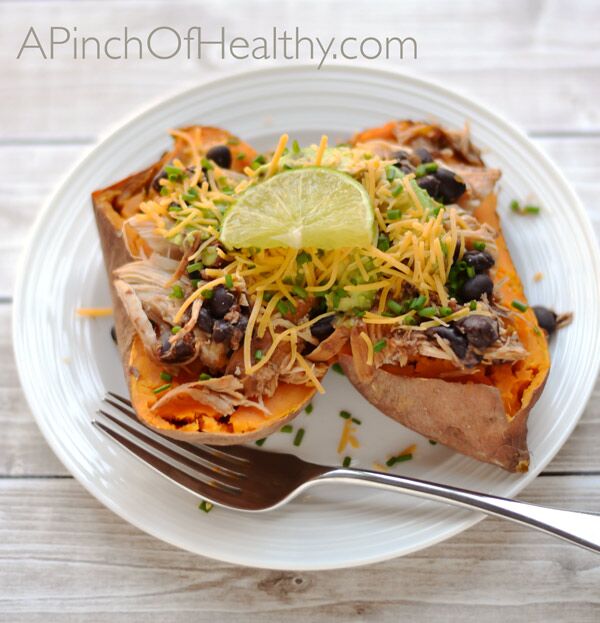 (Visited 5,724 times, 1 visits today)