These strawberry muffins are packed with nutrition and full of flavor, and they will become a family favorite!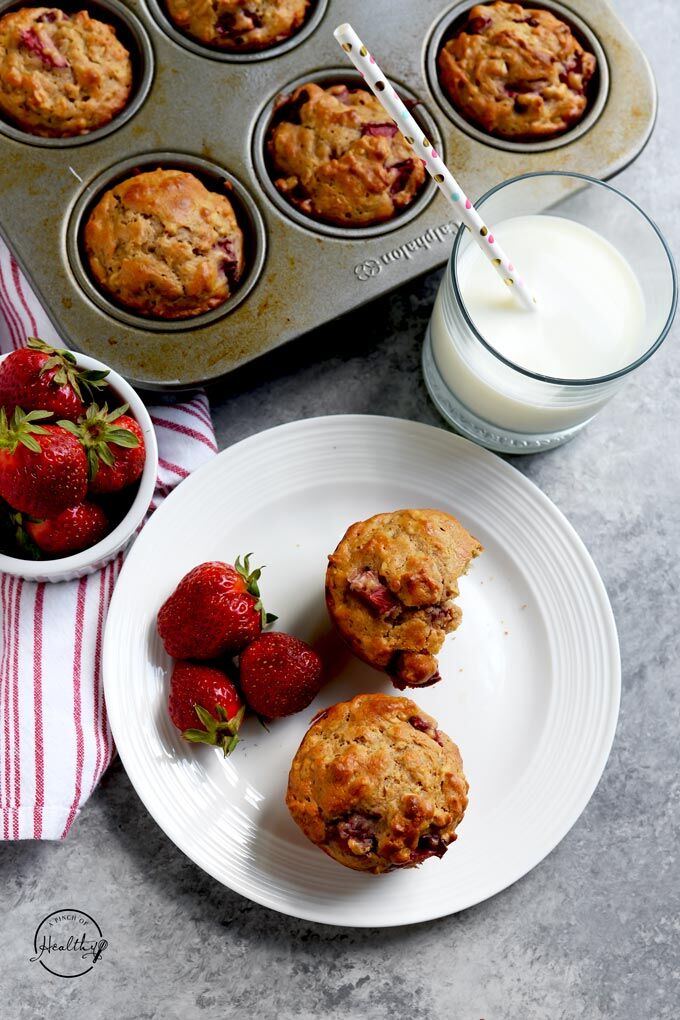 When you find (or in my case create) a great base muffin recipe, you hang on to that!🙌🏻 No need to mess too much with a good thing.💁🏼‍♀️ You can always change up the flavor profile, but the base recipe makes a fantastic foundation.
I used my blueberry oat muffins as a base for this recipe, and now I am tweaking that base recipe into these gorgeous, delicious strawberry muffins.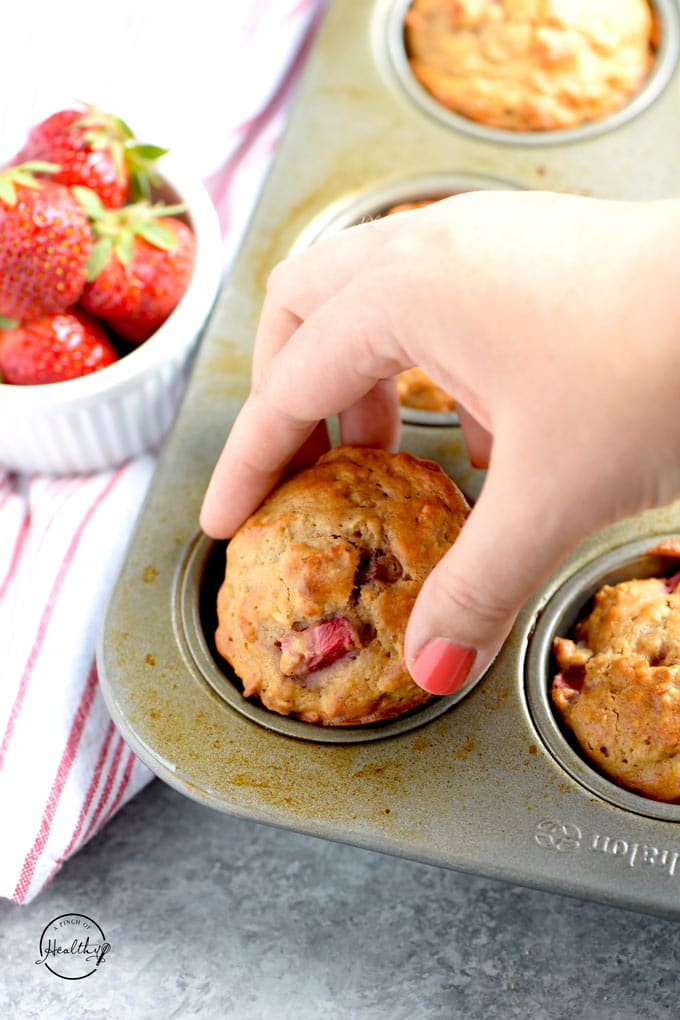 The batter for my recipe is thick and hearty, packed with old fashioned oats, Greek yogurt, whole wheat flour…so much goodness in these beauties.
I was really craving some strawberry muffins, and these totally hit the spot! Now is the perfect time to take advantage of those sweet, amazing strawberries that are in season. Bonus points: These would be perfect for Mothers' Day or any day!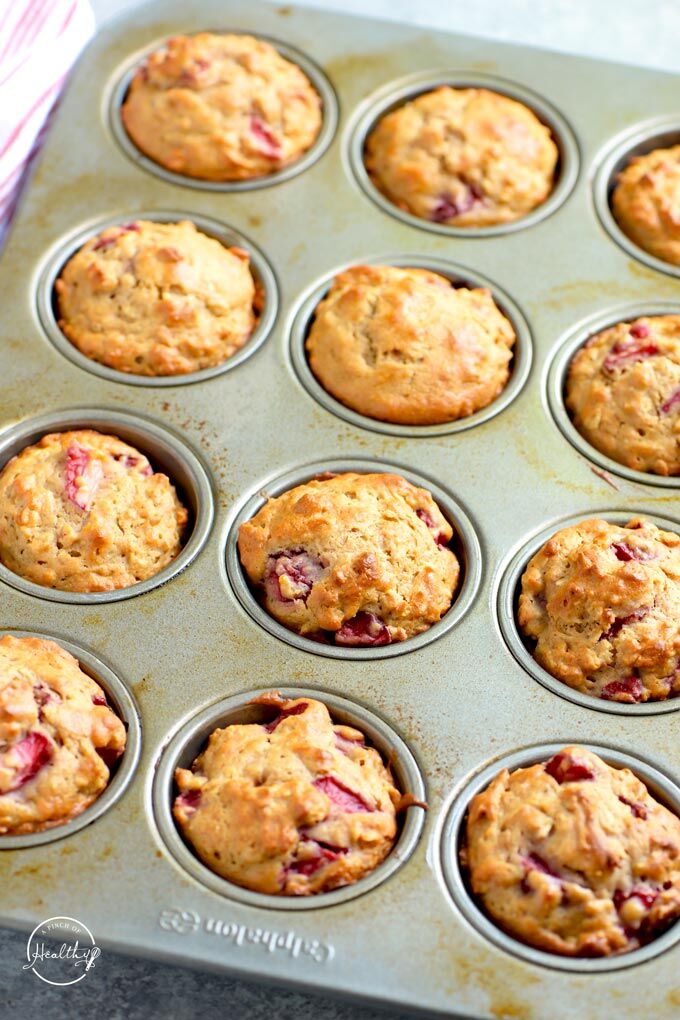 This recipe is 100% whole grain (combination of wheat and oat), plus they are sweetened with natural maple syrup. So no refined sugar! Not that I am totally opposed to sugar, y'all. 💁🏼‍♀️ Let's be real. I eat some of that too.
#allfoodsfit #intuitiveeating #foodfreedom
But I do like to play around in the kitchen and switch up my ingredients from time to time. Aside from being sweet and delicious, maple syrup has a ton of benefits:
Contains Numerous Antioxidants
Gets a Lower Score on the Glycemic Index
Fights Inflammatory Diseases
May Help Protect Against Cancer
Helps Protect Skin Health
Alternative To Sugar For Improved Digestion
Supplies Important Vitamins and Minerals
(Source: Dr. Josh Axe benefits of maple syrup)
Some Greek yogurt gives these really great, soft and yummy texture.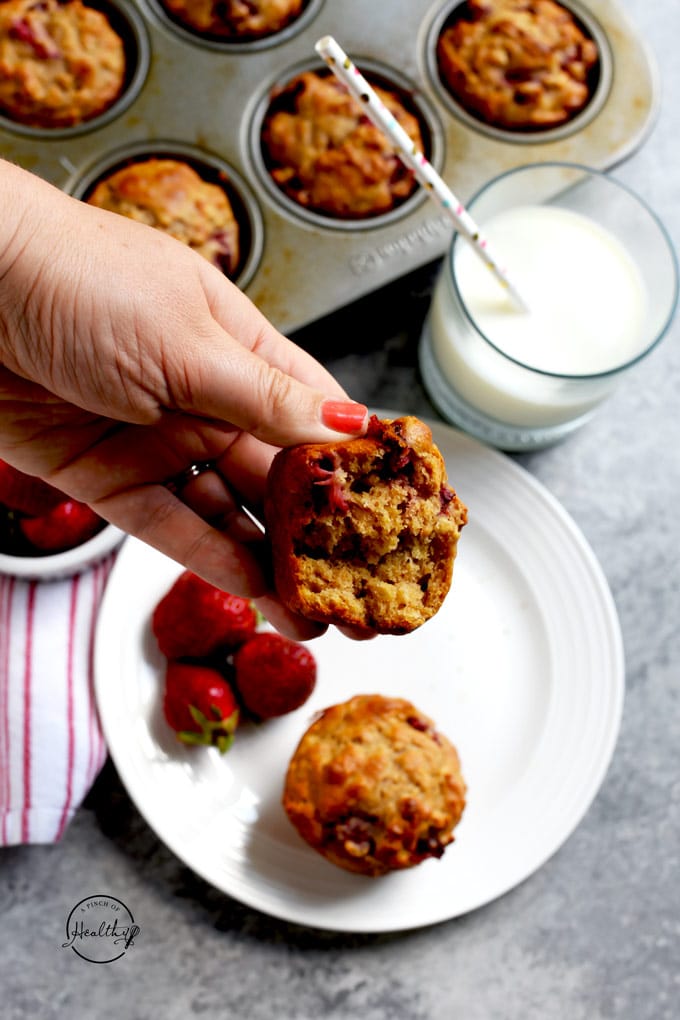 And they truly taste amazing! My kids (2 and 5) and husband eat these happily.
I hope you enjoy these healthy and delicious strawberry muffins as much as we have.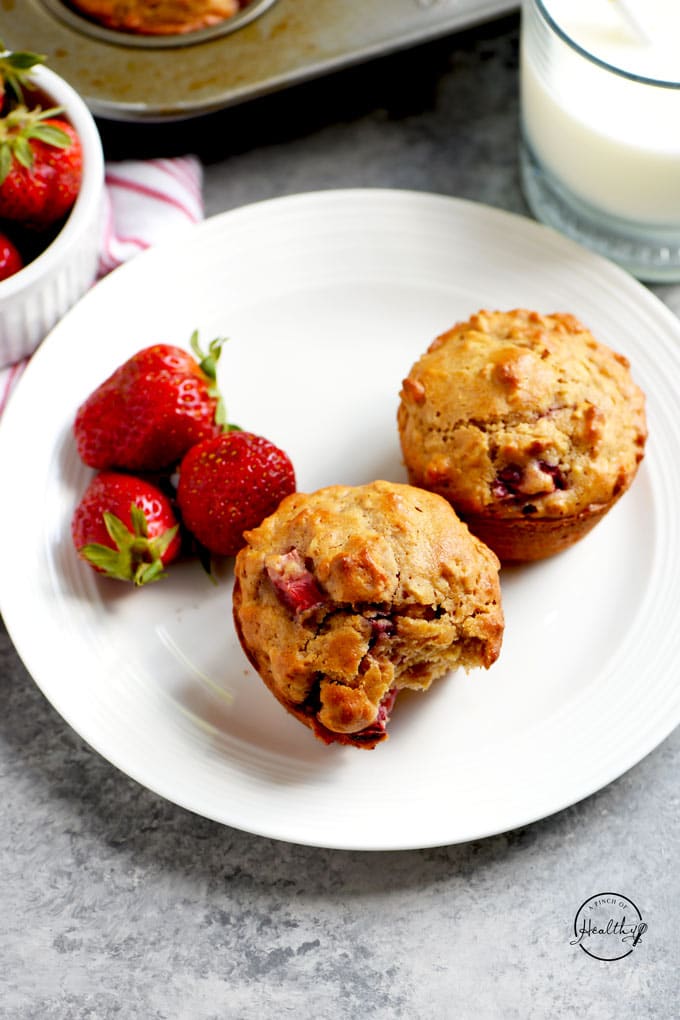 Tools Used to Make Strawberry Muffins
This post may contain affiliate links, which pay a referral fee to me at no additional cost to you. My full affiliate disclosure can be seen here.
Strawberry Muffins Recipe
If this recipe looks good, please pin it and share it!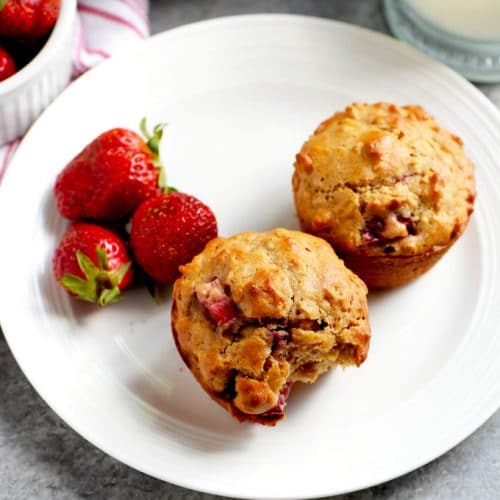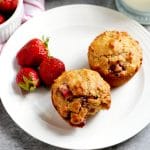 Strawberry Muffins (Whole Grain, Refined Sugar Free)
Strawberry muffins are packed with nutrition and full of flavor, and they will become a family favorite!

Prep Time 15 minutes
Cook Time 20 minutes
Total Time 35 minutes
Servings 12 muffins
Calories 159 kcal
Ingredients
1 1/3 cups whole wheat pastry flour
1 cup old fashioned oats
2 teaspoons baking powder
3/4 teaspoon salt
1/4 teaspoon baking soda
1 teaspoon ground cinnamon
1/2 cup 100% pure maple syrup
1 egg
1 cup Greek yogurt
3 Tablespoons oil (I recommend avocado oil or melted unrefined coconut oil)
1 teaspoon pure vanilla extract
1 1/4 cup fresh diced strawberries (I used about half of a 1 pound package, diced small)
Instructions
Preheat over to 400 degrees.

Mix the flour, oats, baking powder, salt, cinnamon and baking soda in a medium bowl, and set aside.

In a separate bowl, using an electric mixer, combine the maple syrup, oil*, egg, Greek yogurt and vanilla on low for about a minute.

Turn off the mixer, and stir in dry ingredients just until moistened. (Or, incorporate them slowly with the mixer on low as shown in the video, being careful not to over-mix.)

Scrape the sides of the bowl, and turn the mixer back on low.

Gently fold in the strawberries.

Use cooking spray or baking liners to coat a 12-cup standard muffin tin.

Spoon in the batter about three fourths full in each cup.

Bake for about 18 to 20 minutes at 400 degrees, until toothpick comes out clean.

Cool for 5 minutes before removing from pan to a wire rack.
Recipe Notes
*If using melted coconut oil, stream it in and stir to combine, just ahead of folding in the berries. This prevents it from going solid again. If using avocado or canola oil, you can add it in the wet ingredients as shown in the instructions above.
Nutrition Facts
Strawberry Muffins (Whole Grain, Refined Sugar Free)
Amount Per Serving
Calories 159 Calories from Fat 36
% Daily Value*
Fat 4g6%
Cholesterol 14mg5%
Sodium 182mg8%
Potassium 221mg6%
Carbohydrates 25g8%
Fiber 2g8%
Sugar 9g10%
Protein 4g8%
Vitamin A 20IU0%
Vitamin C 8.8mg11%
Calcium 76mg8%
Iron 1mg6%
* Percent Daily Values are based on a 2000 calorie diet.
(Visited 9,546 times, 3 visits today)