This single serving blackberry crisp is so tasty, warm and comforting. And you'll be surprised at how easy it is to make!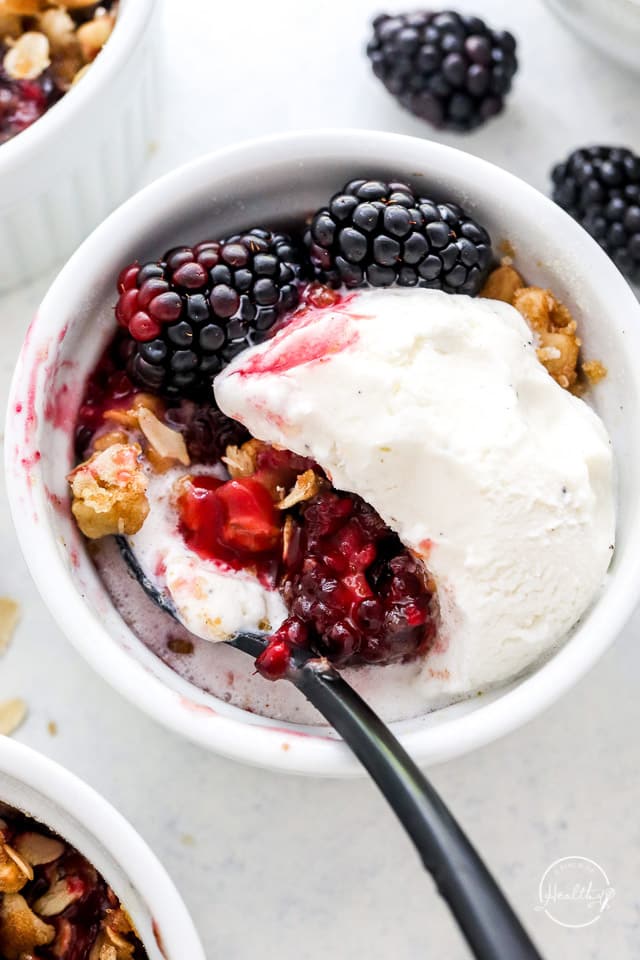 This is an older recipe from the archives. But! I thought now would be the perfect time to re-share it, along with some fresh photos. This would make a great Thanksgiving or Christmas dessert.
I love that you bake this blackberry crisp in the same dish you serve it in. Plus, you can add a little scoop of vanilla ice cream to take things to the next level.
How to make blackberry crisp
First, gather your ingredients.
Ingredients
For tastiest results, always use the best quality ingredients you have access to.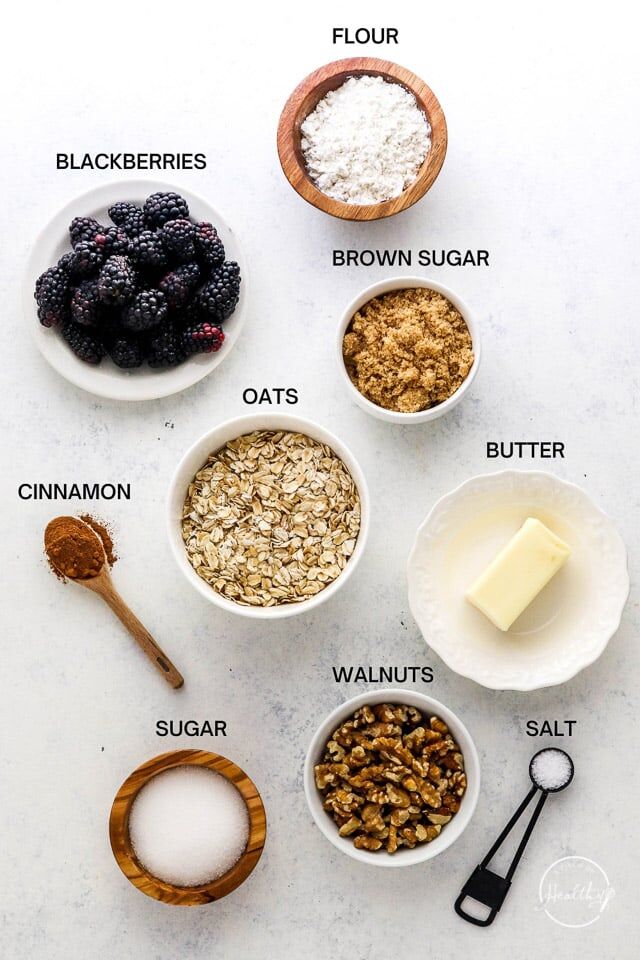 For making this blackberry crisp recipe, you will need the following ingredients:
fresh blackberries
granulated white sugar
all purpose flour divided
old fashioned oats, uncooked
brown sugar
cinnamon
salt
butter
walnuts, chopped (pecans or almonds make a good substitute)
cooking spray
Making the filling
Preheat the oven to 375 degrees Fahrenheit. In a medium mixing bowl, add the blackberries, granulated white sugar and half the flour.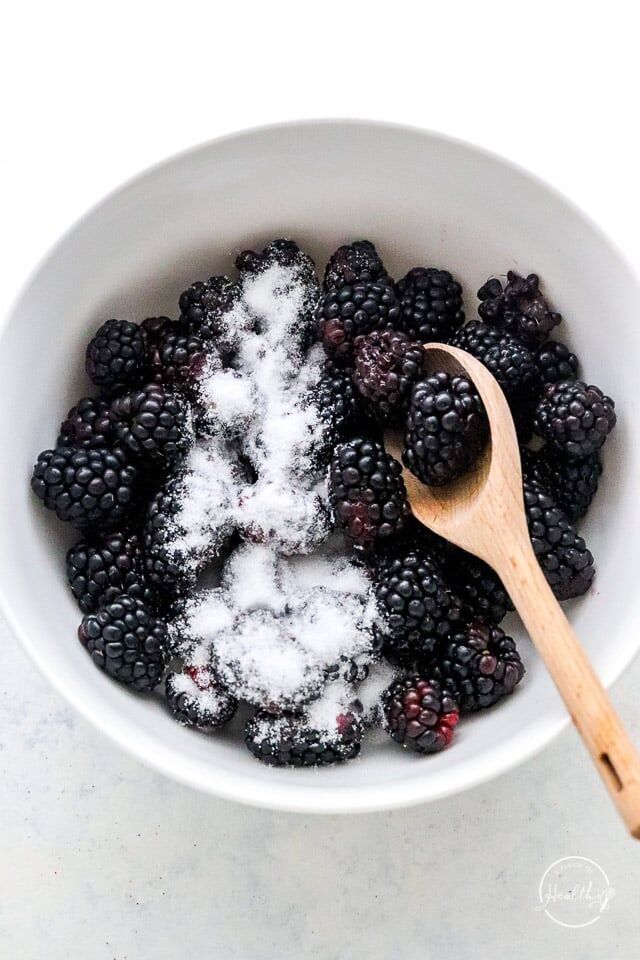 And stir together until everything is well-combined, and the blackberries are well-coated in the flour and sugar. It will look like this.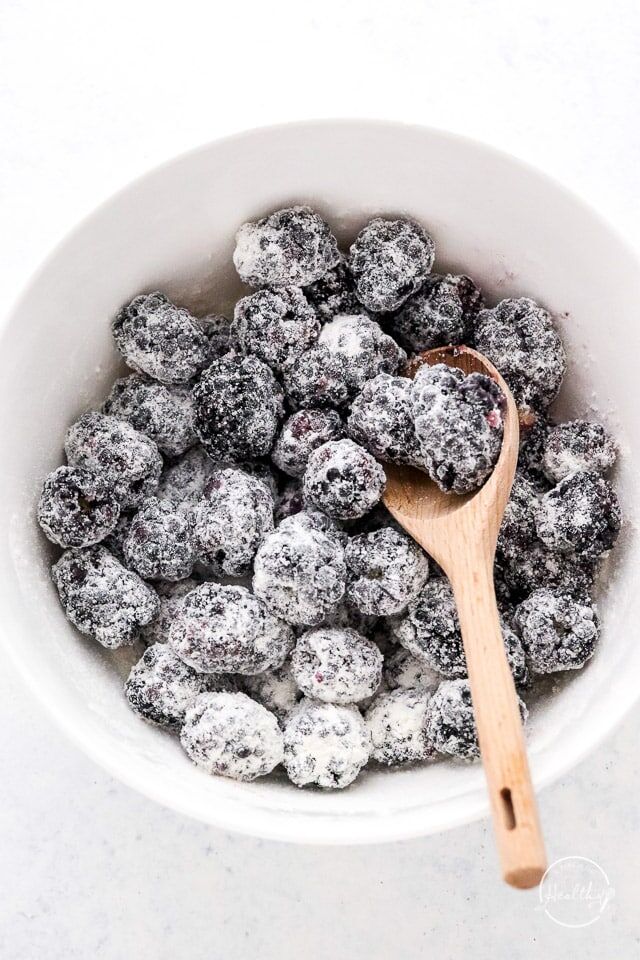 Topping
The topping for the crisp is a mixture of brown sugar, oats, flour, cinnamon, salt and walnuts.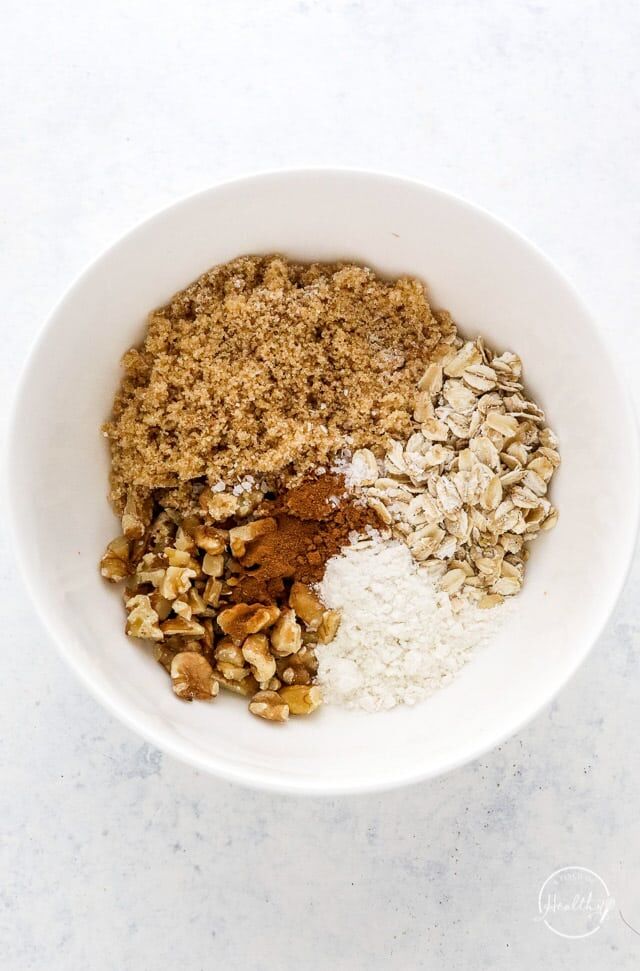 Two tablespoons of butter binds the topping ingredients all together.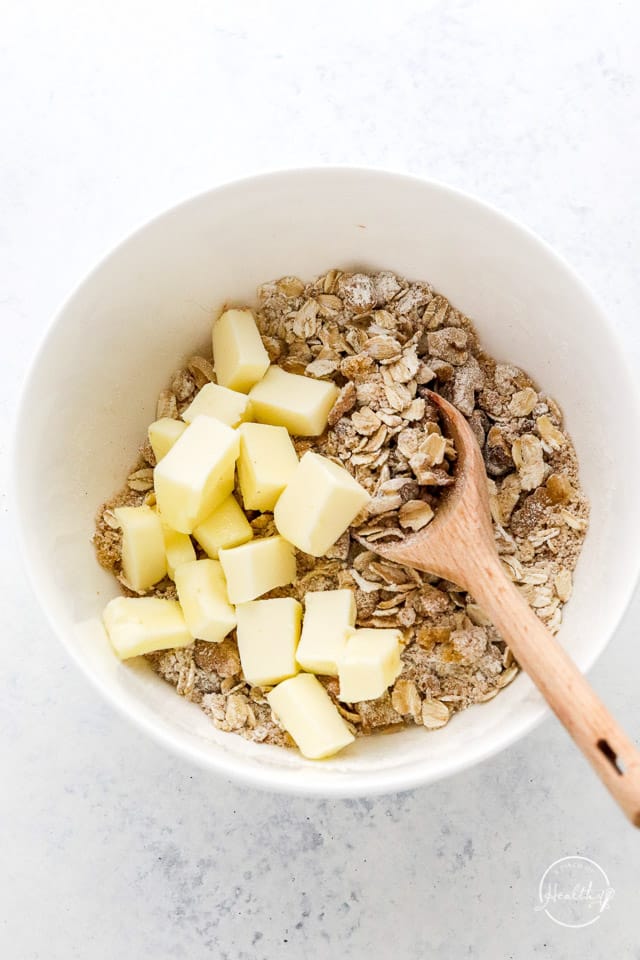 Here is a tip: I find that using clean hands to mix in the butter works best. 🙌🏻Why? The warmth from your hands softens the butter, and it combines into the rest of the ingredients better. I just kind of keep squeezing the butter chunks until the topping resembles large crumb-y chunks.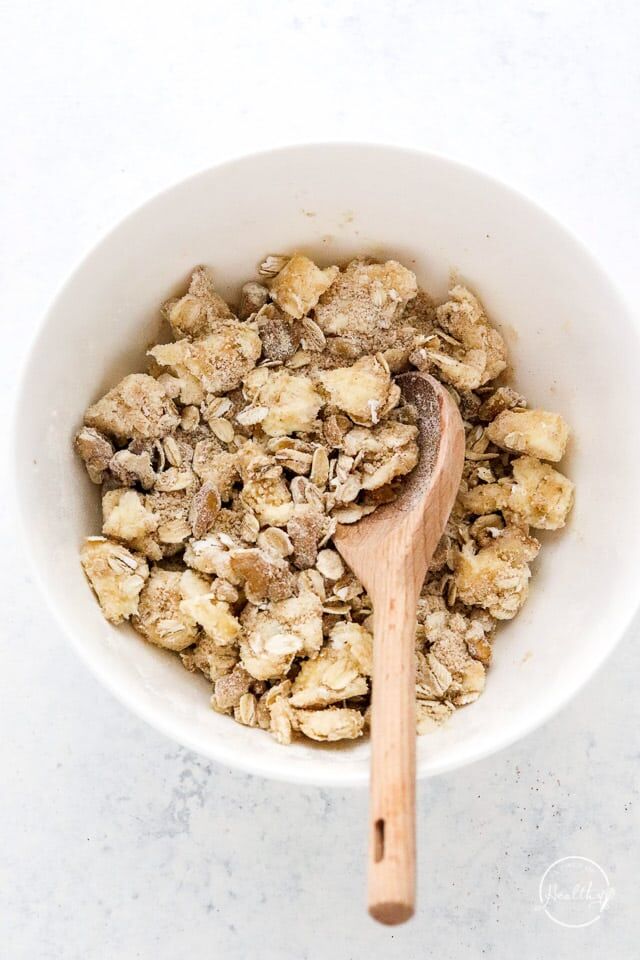 Assembling blackberry crisp
Next, I spoon the blackberry mixture into some little ramekins
(<- Amazon affiliate links), and then I just top it with the crumble mixture.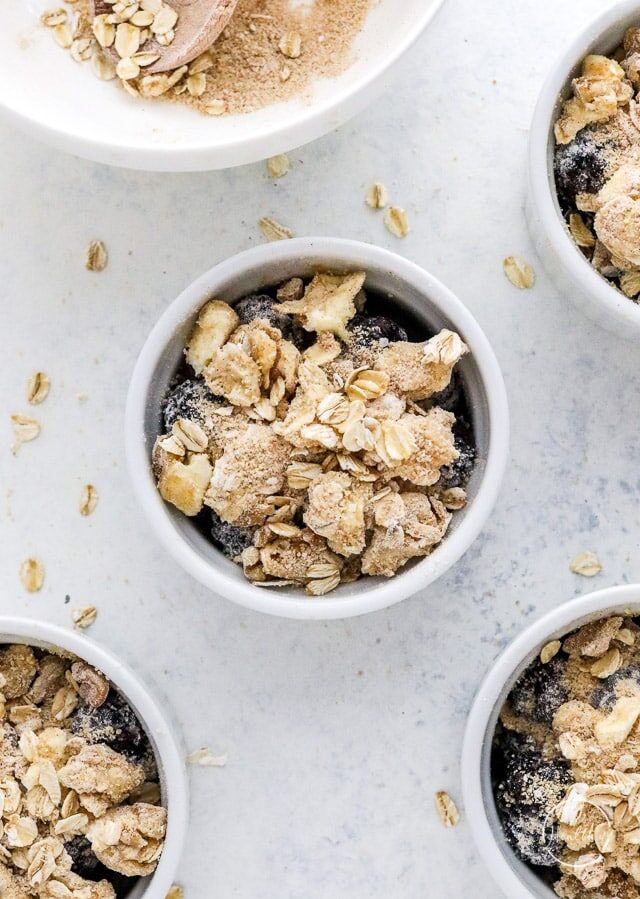 I used the smallest (4 ounce) ramekins
, which you can see here. I had a set of six, but one broke! As luck would have it, though, this recipe made just enough for five little servings.
If you are cooking for a larger crowd, use the slider on the recipe card below to increase the number of serving you wish to make.
Baking
So what temperature and time to bake blackberry crisp? Baking these at 375 degrees Fahrenheit for about 25 minutes works great for this recipe. They come out perfect, and the top is slightly brown and crispy.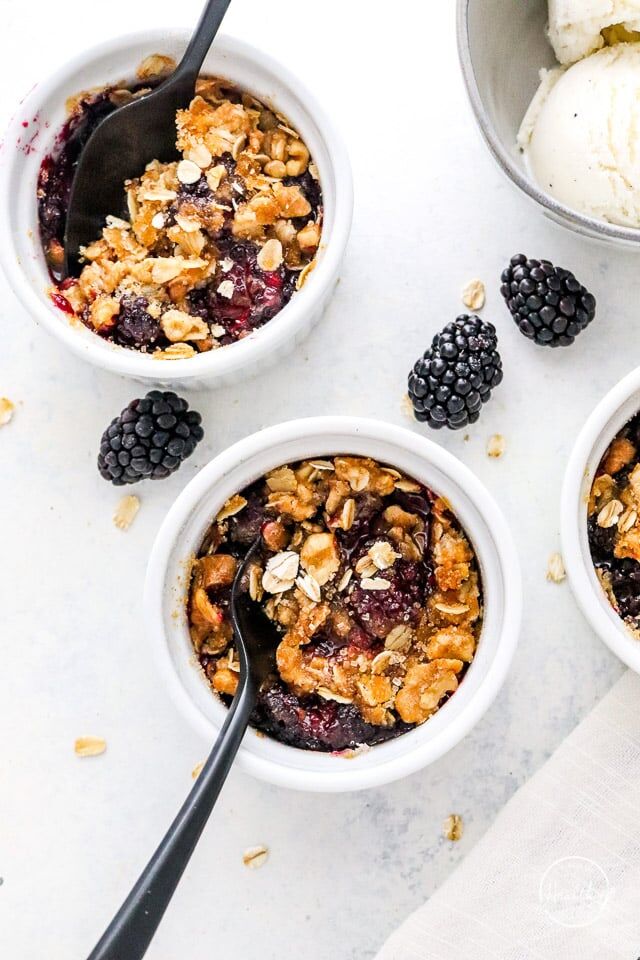 Serve
Top each individual blackberry crisp with a scoop of vanilla ice cream, and enjoy!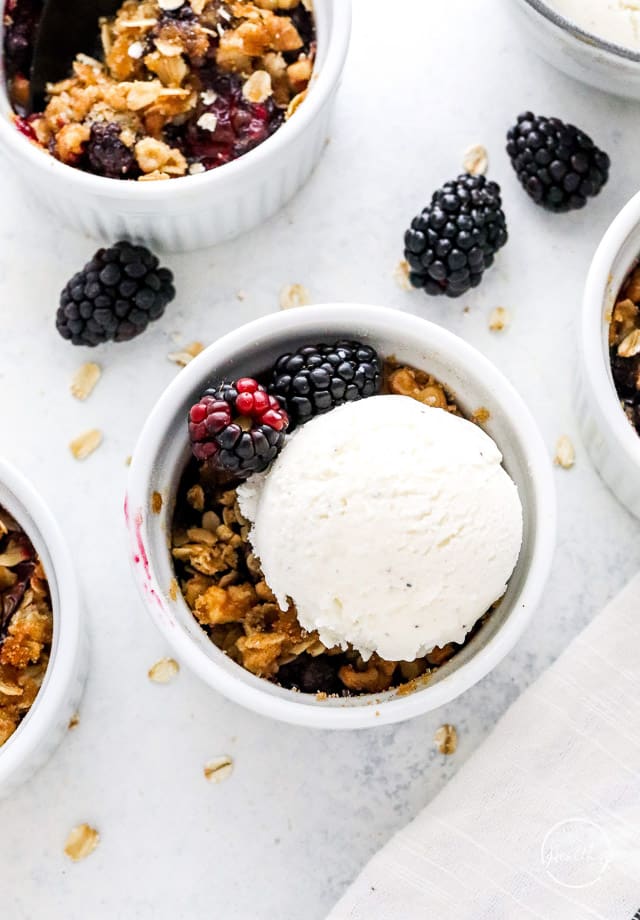 Pin and share this recipe
Did you try this recipe? Give it a star rating. Pin it and share it if it looks good to you. And be sure and stay connected on social media!
Instagram | Pinterest | Facebook | YouTube | TikTok
Be sure and check out all my favorite kitchen tools in my Amazon store (affiliate).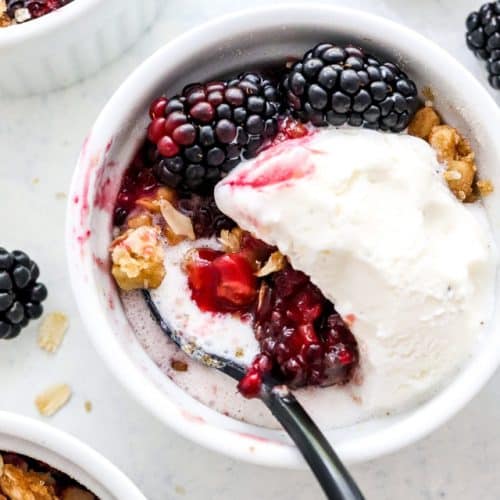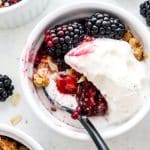 Single Serving Blackberry Crisp
This single serving blackberry crisp is tasty, warm and comforting. You'll be surprised how easy it is to make!
Prep Time 8 minutes
Cook Time 25 minutes
Total Time 33 minutes
Servings 5 servings
Calories 195 kcal
Ingredients
2.5 cups fresh blackberries
2 tablespoons granulated white sugar
1/4 cup all purpose flour divided
1/4 cup old fashioned oats uncooked
1/4 cup brown sugar
1/8 teaspoon cinnamon
Pinch of salt
2 Tablespoons salted butter
2 tablespoons walnuts chopped
cooking spray
Instructions
Preheat the oven to 375 degrees.

In a medium mixing bowl, stir together the blackberries, granulated white sugar and half the flour (1/8 cup).

For the topping: In a separate bowl, stir together the other half of the flour, walnuts, oats, cinnamon and brown sugar.

Use your hands to work in 2 tablespoons of butter into the topping mixture. Keep squeezing the chunks of butter into the toppings mixture until well-combined and topping will resemble large crumb-y chunks.

Place five small (4 ounce)

ramekins

on a baking sheet and spray with cooking spray.

Spoon the blackberry mixture evenly into the five ramekins.

Top each ramekin with some of the topping.

Bake at 375 for about 25 minutes.
Nutrition Facts
Single Serving Blackberry Crisp
Amount Per Serving
Calories 195 Calories from Fat 63
% Daily Value*
Fat 7g11%
Saturated Fat 3g19%
Cholesterol 12mg4%
Sodium 44mg2%
Potassium 163mg5%
Carbohydrates 30g10%
Fiber 4g17%
Sugar 19g21%
Protein 2g4%
Vitamin A 295IU6%
Vitamin C 15.1mg18%
Calcium 36mg4%
Iron 1.1mg6%
* Percent Daily Values are based on a 2000 calorie diet.
This post originally appeared on A Pinch of Healthy March 8, 2015. It has been updated with new photos, and here is what it used to look like.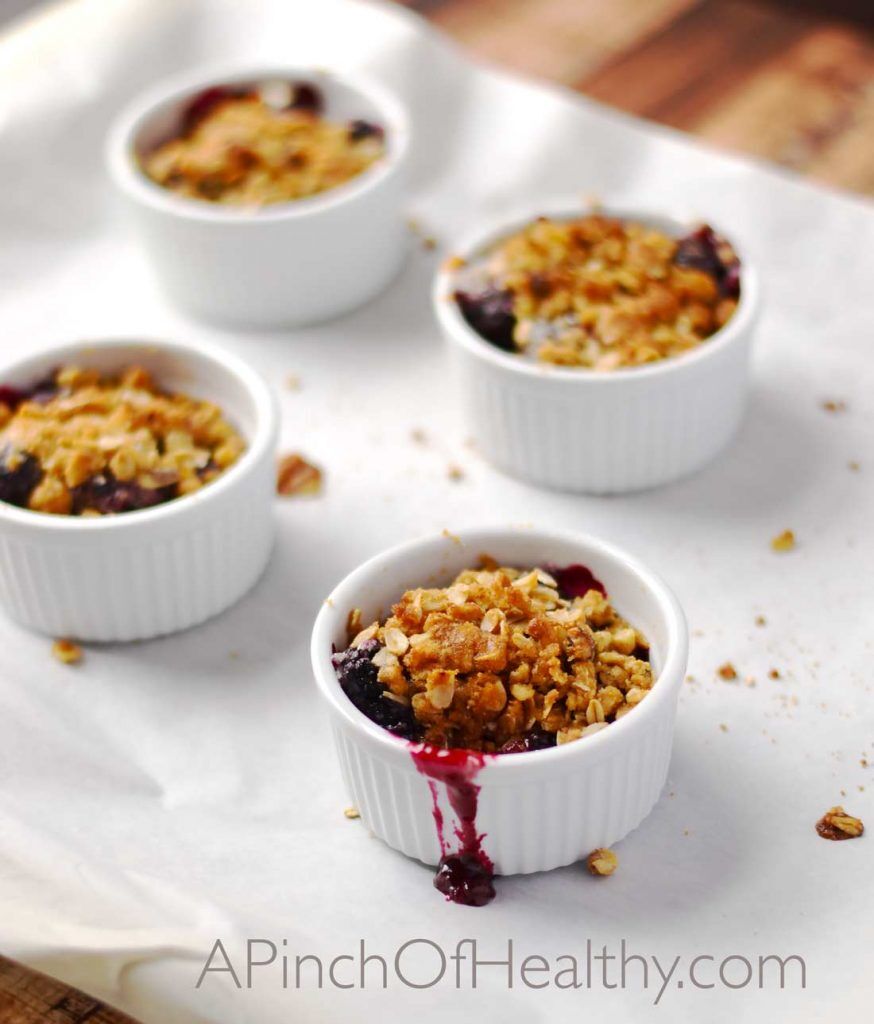 (Visited 62,189 times, 1 visits today)