This ranch dressing recipe is made from scratch, and it is so good that you will want to put it on everything!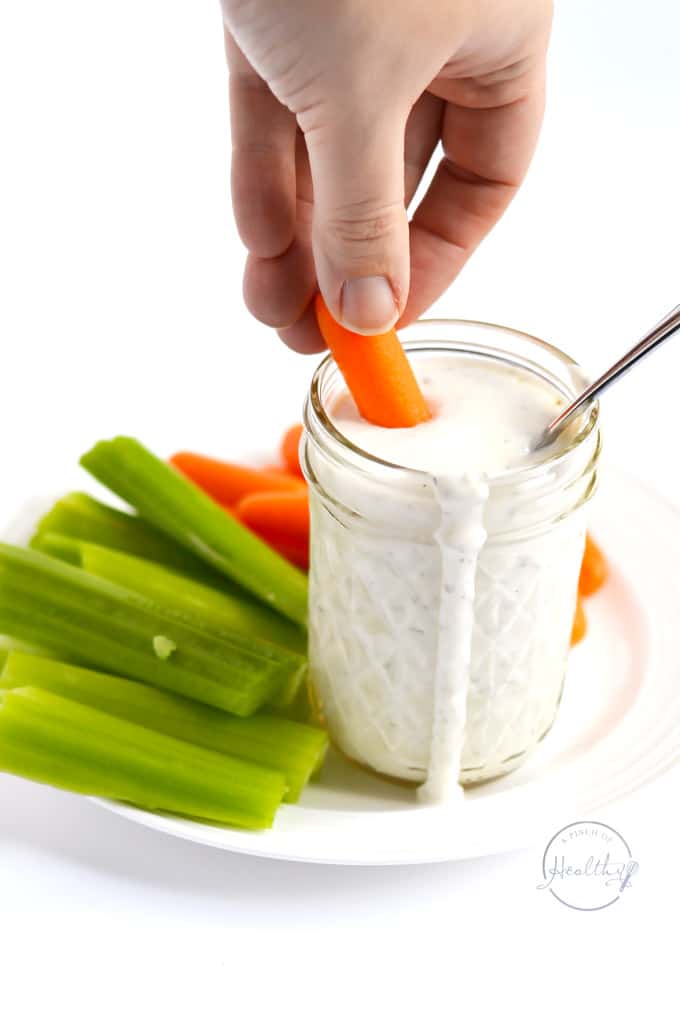 I have been a HUGE ranch dressing fan pretty much my whole life. I LOVE the stuff. One of my favorite things to order in a restaurant has always been a salad, which is really just a vehicle for ALL the made-from-scratch ranch dressing. 😋
Whenever I would try to make salad at home, I would pour on the store-bought stuff, and it just wasn't very good. Boo!
And the reduced fat and fat free versions…don't even get me started! They were straight up GROSS, in my opinion. I'd rather eat dry lettuce with no dressing than some of that stuff. Bleh!
Then I went through a phase where I would use those store-bought ranch dressing packets, and mix up my own. It tasted okay, but it still was not as good as the ranch I would eat in restaurants. I wasn't wild about all the sketchy mystery ingredients either.
I really wanted a restaurant worthy ranch dressing recipe. Since I started making more of my food from scratch, I made it my mission to create my perfect ranch dressing from scratch.
The ingredients for this easy ranch dressing recipe are pretty simple, and you probably have most of them on hand already.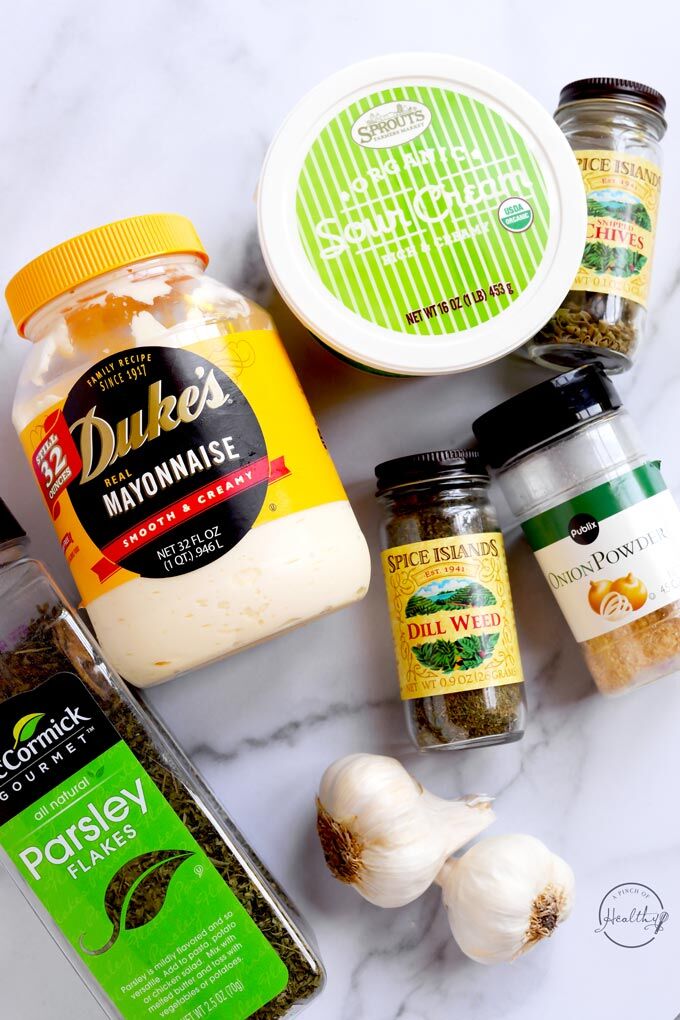 I made sooooo many versions over the years, and I have tweaked here and there. For my own personal tastes, I do not like it if I try to reduce the fat too much. The most I can do is use some light (not fat free) sour cream.
So this! This is my most favorite yummy, get-in-my-belly ranch dressing.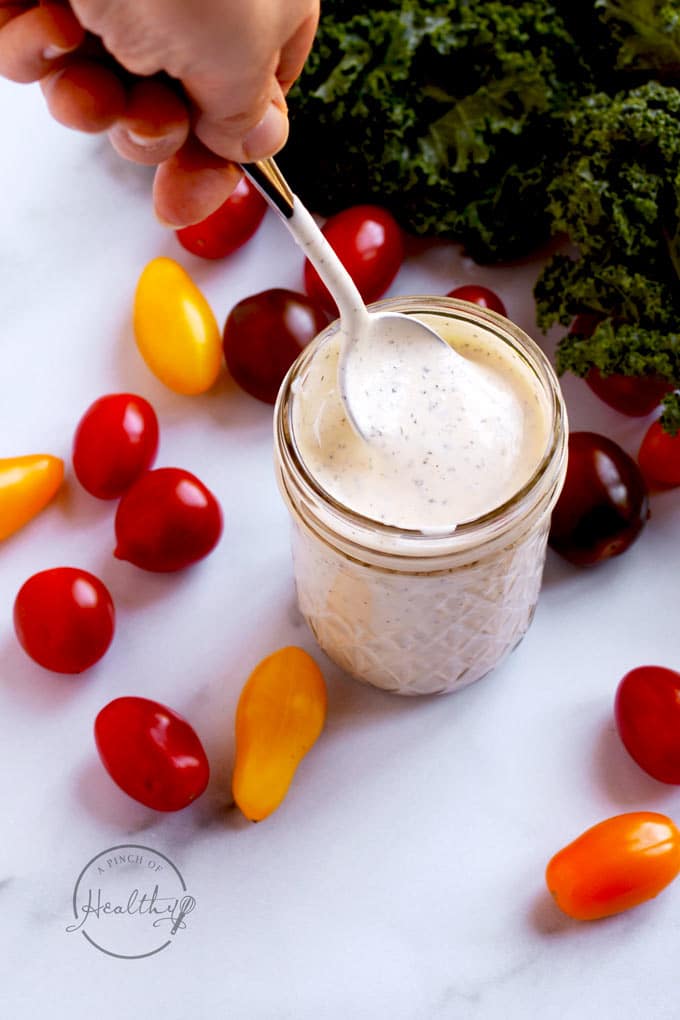 It is great on salads, and I love it as a veggie dip too. YUM! And it has no MSG, or any other mystery ingredients that I cannot pronounce.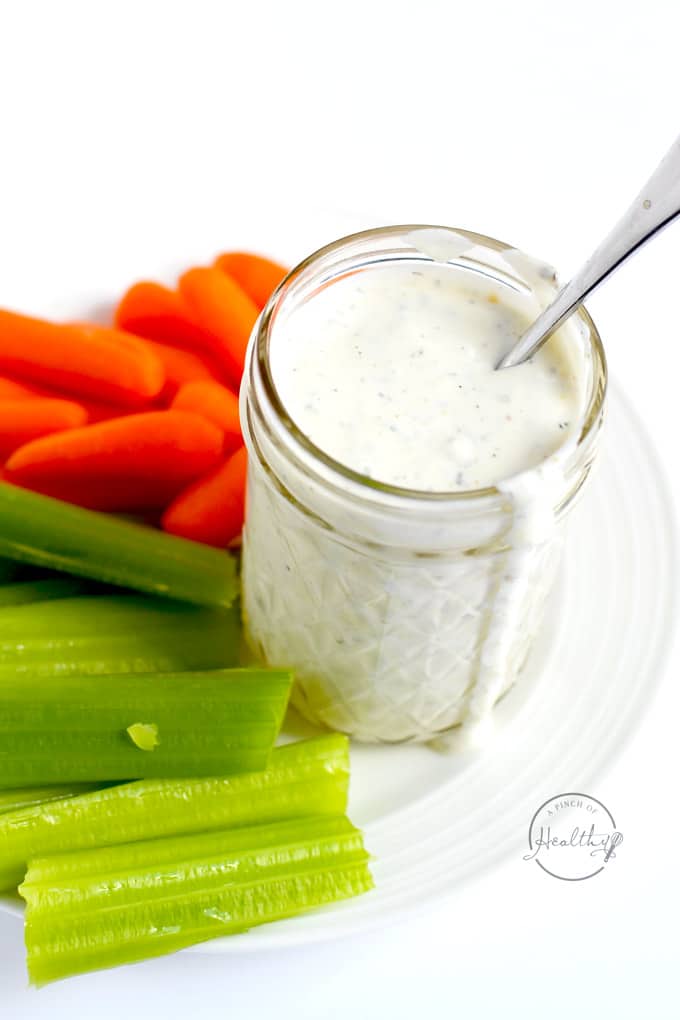 Can I make ranch dressing with Greek yogurt?
Yes! I have subbed out the sour cream for plain Greek yogurt many times. I would recommend whole milk, plain Greek yogurt for the very best taste. 2% works okay too, but I would not recommend fat free Greek yogurt for best taste.
Can I make ranch dressing without buttermilk?
Yes! I don't always have buttermilk on hand. I have learned to use a combination of regular cow's milk and some extra sour cream.
In this particular recipe, you can remove the 1/3 cup buttermilk and substitute 3 Tablespoons cow's milk, plus 1 extra tablespoon sour cream.
Tools used to make ranch dressing from scratch
Note: These are Amazon affiliate links.
You could use a whisk, but I prefer using my stick blender since it makes a smoother texture (no lumps!). You could also use a regular blender.
Storage container – I used a half pint jelly jar. If you make a double batch, use a pint jar instead.
Knife and cutting board to mince the garlic. Mincing the garlic helps you to avoid any large chunks of garlic in the dressing.
More ranch recipes you may enjoy
I have made a couple variations of this original ranch dressing recipe that you may also enjoy. Here are the links to those.
Ranch Dressing Recipe
Did you try this recipe? Give it a star rating. Pin it and share it if it looks good to you. And be sure and stay connected on social media!
Instagram | Pinterest | Facebook | YouTube | Twitter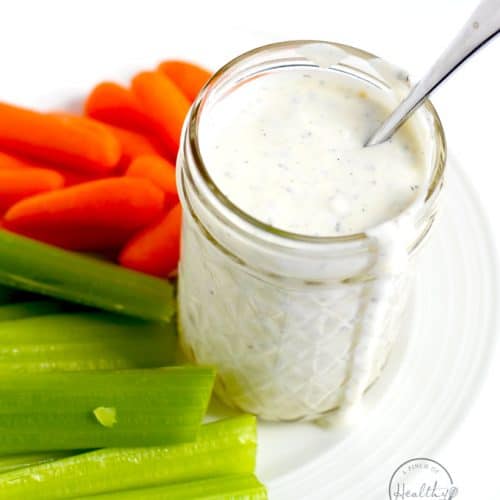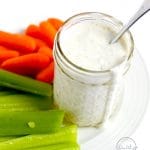 Ranch Dressing Recipe (from scratch)
This ranch dressing recipe made from scratch is so delicious that you will want to put it on everything! Madge from scratch, no MSG.

Prep Time 5 minutes
Total Time 5 minutes
Servings 6 servings
Calories 92 kcal
Ingredients
1/3 cup buttermilk
1/4 cup sour cream
1/4 cup mayo
2 cloves small garlic finely minced (or 1 large)
1/4 teaspoon dried parsley
1/4 teaspoon dried dill
1/2 teaspoon chives
1/4 teaspoon onion powder
1/4 teaspoon black pepper
1/4 teaspoon salt
Instructions
Add all ingredients to a small bowl and mix well. I used my stick blender to give a smoother consistency, but you could use a whisk if you don't have one.

Refrigerate leftovers.
Recipe Notes
Nutrition information is approximate and was calculated using a nutrition label generator. Each serving is approximately 3 Tablespoons.
To use garlic powder in place of fresh, use 1/4 teaspoon garlic powder or granulated garlic.
You can substitute the 1/3 cup buttermilk for 3 Tablespoons milk + 1 extra Tablespoon sour cream.
Keep the dressing in the refrigerator for up to a week (depending on the freshness of your ingredients).
Nutrition Facts
Ranch Dressing Recipe (from scratch)
Amount Per Serving
Calories 92 Calories from Fat 81
% Daily Value*
Fat 9g14%
Saturated Fat 2g13%
Cholesterol 10mg3%
Sodium 178mg8%
Potassium 31mg1%
Carbohydrates 1g0%
Sugar 1g1%
Vitamin A 80IU2%
Vitamin C 0.3mg0%
Calcium 28mg3%
* Percent Daily Values are based on a 2000 calorie diet.
Note: This recipe originally appeared on A Pinch of Healthy on September 10, 2015.
(Visited 112,805 times, 7 visits today)