This peanut butter chocolate chip cookie cake is the perfect treat for your sweetheart on Valentines Day.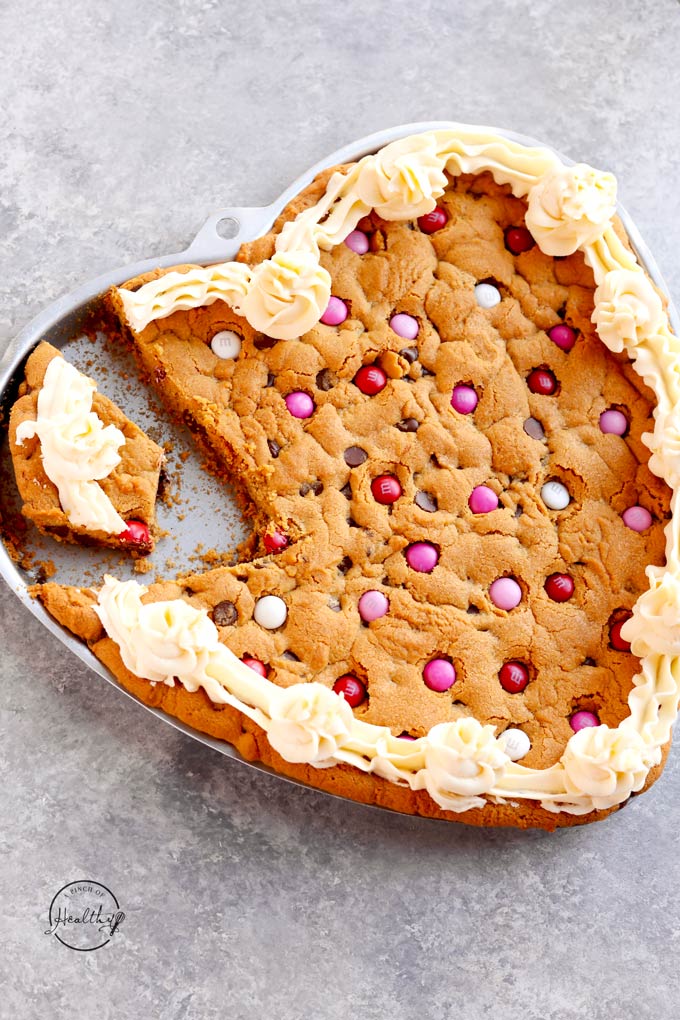 This one is not lightened up or health-i-fied in ANY way, y'all. It exists simply to be enjoyed. 👊🏻🙌🏻 Which is how all desserts ought to be, in my humble opinion. 😉
In the old days I would make it with store-bought cookie dough and canned icing. Nothing wrong with that, but I am giving you next level cookie cake y'all. A little more TLC and a lot better taste! 🙌🏻
This is made with the same dough recipe as my favorite cookie: my peanut butter chocolate chip cookies. I just scoop out the dough onto the heart-shaped pan I got all those years ago (sprayed with cooking spray first).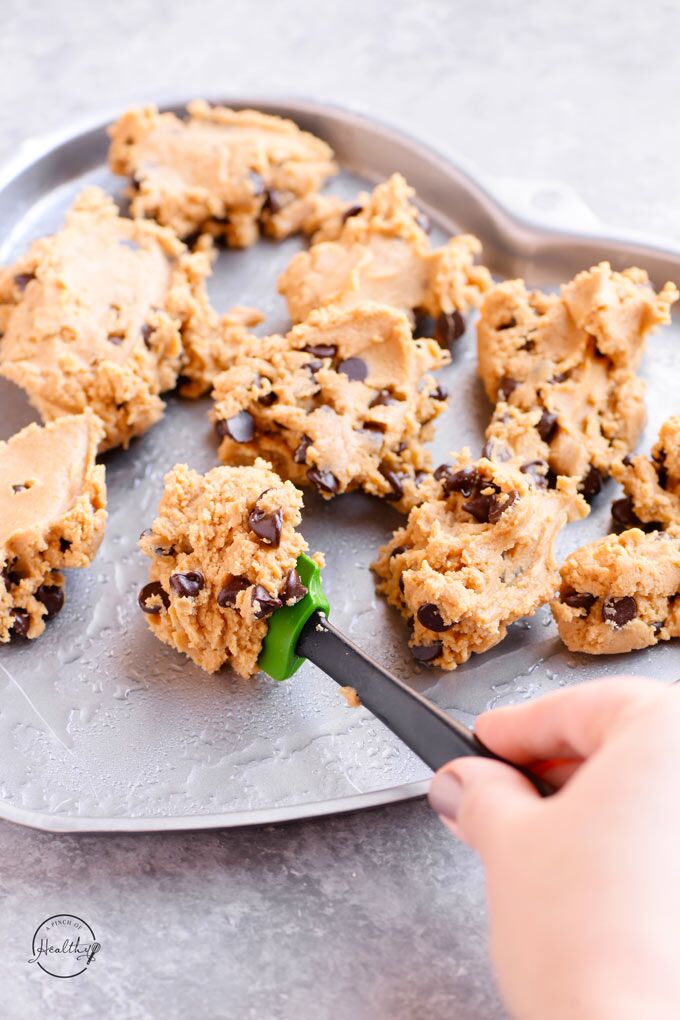 They still make that exact same heart-shaped cookie cake pan, and I would recommend it. Ours has lasted between eleven and twelve years and made many, many delicious cookie cakes. (Amazon affiliate)
Next, I just press it down into the pan using a spatula.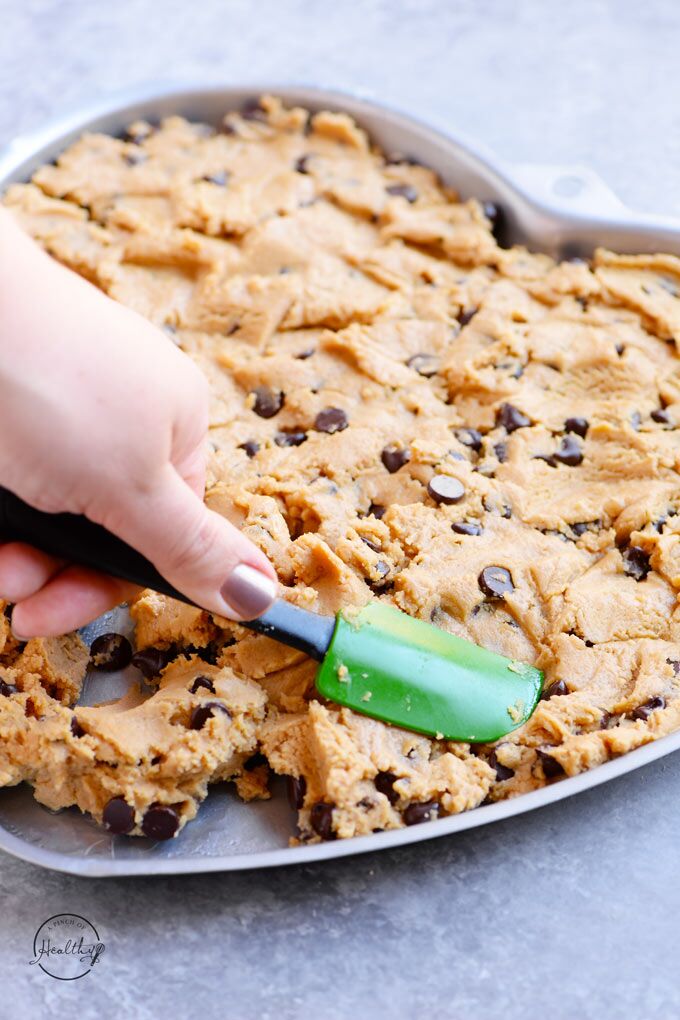 Then I bake it for about 24 to 25 minutes in a preheated oven at 300 degrees. When it comes out of the oven, I press the M&Ms down into the cookie, while it is still warm. Then I let is cool completely in the pan until I attempt to ice it, usually at least a couple hours.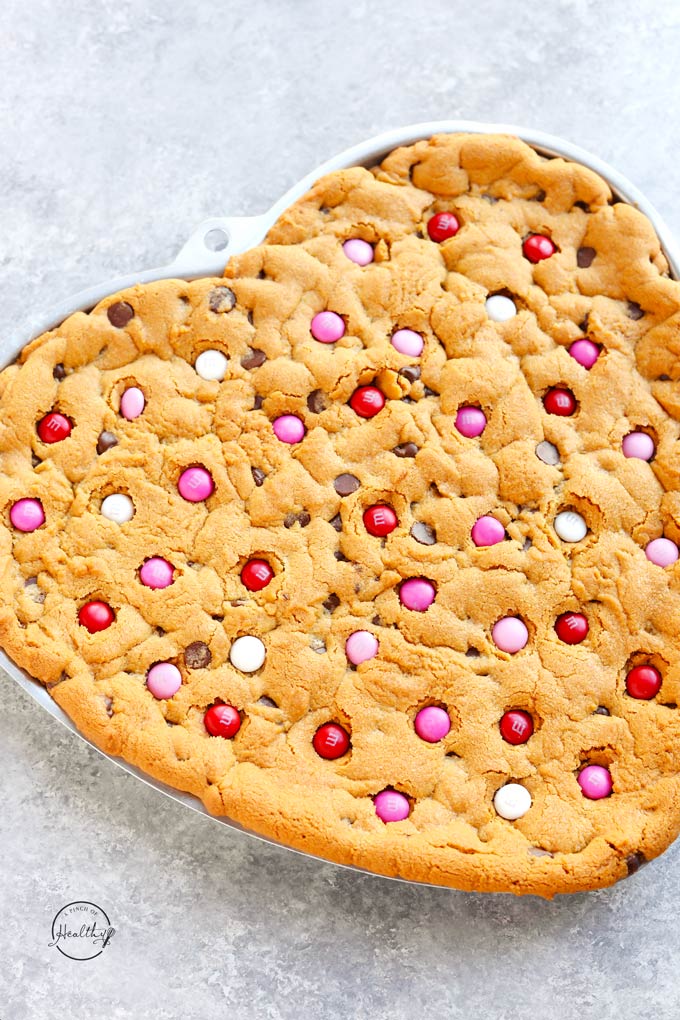 You could stop right here and eat it as is, and it will be delicious. But I like to add icing to make it more cookie-cake-esque. Did I just make up a word? 😂👌🏻
Anyway, I whipped up a little half-batch of butter cream, and piped it using one of those disposable piping bags with a tip.
I am by NO means a great icing piper/ cake decorator. 😂 Obviously.💁🏼‍♀️ In the past, I have even used a freezer storage bag and just cut the tip off. The icing makes it really delicious though.
The texture of the cookie cake comes out perfect too. Slightly crunchy in the top, chewy in the middle. 😍 👌🏻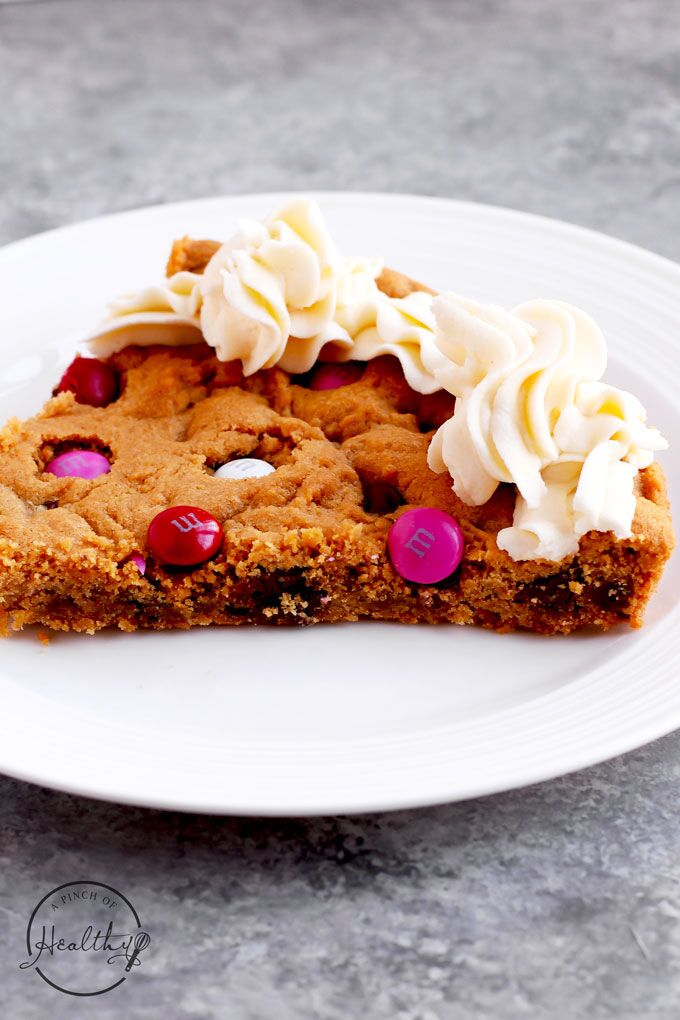 I hope you and your loves enjoy this peanut butter chocolate chip cookie cake! And remember, you don't have to have a significant other to share the love on Valentines Day. This would totally be great for a gathering of friends too.
💖👉🏻👉🏻👉🏻Also, be sure and check out the Spotify playlist I made for y'all: Uncommon love songs 🤓💖 It's my nerdy throwback way (mix tapes, anyone?) of saying I LOVE YOU!👈🏻👈🏻👈🏻
This list was especially crafted for my Instagram followers, who are always commenting on the music I use in reels and stories. So I included a lot of those recent ones in the mix.
Happy Valentines Day y'all!
Tools Used to Make Peanut Butter Chocolate Chip Cookie Cake
This post may contain affiliate links, which pay a referral fee to me at no additional cost to you. My full affiliate disclosure can be seen here.
Peanut Butter Chocolate Chip Cookie Cake Recipe
Did you try this recipe? Give it a star rating. If this recipe looks good to you, please pin it and share it! And be sure and stay connected on social media!
Instagram | Pinterest | Facebook | YouTube | Twitter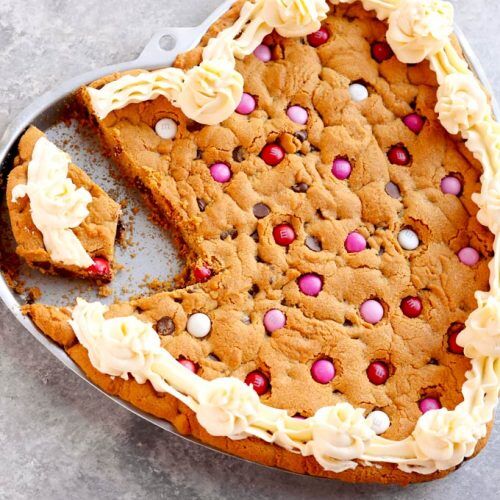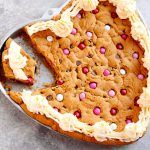 Peanut Butter Chocolate Chip Cookie Cake
This peanut butter chocolate chip cookie cake is the perfect treat for your sweetheart on Valentines Day. | APinchOfHealthy.com

Prep Time 15 minutes
Cook Time 25 minutes
Total Time 40 minutes
Servings 15 slices
Calories 351 kcal
Ingredients
For the cookie cake
1/2 cup unsalted butter softened (1 standard-sized stick)
1/2 cup peanut butter I am using creamy, but crunchy works too
1/2 cup granulated sugar
1/2 cup brown sugar
1 egg
1/2 teaspoon pure vanilla extract
1 cup all purpose flour
1/8 teaspoon salt this may vary, based on your peanut butter. My peanut butter contained salt already, FYI
1/2 teaspoon baking soda
1 cup semi-sweet chocolate chips
1/3 cup Valentines-themes M&Ms candies
For the icing
2 cups powdered sugar
1 stick butter, softened
1 teaspoons vanilla (or up to 3 teaspoons, to taste)
1/2 Tablespoon milk
Instructions
For the cookie cake
Preheat your oven to 300 degrees.

In the mixer, beat the butter, peanut butter, white sugar and brown sugar until creamy.

Add the egg and vanilla, and mix a few seconds to allow it to incorporate.

Turn off the mixer.

In a separate bowl whisk together the flour, salt and baking soda.

Turn the mixer back on low, and gradually add the flour mixture to the wet ingredients, mixing until well-incorporated.

Stir in the chocolate chips.

Spray your pan with cooking spray.

Transfer dough to the pan. I like to add spoon fulls all over the pan.

Press down to make sure that there are no holes, and that the dough is evenly distributed.

Bake in a preheated oven at 300 degrees until the top starts to brown, about 24 minutes.

Add the colored chocolate candies right on top while the cookie cake is still hot and soft, gently pressing them into the dough.

Cool completely before attempting to add any decorative icing.
For the icing
Add the powdered sugar and butter to the mixer. Beat them on low until combined, and then speed up the mixer to medium.

Add vanilla, and bump up the speed to medium-high. Beat for a minute or so, and then turn off the mixer.

If the icing appears to be dry, add the milk, and beat a few more seconds on medium high until combined.

Wait until the cookie is completely cooled to add the icing. Use a piping bag and decorate as desired.
Nutrition Facts
Peanut Butter Chocolate Chip Cookie Cake
Amount Per Serving
Calories 351 Calories from Fat 153
% Daily Value*
Fat 17g26%
Saturated Fat 10g63%
Trans Fat 1g
Polyunsaturated Fat 1g
Monounsaturated Fat 5g
Cholesterol 37mg12%
Sodium 115mg5%
Potassium 123mg4%
Carbohydrates 47g16%
Fiber 2g8%
Sugar 37g41%
Protein 3g6%
Vitamin A 316IU6%
Vitamin C 1mg1%
Calcium 27mg3%
Iron 1mg6%
* Percent Daily Values are based on a 2000 calorie diet.
Note: This post originally appeared on A Pinch of Healthy February 11, 2018.
(Visited 5,991 times, 1 visits today)