No bake lemon cheesecake is a refreshing, four ingredient dessert that is perfect for spring and summer. It is so simple, easy and delicious!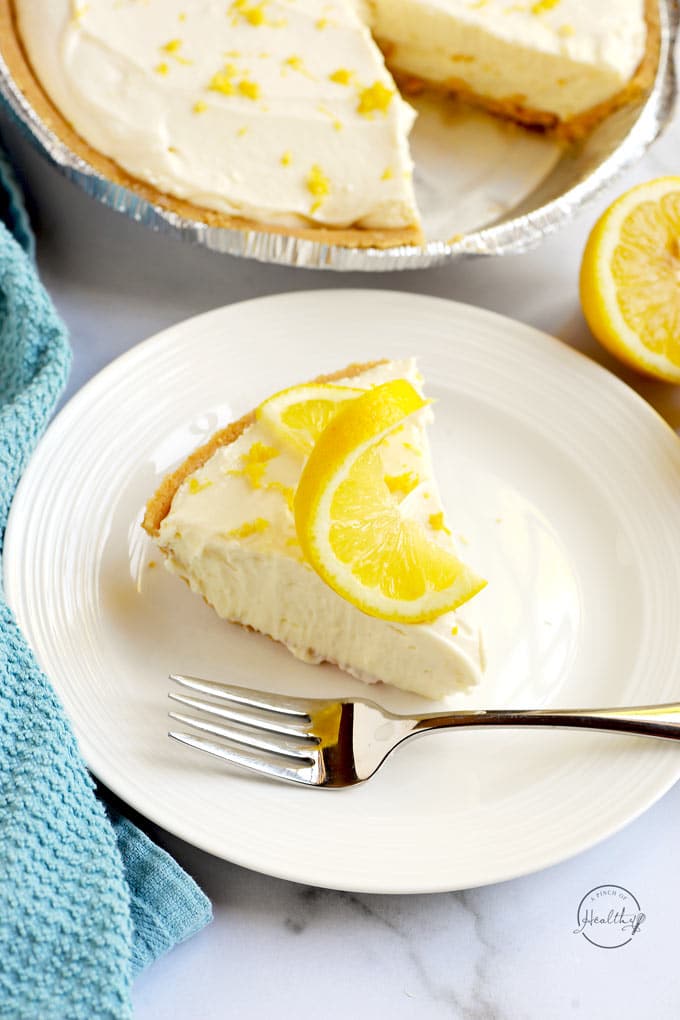 With so many spring and summer celebrations and holidays on the way, I thought it would be the perfect time to share this little gem of a recipe.
I struggled with what to name it. Easy lemon pie? No bake lemon pie? 🤷🏼‍♀️
I finally landed on no bake lemon cheesecake, since cream cheese is one of the main ingredients.
No matter what you call it, this recipe is flat out delicious. And bonus that it is super easy!
This would be great for Easter, Mothers' Day, Memorial Day or any gathering where you want a yummy and refreshing dessert.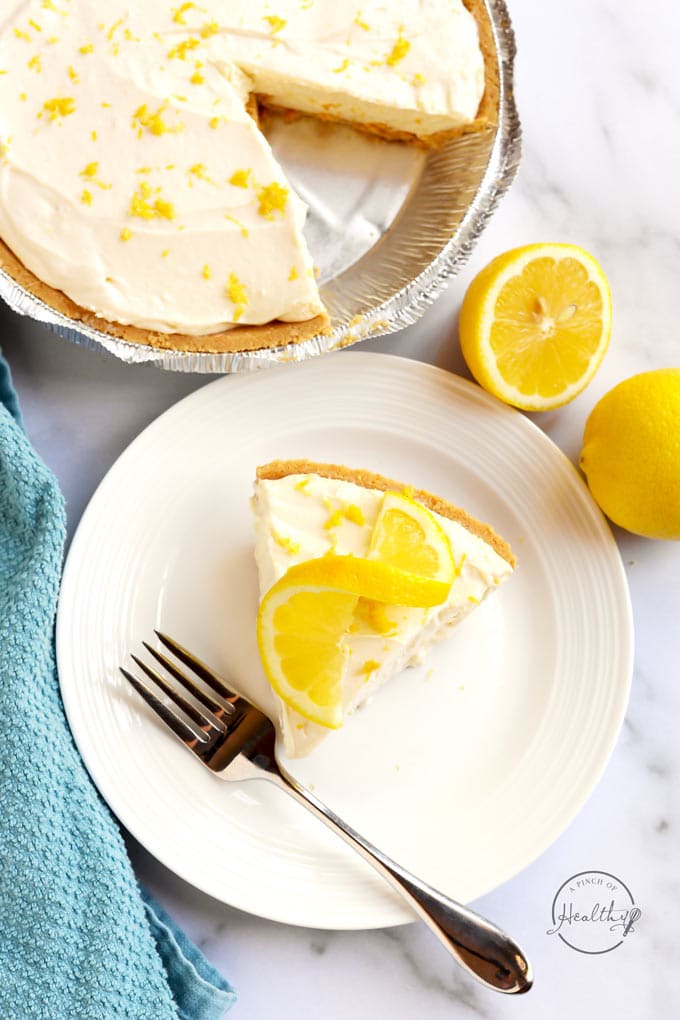 This no bake lemon cheesecake recipe is based on my existing no bake key lime pie recipe, which y'all seem to love. It is basically that same recipe, made with lemons instead of limes. So if you prefer lime, you may want to check out that version.
Four ingredients is all it takes, people (if you use a store-bought crust like I did). 😎👊🏻
No ovens, cooking or heat necessary, and that is a hallelujah selling point here in Alabama.🙌🏻 It gets hot down here during summer, and we don't always want to be heating up our (already hot) homes by turning on the oven!
How to make easy no bake lemon cheesecake
You are going to want to start by letting your cream cheese sit out to soften at room temperature. Do not skip this step! It is key to getting a creamy filling.
Next, start adding your cream cheese and other ingredients to the bowl.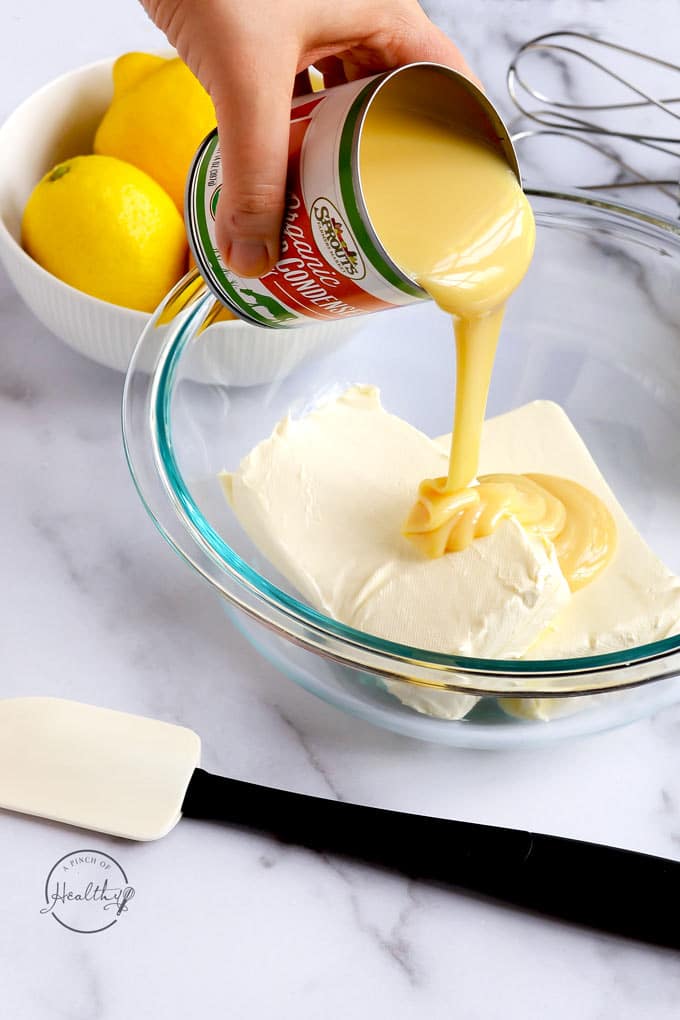 The filling is three ingredients: cream cheese, sweetened condensed milk and lemon (both juice and zest).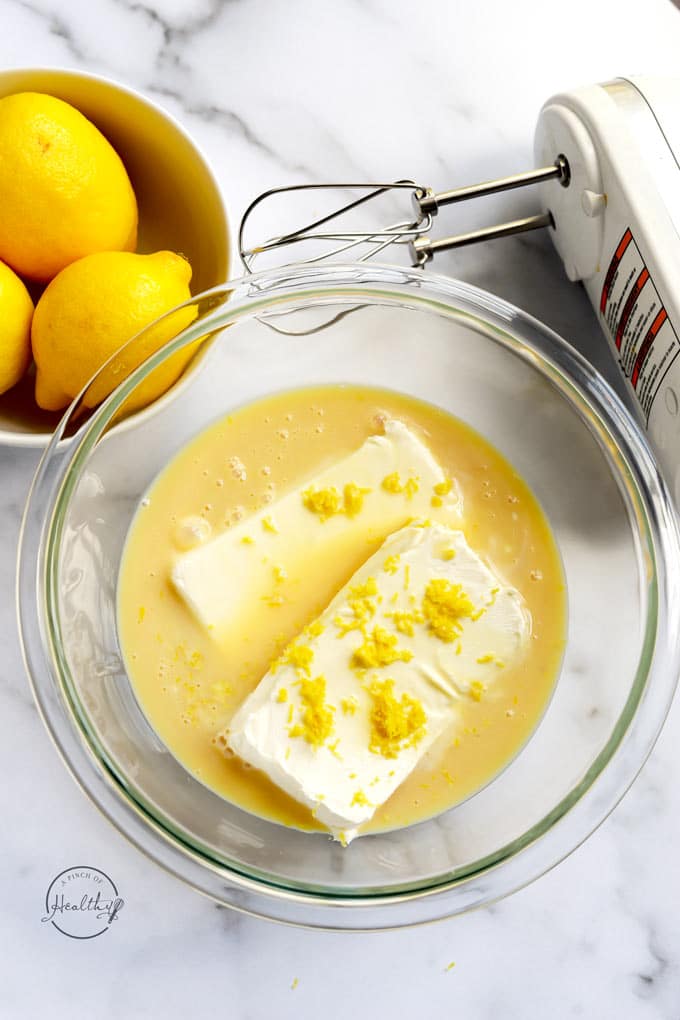 Next, you are going to beat everything together. You have options here. You can use a stand mixer, a hand mixer or even a blender. I am using a hand mixer to help show you as clearly as possible how to make this recipe and what to expect.
When you start beating the filling, start on low to prevent splashing yourself. Then slowly increase your mixer speed to medium-high. After a minute or so, it will still look chunky, like this.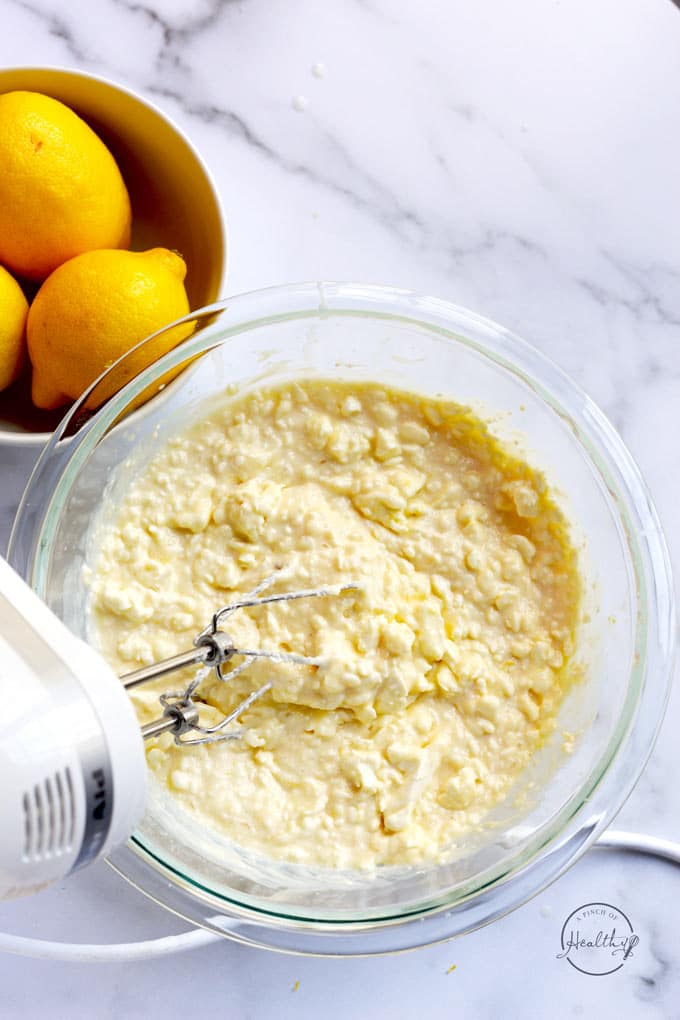 No worries, friends! Just keep that mixer working a few minutes until it gets creamy like this.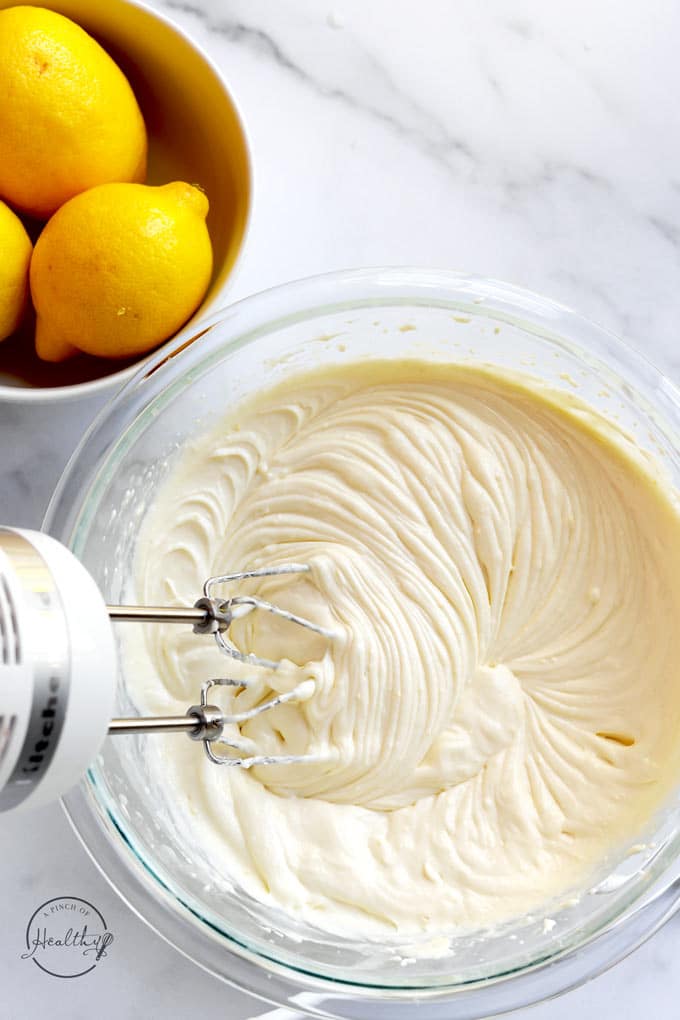 After you get your filling looking creamy, you will transfer it to a graham cracker pie crust. I am using a store-bought one, but feel free to use a homemade one if you prefer.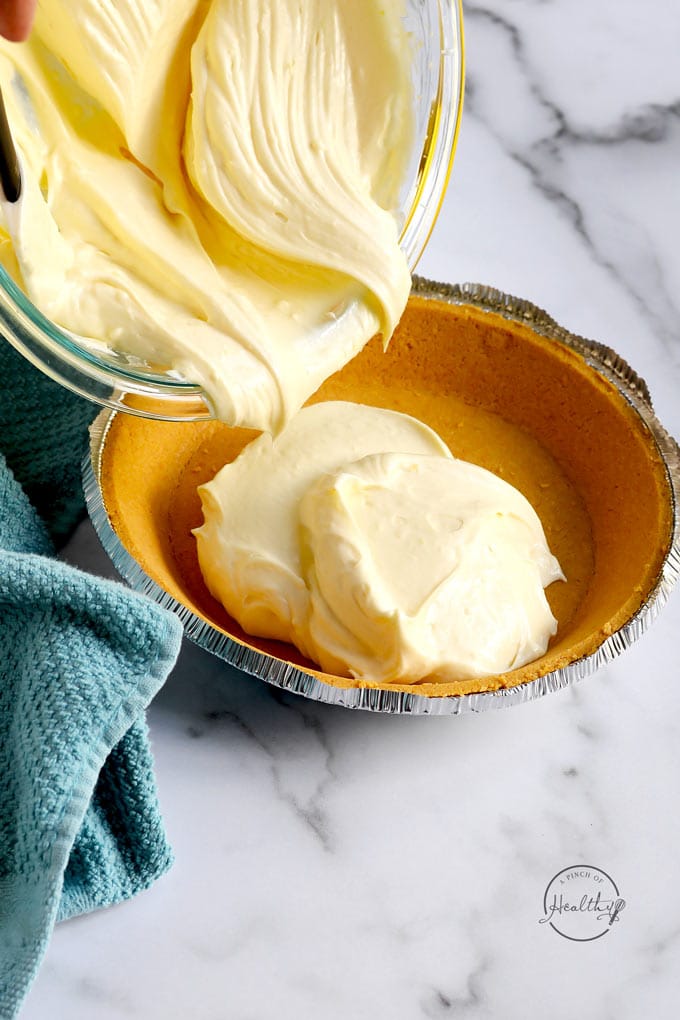 Use a spatula (or even the back of a spoon) to smooth everything around.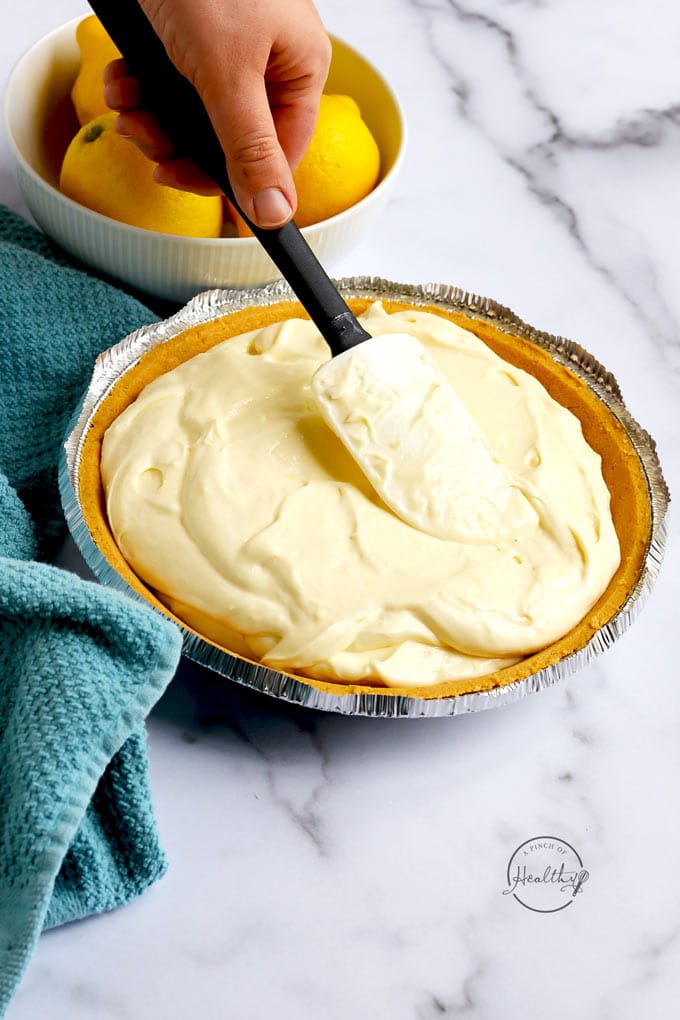 Then I like to reserve some of the lemon zest to sprinkle on top.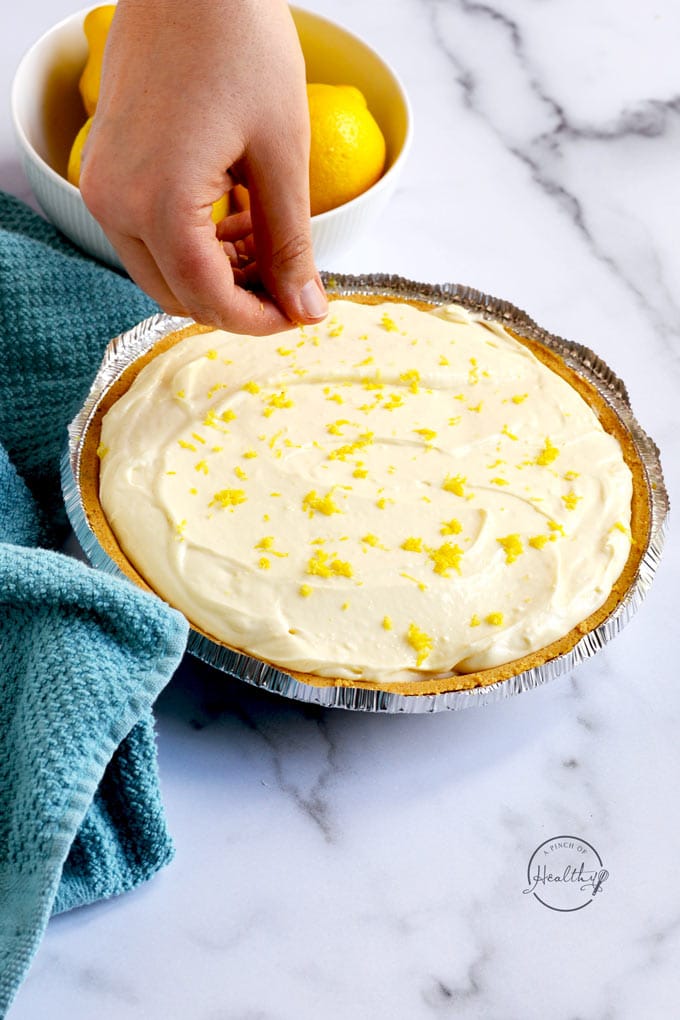 Last, you will want to let it set up in the refrigerator until everything is solid. This process should take at least 3 to 4 hours.
Of course, it can sit in the fridge longer, if need be. When it is set, it comes out in perfect slices, just like this.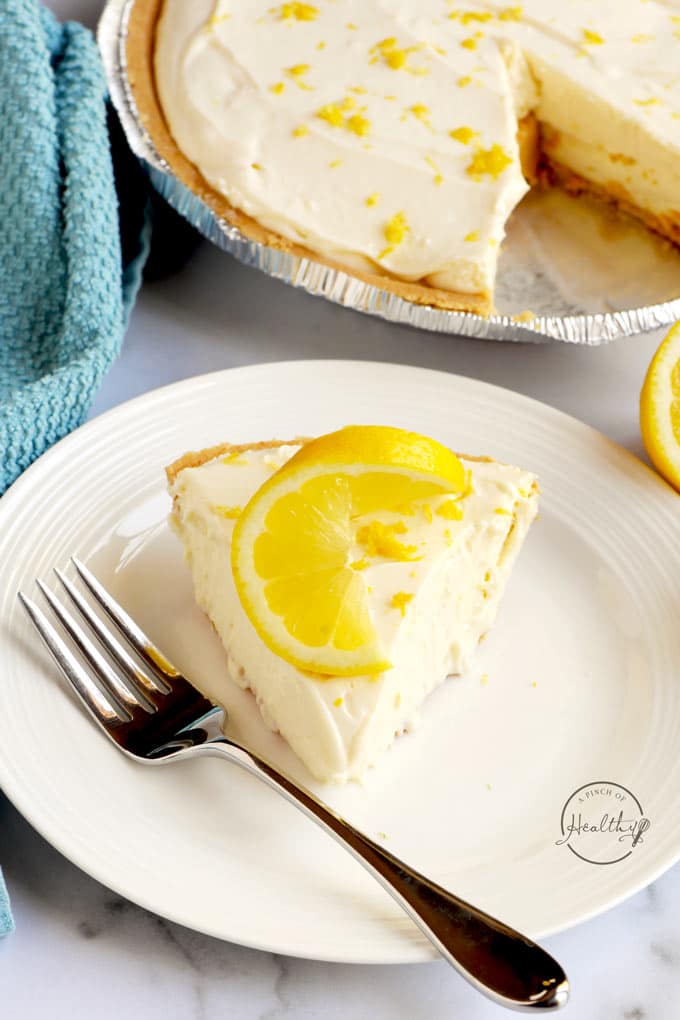 No bake lemon cheesecake recipe
Did you try this no bake lemon cheesecake recipe? Give it a star rating. Pin it and share it if it looks good to you.
And be sure and stay connected on social media!
Instagram | Pinterest | Facebook | YouTube | Twitter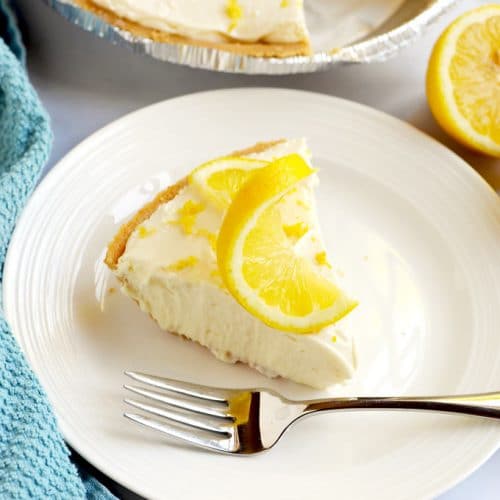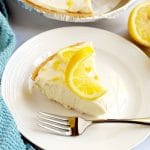 No Bake Lemon Cheesecake
No bake lemon cheesecake is a refreshing, four ingredient dessert that is perfect for spring and summer. It is so simple, easy and delicious!

Prep Time 14 minutes
Chill time 3 hours
Total Time 3 hours 14 minutes
Servings 8 large slices
Calories 462 kcal
Ingredients
Ingredients
16 ounces cream cheese (I used two 8-ounce blocks, softened at room temperature)
14 ounces sweetened condensed milk (1 can)
1/3 cup lemon juice (2 large lemons were enough for me, but get some extras just in case)
zest of 1 lemon divided leave 1/3 for garnish
graham cracker crust 10-inch, store bought
Instructions
Add softened cream cheese, sweetened condensed milk, lemon juice and 2/3 of the lemon zest to a large mixing bowl, and beat on high until smooth and creamy (about 4 minutes).

Transfer to a graham cracker crust.

Sprinkle reserved lemon zest in top, and refrigerate until filling is set, about 3 to 4 hours.

Serve chilled, and garnish with extra lemon slices, if desired.
Recipe Video
Recipe Notes
I used a store-bought crust, but if you want to use homemade, that works too!
It may set quicker than what I recommend here, but this is how long until I checked mine.
I highly recommend using full fat cream cheese for this recipes, but you could use light (1/3 less fat) cream cheese. I would not recommend fat free cream cheese.
Nutrition Facts
No Bake Lemon Cheesecake
Amount Per Serving
Calories 462 Calories from Fat 261
% Daily Value*
Fat 29g45%
Saturated Fat 15g94%
Polyunsaturated Fat 1g
Monounsaturated Fat 10g
Cholesterol 79mg26%
Sodium 345mg15%
Potassium 297mg8%
Carbohydrates 44g15%
Fiber 1g4%
Sugar 33g37%
Protein 8g16%
Vitamin A 895IU18%
Vitamin C 5mg6%
Calcium 203mg20%
Iron 1mg6%
* Percent Daily Values are based on a 2000 calorie diet.
(Visited 417,055 times, 67 visits today)