These creamy mushroom chicken tenderloins are inspired by a dinner craze from way back in the day. It is such a simple, delicious dinner!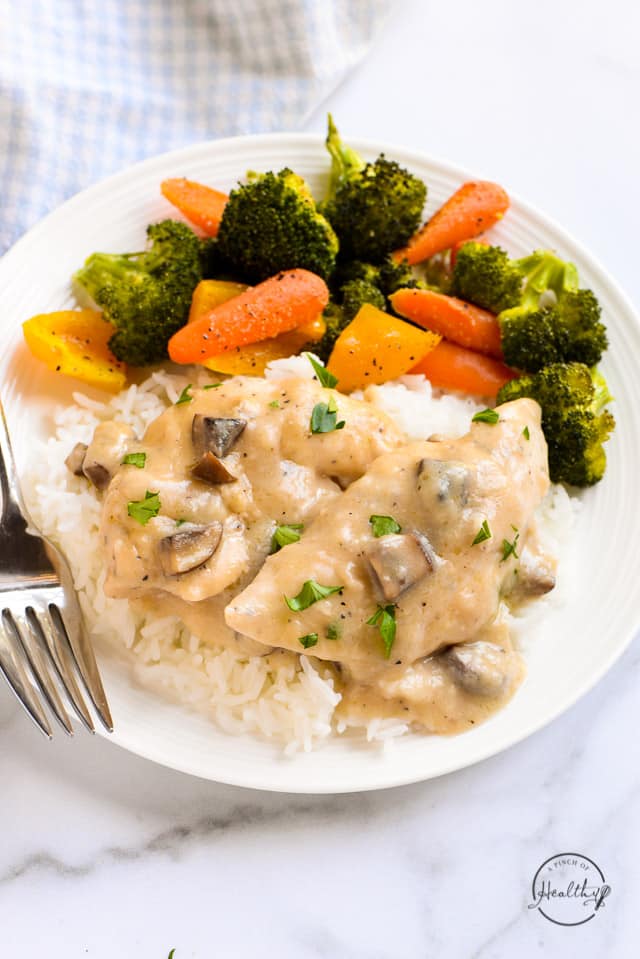 Of course, I had to put my own spin on it, y'all!😉🙃 It's just what I do.
Backstory: Back in the 1980s and 1990s, mamas used to dump a can of cream of mushroom soup over chicken tenderloins and bake it to make a quick dinner. Most often this was served with rice and a side of veggies.
I made my version with a few upgrades, naturally.😎👊🏻
Choose high quality ingredients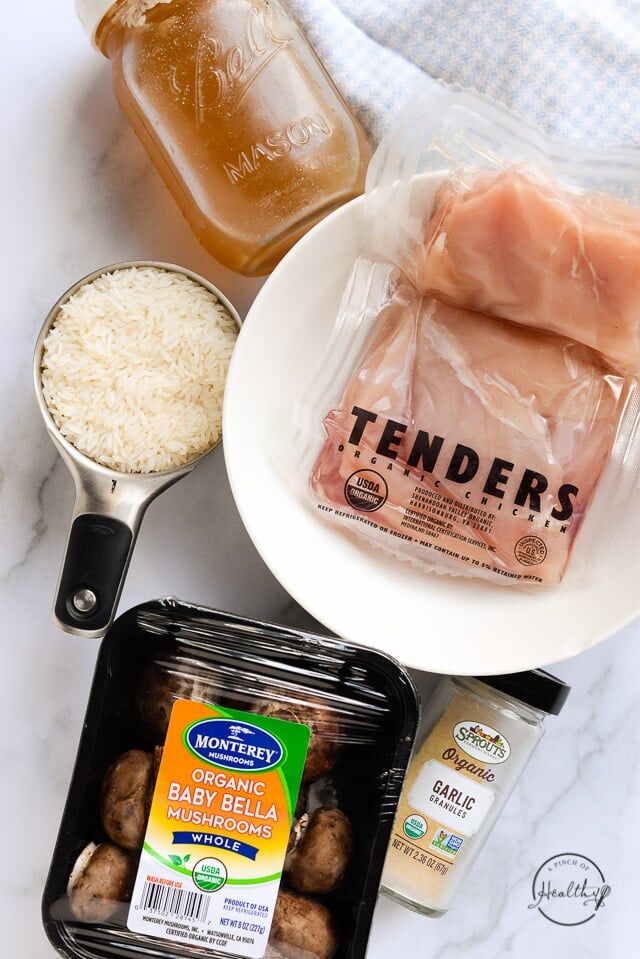 As always, great quality ingredients make your food taste great! Same goes for this mushroom chicken recipe.
I am using ButcherBox chicken tenderloins, which are organic, free range, humane raised. Side note: I am a ButcherBox affiliate, but I also purchase a box from them each month. I am a huge fan! Such delicious, high quality cuts of meat. Get two pounds of ground beef for life when you try ButcherBox through this link (offer good through 9/30/19).
I happened to have some homemade chicken bone broth in my fridge too, which was a bonus. We have used boxed stock lots of times in this recipe, and that works great too.
Also, my family prefers white jasmine rice. Feel free to use brown rice, or any type of your favorite rice.👌🏻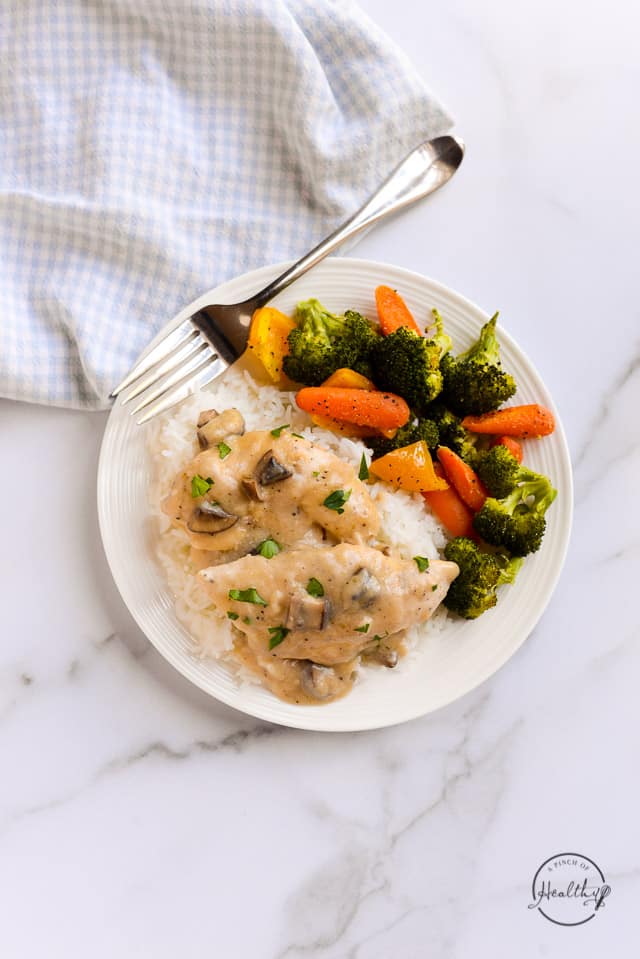 How to make homemade cream of mushroom
Here is how I make the sauce for my mushroom chicken. This method is a spin off from my popular homemade condensed cream soup recipe. This is such a handy little trick to know. It has literally been years since I bought a canned cream soup.
The homemade version tastes better, and comes together with a few basic ingredients that we almost always have on hand. Bonus points that you can pronounce every ingredient!👊🏻
To make the cream of mushroom version, I dice up half a pack of mushrooms. I am using baby portabellas.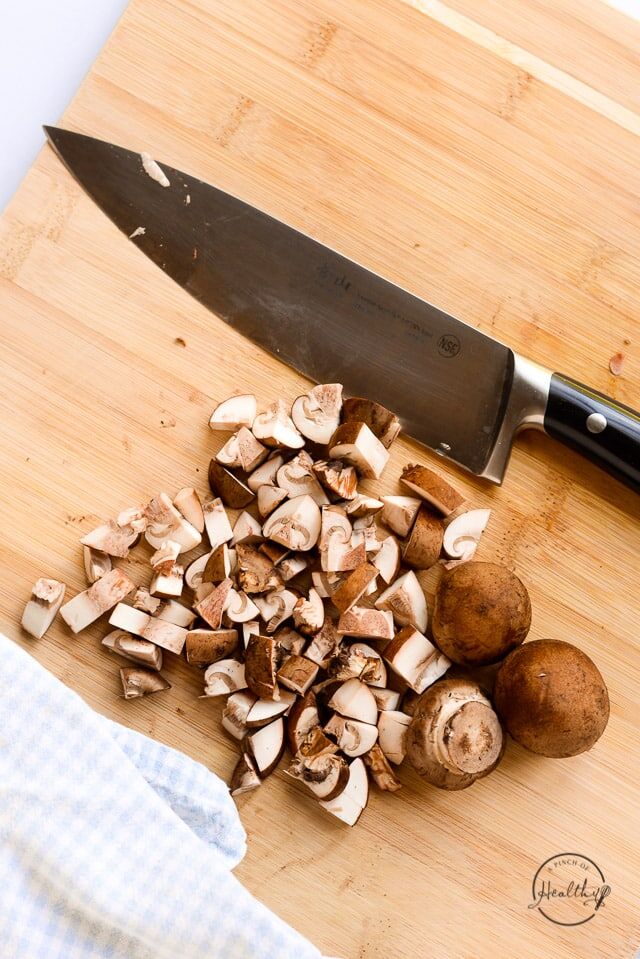 You could totally buy sliced ones. The reason I dice mine? My husband and kids do not like huge pieces of mushroom. Plus the diced ones more resemble the canned version. But if you love sliced mushrooms, feel free to use them and save some time!
I sauté them in some butter until they get soft, and then I add some flour (plus a few seasonings: garlic powder, salt and pepper) to make a roux.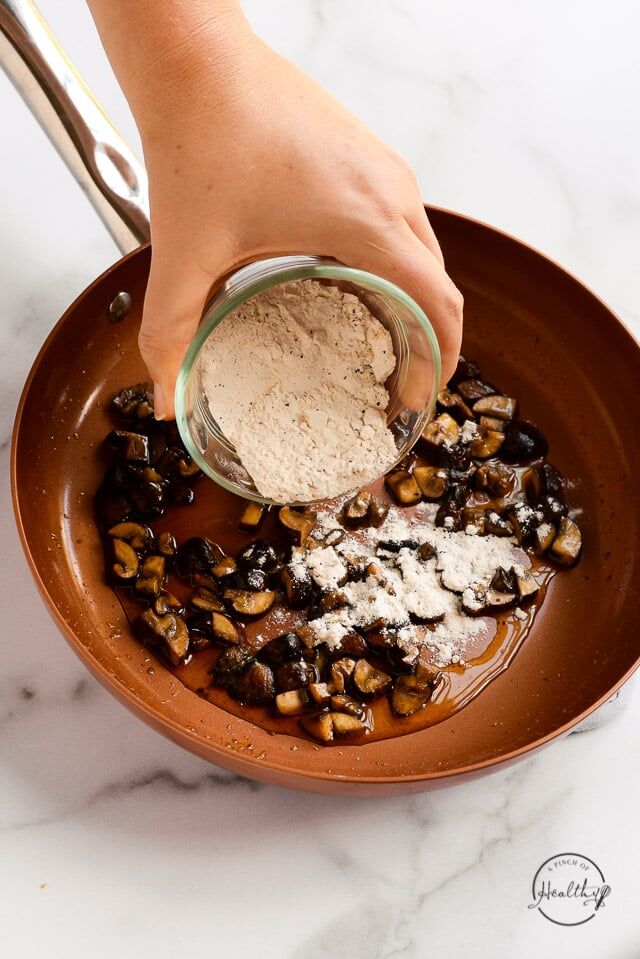 Don't let that word intimidate you.💁🏼‍♀️ Roux is just a fancy French work for thickener. This will help give the sauce that creamy texture. Stir it up until the flour is coated with the butter, and it looks like this.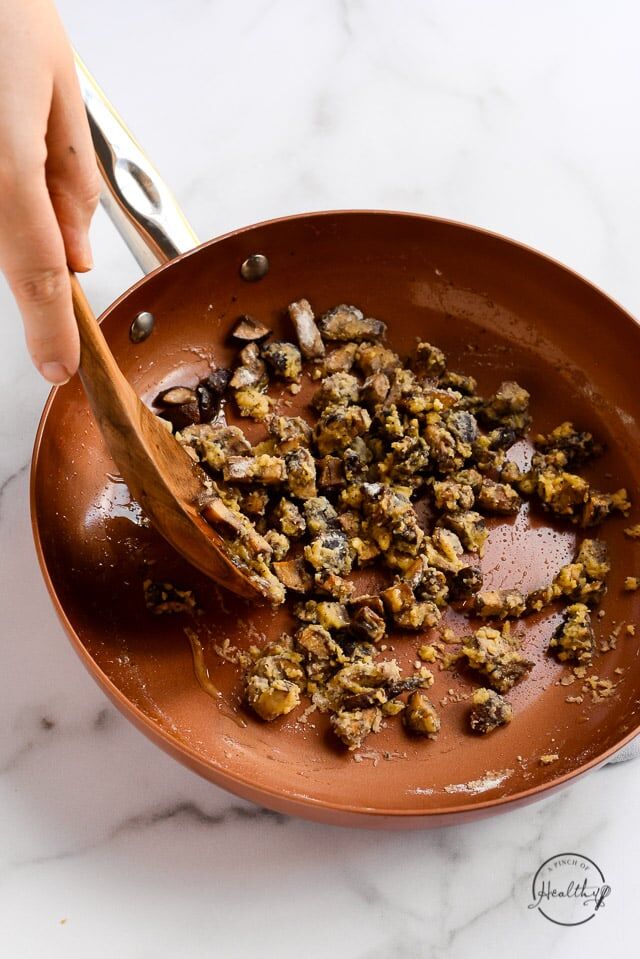 I let it cook a minute or so. From there, I add in milk and chicken stock. I stir this well, and bring to a simmer. It takes about 3 minutes of a low simmer to get this nice and thick.
Assembling the mushroom chicken
If you have an over safe skillet, you could totally add the chicken in the same pan, and cook it that way. Or just put your chicken tenderloins in a separate baking dish. I give 'em a light dusting of salt and pepper.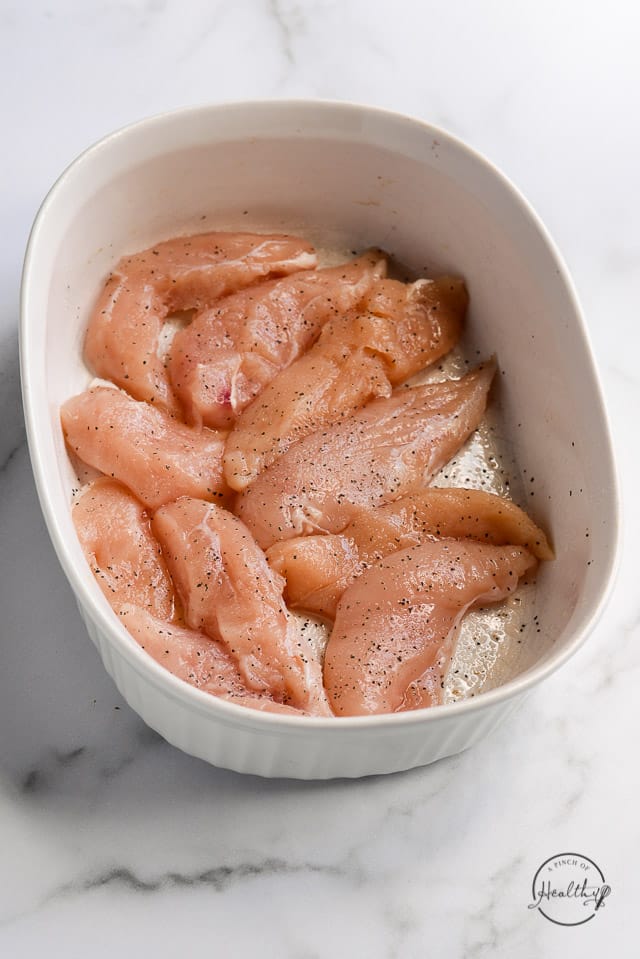 And then I pour that glorious creamy mushroom sauce right over the top.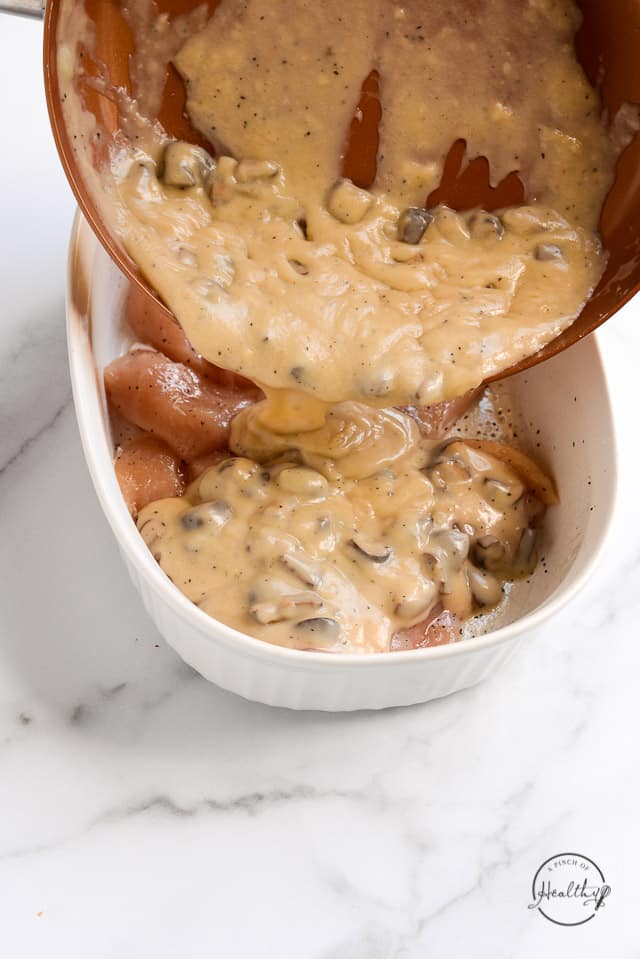 How long to cook mushroom chicken
From there I just cover and bake the mushroom chicken at 400 degrees for thirty minutes. I want to note that the chicken will give off a little liquid when it cooks. So there might be a little separation in your sauce.
This is easily made right by just stirring and spooning the mushroom sauce over the chicken one last time prior to serving. And this is how it looks. 😍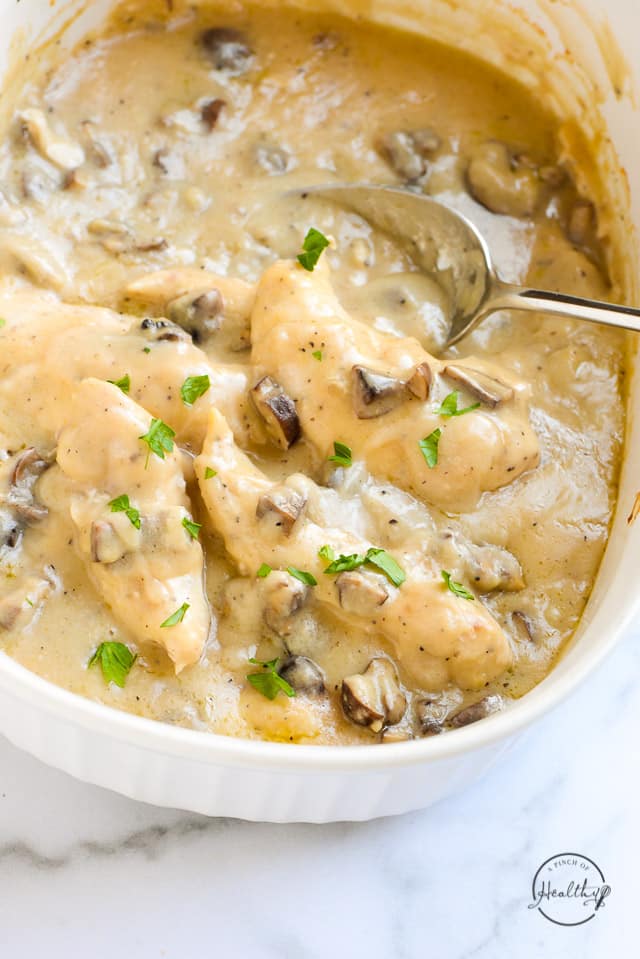 Y'all! This makes the most tender, juicy chicken with the most amazingly delicious mushroom sauce.😋 Even my picky 3 year old daughter loves this.
Real talk: that sprinkle of green (parsley in this case) only happens for blog photos. We don't do this in real life.😜
Just like the traditional inspiration for this dish, we serve our mushroom chicken over rice, with a little extra creamy mushroom sauce spooned over the top.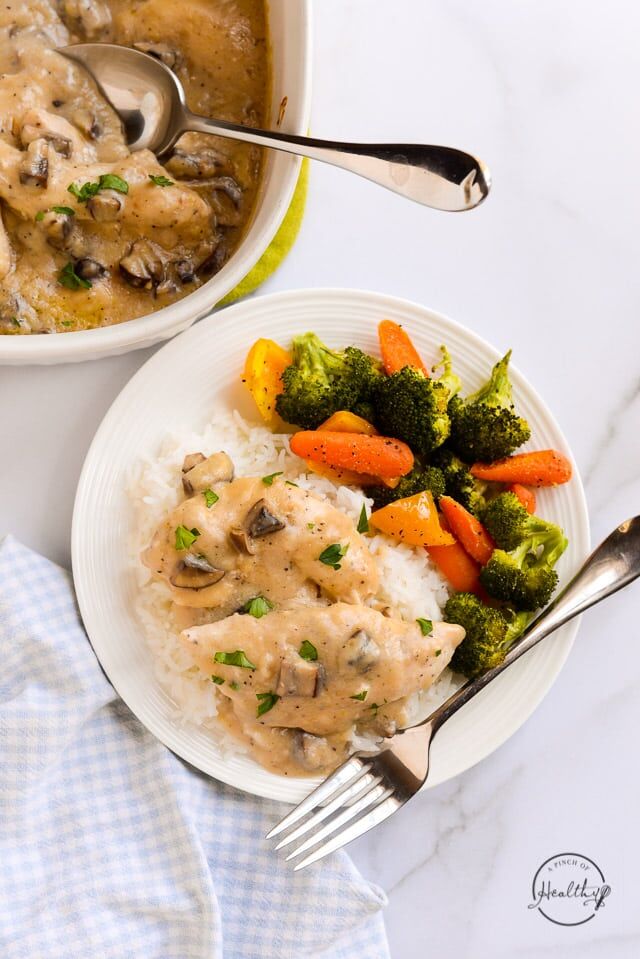 Creamy mushroom chicken recipe
Did you make this mushroom chicken recipe? Give it a star rating. Pin it and share it if it looks good to you. And be sure and stay connected on social media!
Instagram | Pinterest | Facebook | YouTube | Twitter
To print this recipe, use the print button located underneath the thumbnail below.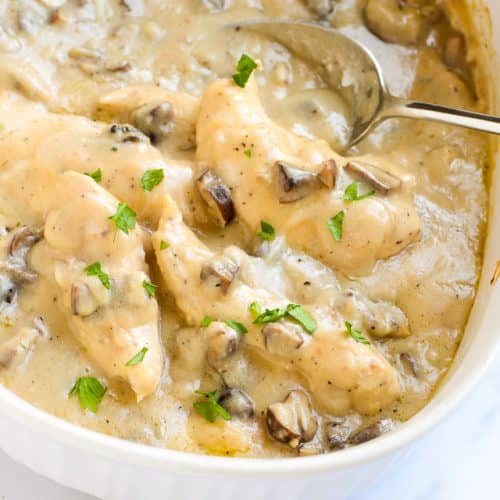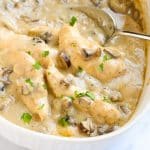 Mushroom chicken
These creamy mushroom chicken tenderloins are inspired by a dinner craze from way back in the day. It is such a simple, delicious dinner!
Prep Time 5 minutes
Cook Time 45 minutes
Total Time 50 minutes
Servings 4
Calories 452 kcal
Ingredients
3 Tablespoons butter
4 ounces mushrooms diced, roughly half an 8-ounce pack
3 Tablespoons all-purpose flour
1 cup chicken stock or broth
1/2 cup milk any type I am using 1%
1/4 teaspoon garlic powder
1/4 teaspoon salt and black pepper (each)
1 pound chicken tenderloins raw
salt and pepper (to sprinkle on chicken, separate from what is in the sauce)
4 cups cooked rice prepared to package instructions
Instructions
Preheat oven to 400 degrees.

Add raw chicken tenderloins to a casserole dish, and dust them with a little salt and pepper; set aside.

Combine flour, salt pepper and garlic powder in a small bowl, and set aside.

In a small or medium pan, melt butter over medium low heat.

Add diced mushrooms to pan, and cook until tender, about 7 minutes.

Add flour mixture to the pan, and stir to combine as it cooks and combines with the butter to make a paste (about 1 to 1.5 minutes)

Add the chicken broth and milk, and whisk together to smooth out the lumps.

Bring to a simmer and continue cooking until mixture thickens, about 3 minutes.

Pour mixture over chicken, and use a spoon to distribute evenly over the top.

Cover with aluminum foil, and bake for 30 minutes.

Remove from oven and uncover.

The chicken will give off some moisture, and you will need to stir the sauce and spoon is over the chicken prior to serving to smooth it out.

Serve immediately over cooked rice.
Recipe Notes
Nutritional information is approximate and was calculated using a recipe nutrition label generator.
Several readers have shared that you can substitute corn starch for the flour to make this gluten free. I have not tested this myself, but many others have reported great results.
Nutrition Facts
Mushroom chicken
Amount Per Serving
Calories 452 Calories from Fat 117
% Daily Value*
Fat 13g20%
Saturated Fat 7g44%
Cholesterol 98mg33%
Sodium 372mg16%
Potassium 606mg17%
Carbohydrates 51g17%
Fiber 1g4%
Sugar 2g2%
Protein 31g62%
Vitamin A 327IU7%
Vitamin C 2mg2%
Calcium 59mg6%
Iron 1mg6%
* Percent Daily Values are based on a 2000 calorie diet.
(Visited 29,831 times, 3 visits today)