I was sent a Mealthy CrispLid a few weeks ago to review. After testing it out and using it for the last few weeks, I am so excited to tell y'all my opinions about it! I am dishing on everything: the good, the great and the not-so-great.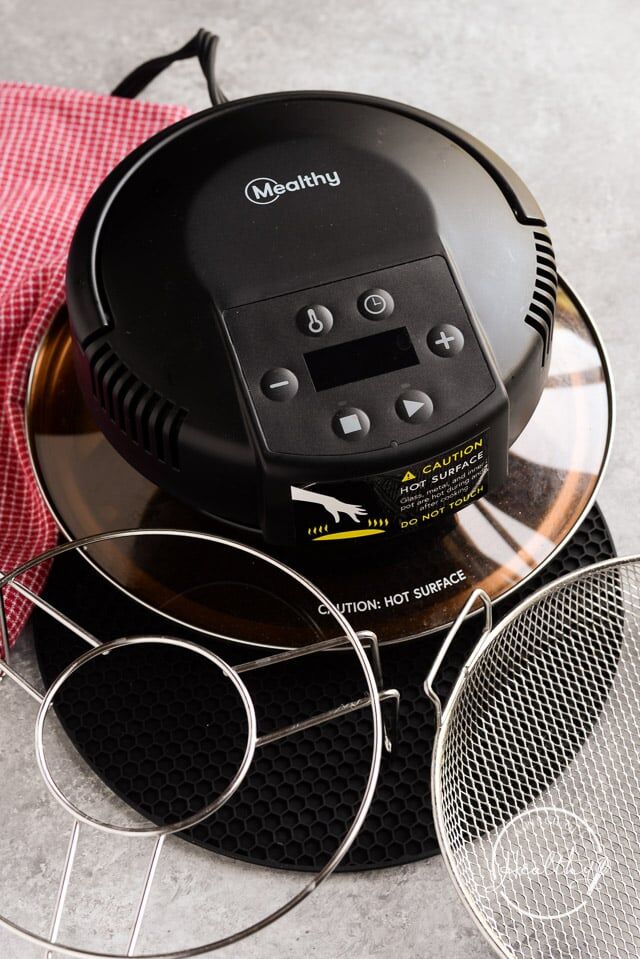 This post may contain affiliate links, which pay a referral fee to me at no additional cost to you. My full affiliate disclosure can be seen here.
$10 off for you!
Before I get into it, I want to let you know that Mealthy gave me a coupon code for you guys for $10 off the CrispLid (or any other Mealthy products totaling $59.95, or above).
👉🏻👉🏻Purchase the CrispLid through this link, and be sure and enter the coupon code APINCHOFHEALTHY for your $10 off👈🏻👈🏻
Okay, onto the review!
What is a CrispLid?
The CrispLid is a lid that fits on top of an electric pressure cooker/ multi cooker, such as and Instant Pot. It works with both 6 quart and 8 quart models.
You can use that lid to air fry, just as you would in a regular air fryer. OR, you can use it to crisp up food that you have already pressure cooked in the same container. 🤩
Yes, really.😎
The CrispLid includes the following:
the CrispLid itself, which contains the heating element and the fan to air fry food
A high leg trivet
Stainless steel fryer basket
Stainless steel tongs
Silicone heat-resistant mat to rest the lid on
Recipe book and user guide
How I tested the CrispLid
I made many of my existing recipes, plus lots of frozen foods with excellent results. The following will work great using a CrispLid:
Frozen tater tots
Frozen chicken fingers
Frozen fries
Fresh-cut air fryer french fries
Crisped up some bone-in, skin on chicken after pressure cooking
Melted cheese in a pressure cooked one-pot pasta dish to give more of a "baked casserole" feel
As you can imagine, there are so many possible ways to use the CrispLid. I look forward to updating many of my existing recipes to include optional CrispLid instructions.
How it works
Using it is very simple, which I appreciate. You simply place the provided trivet into the inner pot.
Next, place the stainless steel basket on top.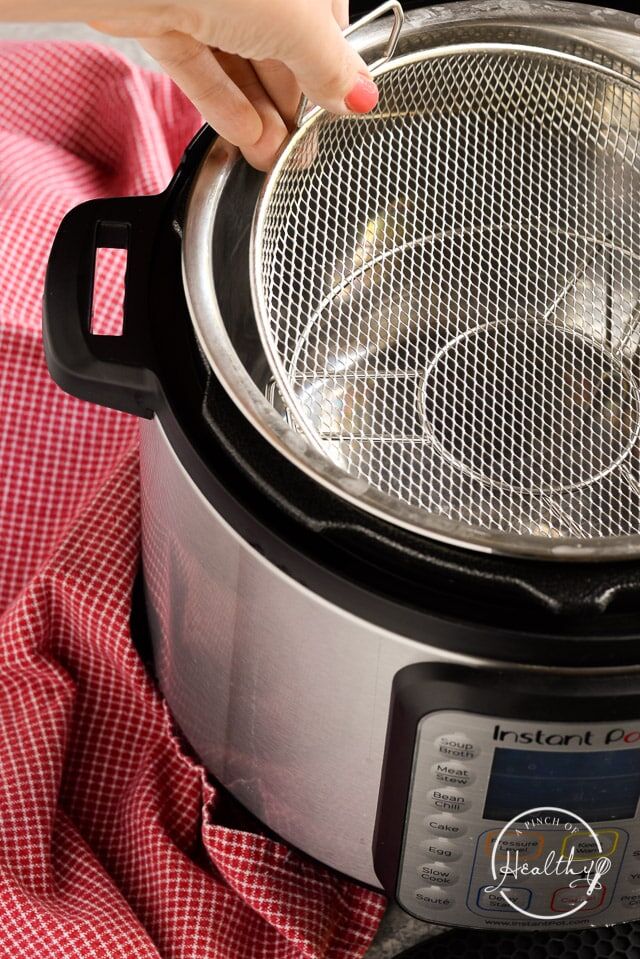 Add the lid on top of that. There is no "lock" like with the Instant Pot lid, but it just sits on top.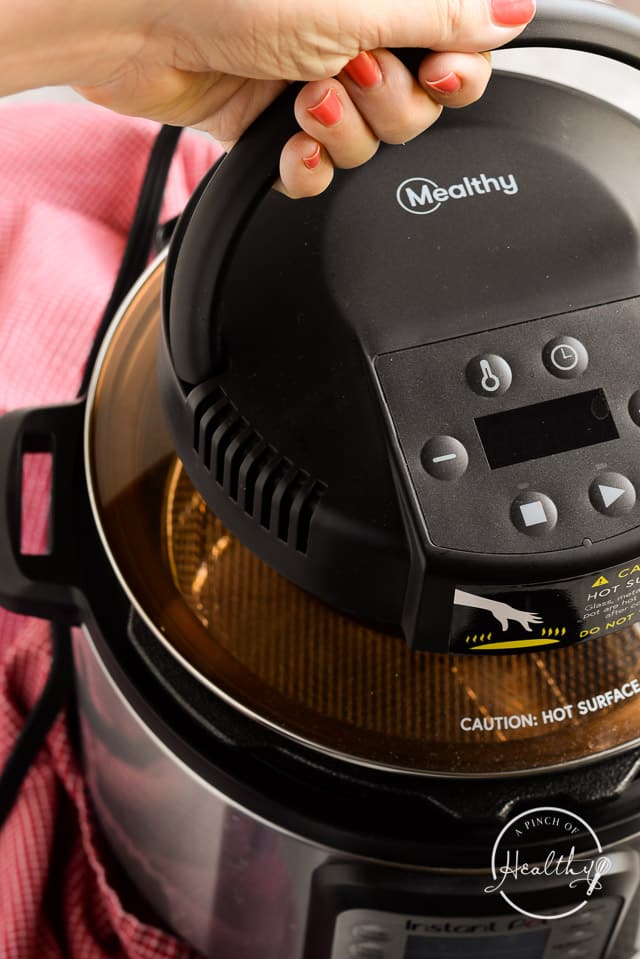 With the CrispLid plugged in, just low the handle to activate the display. From there you can use the controls to adjust time and temperature.
My favorite features
I have many good things to say about the CrispLid. It is a pretty genius little gadget.
Materials
I love that the trivet and especially the fryer basket are stainless steel. I much prefer this to the non-stick finishes in my last two air fryers.
Why do I prefer stainless steel? For one, the non-stick finishes on both my other (standard) air fryers peeled off. Yeesh! They did this despite me taking extra care to hand wash (even though they were labeled dishwasher safe).
Plus, stainless steel is a healthier alternative, since I won't have to worry about it leeching chemicals into my food. And it is dishwasher safe, which makes for easy cleaning. You can always spray it with cooking spray, if you want to.
Design
I love that the lid is clear, and I can see what is cooking without having to stop cooking and open up the device to see.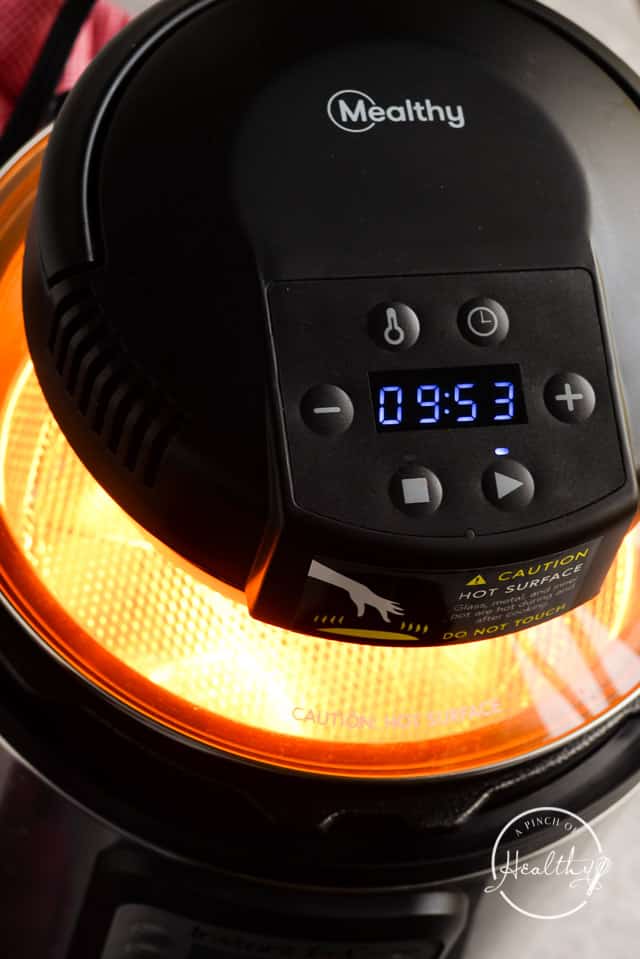 I also like how small the CrispLid is! It takes up far less space than a full air fryer.
I love that the lid is fully removable and works with the Instant Pot I already own. Some other products I have seen have permanent air fryer lids that are not removable, and to me that is so awkward. I much prefer the CrispLid.
Plus, once the lid cools off, the CrispLid is very easy to clean off any splatters. You can clean a standard air fryer too, but it is very hard to see what you are doing (since it is enclosed), and if you are getting it clean or not.
Price point
I love how affordable the CrispLid is! It retails for $59.95, which is about half the price of a standard air fryer, depending on which brand you buy. In addition to that, you guys can use my coupon code APINCHOHEALTHY to get an additional $10 off, bringing the price down to $49.95.
For what it does, I think it is well worth that. In addition to having standard air frying capability, you get the added bonus of being able to crisp up food that has already been pressure cooked. And in the same container, which is so convenient.
My least favorite features
Capacity
This goes for air fryer in general, not just for the CrispLid. I wish I could make bigger batches. This will not be an issue for you if you are cooking for 2 to 3 adults, or less. Anybody else will need to cook in batches.
Temperature
The CrispLid temperature settings go in 25 degree increments, whereas my other air fryers were in 10 degree increments. I will say that this did not make much of a difference during my recipe testing.
For example, I tested my air fryer chicken breast recipe, which calls for cooking at 360 degrees and flipping halfway through. With the CrispLid, I did side one on 350 degrees and side two at 375 degrees, and it still turned out perfect!
Risk of burning hands
You need to be super careful not to touch any of the hot parts, especially if you are making multiple batches of something. For example, I burned my hand a little when making my second batch of bacon.
I was laying in pieces of bacon by hand and accidentally burned the side of my hand. This can be easily avoided by using the tongs instead. In the case of the bacon, just be sure and wash the tongs before you handle the cooked bacon to avoid cross-contamination.
Also, be careful when shaking food during cooking. The CrispLid comes with instructions on how to shake the basket with the tongs. Just be careful to have a good grip so that you don't drop hot food on yourself. Same goes for flipping food.
For this reason, I would not let kids use the CrispLid without careful assistance from an adult.
Is the CrispLid right for you?
I definitely love using the CrispLid and would 100% recommend it. You would probably love the CrispLid if you meet any of the following criteria.
You already own a 6 to 8 quart electric pressure cooker, such as the popular Instant Pot
You plan to buy a 6 to 8 quart electric pressure cooker
You wish to crisp or brown food that has been pressure cooked in the same cooking container
You are interested in air frying, but want to try out a less expensive, easier to store option
You like being able to see the food as it cooks without opening up a fryer basket
I would not recommend the CrispLid for you if any of the following apply to you:
You do not already own a 6 to 8 quart electric pressure cooker, such as an Instant Pot, and you have no plans to get one
You want to air fry larger batches, such as cooking for more than 3 adults
You have issues with your hands, such as trouble gripping. To me, this seems like it would a high risk of burning yourself, and an air fryer would be safer
You don't care about air frying or crisping food 🙃
In conclusion
It is a great product! Even if you already have a full sized air fryer, it might be worth considering for having the option to crisp pressure cooked food.
I would highly recommend it. Let me know if you try it. They are available on Amazon. But, you cannot use the coupon code there for the $10 off. So I'd recommend purchasing through my link here, and adding the APINCHOFHEALTHY coupon code.
I was provided a free Mealthy CrispLid for my honest review. All opinions are my own. I was not paid for my review, but I am an affiliate. This means that I get a small referral fee (at no extra cost to you) when you buy through any of my links here.
(Visited 2,215 times, 1 visits today)