Lentil salad is a perfect side dish or light meal that everyone can enjoy! This one would be great for all the spring and summer potlucks and cookouts, and it happens to be vegan friendly.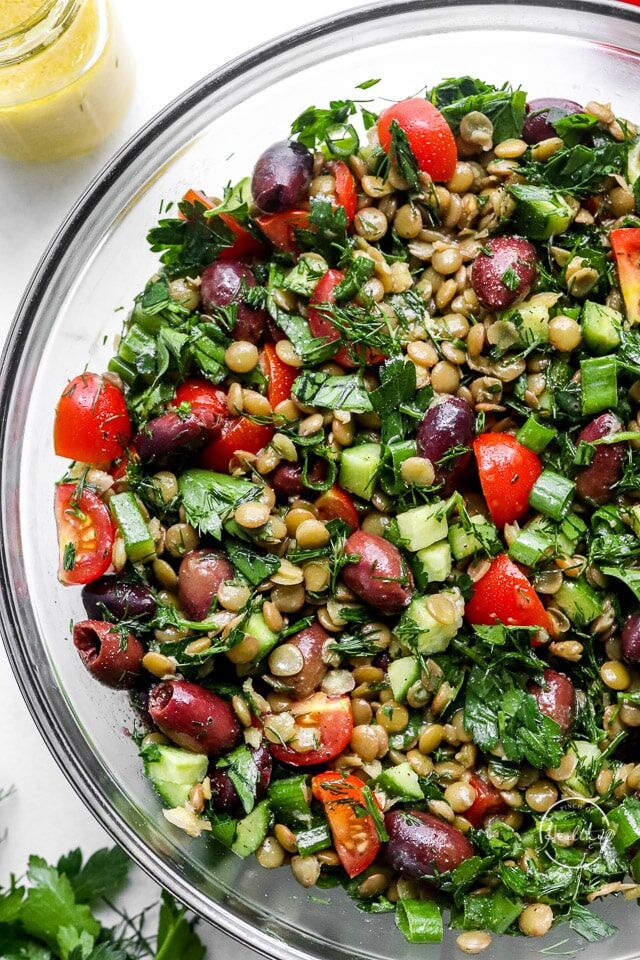 There is just something about cold salads with tons of veggies and layers of flavor. Once the weather warms up, I just start craving them all the time.
This particular lentil salad has a Mediterranean flare, and it is super nourishing and satisfying. It has tomatoes, cucumber, olives, green onion and tons of herbs, all tied together with a simple (yet tasty!) vinaigrette.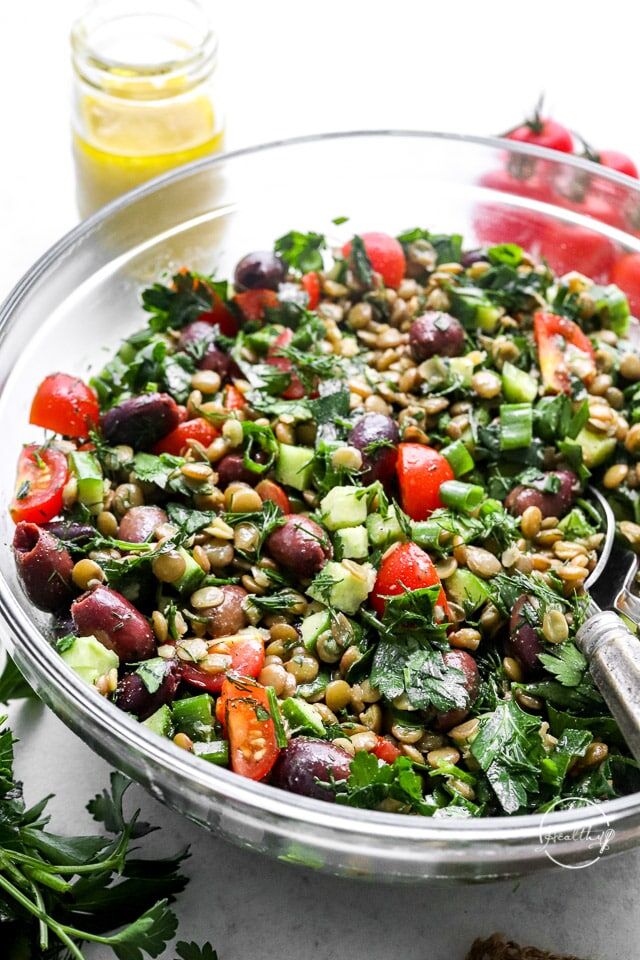 You can use canned lentils, if you can find them. However! Lentils are super cheap and easy to cook yourself. Just be sure and allow time to cool before assembling the salad.
Ingredients
The ingredients for this recipe are basic, yet super nourishing.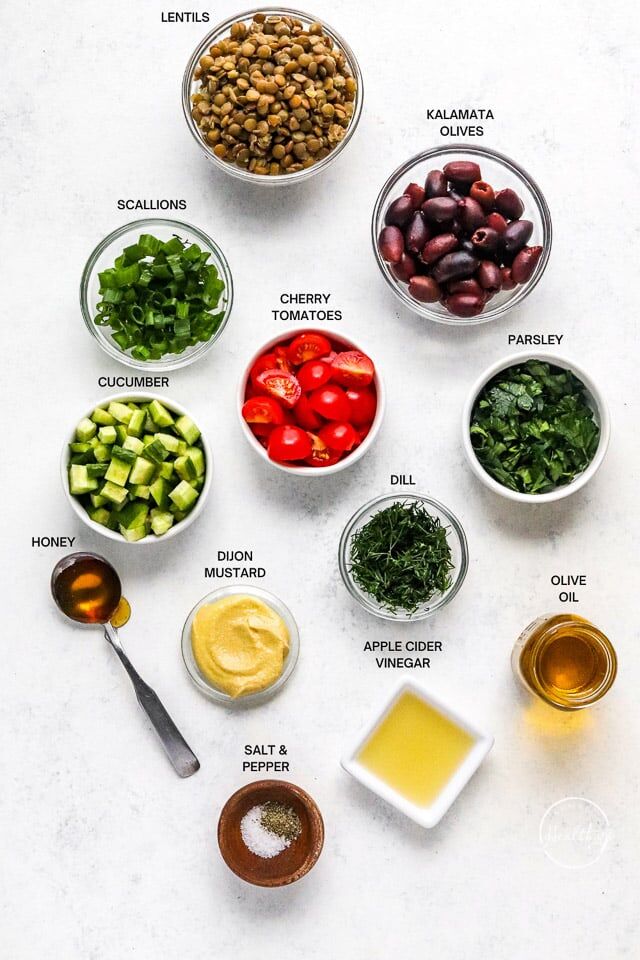 And the sum of these ingredients is definitely greater than its parts.😉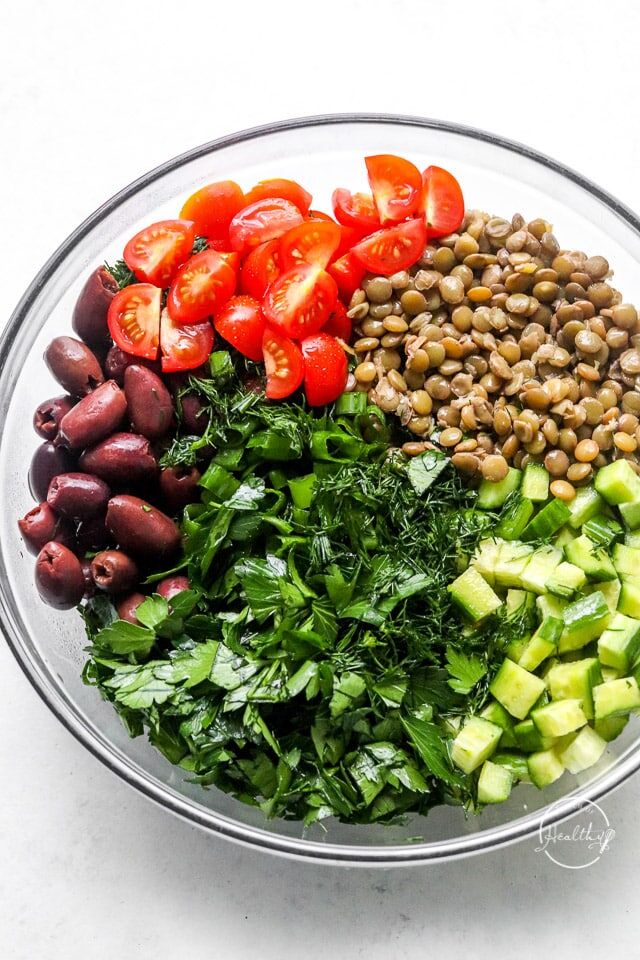 Assembling lentil salad
Once you have your lentils cooked and cooled, and your produce chopped, all there is to do is assemble the lentil salad. Just add everything to a big mixing bowl, and pour on the vinaigrette.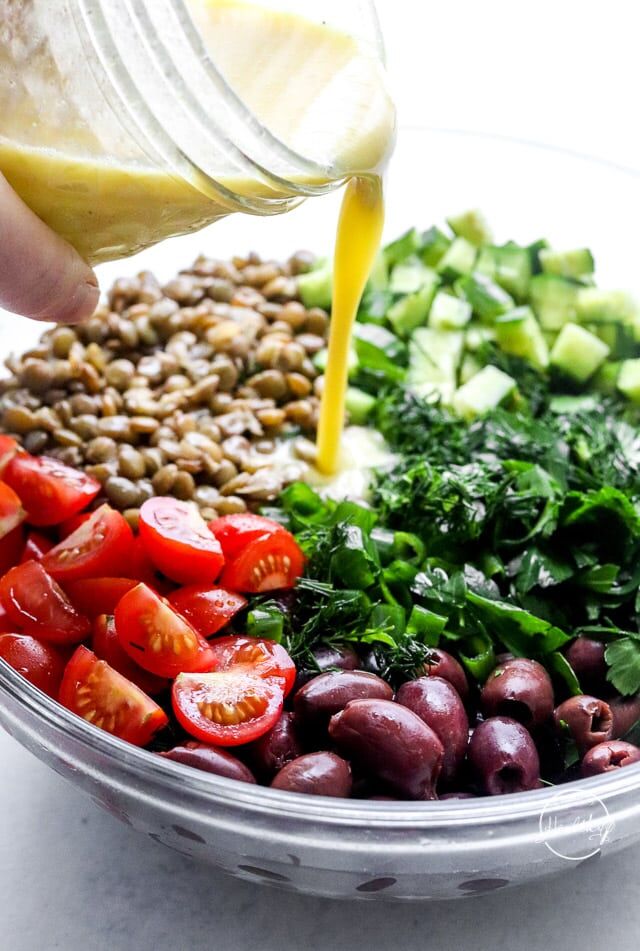 Then give everything a good toss to make sure that dressing gets evenly distributed.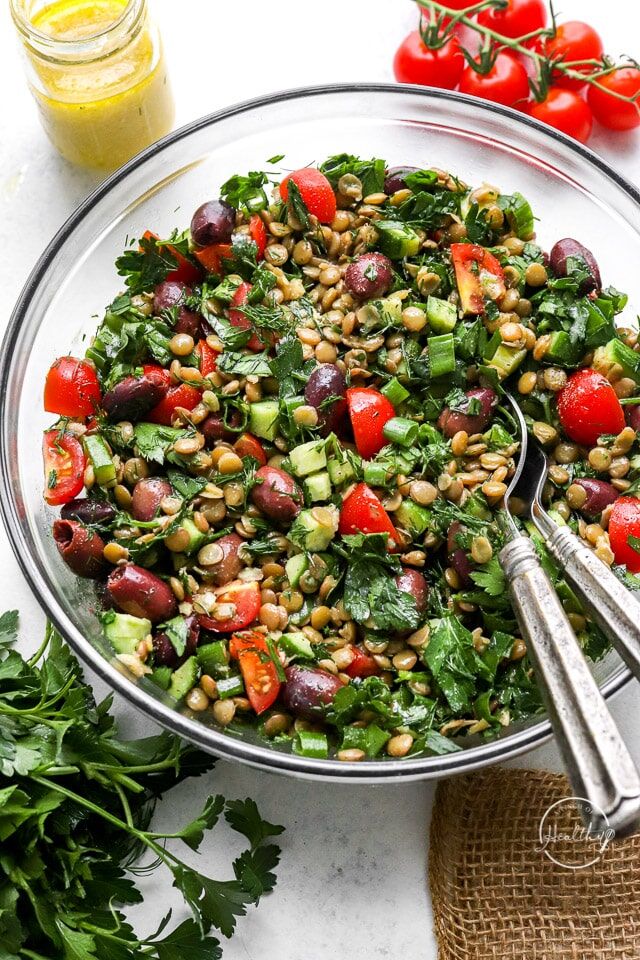 Top with extra herbs for garnish, if you wish.👌🏻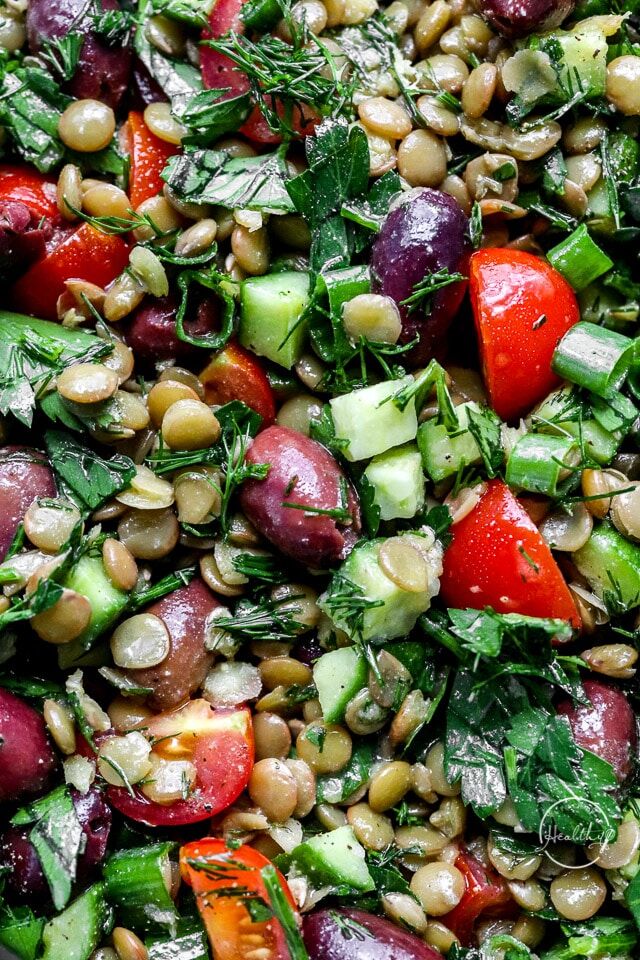 Other salads you may enjoy
Here are some similar cold salads you may also enjoy!
Lentil salad recipe
Did you try this vegan lentil salad recipe? Give it a star rating. Pin it and share it if it looks good to you. And be sure and stay connected on social media!
Instagram | Pinterest | Facebook | YouTube | Twitter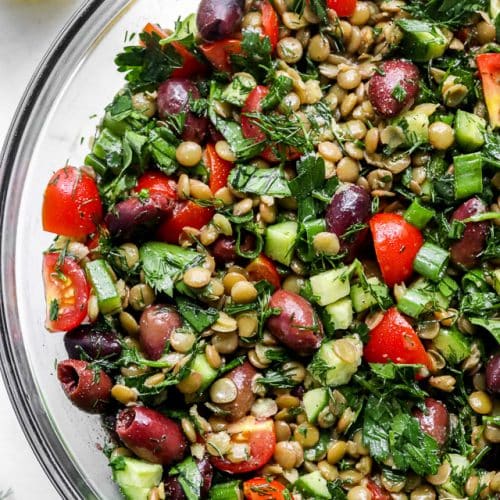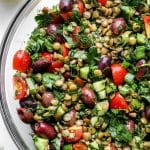 Lentil Salad (vegan)
Lentil salad is a perfect side dish or light meal that everyone can enjoy! This one would be great for potlucks and cookouts, and it happens to be vegan friendly.
Prep Time 15 minutes
Cook Time 15 minutes
Total Time 30 minutes
Servings 4
Calories 301 kcal
Ingredients
For the salad
2 cups cooked green lentils
½ cup diced cucumber
½ cup quartered cherry tomatoes
¼ cup sliced pitted kalamata olives
1/4 cup green onions chopped
2 tablespoons minced dill
2 tablespoons minced parsley
Dressing
2 tablespoons apple cider vinegar
2 tablespoons dijon mustard
2 tablespoons fresh squeezed lemon juice - optional
1 tablespoon honey
1/4 cup olive oil
1/2 teaspoon kosher salt
¼ teaspoon ground black pepper
Instructions
Cook the lentils according to package instructions and let cool completely.

Add lentils, cucumber, tomatoes, olives. Scallions, dill, parsley and feta to a medium to large sized mixing bowl or serving bowl.

Make the dressing. Add all dressing ingredients to a small mixing bowl or mason jar and either whisk or shake well to emulsify into a creamy dressing.

Pout the dressing over the salad and toss well to coat all salad ingredients in the dressing. Top with more chopped herbs if desired.

Serve cold or at room temperature.
Recipe Notes
Nutritional information is approximate and was calculated using a recipe nutrition label generator.
Each serving is approximately one cup.
Recipe Tips
Brown or green lentils work best in this recipe. Red lentils get too soft when cooked and will not work in this salad.
Modify this to make it your own, or use what you have on hand. Some suggestions:
Switch up the veggies. You can use diced bell peppers, diced red onion or even diced carrots in this recipe.
Add some more protein. Add in some chickpeas or protein of choice
This recipe vegan. Feel free to add your favorite vegan cheese. Also, dairy eaters: feta cheese is fantastic on this salad.
Diced avocado would be awesome in this too
Nutrition Facts
Lentil Salad (vegan)
Amount Per Serving
Calories 301 Calories from Fat 144
% Daily Value*
Fat 16g25%
Saturated Fat 2g13%
Sodium 513mg22%
Potassium 552mg16%
Carbohydrates 31g10%
Fiber 10g42%
Sugar 8g9%
Protein 12g24%
Vitamin A 279IU6%
Vitamin C 9mg11%
Calcium 42mg4%
Iron 4mg22%
* Percent Daily Values are based on a 2000 calorie diet.
(Visited 26,957 times, 14 visits today)