Corned beef hash and eggs is the perfect breakfast or brunch for St. Patrick's Day, or any day!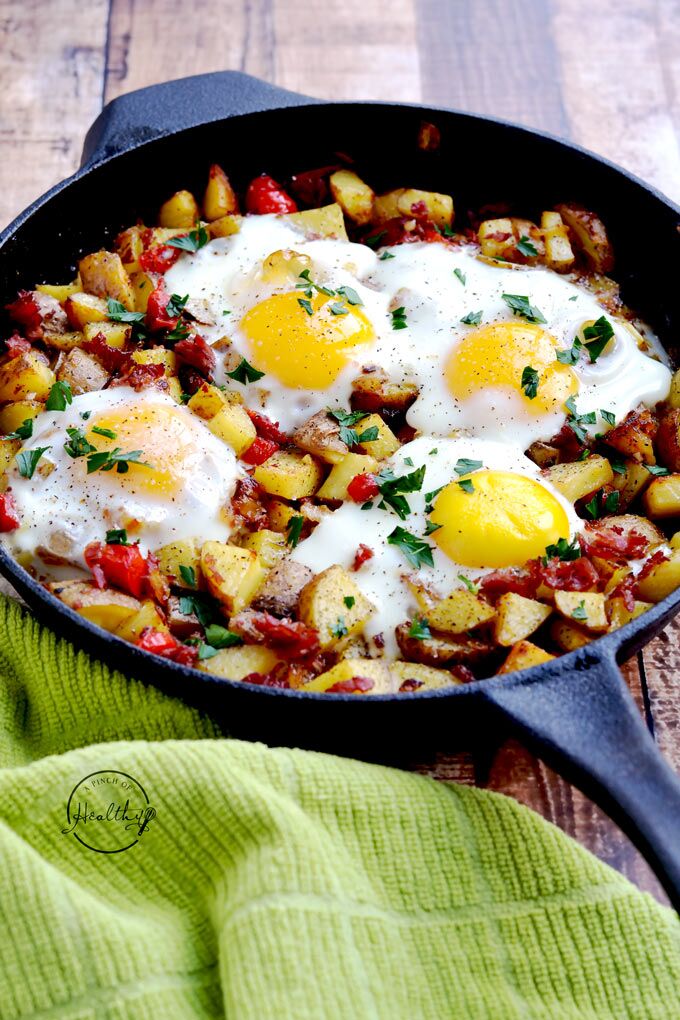 Oh, y'all! This is one of those recipes that turned out even better than it was in my head. All four of us in our family loved this Irish corned beef hash – even Mallory (our pickiest eater).
I know St. Patrick's Day isn't for a few more weeks, but I wanted to get this recipe to y'all ahead of time. It is soooo good!
How to make corned beef hash
I use a base of diced potatoes, and I add in bell pepper, onion, garlic and corned beef. Some people boil their potatoes first. I did not do this, and it still worked out great. Fewer steps, fewer dishes and more simplicity are always the goal for me.😎👌🏻
I sauté the veggies up in my trusty cast iron skillet and add the corned beef at the end, adding salt and pepper to taste. And then, eggs!
I top it off with some eggs and bake them in the oven to finish everything off.
Side note: I realized that I don't talk near enough about my cast iron cookware. I used that for this recipe because it conducts heat really beautifully, plus it is oven safe. (Amazon affiliate)
Make sure your cast iron is well-seasoned to prevent sticking. If you don't have a cast iron skillet, you can use a non-stick oven safe skillet.
But back to the Irish corned beef hash!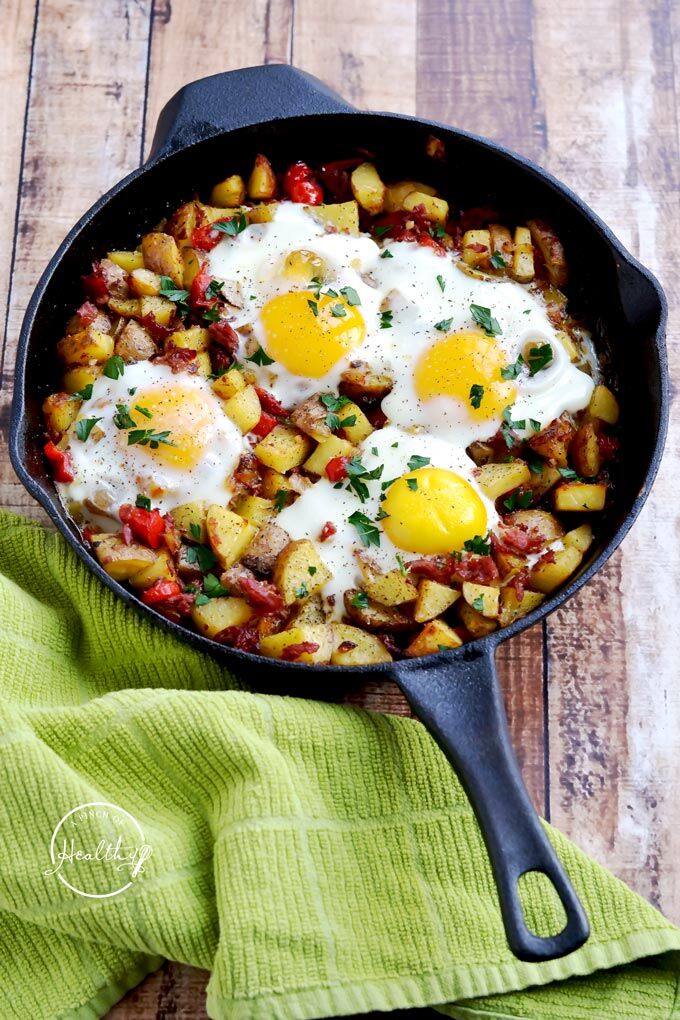 This was very much inspired by St. Patrick's Day, although you can make it any time of year.
Where to buy corned beef
I used Trader Joe's uncured sliced corned beef for this recipe.
#NOTsponsored
I used four ounces, which was half of this eight ounce package. If you don't like corned beef, or you can't find any, you can substitute diced cooked ham. It won't be quite as Irish, but it'll still be good.
Also, I have seen corned beef in the deli section of most conventional grocery stores.
Can I make this without the eggs or with eggs on the side?
Absolutely, yes! In this case, you would not even have to bake the corned beef hash. You just want to make sure everything is cooked to your liking on the stovetop, which may require a few extra minutes on the stovetop. This would go great with a side of scrambled eggs, if that's more your jam.
Happy (early) St. Patrick's Day!!
Tools Used to Make Corned Beef Hash
This post may contain affiliate links, which pay a referral fee to me at no additional cost to you. My full affiliate disclosure can be seen here.
Shop all my favorite kitchen tools and gadgets here.
Corned Beef Hash Recipe
Did you try my corned beef hash and eggs recipe? Give it a star rating. Pin it and share it if it looks good to you. And be sure and stay connected on social media!
Instagram | Pinterest | Facebook | YouTube | Twitter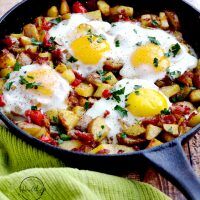 Corned Beef Hash (St. Patrick's Day Breakfast or Brunch)
Corned beef hash is the perfect breakfast or brunch for St. Patrick's Day, or any day! Super delicious and simple to make.

Prep Time 10 minutes
Cook Time 30 minutes
Total Time 40 minutes
Servings 4
Calories 258 kcal
Ingredients
2 Tablespoons oil (I used avocado, but anything with a high smoke point will work - coconut, canola, etc.)
8 baby Yukon gold potatoes, washed and diced) (or 3 regular ones - mine weighed around 14.7 ounces in total)
1/2 medium yellow onion, diced (mine was about 3/4 cup)
1/2 bell pepper (any color), diced (about 3/4 cup)
1 clove garlic, finely minced
4 ounces Fully cooked corned beef, diced (I am using Trader Joe's uncured corned beef. You could also sub diced ham.)
4 eggs
salt and pepper, to taste
Instructions
Preheat a cast-iron (or non-stick oven-safe skillet) over medium heat, and add oil to the pan.

Add the potatoes, onions and peppers, and cook for about 15 minutes until veggies are tender, stirring frequently. (Notes: I had to reduce my heat a little to medium-low. You want it sizzling, but no splattering everywhere. Also, use your intuition if you think you need more cook time. If the potatoes don't look done yet, cook a few more minutes.)

Add salt and pepper, garlic and corned beef, turn off the heat (the pan will stay really hot, especially if it's cast iron), and cook another two minutes.

Remove from heat, and taste to see if you want to add more salt and pepper.

Crack the eggs over the top, and try to put an egg over each serving (somewhat symmetrically, but it doesn't have to be perfect).

Bake at 375 until eggs are cooked, about 15 minutes.

Remove from oven, and I like to salt and pepper my eggs here.

Optional: garnish with chopped fresh parsley. Confession: for this dish we only do parsley for (1) company and (2) blog photographs 😆👍🏻
Recipe Notes
Nutritional information is approximate and was calculated using a recipe nutrition label generator.
Nutrition Facts
Corned Beef Hash (St. Patrick's Day Breakfast or Brunch)
Amount Per Serving
Calories 258 Calories from Fat 135
% Daily Value*
Fat 15g23%
Saturated Fat 3g19%
Cholesterol 178mg59%
Sodium 421mg18%
Potassium 650mg19%
Carbohydrates 17g6%
Fiber 3g13%
Sugar 2g2%
Protein 12g24%
Vitamin A 295IU6%
Vitamin C 33.7mg41%
Calcium 64mg6%
Iron 4.8mg27%
* Percent Daily Values are based on a 2000 calorie diet.
Note: This post was originally published on March 12, 2017.
(Visited 16,456 times, 1 visits today)