Instant Pot chicken thighs are so basic, yet so handy and versatile. You can enjoy them as a main dish, as well as in salads and casseroles.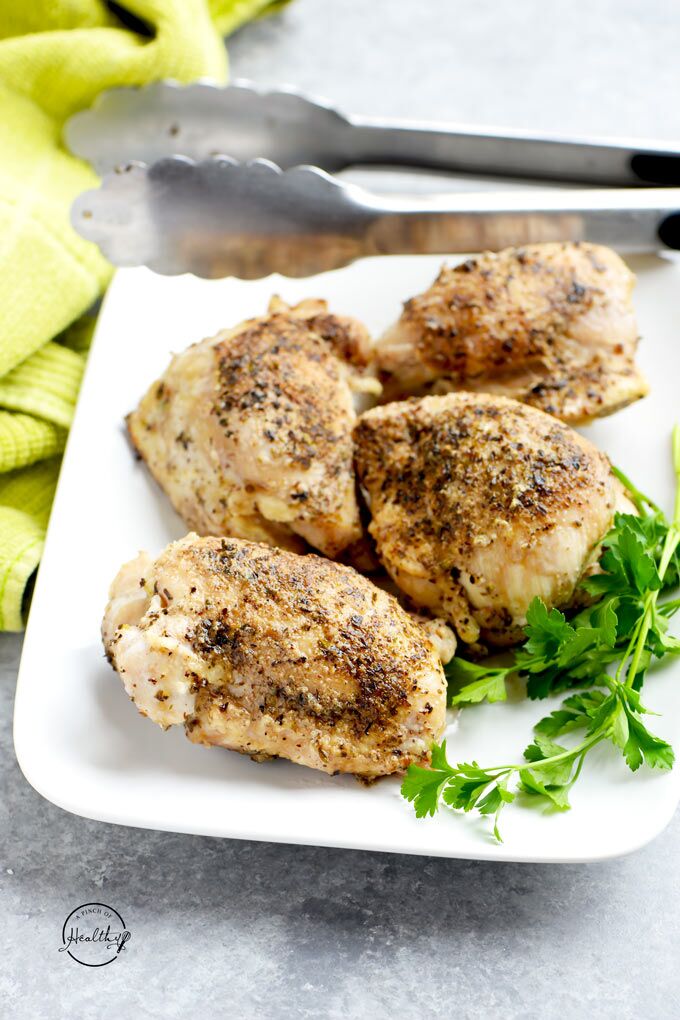 It is time to share another recipe that is so basic that I make over and over again, which tend to be audience favorites.🙌🏻
If you are more of a chicken breast person, don't worry, I've got you covered with my existing Instant Pot chicken breasts and grill pan chicken recipes. ✅✅
But allow me to pull you over to the dark side. 😉😎 Dark meat chicken, that is. 😆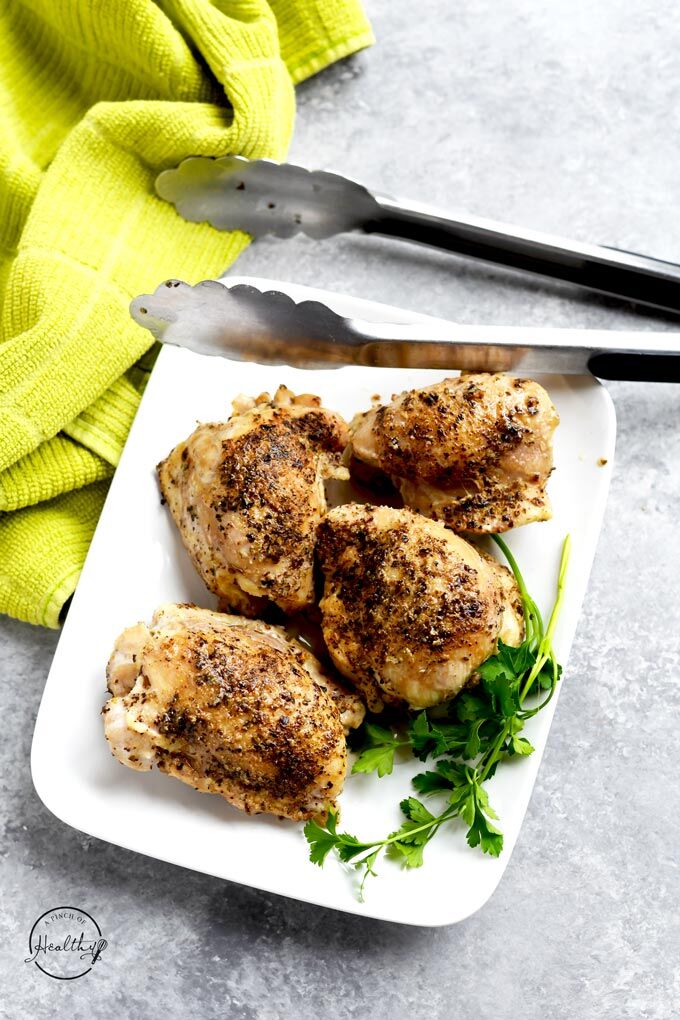 Now, I've got nothing against white meat. I love all forms of chicken.
But the Instant Pot cooks so quickly that the white cuts of meat tend to dry out if you don't hit the sweet spot for cooking. And when you are pressure cooking, which is super speedy, it becomes reeeally easy to miss that tiny window of perfection and end up with dry meat. 😬😫
This is why chicken thighs are the Instant Pot's BFF in my opinion. They are a match made in heaven because chicken thighs are way more forgiving if you overcook them a little extra. Kind of like that chill friend who is super laid back and never gets her feathers ruffled about anything. 😎💁🏼‍♀️
I eat these Instant Pot chicken thighs in Greek salad with chicken, as well as any kind of casserole that calls for precooked chicken, like my chicken tetrazzini or chicken divan.
In fact, this very batch pictured was the exact chicken used in the chicken tetrazzini photographs linked above. 🙌🏻 I made them the exact same day.
Also, feel free to season these up any way you want. Examples:
Lemon pepper seasoning blend
Cumin and chili powder for Mexican chicken
Soy and ginger for Asian chicken
You get the idea. This cooking method can be used with a whole bunch of different flavor combinations.
Let me know if you try it, y'all. I'd love to hear how you liked it.
More Instant Pot Recipes You May Enjoy
See ALL of my Instant Pot recipes here.
Tools Used to Make Instant Pot Chicken Thighs
This post may contain affiliate links, which pay a referral fee to me at no additional cost to you. My full affiliate disclosure can be seen here.
Instant Pot – I have the Duo and the Lux. Love them both, but recommend the Duo as my favorite.
Instant Pot Chicken Thighs Recipe
Give this recipe a star rating if you try it. If this recipe looks good to you, please pin it and share it! And don't forget to stay connected on social media!
Instagram | Pinterest | Facebook | YouTube | Twitter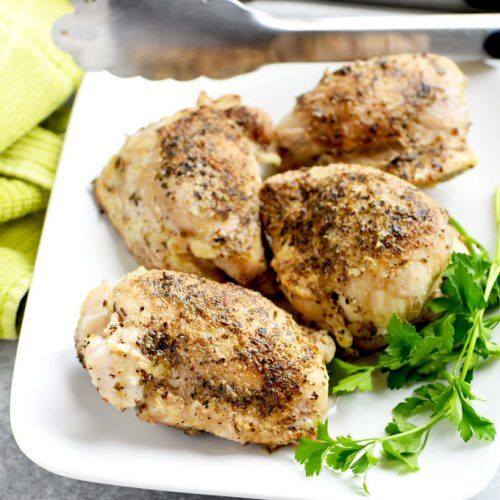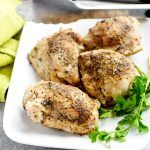 Instant Pot Chicken Thighs
Instant Pot chicken thighs are so basic, yet so handy and versatile. You can enjoy them as a main dish, as well as in salads and casseroles.

Prep Time 1 minute
Cook Time 36 minutes
Total Time 37 minutes
Servings 4
Calories 178 kcal
Ingredients
1.3 pounds boneless skinless chicken thighs (I've done 1 to 2 pounds with this method)
1 teaspoon garlic powder (about 1/4 tsp per chicken thigh)
1/2 teaspoon oregano (about 1/8 tsp per chicken thigh)
1/2 teaspoon basil (about 1/8 tsp per chicken thigh)
salt and pepper to taste
cooking spray or oil of choice
1 cup water
Instructions
Season the chicken thighs on side one first.

Spray the pot with some cooking spray, and set the sauté function to medium.

Once the display says "Hot," place the thighs (seasoned side down) into the pot. Season the second side.

Brown the chicken thighs on each side for about 3 minutes.

Remove the chicken thighs with tongs, and place them on a plate.

Add water, and use a wooden spoon to scrape up any brown bits.

Add the trivet and the chicken thighs back on top.

Cook at manual high pressure for 10 minutes, and allow the pot to do a full natural pressure release (NPR - mine took 15 minutes to depressurize, FYI).

Serve with simple side items, or use in casseroles, on top of salads, etc.
Recipe Notes
Cook time may vary slightly, based on the size of your chicken thighs.
I have done up to 2.5 pounds at once using this same method.
Nutrition Facts
Instant Pot Chicken Thighs
Amount Per Serving
Calories 178 Calories from Fat 54
% Daily Value*
Fat 6g9%
Saturated Fat 1g6%
Cholesterol 140mg47%
Sodium 134mg6%
Potassium 370mg11%
Protein 28g56%
Vitamin A 35IU1%
Calcium 17mg2%
Iron 1.3mg7%
* Percent Daily Values are based on a 2000 calorie diet.
(Visited 353,566 times, 1 visits today)