Today I am showing you how to make tzatziki, one of my favorite dips!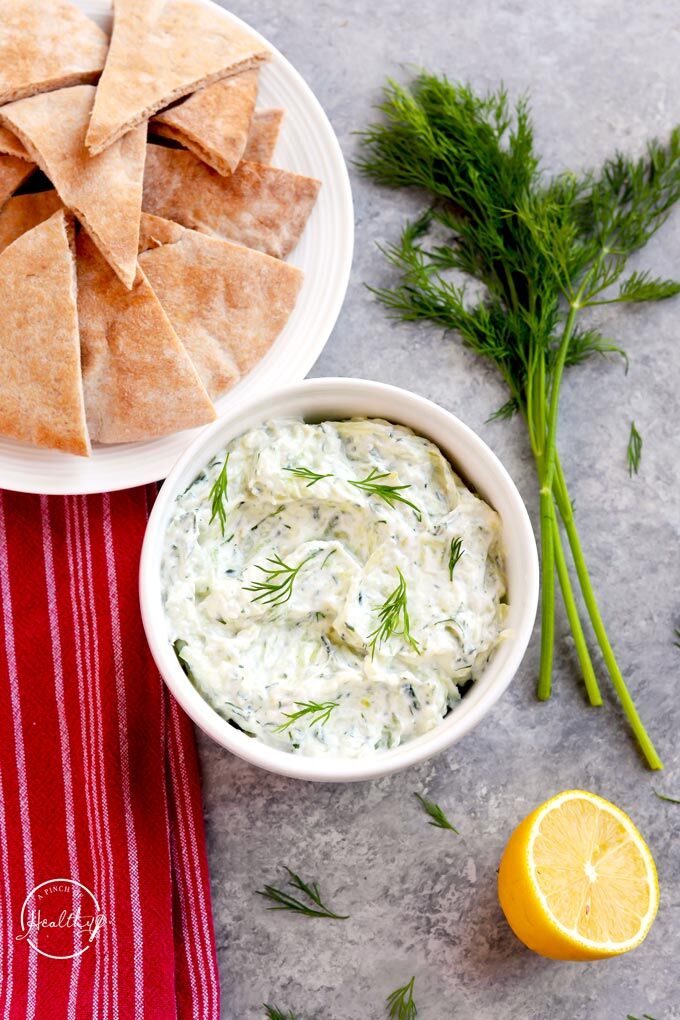 What is Tzatziki?
So you may be wondering, what the heck is tzatziki? (pronounced zat-ZEE-kee) It is a cucumber and yogurt sauce that is common in Greek and Mediterranean cuisine.
Tzatziki goes great on so many things, and it is truly so versatile.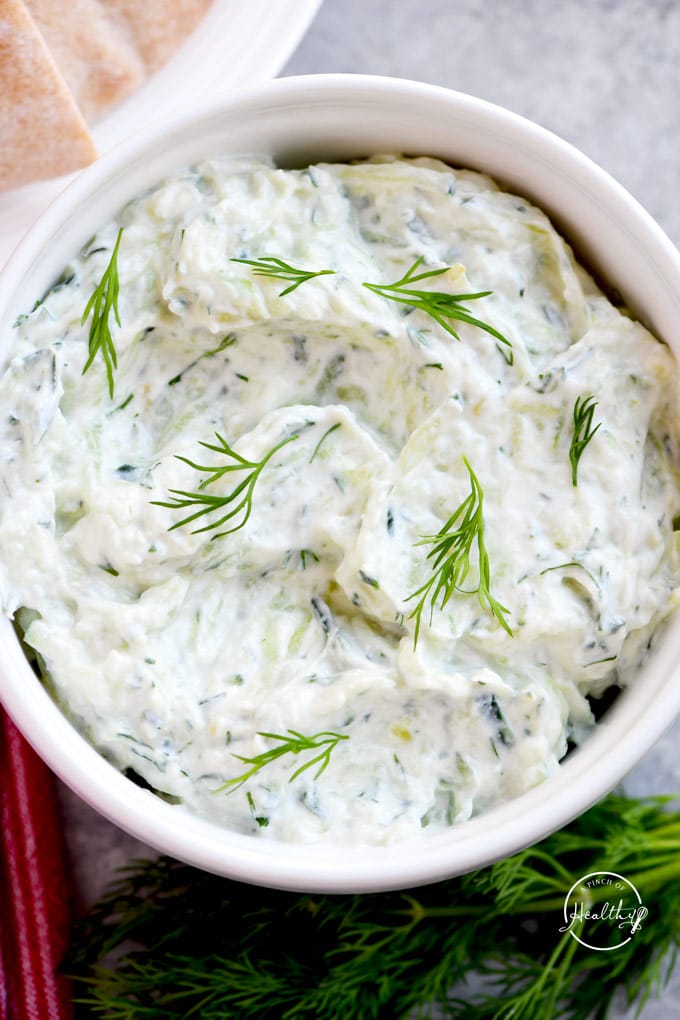 We like it on grilled chicken, fish, kabobs, roasted potatoes, veggies, soft pita bread, pita chips and on sandwiches (especially pita sandwiches).
It definitely has a tangy taste from the Greek yogurt, mixed with a burst of freshness from the lemon and cucumber, and a little garlic kick. It is light and refreshing, yet packed with flavor.
I have to confess the first time I tried it at my favorite Greek restaurant, I couldn't decide if I liked it or not. 😂 Does anybody else ever do this with new foods? 🙃🤷🏼‍♀️
It was just so different from the flavor profiles I was used to! But I kept eating it, and soon I started putting it on everything. And then I became obsessed and had to learn to make it for myself.😂
How to Make Tzatziki
Learning how to make tzatziki is pretty easy, but there are a few key tips and techniques that will help you out.
I use the food processor to grate up my cucumber. It is the fastest, easiest way. You can use a box grater, if you need to. I do not seed or peel my cucumber. You can, if you want to. I just don't find it necessary.
The major key here with the cucumber, though, is to be sure and remove some of the juice from the cucumber to prevent watery tzatziki. I just used my (clean) hands, and literally squeezed out hand fulls over the sink, with my strainer below to catch any dropped pieces.
After squeezing, I placed the hand fulls on a couple clean paper towels. After I finished squeezing out all the cucumber, I gave it a final blot with the paper towels.
Also, you want to be sure you mince your garlic very fine, or use a garlic press. And I highly recommend lemon juice squeezed from the actual lemon, as opposed to the bottled type. And fresh dill!
From there, you just mix everything together in a bowl.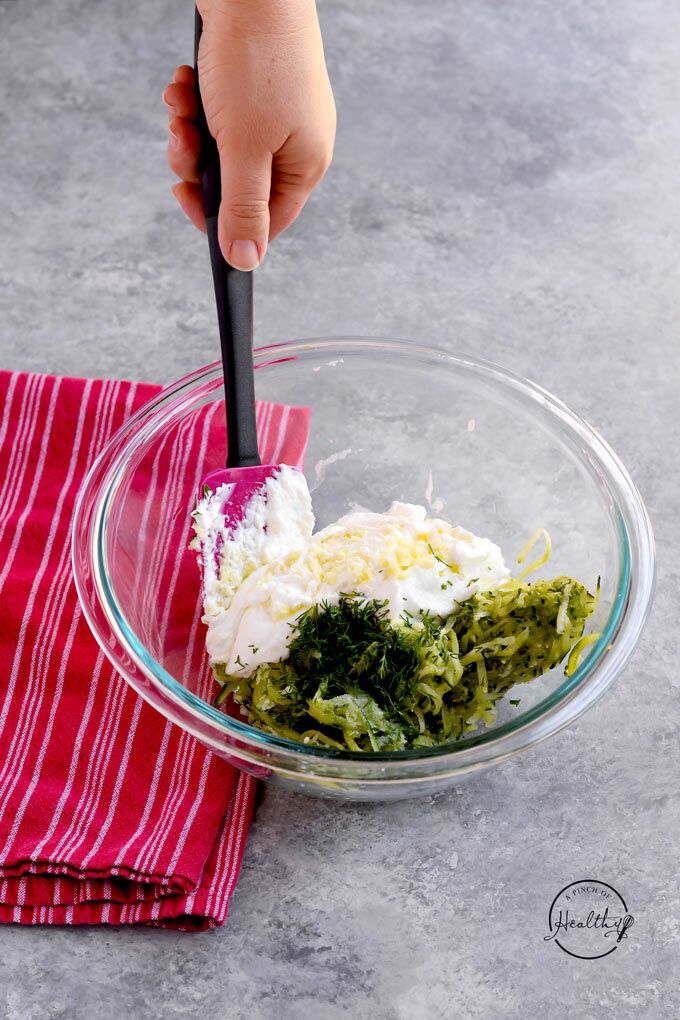 The cucumber will be sort of stuck together from squeezing it out. Just use your spoon or spatula to separate out the clumps. Keep stirring until all ingredients are well-combined, and it starts to look like this.
Finally, just transfer to a cute serving bowl for enjoying. You can garnish with a few dill leaves, like I did here. I like my tzatziki with soft pita bread. Yum!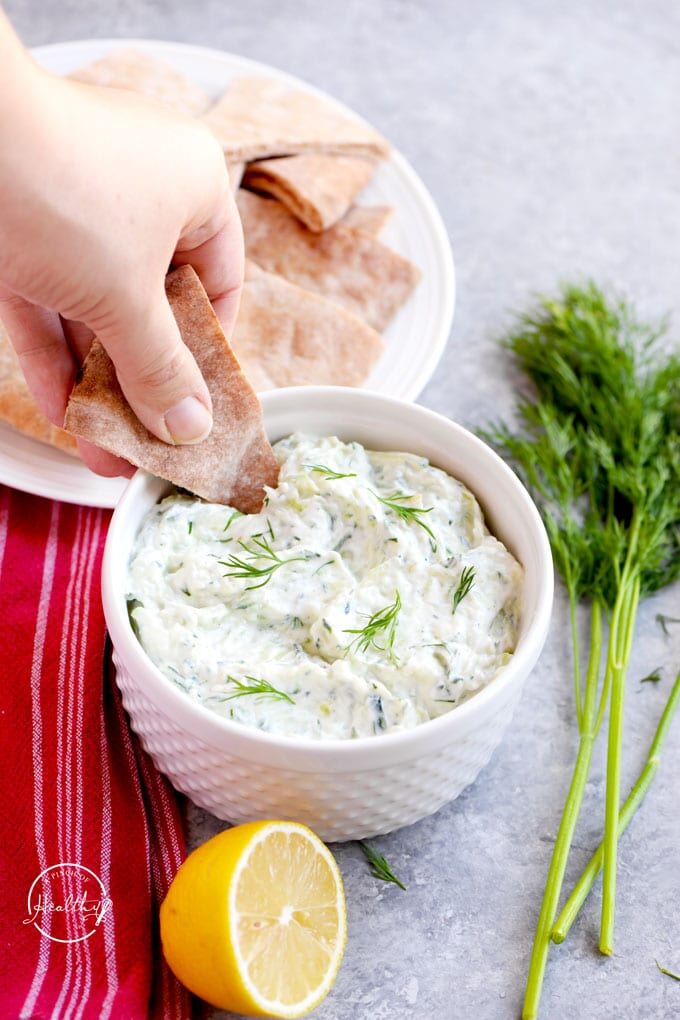 I hope you enjoy this light and refreshing tzatziki dip!
Tools Used to Make Tzatziki
Note: These are Amazon affiliate links.
Food processor – this is the one I am using.

Mixing bowl – I love these clear pyrex ones.
Spoon or spatula – I am using one from this OXO silicone spatula set.
Chef knife – I am using the one this Cangshan knife set
Cutting board
Measuring cups
How to Make Tzatziki – The Recipe
Did you try this recipe? Give it a star rating. Pin it and share it if it looks good to you. And be sure and stay connected on social media!
Instagram | Pinterest | Facebook | YouTube | Twitter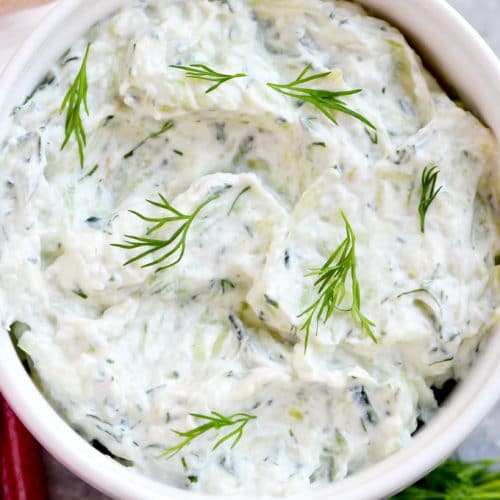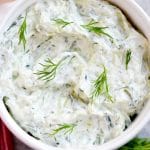 How to Make Tzatziki
How to make tzatziki - a cucumber and yogurt sauce that is common in Greek and Mediterranean cuisine. Tzatziki goes great on so many things.

Prep Time 15 minutes
Total Time 15 minutes
Servings 8
Calories 35 kcal
Ingredients
2 cups grated cucumber (I used 1 large cucumber, 15.5 ounces weight)
1 cup plain Greek yogurt (I used 2%)
1 garlic clove large-sized, finely minced or pressed, or 2 small cloves
1 Tablespoon extra-virgin olive oil
1 Tablespoon lemon juice
1 Tablespoon chopped fresh dill
1/2 teaspoon salt
Instructions
Squeeze the juice out of the cucumber. I just did this with my hands over the sink with a strainer underneath to catch any rogue pieces that fall. You can also use a clean kitchen towel to squeeze it out.

Add the cucumber, Greek yogurt, mince garlic, olive oil, lemon juice, dill and salt to a medium mixing bowl.

Stir until well-combined. Heads up: those cucumber pieces will stick together, especially after being squeezed out. Use your spoon or spatula to break those clumps up.

Serve with sliced veggies, pita bread, pita chips. It also goes great on any chicken, fish, kabobs, pita sandwiches, etc.

Refrigerate leftovers for up to 4 days.
Recipe Video
Recipe Notes
Nutritional information is approximate and was calculated using a recipe nutrition label generator.
I highly recommend fresh lemon juice, as opposed to bottled, and fresh dill, as opposed to dried.
I used 2% Greek yogurt for this recipe. You can use any plain Greek yogurt. For best taste I recommend 2% or whole fat Greek yogurt.
You do no need to peel or seed the cucumber, but you can if you wish.
Nutrition Facts
How to Make Tzatziki
Amount Per Serving
Calories 35 Calories from Fat 9
% Daily Value*
Fat 1g2%
Cholesterol 1mg0%
Sodium 155mg7%
Potassium 80mg2%
Carbohydrates 1g0%
Sugar 1g1%
Protein 2g4%
Vitamin A 25IU1%
Vitamin C 1.9mg2%
Calcium 32mg3%
Iron 0.1mg1%
* Percent Daily Values are based on a 2000 calorie diet.
Note: This post originally appeared on A Pinch of Healthy January 14, 2019.
(Visited 96,443 times, 13 visits today)