Today I am sharing one of my cooking basics: how to make easy shredded chicken in the slow cooker.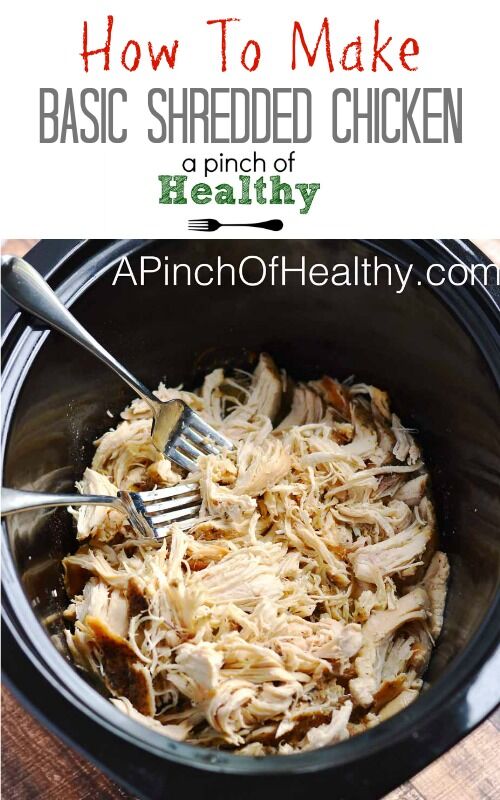 Shredded chicken is a staple in most kitchens. If you have a good method for how to make easy shredded chicken in bulk, you can save yourself a LOT of prep time. And it's just as easy to make a bunch as it is to make for one recipe.
Shredded chicken is great for soups, casseroles, pasta dishes, etc. If you have some already made, it can make preparing dinner a lot easier.
It freezes just fine too, which is really handy.
For this recipe I am starting with three pounds of frozen boneless skinless chicken breast. Yes, frozen. I have never had a problem starting with frozen meat. I love that I don't have to think ahead to lay some out to thaw. I can just grab some frozen chicken breasts from my freezer stash and make this whenever I want to.
You can do more or less than three pounds (depending on your slow cooker capacity!). But beware that cooking times may vary for different amounts.
Also, you may make this with fresh (not frozen) chicken breasts too. This would work well if you are making this right after bringing some chicken breasts home from the grocery store. Again, the cooking time will be less than what I suggest here.
Tools Used for This Recipe
Note: these are Amazon affiliate links.
Two forks for shredding
Freezer bags or storage containers
Optional – food scale for dividing up the meat (You can totally eye-ball it without a scale too, though!)
How to Make Easy Shredded Chicken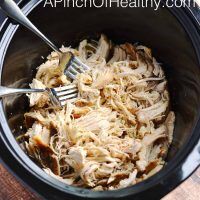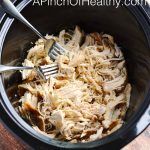 How to Make Easy Shredded Chicken
If you know how to make easy shredded chicken in the slow cooker, it can save you a lot of food prep time.
Prep Time 2 minutes
Cook Time 6 hours
Total Time 6 hours 2 minutes
Servings 12
Calories 130 kcal
Ingredients
3 pounds frozen boneless skinless chicken breasts
1/2 cup water
1 teaspoon granulated garlic garlic powder
teaspoon Salt and pepper to taste about 3/4 salt and 1/4 teaspoon black pepper
Instructions
Pour the water into the slow cooker.

Add the frozen chicken, and season with the garlic, salt and pepper.

Place the lid on and cook on low for about 5 to 6 hours, until chicken shreds with a fork.

Shred the chicken right in the slow cooker, using two forks.

Divide up chicken into storage containers.

If you don't plan to use the chicken right away, you may freeze it.
Recipe Notes
Every slow cooker is a little bit different, so cooking time may vary slightly. If your chicken comes out dry, try reducing cook time the next time around.
Nutrition Facts
How to Make Easy Shredded Chicken
Amount Per Serving
Calories 130 Calories from Fat 18
% Daily Value*
Fat 2g3%
Cholesterol 72mg24%
Sodium 132mg6%
Potassium 422mg12%
Protein 24g48%
Vitamin A 35IU1%
Vitamin C 1.3mg2%
Calcium 6mg1%
Iron 0.4mg2%
* Percent Daily Values are based on a 2000 calorie diet.
I hope you enjoy this recipe! It is so versatile and can be used in many different recipes. Pin and share!
(Visited 282,217 times, 8 visits today)