My healthy banana bread is warm, delicious and filling, and it is a loaf of pillowy banana heaven. 😍👌🏻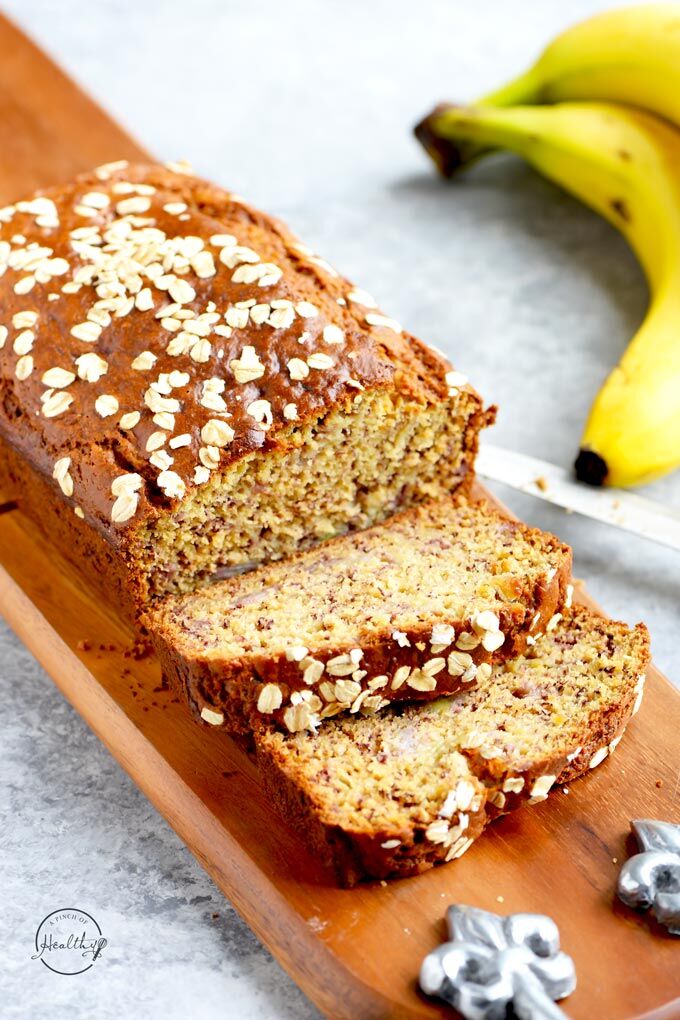 Summer is here, and I thought it would be the perfect time to spruce up an old recipe with some fresh photos. Any time my bananas goes a little too ripe on me, this is what I make with them!
We love to enjoy this banana bread any time of year. We love it at the lake or the beach during the summer.
And we love it in the crisper, colder temperatures of fall and winter. Always with a side of strong coffee, though. 😉 Because coffee is life. ☕🙌🏻
I prefer my banana bread nut-free. But! Feel free to add them back in if you want to. You can just stir them into the batter right before putting it in the pan. I like to sprinkle a few oats for garnish on top, just prior to baking.
I love to eat a slice of this for breakfast. My husband and kids gobble it up too, and usually ask for seconds.
I do use a few healthy-ish ingredients to give it slightly more nutrition, like Greek yogurt and whole wheat pasty flour. No worries, though.💁🏼‍♀️ This tastes fantastic. 👌🏻😎 My family wouldn't touch it otherwise.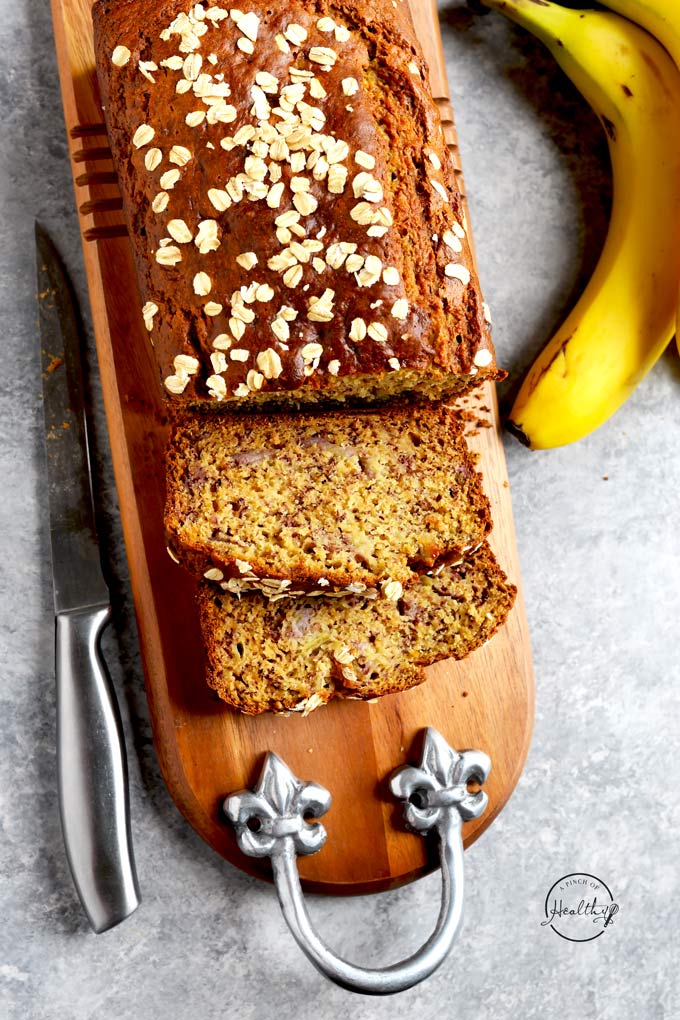 If you don't have whole wheat pastry flour, you can do half all purpose and half whole wheat if you wish. I have also made it with just all-purpose, and that works beautifully too.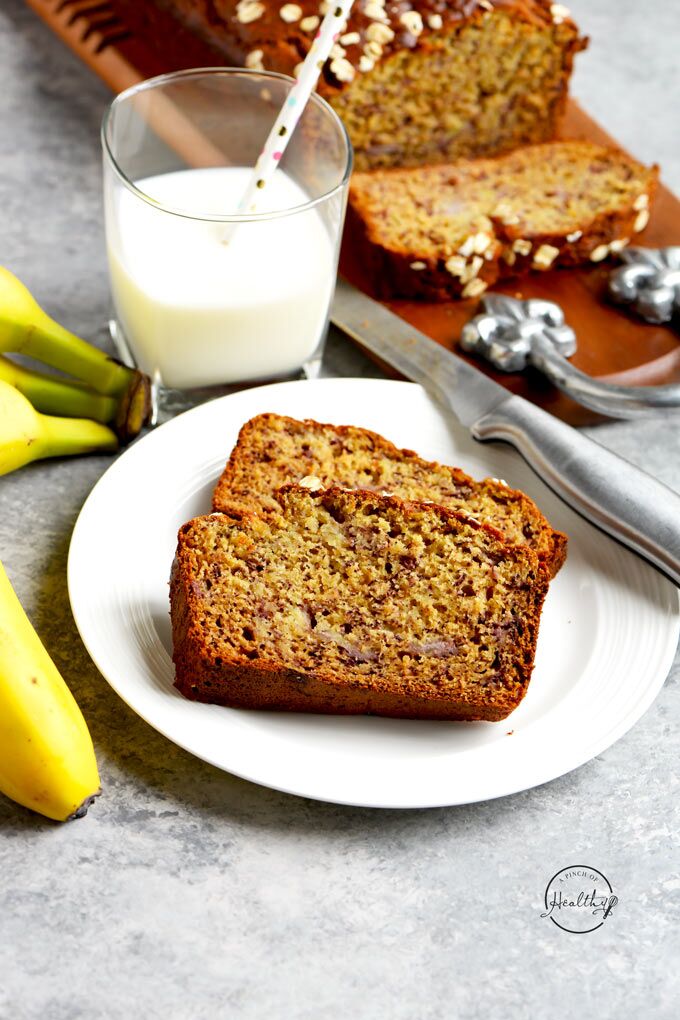 And last, I filmed a video on YouTube a while back, right around the time I started using that 100% whole wheat pastry flour. I can tell by my face that it was when I was pregnant with Mallory. 😆

I hope y'all enjoy this recipe! Let me know if you try it.
Tools Used to Make Healthy Banana Bread
Note: These are Amazon affiliate links.
My Healthy Banana Bread Recipe
If this recipe looks good to you, please pin it and share it.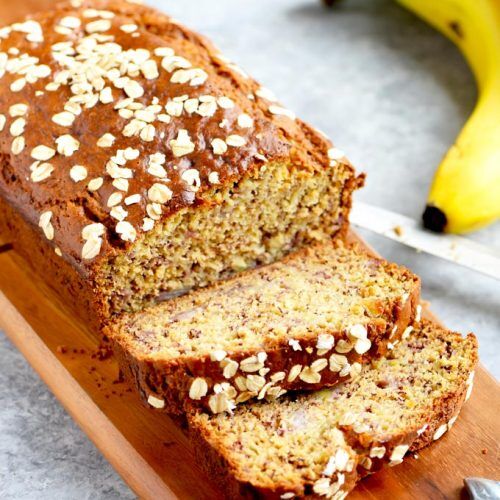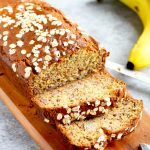 Healthy Banana Bread
This nut free banana bread is like a pillowy loaf of banana heaven. It will make you forget that it is fairly healthy.
Prep Time 15 minutes
Cook Time 55 minutes
Total Time 1 hour 10 minutes
Servings 12
Calories 147 kcal
Ingredients
1 1/2 cups whole wheat pastry flour*
1/2 teaspoon baking powder
1 teaspoon baking soda
1/2 teaspoon salt
1/2 cup 2% Greek yogurt I used Fage
2 Tablespoons avocado oil (canola works too)
1 teaspoon pure vanilla extract
1/2 cup sugar
1 eggs
3 medium bananas mashed
1/2 tablespoon oats optional garnish
Instructions
Preheat oven to 350 degrees.

Mix the flours, baking soda, baking powder and salt in a medium mixing bowl. Set aside.

In a stand mixer, add the oil, vanilla, sugar, egg, Greek yogurt and mashed bananas.

Mix on low until well-combined, about 1 minute.

Slowly incorporate the dry ingredients with the mixer on low, and mix until well-combined.

Pour into a

loaf pan

, and top with 1/2 tablespoon of oats for garnish (optional).

Bake at 350 for about 55 minutes, until toothpick comes out clean.
Recipe Notes
* If you are using regular whole wheat flour, I would suggest using half all-purpose flour and half whole wheat (3/4 cup of each). Heads up: I have tried all regular whole wheat, but it turned out too dense. Using only all-purpose (1 1/2 cups) works great too!
Nutrition information is approximate and was calculated using a recipe nutrition label generator.
Nutrition Facts
Healthy Banana Bread
Amount Per Serving
Calories 147 Calories from Fat 27
% Daily Value*
Fat 3g5%
Cholesterol 14mg5%
Sodium 198mg9%
Potassium 163mg5%
Carbohydrates 27g9%
Fiber 1g4%
Sugar 12g13%
Protein 3g6%
Vitamin A 45IU1%
Vitamin C 2.6mg3%
Calcium 25mg3%
Iron 0.8mg4%
* Percent Daily Values are based on a 2000 calorie diet.
This recipe originally appeared on A Pinch of Healthy on October 12, 2014.
(Visited 53,822 times, 2 visits today)