My grilled pork tenderloin on the stovetop is a super simple recipe that you can make indoors on a grill pan and finish off cooking in the oven.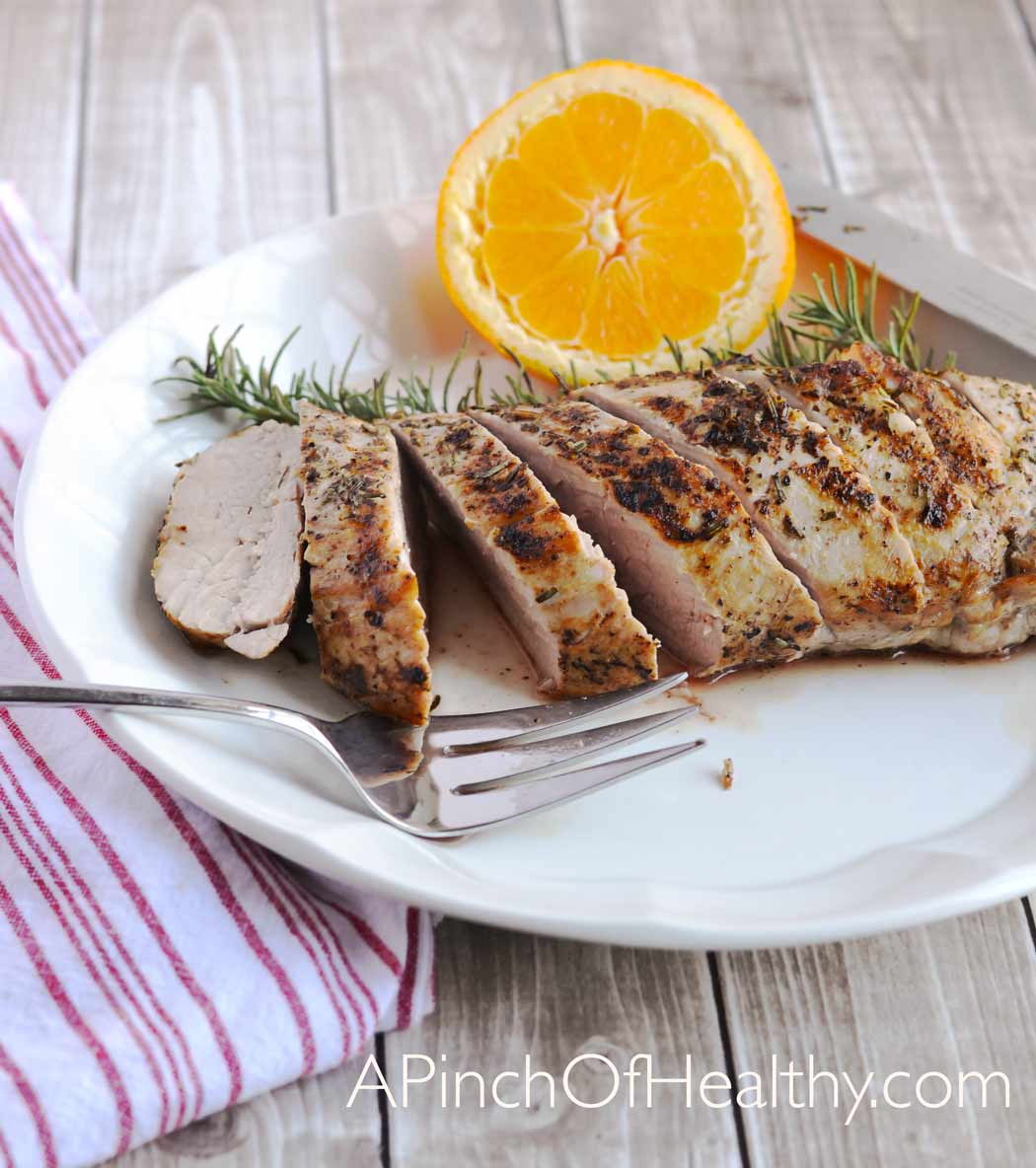 If you have been wondering how to grill pork tenderloin on the stovetop, well today is your lucky day! This recipe is similar to my grilled chicken on the stovetop, where I sear the meat on a grill pan first, and then I finish cooking it in the oven.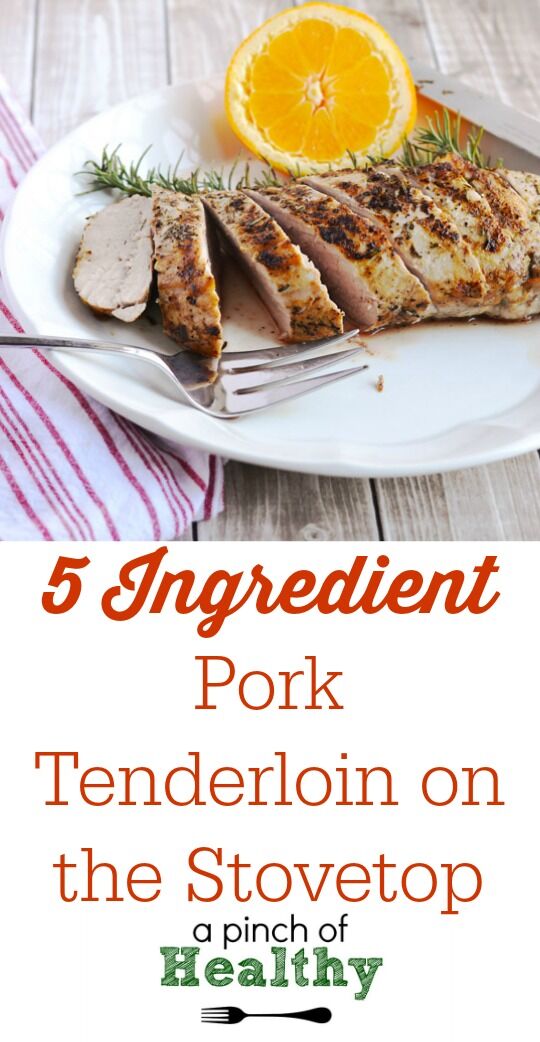 My flavor profile for this recipe is pretty simple: I use olive oil, garlic, rosemary, salt and pepper. And that's it! This flavor combination is perfect on pork.
As an option, you can add some orange zest, if you want to. But it is not required!
You will get the most flavor if you marinate the meat for a few hours in the fridge ahead of time (I'd say at least 4 to 8 hours). But! I have made this recipe plenty of times with no long marinade. It still tastes pretty great when you just season it right up and cook it.
Can we just talk about Rosemary for a minute? This is one of my favorite herbs. I have a big Rosemary bush in my back yard, and I use it often. It is pretty easy to grow, and it doesn't require much care at all. It survives our (usually mild) Alabama winters just fine. So I enjoy it all year around! And pork is like Rosemary's BFF. They go together really well.
If you want to add an additional flavor pop to this dish, I recommend a sweet dipping sauce. My orange sherry vinaigrette is The Perfect Pairing for this dish. It is sweet, and the orange flavor is perfect alongside the rosemary, garlic and pork.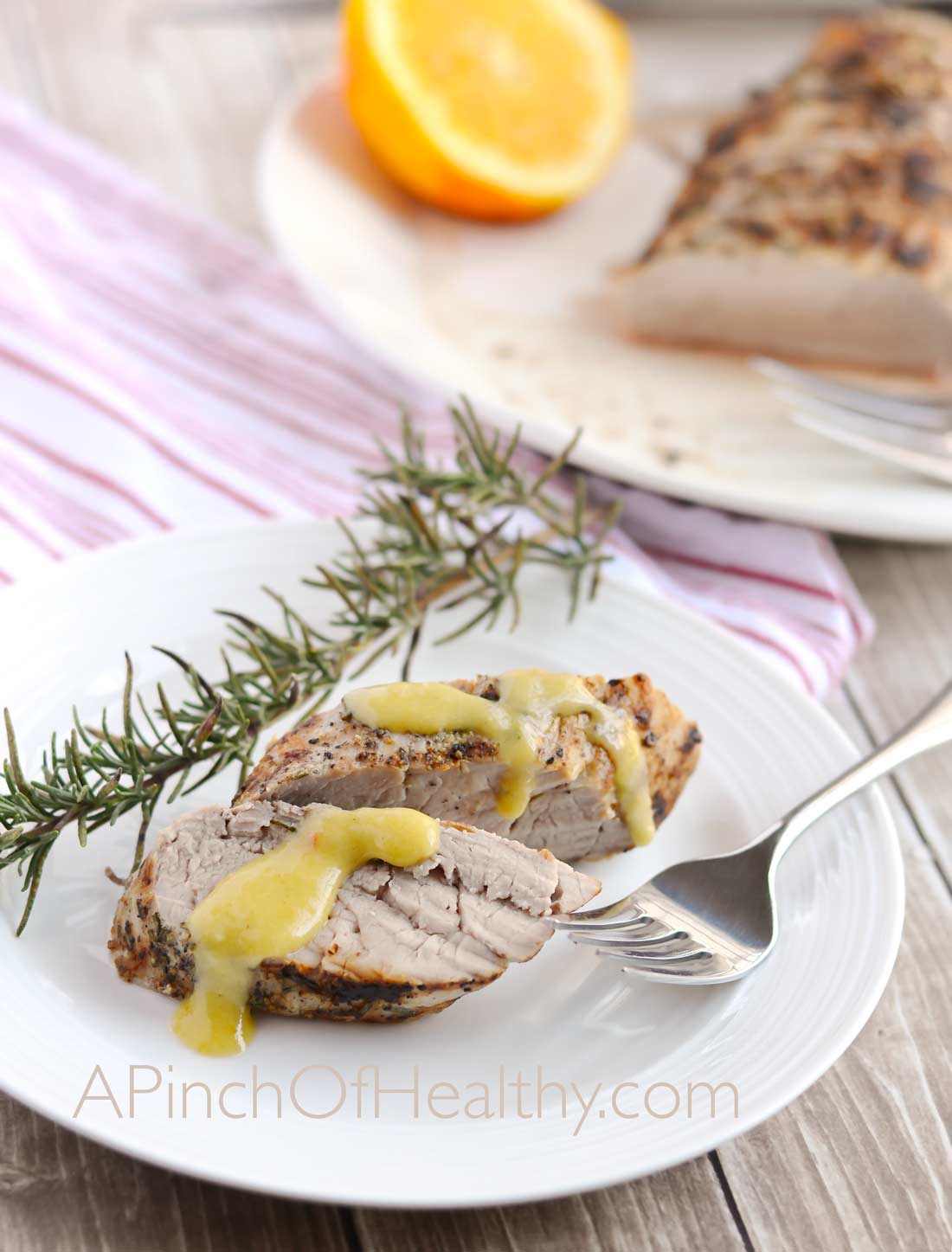 Tools Used in This Recipe
Note: These are Amazon affiliate links.
Tongs for flipping the meat over
Electric knife, only if you want super thin slices (like for sliders). Otherwise, a regular sharp knife will do just fine!
Grilled Pork Tenderloin on the Stovetop Recipe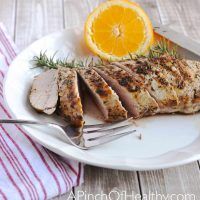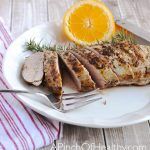 Grilled Pork Tenderloin on the Stovetop
My grilled pork tenderloin on the stovetop is a super simple recipe that you can make indoors on a grill pan.

Prep Time 3 minutes
Cook Time 35 minutes
Total Time 38 minutes
Servings 5 servings
Calories 162 kcal
Ingredients
1 pork tenderloin (mine was 650 grams)
1/2 teaspoon olive oil
Salt & to taste (I used 1/2 teaspoon salt, 1/4 teaspoon black pepper)
1 teaspoon garlic powder
1 Tablespoon fresh chopped rosemary leaves
1 teaspoon Optional: orange zest
Instructions
Preheat oven to 350 degrees.

Rub the olive oil over all sides of the pork.

Sprinkle the pork evenly on both sides with the salt, pepper, garlic and rosemary (and orange zest, if you are using it).

Place the pork tenderloin on the hot pan, and sear all four sides for about 2 minutes each.

Transfer the pan with the pork into the preheated oven, and bake for about 20 to 25 minutes

Take the tenderloin out of the over, and let it rest for about 10 minutes before slicing and serving.
Nutrition Facts
Grilled Pork Tenderloin on the Stovetop
Amount Per Serving
Calories 162 Calories from Fat 45
% Daily Value*
Fat 5g8%
Saturated Fat 1g6%
Cholesterol 84mg28%
Sodium 68mg3%
Potassium 518mg15%
Protein 26g52%
Vitamin A 10IU0%
Vitamin C 0.6mg1%
Calcium 8mg1%
Iron 1.3mg7%
* Percent Daily Values are based on a 2000 calorie diet.
I hope you enjoy this recipe! Let me know if you try it. And pin it if it looks good to you!

Do you ever use a grill pan?
Do you like dipping sauce on your pork tenderloin?
(Visited 181,093 times, 8 visits today)