These grilled chicken breasts make a simple main dish, and you can make them on the stovetop with a grill pan. They also make a great make-ahead food prep option to eat from all week.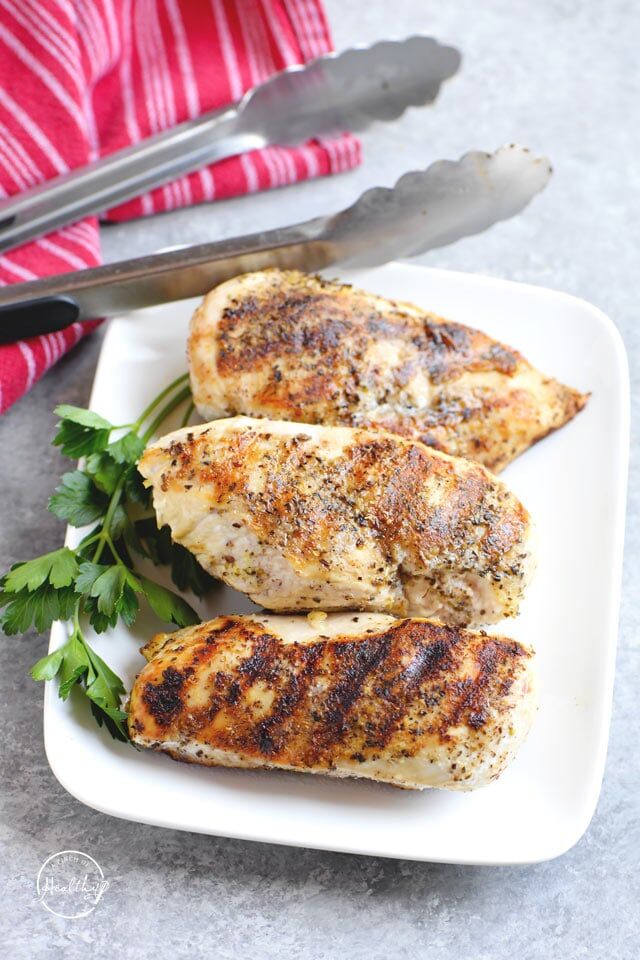 In this recipe, I am using this grill pan. (Amazon affiliate) You can also use a cast iron skillet if you have one. I mean, would you ever guess this plate of yumminess never touched an actual grill? 😍👌🏻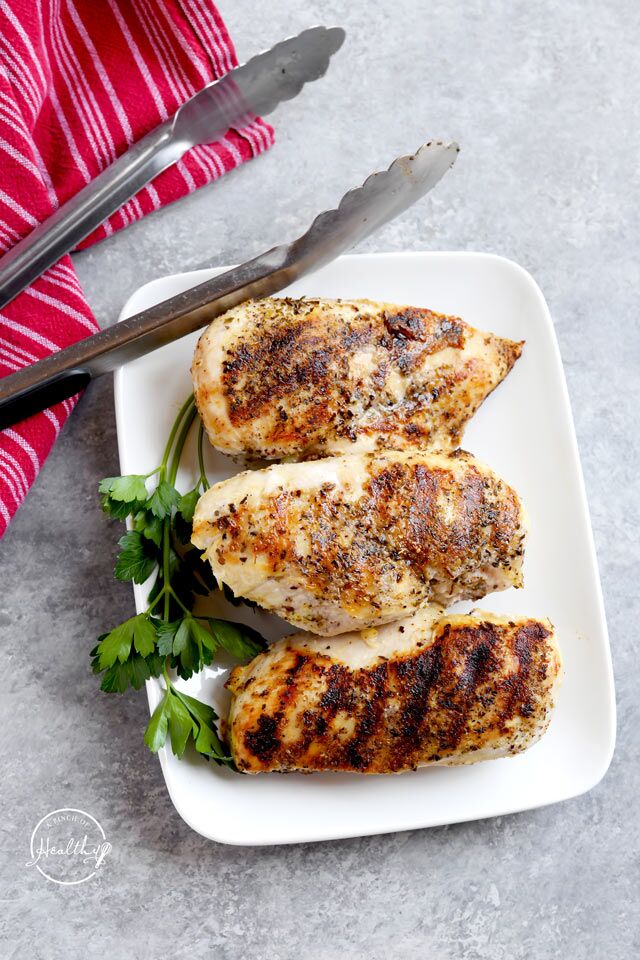 How to Season Grilled Chicken Breasts
In this recipe I am using a simple combinations of garlic powder, oregano, basil, salt and pepper. This is my go-to seasoning for chicken breasts because it is simple, versatile and delicious!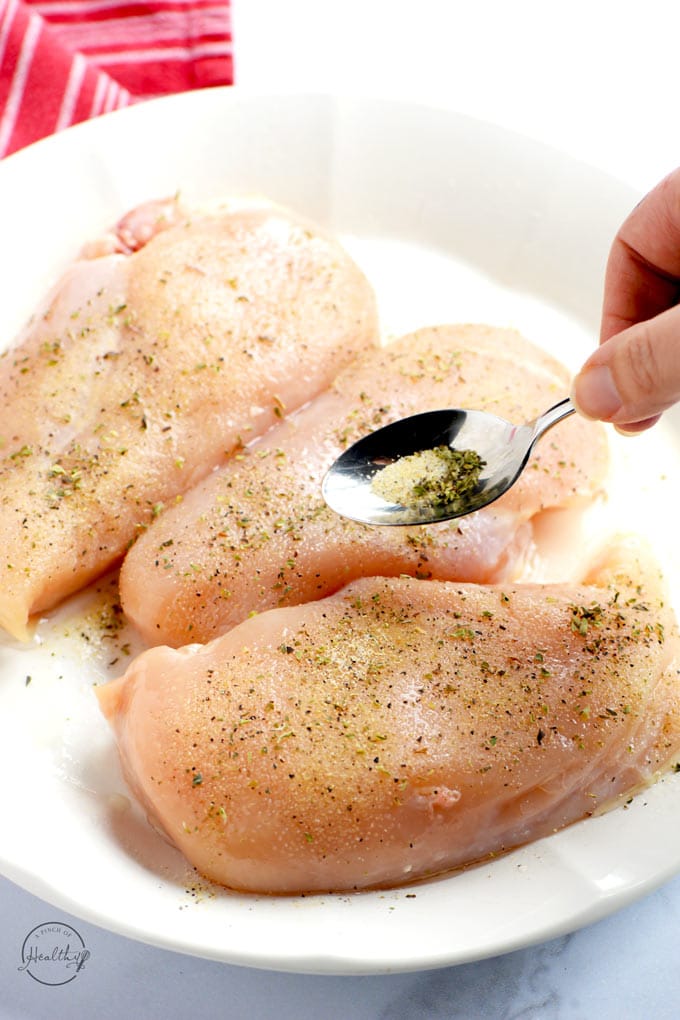 I usually don't measure when I make grilled chicken breasts.😎🤷🏼‍♀️ But, no worries friends! I did measure for the sake of writing out this recipe for you guys. That being said, feel free to make it your own!
For examples of variations, I love to use fresh herbs and fresh garlic. Or I'll change it up and add some cumin to give it a Tex Mex flare.
I change up the herbs sometimes too! Rosemary and thyme are a great combination as well. And I have tons of both growing in my backyard. 🤓
But honestly most days I just need something quick. So I made this with dried herbs to keep things simple and easy. 💁🏼‍♀️
Also, salt and pepper to your taste, but I do so pretty liberally. Chicken breast is pretty much a blank slate (bland by itself), so I salt and pepper generously.
Recipe Ideas for Make Ahead Chicken Breasts
Most of the time, we enjoy these with a couple of simple sides, like Instant Pot sweet potatoes and roasted vegetables.
When I make grilled chicken breasts for dinner, though, I always make extra. Why, you might ask? The leftovers make a great staple that you can use in so many different recipes. Like this Greek chicken pasta.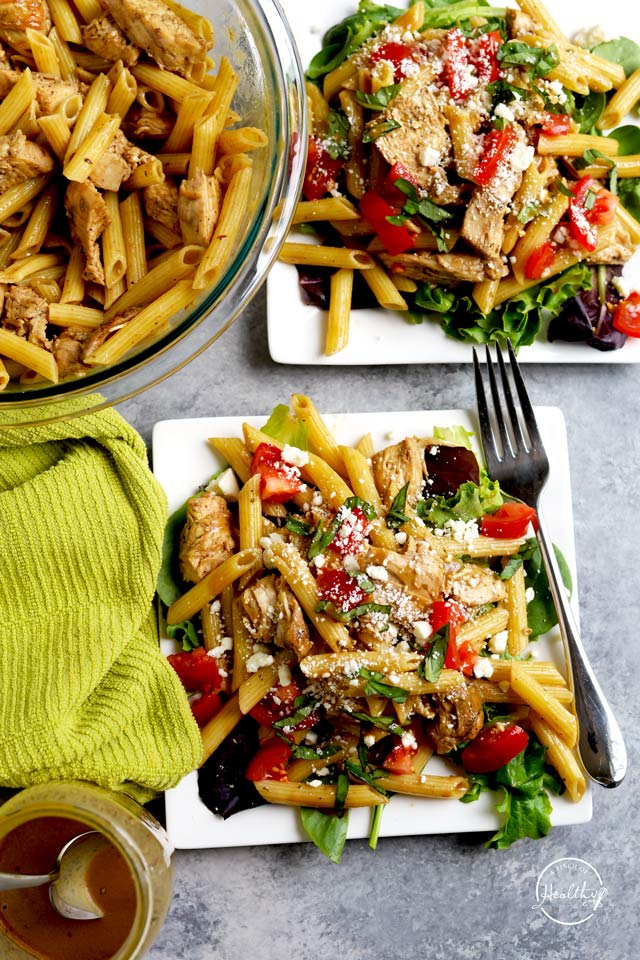 Or my Greek salad with grilled chicken, inspired by the one at Zoe's Kitchen.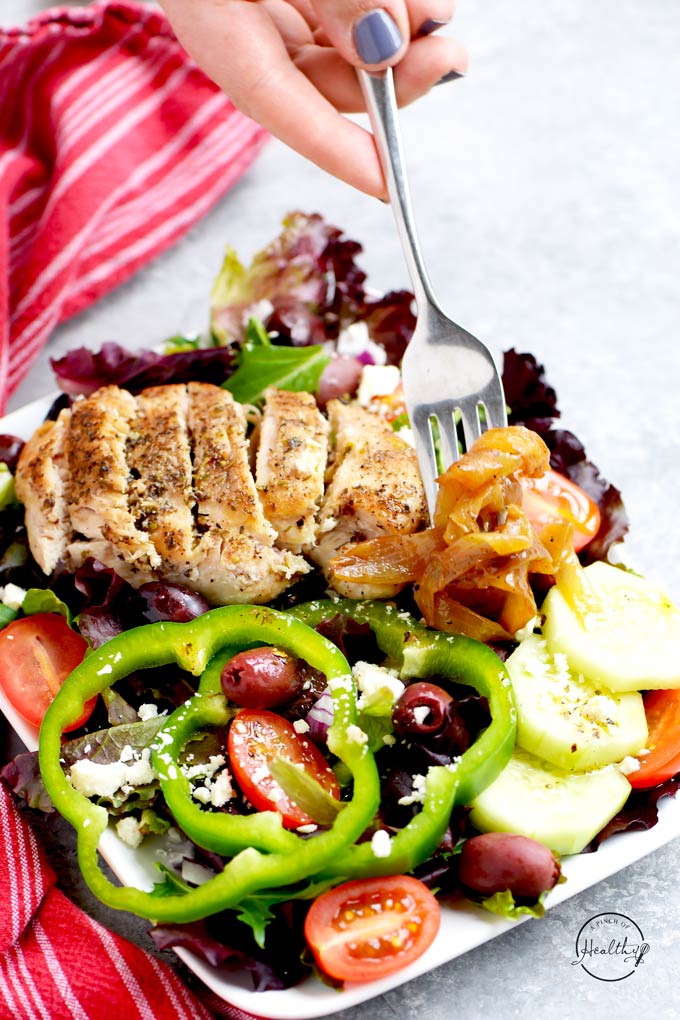 Or my chicken BLT salad.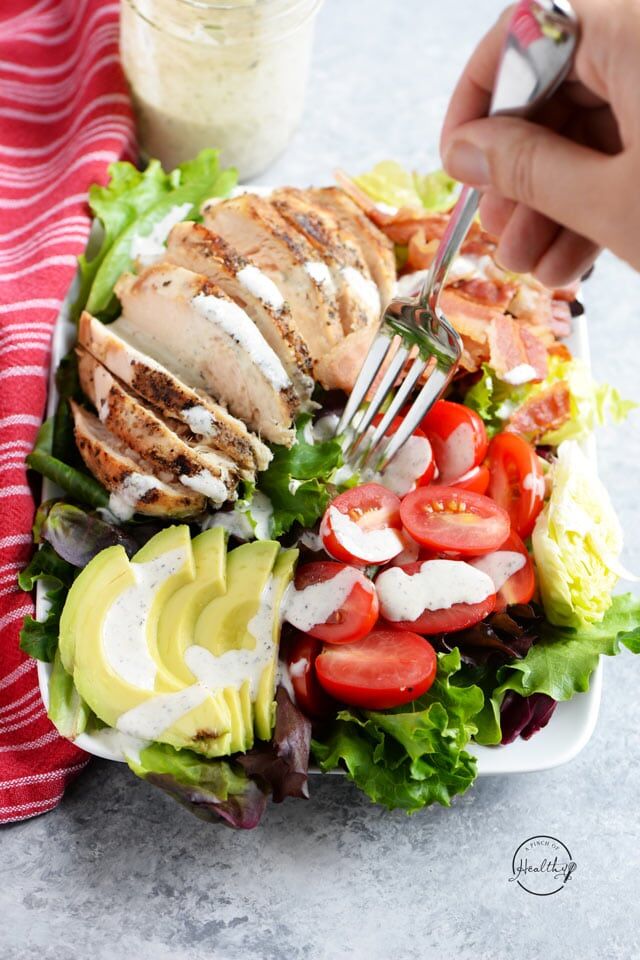 You can use these in casseroles too, like my chicken tetrazzini.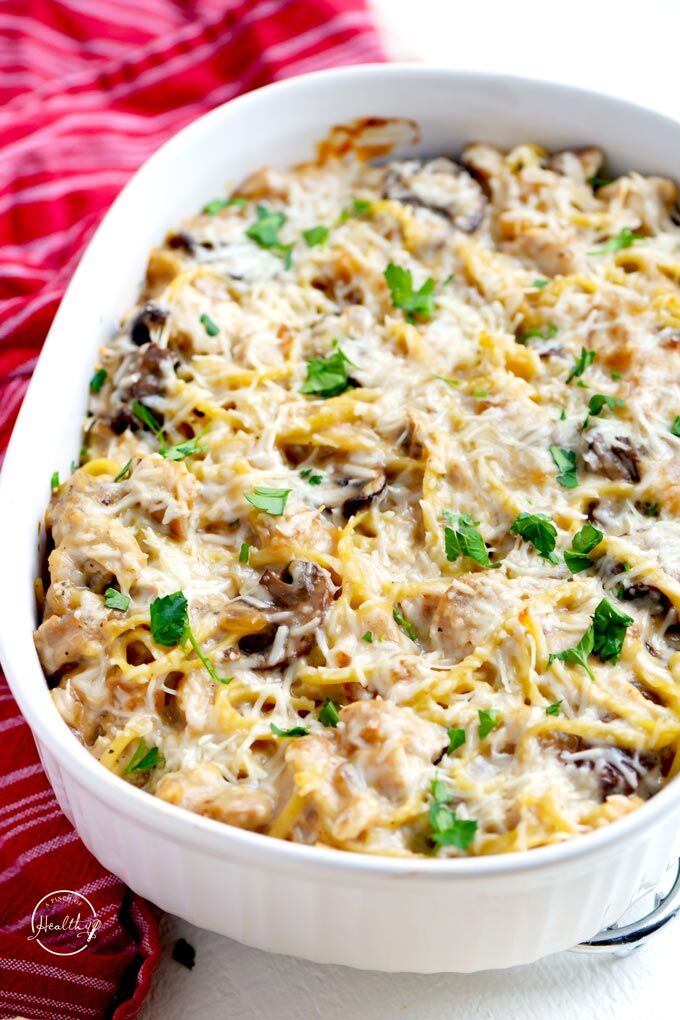 The possibilities are endless!
Case and point: grilled chicken breasts are a great food prep option to have in your bag of tricks. And you don't need a fancy grill to make them!
These are one of the most loved recipes for my audience. On top of that, I make these myself allllll the time. It is such a useful and versatile recipe. I hope y'all enjoy them as much as we have.
Tools Used to Make Grilled Chicken on the Stovetop
This post may contain affiliate links, which pay a referral fee to me at no additional cost to you. My full affiliate disclosure can be seen here.
Grilled Chicken Breasts Recipe
If you really like this recipe, please give it a star rating. If it looks good to you, please pin it and share it. Be sure and follow along on Instagram too, and post a pic of your grilled chicken!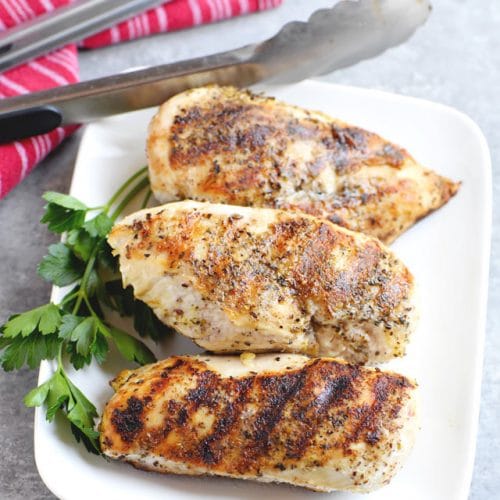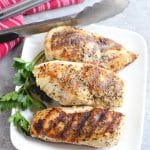 Grilled Chicken Breasts - Easy Grill Pan Method
Today I am showing you how to make grilled chicken breasts on the stovetop with a grill pan. This has been one of the most popular recipes.
Prep Time 3 minutes
Cook Time 26 minutes
Rest time 5 minutes
Total Time 30 minutes
Servings 3
Calories 128 kcal
Ingredients
3 Raw boneless skinless chicken breasts (mine were around 7.5 ounces each)
Salt and pepper, to taste
Dried oregano - about 1/8 teaspoon per chicken breast
Dried basil - about 1/8 teaspoon per chicken breast
Granulated Garlic - about 1/4 teaspoon per chicken breast
Cooking spray or oil of your choice (high smoke point oil like avocado, coconut or even canola is best)
Instructions
Preheat oven to 350 degrees F.

Add seasonings to both sides of the raw chicken breasts.

Spray indoor grill pan with cooking spray, and preheat on the stovetop over medium high heat for about one minute.

Place the chicken breasts on the hot grill pan.

Cook on the first side for about 4 minutes, and turn the chicken breasts over on the other side.




Cook on the second side for about two minutes, and then place the grill pan into the preheated oven. (Note: you can transfer to any other baking dish if you need to. For example, if your grill pan won't fit in your small oven)

Cook in the oven for about 20 minutes, until chicken is cooked all the way through.

Let the chicken rest for 5 minutes before serving.

Store leftovers in the refrigerator.
Recipe Notes
Nutritional information is approximate and was calculated using a recipe nutrition label generator.
Smaller chicken breasts may require less oven time.
Nutrition Facts
Grilled Chicken Breasts - Easy Grill Pan Method
Amount Per Serving
Calories 128 Calories from Fat 18
% Daily Value*
Fat 2g3%
Cholesterol 72mg24%
Sodium 131mg6%
Potassium 418mg12%
Protein 23g46%
Vitamin A 35IU1%
Vitamin C 1.3mg2%
Calcium 6mg1%
Iron 0.4mg2%
* Percent Daily Values are based on a 2000 calorie diet.
Note: This post originally appeared on A Pinch of Healthy October 17, 2014.
(Visited 790,728 times, 16 visits today)