My Greek salad with chicken is so delicious and satisfying, and it is inspired by Zoe's Kitchen.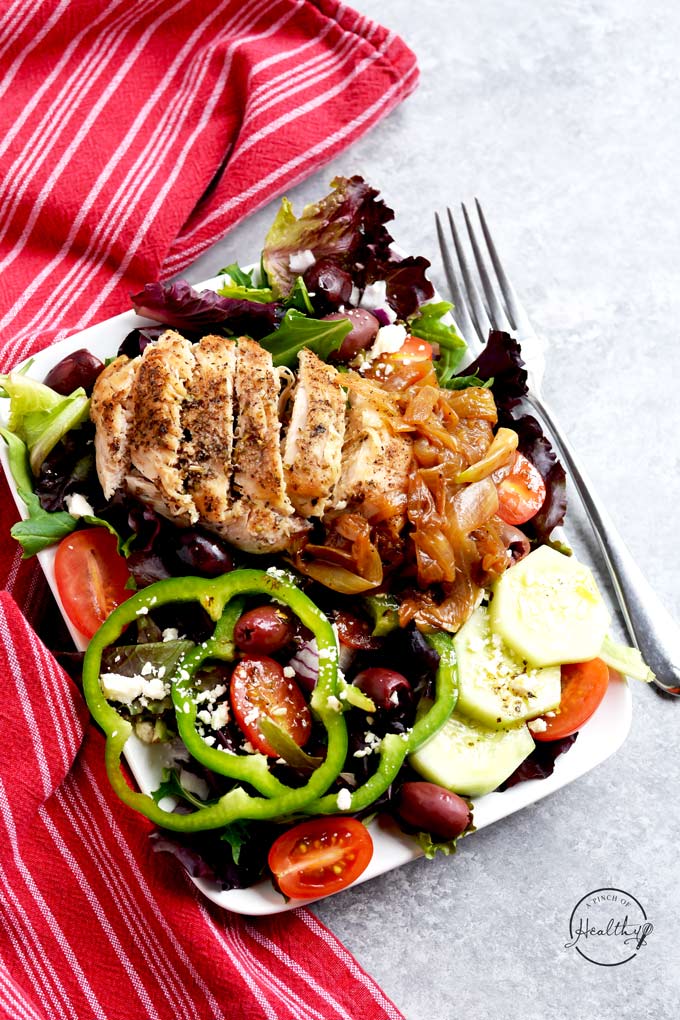 If you are one of my IRL peeps and you have every dined with me at Zoe's Kitchen, you know that this is my automatic order. Every. Single. Time.
I like my salads to have some sustenance y'all. You know what I'm saying? This Greek salad with chicken checks all the boxes too. ✅✅✅
I used my Instant Pot chicken breast as a base for this salad.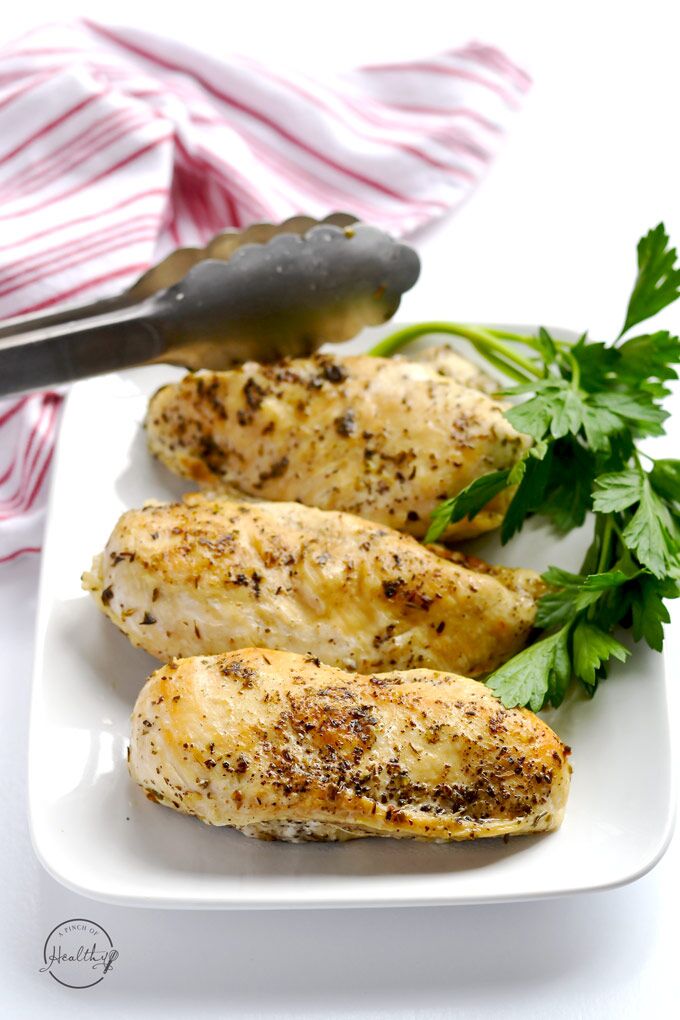 I have also used my grill pan chicken (which can also be made in a cast iron – or any oven safe – skillet). And more recently, I have been using my air fryer chicken breast, which is my personal favorite! Baked chicken breast would also work really well in this recipe.
Basically, I have all your chicken breast options covered over here.😉🙃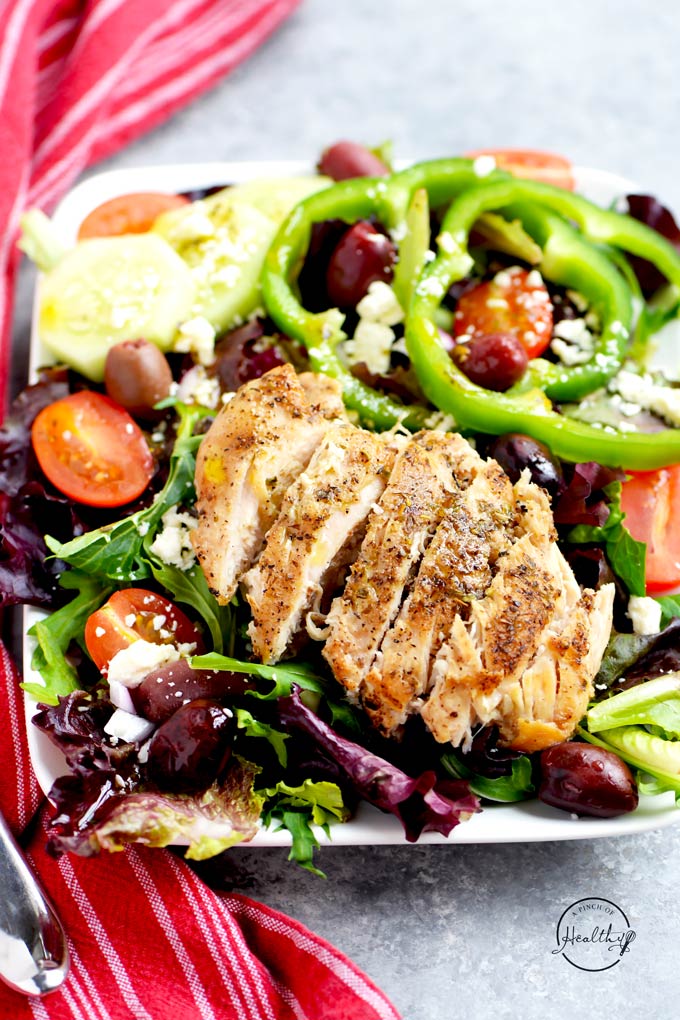 How to assemble Greek salad with chicken
I pile it on a bed of greens with tomatoes, cucumbers, kalamata olives, feta cheese and bell pepper rings. This is the base recipe. But if you want next level flavor, I offer you two options to add on this Greek salad with chicken.
(1) Add caramelized onions. 😍👌🏻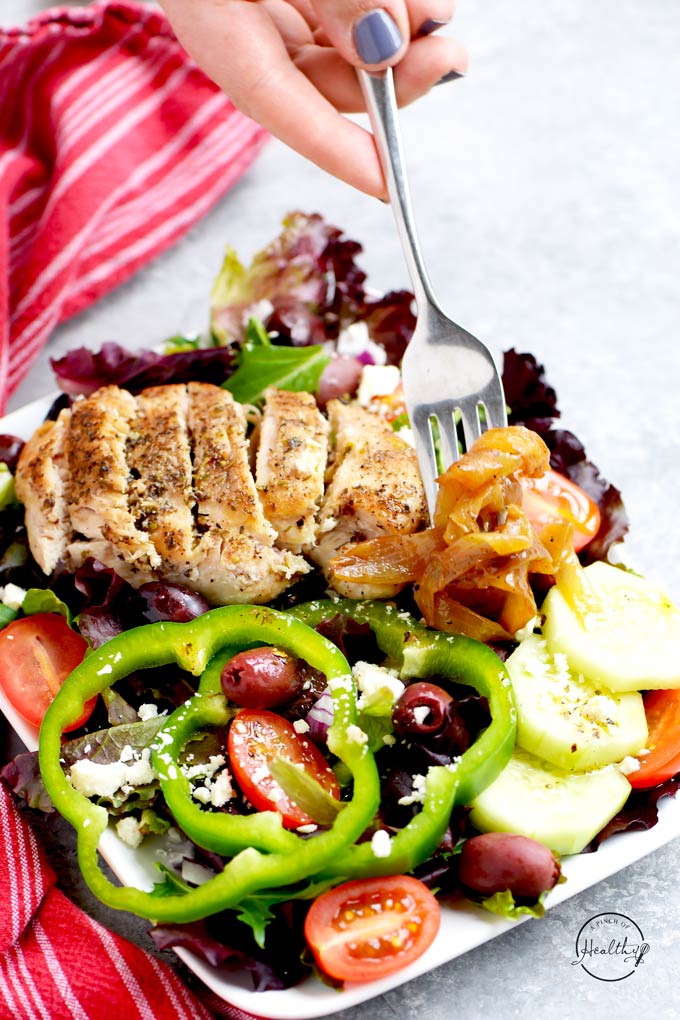 Such amazing flavor! You won't be sorry if you make that little extra effort. Plus, it is more true to the salad at Zoe's.
(2) The second optional add on (add under?🤔😆) is the little pile of potato salad hidden underneath the greens, like in the restaurant version. It may sound strange if you have never been to Zoe's, but it is the best surprise ever!😋
I have a whole separate blog post recipe for the Greek potato salad. But! If you want a little hack, just cut up some raw red potatoes into bite-sized pieces, and add them to your Instant Pot while you cook the chicken.
Then you can put them under the salad (a la Zoe's), or beside it if they are still hot. Just add a sprinkle of salt and pepper, plus some of the dressing on top, and you are good to go!
I hope y'all enjoy this Greek salad with chicken recipe as much as I have.
Tools used to make this recipe
This post may contain affiliate links, which pay a referral fee to me at no additional cost to you. My full affiliate disclosure can be seen here.
Greek Salad with Chicken Recipe
Did you try this recipe? Give it a star rating. Pin it and share it if it looks good to you. And be sure and stay connected on social media!
Instagram | Pinterest | Facebook | YouTube | Twitter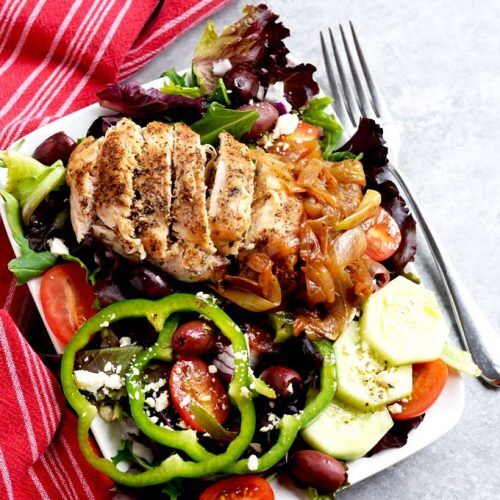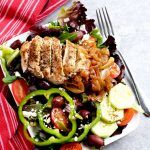 Greek Salad with Chicken
My Greek salad with chicken is so delicious and satisfying, and it is inspired by Zoe's Kitchen. Tomatoes, cucumbers, kalamata olives, feta cheese, bell pepper rings, caramelized onion.

Prep Time 15 minutes
Cook Time 20 minutes
Total Time 35 minutes
Servings 1
Calories 446 kcal
Ingredients
1 Instant Pot chicken breast (or grilled chicken breast)
2 to 3 cups mixed baby greens
2 bell pepper rings
4 to 6 kalamata olives
6 to 8 baby grape tomatoes
cucumber slices
1 to 2 Tablespoons feta cheese crumbles
caramelized onion (optional - I used 1/2 yellow onion)
1/2 cup Greek potato salad (optional)
Instructions
Make the Greek Red Wine Vinaigrette, and set aside.

Cook the Instant Pot chicken breasts, and add sliced red potatoes (optional)

While the chicken is cooking, make your caramelized onion.

Start with a bed of greens, and on the tomato, cucumber, bell pepper, olives and feta.

Let the chicken rest for a few minutes (uncovered) while the onions are still cooking, and then slice when you are ready to serve.

Add the chicken and caramelized onion on top.

Top with dressing (and more feta, if you wish).

Optional: I put my potatoes on the side (as not to wilt the lettuce with their warmth), add salt and pepper and pour dressing on them. If you already have the potato salad made ahead, you can add a scoop to the bottom before you add your mixed greens to the plate.
Recipe Notes
Nutritional information is approximate and was calculated using a recipe nutrition label generator.
Nutrition Facts
Greek Salad with Chicken
Amount Per Serving
Calories 446 Calories from Fat 180
% Daily Value*
Fat 20g31%
Saturated Fat 5g31%
Cholesterol 159mg53%
Sodium 739mg32%
Potassium 1213mg35%
Carbohydrates 12g4%
Fiber 1g4%
Sugar 2g2%
Protein 52g104%
Vitamin A 1635IU33%
Vitamin C 48.8mg59%
Calcium 111mg11%
Iron 1.9mg11%
* Percent Daily Values are based on a 2000 calorie diet.
This post originally appeared on A Pinch of Healthy January 24, 2018.
(Visited 32,025 times, 4 visits today)