Today I am sharing one of my all time favorite simple dinner ideas – Greek fish foil packets.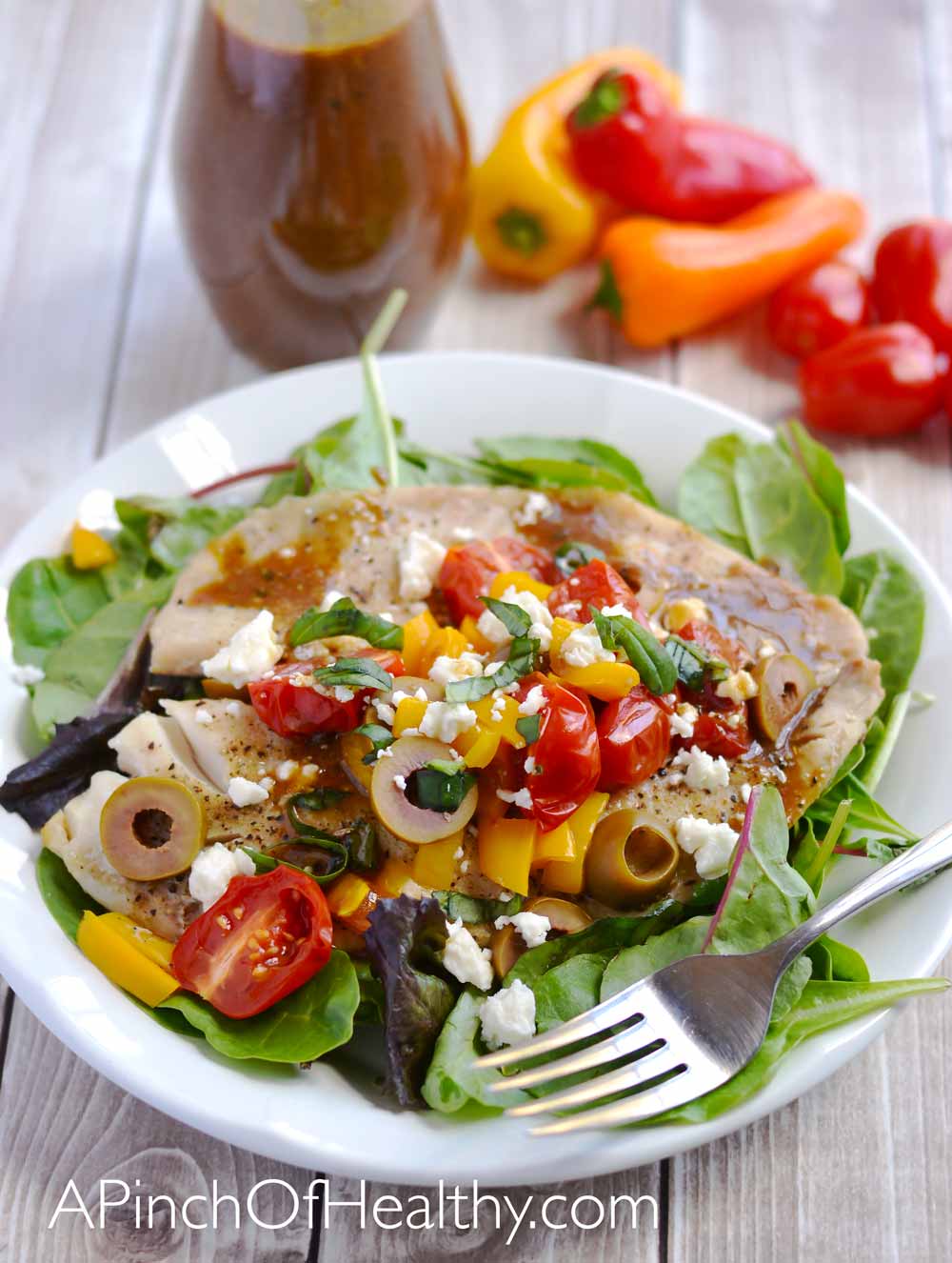 Greek fish foil packets is one of my older recipes. The recipe is fantastic, but I wrote this one before I learned how to take photos. So my photos for this recipe needed updating. Since it didn't get viewed much the first time around, I thought it deserved a makeover and a re-post. 🙂
This recipe is such a GEM because it is easy, healthy and delicious! And bonus points for minimal cleanup, thanks to the foil!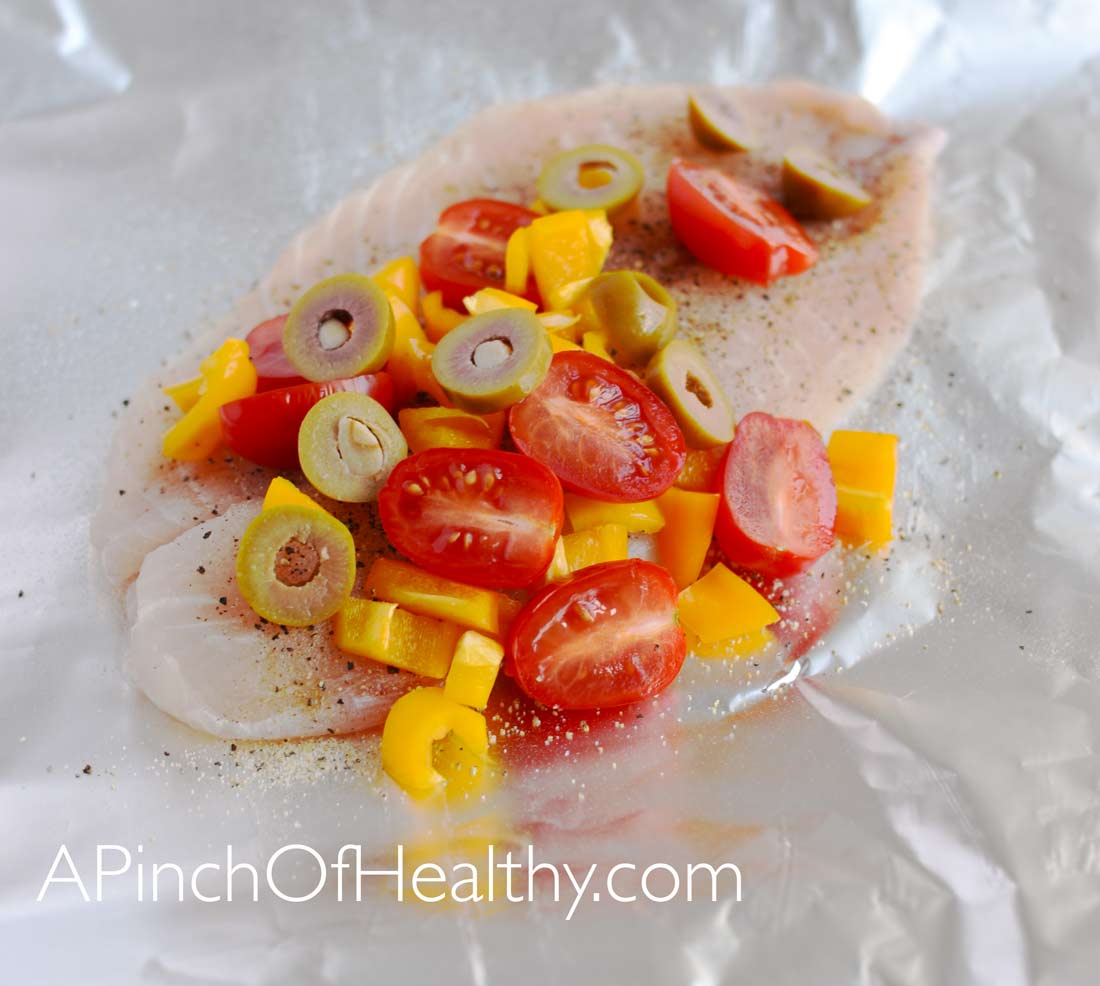 It is written for two servings, but you can easily double it for a family of four, or half it for dinner for one. I used tilapia in these photos, but I have also made this with other fish – snapper, grouper and mahi mahi. I think snapper is my personal favorite, FYI.
I also love that it is both figure friendly AND suited for so many eating styles – paleo (minus the feta), gluten free and low carb.
Another thing you can do is make individual packets to suit the tastes of the picky eaters. If you have somebody that doesn't like olives, just leave them out of their foil packet! Everybody's happy.
Essential Tools Used in This Recipe
Note: These are Amazon affiliate links.
Greek Fish Foil Packets Recipe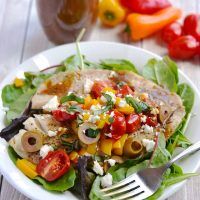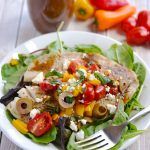 Greek Fish Foil Packets Recipe
This Greek fish foil packets recipe is a simple, healthy and delicious dinner idea. And bonus points for minimal clean up, thanks to cooking in aluminum foil.
Prep Time 8 minutes
Cook Time 25 minutes
Total Time 33 minutes
Servings 2 servings
Calories 210 kcal
Ingredients
2 ounces fish filets about 4-6 a piece
1/4 teaspoon Cavender's salt free Greek seasoning
1/2 cup diced bell pepper*
1/2 cup diced tomato*
4 large olives diced
fresh basil and/ or flat leaf parsley for garnish
2 Tablespoons feta cheese crumbles (or more if you wish!)
cooking spray (I prefer olive oil for this recipe but canola works too)
salt and pepper to taste
Instructions
Preheat your over to 400 degrees.

Tear off two generous sheets of foil, and spray (what will be the inner part) with cooking spray.

Place one piece of fish in each piece of foil. Add salt, pepper and Cavender's Greek seasoning to the fish.

Sprinkle diced pepper, tomato and olives over the top.

Close foil packets, and place them on a baking sheet.

Bake for about 25-30 minutes (larger filets require the extra cooking time)

Remove from oven, and let sit for 3-5 minutes.

Carefully peel back the foil. Caution: beware of steam! I wear oven mitts.

Plate the fish with veggies on top, and sprinkle with a little feta cheese and fresh basil and parsley.
Recipe Notes
Nutrition information was calculated using a nutrition label generator.
* I have substituted sweet mini peppers in place of bell peppers. I have also used all types of tomatoes - golden, mini grape tomatoes...and it still tastes great!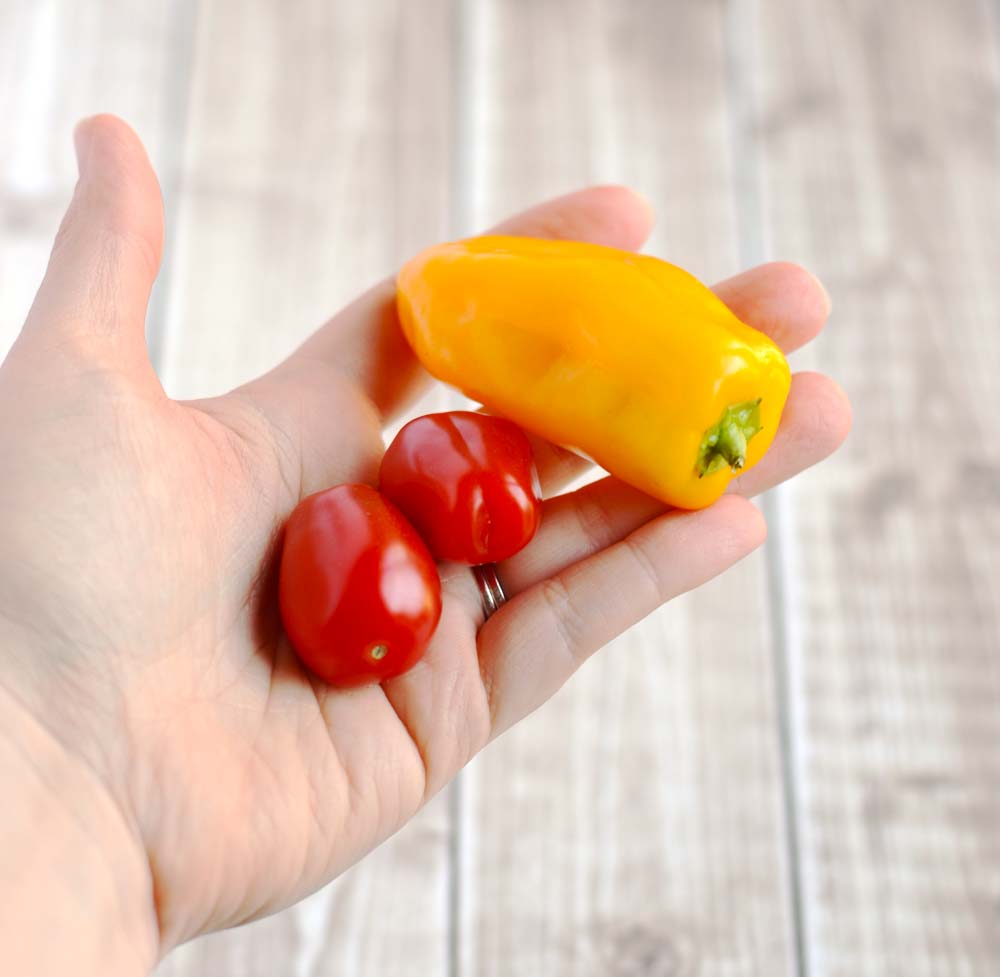 Nutrition Facts
Greek Fish Foil Packets Recipe
Amount Per Serving
Calories 210 Calories from Fat 63
% Daily Value*
Fat 7g11%
Saturated Fat 3g19%
Cholesterol 86mg29%
Sodium 391mg17%
Potassium 594mg17%
Carbohydrates 4g1%
Fiber 1g4%
Sugar 3g3%
Protein 31g62%
Vitamin A 1580IU32%
Vitamin C 52.6mg64%
Calcium 98mg10%
Iron 1.2mg7%
* Percent Daily Values are based on a 2000 calorie diet.
I have served mine over a brown rice/ wild rice mixture before, and it is delicious. It is great plain as well, or over a salad, which is how I am showing it here, with some of my homemade balsamic vinaigrette on top.

I hope you enjoy this recipe. Let me know if you try it!

(Visited 20,019 times, 6 visits today)