Hello friends! Today I want to give you guys a bit of peek behind the curtain at A Pinch of Healthy and share a few of my recent thoughts on blogging.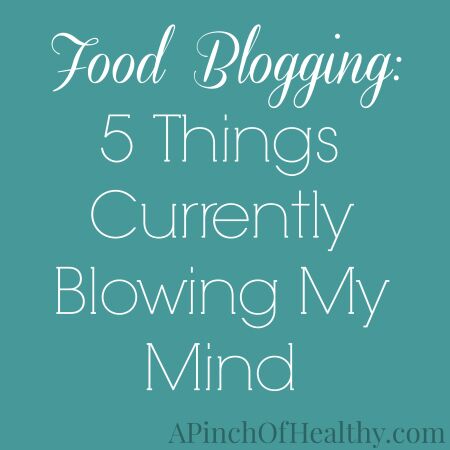 Background – I'm Still New(ish) at This
For any of you that may not know, I am a one-woman shop here. Meaning that I am the chief recipe developer, taste tester, photographer, photo editor, and writer here at A Pinch of Healthy.

I still consider myself a newbie, or early intermediate at best, when it comes to blogging. I am about a year and a half in, and I am still learning tons!
My blog didn't even start off as a food blog, by the way. It started as me trying to find something creative for myself to work on after the birth of my son.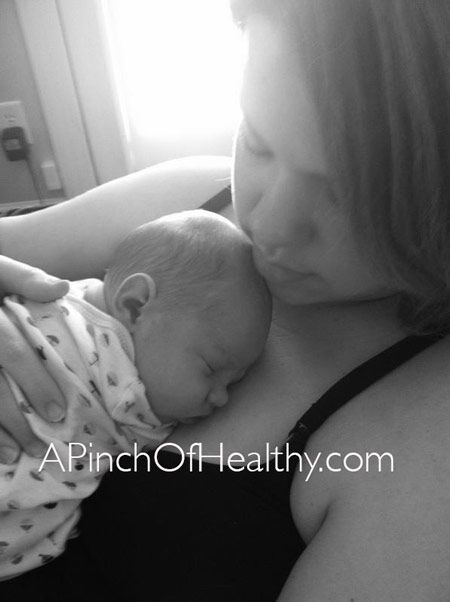 Becoming a mom rocked my world, and I needed help processing everything. So I started out writing about my emotions and struggles as a new mom. I talked a lot about my quest to lose weight. I kind of hate before and afters, by the way…because health and well-being is so much deeper than a "look." But here is me before and after.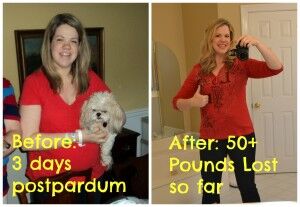 Slowly, I began to find my blogging voice, and I felt more comfortable knowing what I wanted my message to be.
Behind the Scenes
There are a lot of things that go on behind the scenes that you don't know about – SO much more than creating the actual blog posts. And as A Pinch of Healthy grows, it seems that the behind-the-scenes tasks grow right along with it. There's answering emails and comments, working with ad networks, website layout and design, technical issues that arise, etc.
Today I am going to share five things that are currently blowing my mind when it comes to food blogging.
1. You just never know who is reading your blog.
A couple weeks ago I got an email from the online editor at Self magazine. They wanted to feature one of my recipes. Cue my surprised happy face!
This is so exciting to me. I have no idea how she even found me. Especially since the recipe they wanted to feature was one of my older recipes with….ahem…shall we say humble-looking photos? 🙂
But the piece ran, and I snagged a screenshot to capture the memory.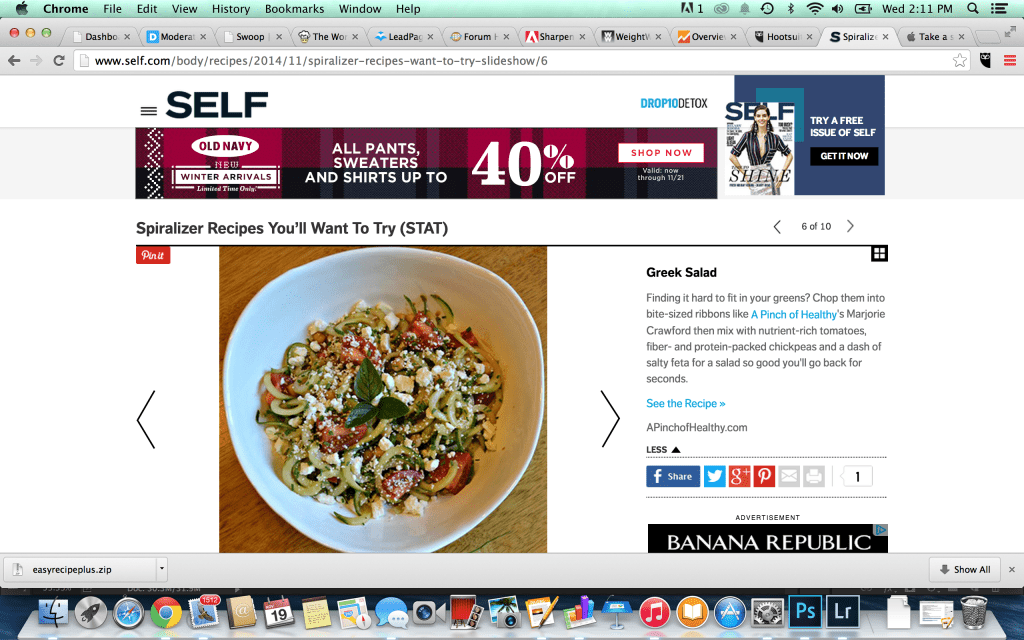 I spend a lot of time "marketing" my content after I actually publish it. I post links to Facebook, Twitter, Instagram, Pinterest and all the food sharing sites (i.e. Foodgawker and Tastespotting, etc.). But I guess I rarely think about who may actually be reading it besides my online friends. 🙂
Once your stuff is out there, though, it's…errr, like…out there. As in anybody could be reading. If you do a good job, it gets shared further. Other bloggers may pin it or link it to a blog post on their own site. Other media sites may pick it up. You just never know.
The lesson to me is to just keep trying to publish great content, and keep trying to improve my skill level in recipe development, writing and photography. It does not matter that I am self-taught, as long as I do a good job.
You just never know who might be reading your stuff. And some of the shares can be real game-changers in the way of traffic and getting your name out there.
2. It's a small world after all.
Hello international friends! It thrills my heart to see in my website analytics that I have many readers popping up in the UK, Australia, New Zealand and beyond! I mean, how COOL is that?! How on earth would I be able to share recipes with my international friends without the magic of the internet?!
One specific reader comes to mind who lives in Paris, France (Hi Armelle!!). She has written me a few Facebook messages, and she is so kind and thoughtful. I never dreamed of anything like that when I started my blog. SO cool. Mind => blown.
3. People Actually Make a Living Blogging
It's true. Some people have found a way to actually make this their full-time job. I am inspired by the likes of Ali, Liz and Lindsay. These talented ladies have found a way to get paid to do what they love.
This is something that fascinates me. Could I actually blog professionally? Maybe so. Probably not anytime soon. But it gets me wondering about the possibilities.
As things stand right now, blogging is actually an expense for me. Yes, it actually costs me money to blog.
As far as bringing money in, I don't like to hard sell things (cringe!), but I will include an affiliate link if I am talking about something that I like and use myself. I will not mention or link to something unless I really like it. Most of the time it is something that I use and spend my own money on.
I do run ads on my site and post Amazon affiliate links to try and offset my expenses. For those of you who are not familiar, I am an Amazon affiliate, meaning that when I link to something on Amazon, and somebody clicks on my link and purchases something…I get paid a (tiny) commission.
I like linking to Amazon because (1) people often ask about what products I am using (2) everybody has heard of Amazon and feels comfortable buying from them and (3) they have everything that I would want to link to.
What little I bring in from ads and affiliate purchases has been spent (plus a lot more of my own money!) on software, hosting, domain costs, a PO box, camera, lenses, a new laptop, food props, food for the recipes I make, etc. Blogging is expensive, y'all. And my wish-list keeps growing for more things I would like to invest in to improve myself and A Pinch of Healthy.
4. People Find Ways to Support Me
To those of you who find unorthodox ways to support me – I thank you!
Your Amazon purchases – I see people buy car seats, diapers, school supplies, movies and lots of other items that I do not promote from Amazon. I suppose they buy after clicking on one of my links to something else.
Many of these are likely just coincidence. Maybe they look to see something that I linked, and then… *poof* they remember that they need to order diapers! It happens, I am sure.
But! It happens so much that I am beginning to think that some people out there buy through my links simply to support me. I thank you for that! Those commissions are very small, but every penny helps. Seriously.
Other people pin and share my posts. This means so much to me! It helps get more eyes on my site, and for that I am so thankful! A lot of those new folks stick around and come back too. Shares really help me out, and I thank you from the bottom of my heart for every share, like, comment, repost, pin, etc.
5. What I Post About Really Matters to Some (Not All)
I have a lot of close friends and family that rarely or never look at my blog. One of those people who shall remain nameless lives in my house and sleeps in my bed. 🙂 I do NOT take offense to that, y'all! Food is not everybody's thing! And that is okay. I get it.
My kind of eating is not everybody's cup of tea either, and that is also okay.
The cool thing is that I have found a community of people who like what I have to say.
I try very hard not to put up fronts, or pretend like I know more than I do. I am not a chef, not a nutritionist, not a doctor, nor do I pretend to be any of those things. And yet (some) people still care and look forward to see what I will write about.
I am just a girl who loves food. And I love sharing my unique perspective on food, health and life. I love finding ways to make comfort food a little healthier. Even though I lean toward eating clean(ish), I am NOT perfect either, and I think y'all appreciate that transparency.
I am so happy that some of you find my thoughts, ramblings, videos and my recipes to be helpful, valuable and inspiring. That is beyond cool to me.
Example: Over on YouTube there are 2116 people as of the time of this post who have hit the subscribe button on my channel to watch things like (1) the inside of my pantry (<-what?!), (2) what I buy at the grocery store, (3) how much weight I lost on any given week. I mean, I am definitely not the next YouTube sensation, but that is truly humbling and mind blowing. Mind => Blown.
So In Conclusion…
My statistics and subscribers are still considered very humble by most blogging standards. But they mean a lot to me because each of those numbers is a person. A person who has his/ her own life, challenges, problems, etc. yet actually takes the time to read or watch because she cares about something I have to say.
Mind. Buh-LOWN. 🙂
You guys "get" me. Many of us struggle with the exact same things. That is both comforting and inspiring to me.
When I photograph a new recipe, sit down to write a post or turn on the camera to shoot a YouTube video…I know that somebody is likely going to be helped, uplifted, entertained, amused, enlightened or inspired by something I have to say.
And that is what turns my crank and keeps me doing this: YOU. So THANK YOU friends! Y'all are the best. I am so thankful for each and every one of you!
Do you have any blogging questions that you would like to see me answer?
If you are a blogger, what has surprised you about blogging?
(Visited 1,473 times, 1 visits today)