These double chocolate mocha muffins are such a delicious and filling treat. They are made with a few simple, wholesome ingredients, including real sugar, whole wheat pastry flour, Greek yogurt and coconut oil.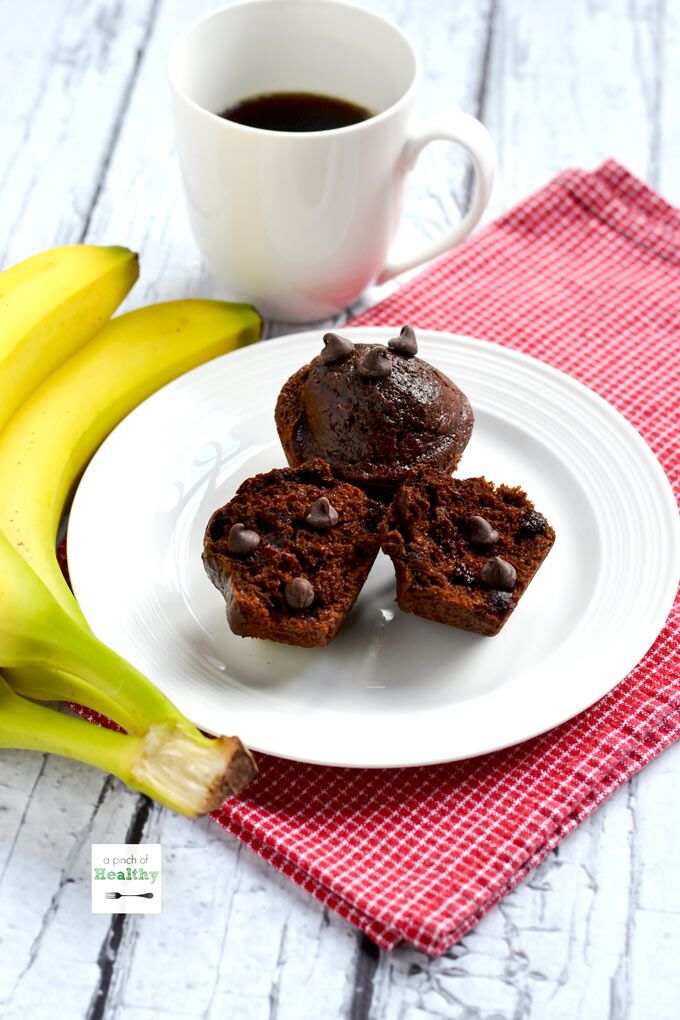 I promise that they don't taste "healthy." Trust me, my husband and four-year-old son are tough critics. And they LOVE these.
My double chocolate muffin recipe is an oldie but goodie. I am updating this recipe with some fresh photos and a slightly updated ingredients. As I make things over the years, I sometimes make adjustments. Mostly, I no longer use fat-free anything anymore and I am more generous with the chocolate chips now that I am no longer doing Weight Watchers. YOLO! 🙂
If you don't already know, here's the newsflash: I love coffee.
And if you didn't know that I love coffee…well, hi there! Have we met? 😉
Anyway, I signed up to bring snacks for our Sunday school class some time last year, and I knew exactly what I wanted to make – some double chocolate mocha muffins.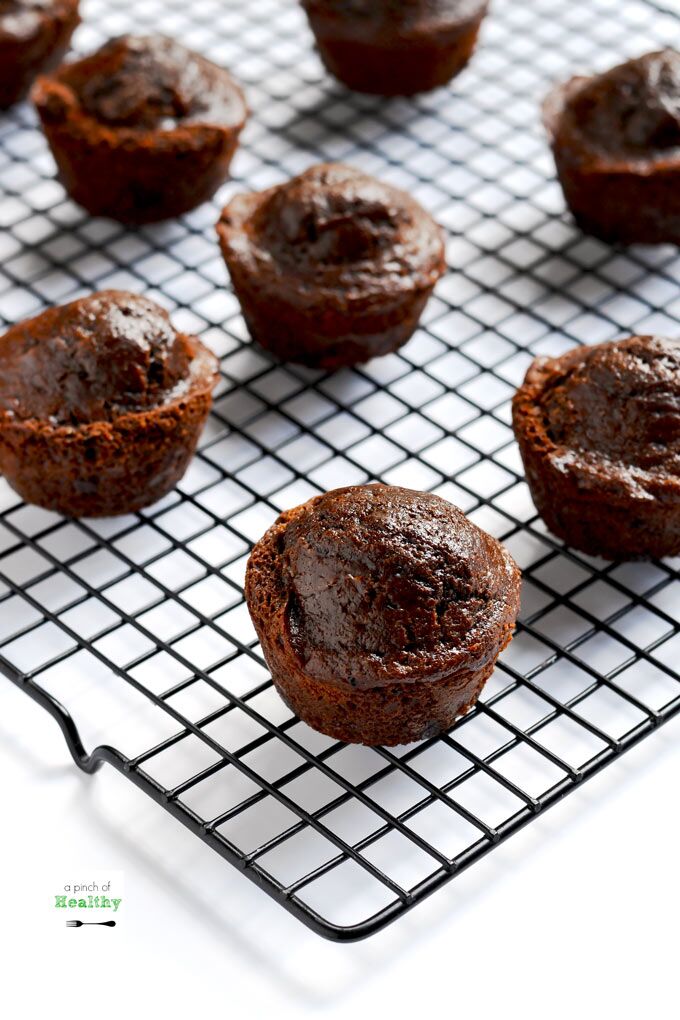 Double chocolate because there is (1) cocoa powder in the batter and (2) chocolate chips. And mocha because I put powdered instant coffee in these puppies.
I normally wouldn't touch instant coffee with a ten-foot pole. I am a little bit of a coffee snob, and only The Real Deal will do.
But for baking, instant coffee powder is pretty genius. Why? You can infuse coffee flavor without messing up the all-important texture. If you try to bake things with liquid coffee, it is tough to get the right texture (too many wet ingredients) with enough coffee flavor. These are pretty simple to make too.
This is also the second recipe in a row that I have made with Bob's Red Mill Organic Whole Wheat Pastry
(<-Amazon affiliate link), my new favorite healthy baking ingredient. (See also: Clean-Ingredient Blueberry Oat Muffins Recipe.). Like I mentioned before, I LOVE the light and fluffy texture of this flour.
When I bring snacks to an event like these where other people will be partaking, I don't go TOO crazy with the healthy stuff. Because ultimately I want it to taste good.
But I love tweaking things a little to give yummy food a healthier twist (<- my specialty).
Our Sunday school class in particular likes the bite-sized things. So I modified these into mini muffins when I brought them, which are exactly half the size of these.
Double Chocolate Mocha Muffins Recipe
If you would like to make the mini muffin variety, follow the instructions below, but use a 24-cup mini muffin tin. And bake for about 15-ish minutes, instead of 23.
Inspired by Taste of Home Sour Cream Chocolate Muffins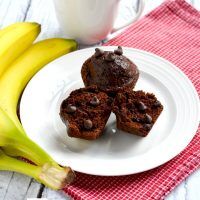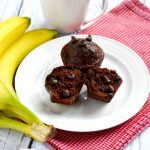 Double Chocolate Mocha Muffins
These double chocolate mocha muffins are a tasty treat with a healthy twist. I use healthier ingredients like Greek yogurt, coconut oil and whole wheat pastry flour to make them a little more nutritious.
Prep Time 12 minutes
Cook Time 20 minutes
Total Time 32 minutes
Servings 12 muffins
Calories 188 kcal
Ingredients
1 1/3 cups whole wheat pastry flour 160 grams
1/4 cup unsweetened cocoa powder
1 teaspoon baking soda
1/2 teaspoon salt
3/4 cup sugar
3 Tablespoons instant coffee powder
2 eggs
2 Tablespoons coconut oil melted
2/3 cup plain Greek yogurt
1/2 cup milk (skim whole, 1% and 2% all work fine)
1 teaspoon pure vanilla extract
1/2 cup semisweet chocolate chips
Instructions
Preheat oven to 350 degrees.

Mix the flour, cocoa powder, baking soda and salt in a medium bowl and set aside.

Using an electric mixer, mix the eggs, sugar, instant coffee powder, yogurt, coconut oil, milk and vanilla on low until combined, about 1 minute.

Slowly add the dry ingredients, and mix until incorporated, about another minute on low.

Fold in the chocolate chips.

Pour batter into a standard 12-cup muffin tin, about half full in each cup.

Bake at 350 degrees until toothpick inserted comes out clean, about 23 minutes
Recipe Video
Recipe Notes
Nutritional information is approximate and was calculated using a nutrition label generator.
Nutrition Facts
Double Chocolate Mocha Muffins
Amount Per Serving
Calories 188 Calories from Fat 54
% Daily Value*
Fat 6g9%
Saturated Fat 4g25%
Cholesterol 29mg10%
Sodium 209mg9%
Potassium 201mg6%
Carbohydrates 28g9%
Fiber 2g8%
Sugar 16g18%
Protein 5g10%
Vitamin A 50IU1%
Calcium 41mg4%
Iron 1.4mg8%
* Percent Daily Values are based on a 2000 calorie diet.
Let me know if you try my double chocolate mocha muffins recipe! If you like this recipe, please pin and share it.
Do you love coffee?
Have you ever used coffee for baking?
(Visited 6,229 times, 1 visits today)