A club sandwich is a delicious deli classic, and it is so easy to make yourself at home. So I am sharing my super easy club sandwich recipe with y'all.🙌🏻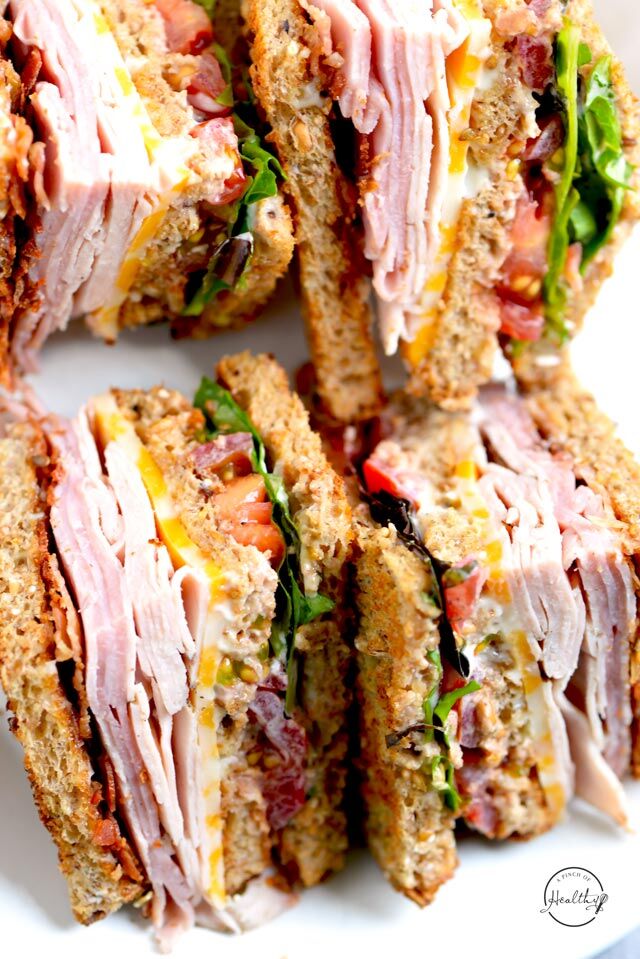 This classic club sandwich recipe is really very simple to make too. And during summer, you can totally pass this off as dinner.💁🏼‍♀️😉
What is a club sandwich?
A club sandwich, also called a clubhouse sandwich, is a sandwich of toasted bread, sliced cooked turkey, ham or fried bacon, lettuce, tomato, and mayonnaise. A signature feature of a club sandwich is using three pieces of bread – with one slice used as a separator in the middle.
It is an American classic, often served in delis, country clubs and other restaurants, often accompanied with potato chips or potato salad.
How to make a club sandwich
The first step is to start of with the most tasty ingredients you can find. I am totally a Trader Joe's girl over here. 🙌🏻 So most of my ingredients came from there.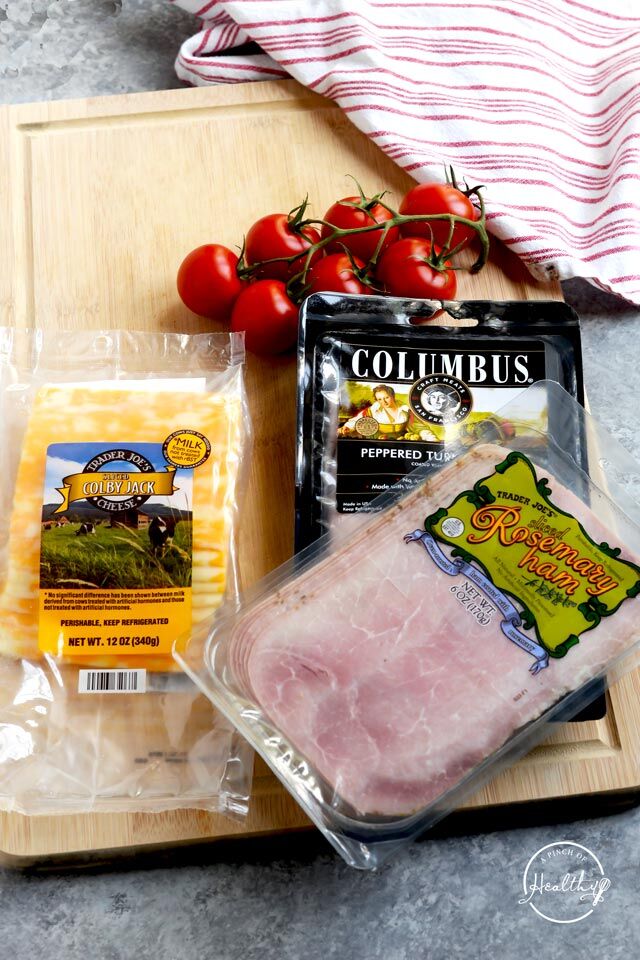 Pro tip: I use the Trader Joe's pre-cooked bacon too (not pictured). I did give it a minute in the toaster oven to crisp up. Pretty much every grocery store has their version of this short-cut.
Tip 2: I toast the bread and then let it cool for a couple minutes. Why? If you build your sandwich on piping hot toast, it will wilt your lettuce.🙅🏼‍♀️
I guess toasting technically counts as cooking.🤔 But! I have also made this not toasted, and it is still delicious!
Okay, then I spread mayo on the cooled toast and start assembling my club sandwich. After mayo, I start with lettuce and tomato, and I always salt and pepper the tomatoes.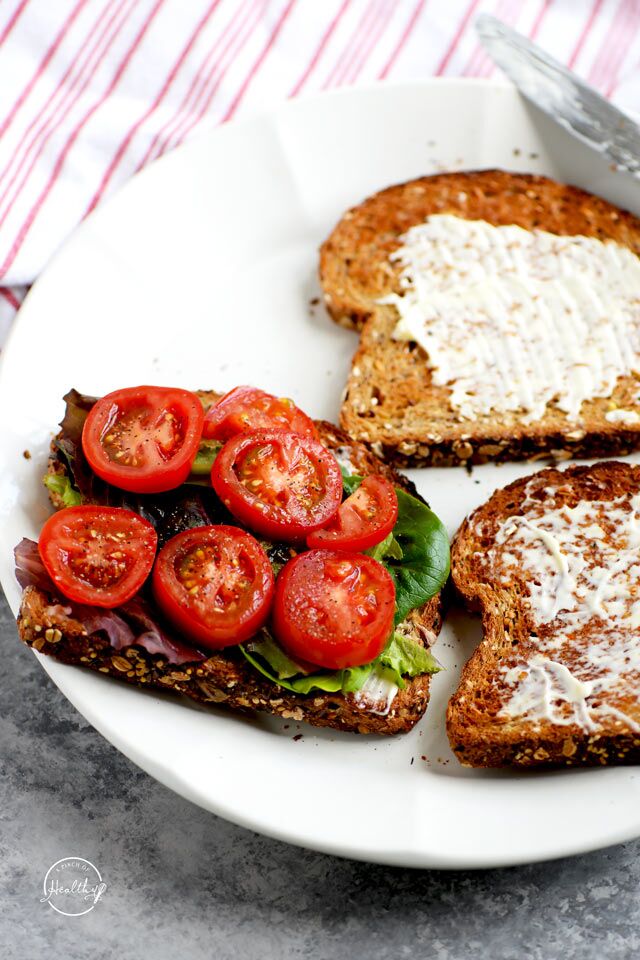 Put one of the slices of bread, mayo side down, on top. Then spread a little mayo on the other side, and begin stacking your meats and cheese.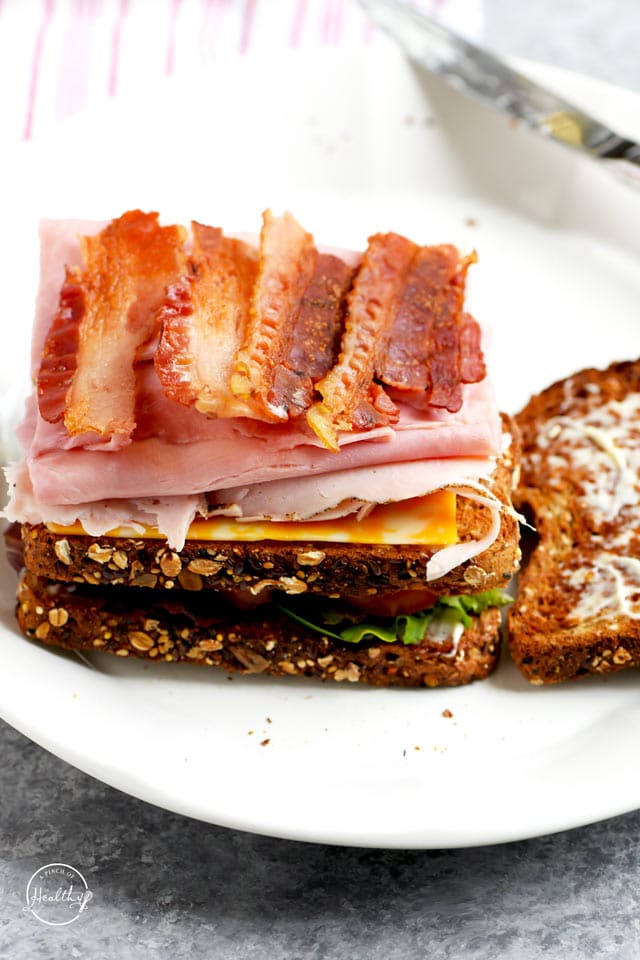 Place the last piece of bread, mayo side down, on the top. And then cut into triangles with a well-sharpened knife, using toothpicks to hold everything into place.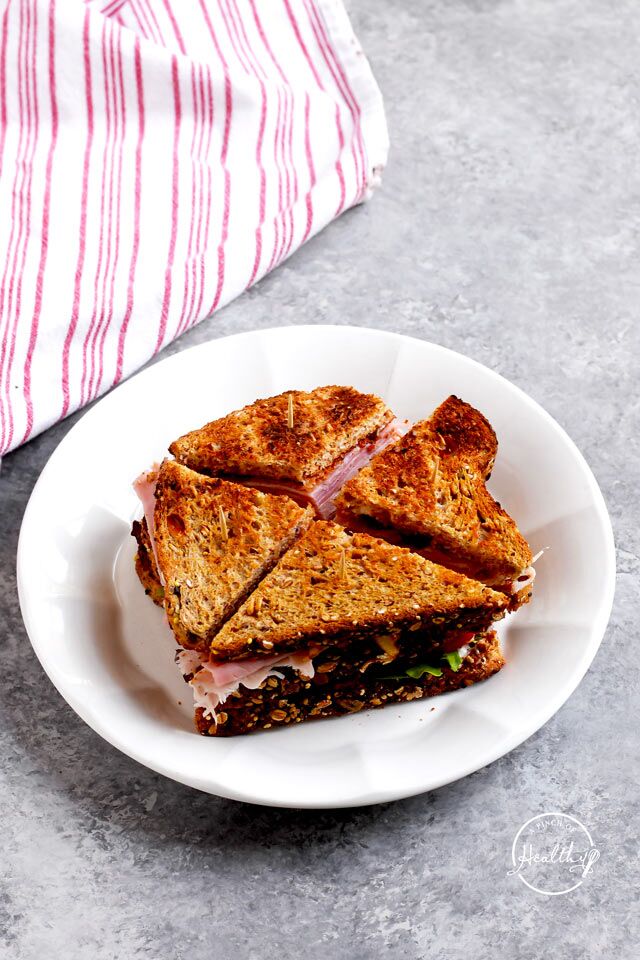 Serving tips
I didn't have any of the fancy toothpicks, so I just used plain ones. 🤷🏼‍♀️ Use the fancy ones if you wish!
Then! To up your club sandwich's visual game, simple turn everything on its side so that all the pretty layers show.😍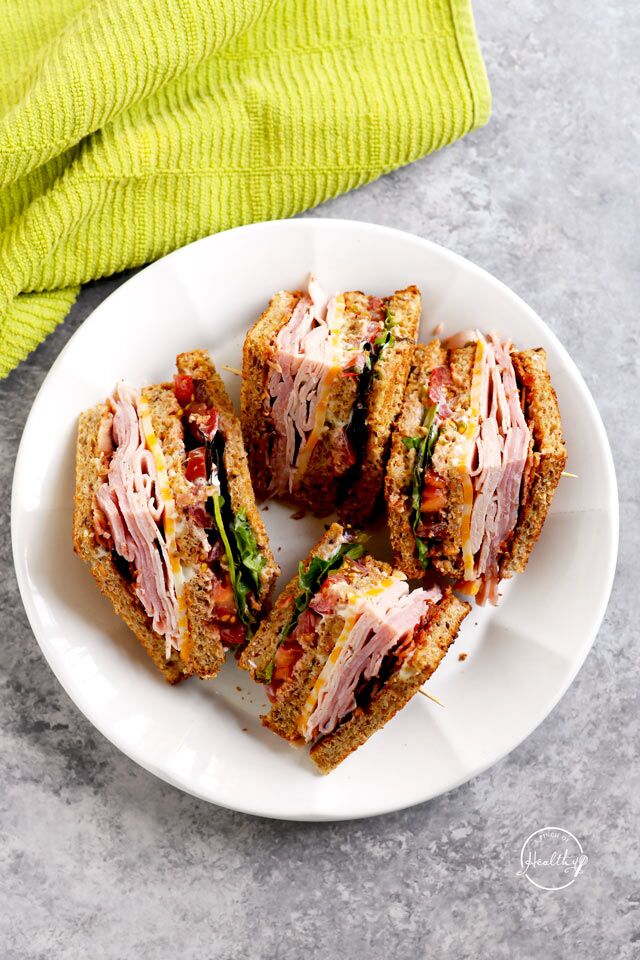 Glory be!🤩👏🏻 Time to eat up!😋 I hope y'all enjoy this simple recipe.
What to serve with a club sandwich
If you want to give this meal an extra oomph, serve it with a side of classic potato salad, Greek potato salad, air fryer French fries or baked sweet potato fries. Or a side of cold watermelon chunks, if you are feeling the chill, no-cook vibes. 😎
Share This Recipe
Did you try this recipe? Give it a star rating. Pin it and share it if it looks good to you. And be sure and stay connected on social media!
Instagram | Pinterest | Facebook | YouTube | TikTok
Be sure and check out all my favorite kitchen tools in my Amazon store (affiliate).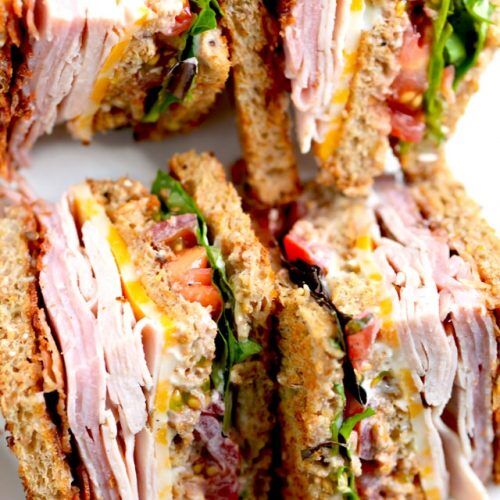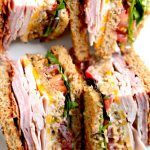 Club Sandwich (Turkey, Ham, Bacon)
A club sandwich is a delicious deli classic, and it is s easy to make yourself at home. Turkey, ham, bacon, Colby jack cheese, lettuce, tomato and mayo on wheat toast.

Prep Time 10 minutes
Toast time 2 minutes
Total Time 12 minutes
Servings 2
Calories 452 kcal
Ingredients
3 slices wheat bread (or bread of choice)
2 Tablespoons mayo (I recommend Duke's, Hellmann's or Trader Joe's)
lettuce
tomato slices
salt and pepper to taste (on the tomatoes)
2 ounces sliced deli ham
2 ounces sliced turkey
2 slices bacon cooked
1 slice Colby jack cheese (or cheese of choice – cheddar and Swiss work great too)
Instructions
Toast your bread, if you wish, and allow it to cool for a few minutes. This helps to avoid wilted lettuce.

Spread the 3 pieces of cooled toast with mayo.

On one slice, add your lettuce and tomato. Go ahead and add a little salt and pepper to those tomatoes.

Put a 2nd piece of bread, mayo side down, on the sandwich. Then add a little more mayo to the top of that piece.

Next, stack your meat and cheese, and top with the last slice of bread, mayo side down.

Use a well-sharpened knife to cut the sandwich into triangles, using toothpicks to hold everything together.

To up the visual game of your club sandwich, turn everything on its side to show all the pretty layers.

Serve immediately and enjoy!
Recipe Notes
I like using pre-cooked bacon for simplicity sake. We like the Trader Joe's pre-cooked nitrate free bacon the best.
Be sure and let your toast cool a few minutes before building the sandwich. This will keep the lettuce crisp.
A well-sharpened knife is your best friend for this recipe. It will make the layers look really pretty and slice through the sandwich without squishing it too much.
Nutritional information is approximate and was calculated using a recipe nutrition label generator.
Nutrition Facts
Club Sandwich (Turkey, Ham, Bacon)
Amount Per Serving
Calories 452 Calories from Fat 270
% Daily Value*
Fat 30g46%
Saturated Fat 9g56%
Cholesterol 65mg22%
Sodium 1090mg47%
Potassium 508mg15%
Carbohydrates 20g7%
Fiber 3g13%
Sugar 4g4%
Protein 22g44%
Vitamin A 565IU11%
Vitamin C 5.9mg7%
Calcium 141mg14%
Iron 1.6mg9%
* Percent Daily Values are based on a 2000 calorie diet.
Note: This post originally appeared on A Pinch of Healthy July 2, 2018.
(Visited 374,003 times, 2 visits today)