This classic potato salad is a summer staple, perfect for barbecues and pot lucks!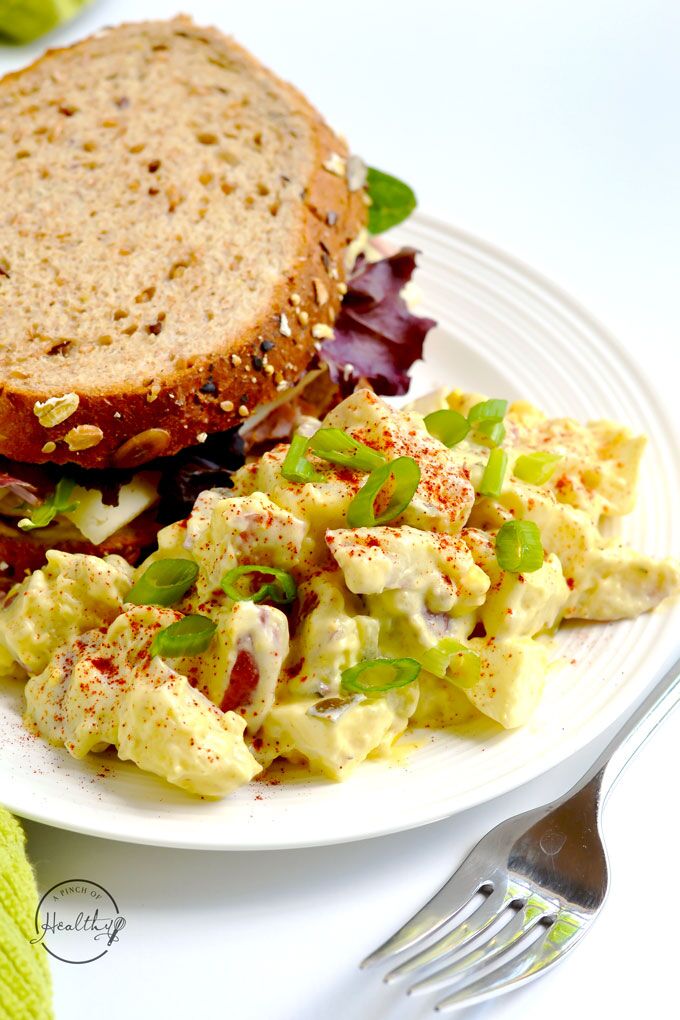 And I have added a little bonus tip: my method for cooking the eggs and potatoes together in the Instant Pot. 😎👌🏻
Note: This post contains affiliate links.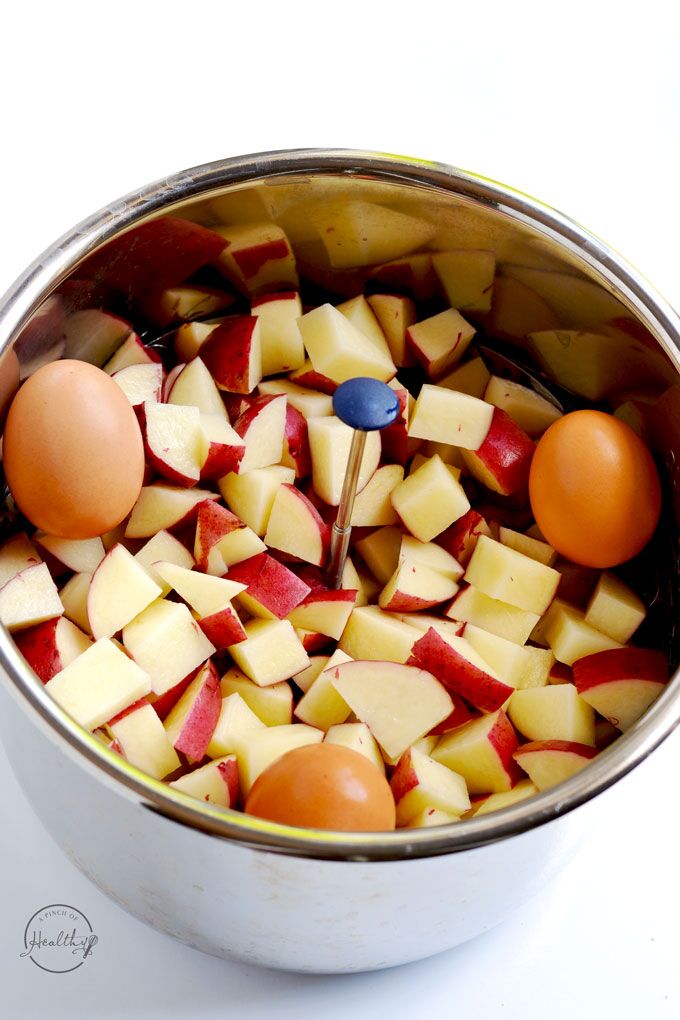 If you do not have an Instant Pot, no worries! 💁🏼 You can still cook your eggs and potatoes on the stovetop. It will still be delicious!
If you don't have and Instant Pot, though? I'd strongly recommend considering one. >>>>>>>Here is my full review in case you are curious.<<<<<<<
>>>>>>>And my Instant Pot recipe archive, in case you are wondering what to cook in one<<<<<<<
I digress. But back to this classic potato salad!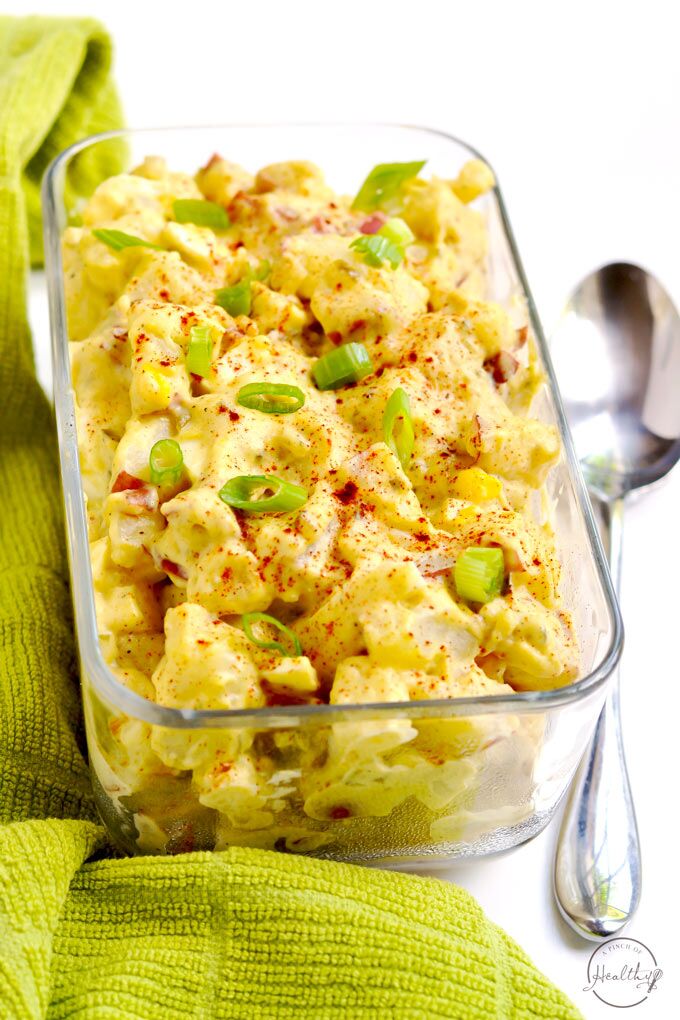 If you are looking for *The* Classic Potato Salad you always enjoyed growing up…this is it!
Tips for Lazy people like me: (1) I love using red potatoes because I never peel them since their skins are so tender. And (2) I love making the dressing right in the giant mixing bowl, and then just dump the potatoes and eggs in to mix right along with it.
And that little Instant Pot hack I mentioned earlier? I just put the eggs right on top of the diced potatoes in a steamer basket, and I cook everything at manual high pressure for 5 minutes, natural release for 5 minutes, and quick release the rest. It makes things super simple! I will never make it any other way again.
Tools Used to Make Classic Potato Salad
This post may contain affiliate links, which pay a referral fee to me at no additional cost to you. My full affiliate disclosure can be seen here.
Classic Potato Salad Recipe
If this recipe looks good to you, please pin it and share it.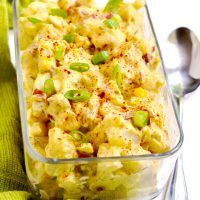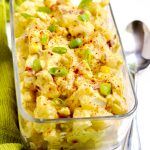 Classic Potato Salad
This classic potato salad is a summer staple, perfect for barbecues and pot lucks!
Prep Time 8 minutes
Cook Time 15 minutes
Total Time 23 minutes
Servings 8
Calories 222 kcal
Ingredients
1 cup water (Only if you are using the Instant Pot. See notes for stovetop modified instructions.)
2 pounds red potatoes, diced
3 eggs
1/2 cup mayonaise (I recommend Trader Joe's, Duke's or Hellmann's)
1/4 cup sweet pickle relish
1/4 cup dijon or spicy brown mustard (I am using Trader Joe's spicy brown)
1 Tablespoon honey
2 Tablespoons apple cider vinegar
1/4 teaspoon garlic powder
salt and pepper, to taste
Optional garnishes: chopped fresh parsley or diced green onions)
Instructions
Add one cup of water to the Instant Pot, and place a steamer basket on top.

Place the diced potatoes in the steamer basket, and arrange the eggs on top.

Place the lid on, and lock it, and cook for 5 minutes on manual high pressure.

While the potatoes and eggs are cooking, go ahead and whisk together the mayo, mustard, honey, sweet pickle relish, apple cider vinegar in a large mixing bowl (Note: we will be adding the potatoes and eggs later).

Add a pinch of salt and pepper to the dressing, whisk to combine and set aside.

Once the 5 minutes of manual high pressure are complete, allow the pot to naturally release for 5 additional minutes, and the quick release the remaining pressure after that.

Place the eggs in an ice water bath to cool them and stop the cooking. (Hint: Tongs are very helpful for this!)

Carefully add the hot potatoes to the larger mixing bowl on top of the dressing.

Add the garlic powder, plus about 1/2 teaspoon of salt and 1/4 teaspoon pepper on top of the potatoes.

After the eggs have cooled for about 3 to five minutes, peel them, dice them to desired size, and add them to the large mixing bowl, on top of the potatoes.

Stir everything to combine until everything is coated with the dressing.

Taste to check your salt and pepper preference; add more if desired.
Recipe Notes
To make the eggs on the stovetop, you can use my easy peel hard boiled egg instructions. And for the diced potatoes, just boil or steam them until they are fork tender, about 10 minutes.
Nutritional information is approximate and was calculated using a recipe nutrition label generator.
This recipe makes 6 large – 8 medium sized portions.
Nutrition Facts
Classic Potato Salad
Amount Per Serving
Calories 222 Calories from Fat 108
% Daily Value*
Fat 12g18%
Saturated Fat 2g13%
Cholesterol 67mg22%
Sodium 285mg12%
Potassium 549mg16%
Carbohydrates 23g8%
Fiber 2g8%
Sugar 6g7%
Protein 4g8%
Vitamin A 200IU4%
Vitamin C 9.9mg12%
Calcium 25mg3%
Iron 1.3mg7%
* Percent Daily Values are based on a 2000 calorie diet.
(Visited 58,781 times, 2 visits today)