This classic pot roast recipe makes a delicious, warm and comforting meal that your whole family is going to love.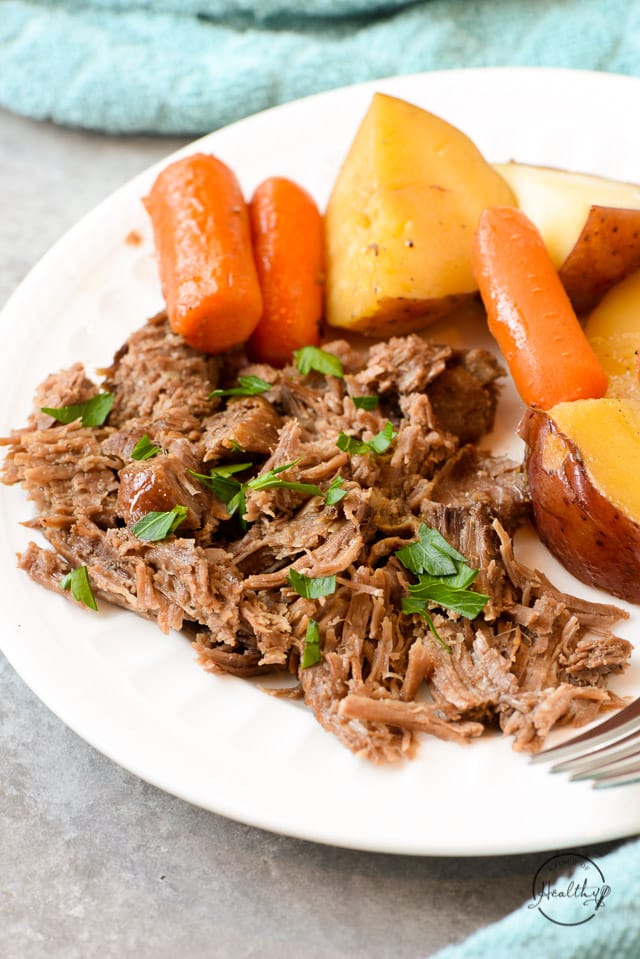 Does it get any more token comfort food than classic pot roast? I don't think so. And this is the perfect season to enjoy it.
There are many methods to making pot roast, and I actually have three pot roast recipes on this blog at the time of this writing. See also Instant Pot pot roast and crock pot roast. 😉👌🏻
Today I am sharing the most classic pot roast-making method. This pot roast recipe is braised, which involves searing it on the stovetop first, adding a little liquid, and finishing it off low and slow in the oven.
For this method you will need a cast iron Dutch oven with a lid. 👈🏻 Amazon affiliate link – this is the one I use at the studio, and the one you see in these pictures.
What cut of meat to use
So what cut of meat for pot roast works best for classic pot roast? Hands down, boneless chuck roast is the best cut of meat for pot roast. Chuck roast produces the juiciest, most tender, moist and flavorful result.
Chuck roasts do tend to be a bit higher in fat, and that marbling is what gives such great results. We get grass fed and grass finished chuck roasts from Butcher Box (affiliate), and they are superb in quality.
I have also used eye of round roast, and you can see that in the original photos, way down below the recipe card below. You can looks for labels such as rump roast or bottom round. These will all do fine, but not quite as good as the chuck roast.
How many hours per pound to cook pot roast
The rule of thumb for cooking pot roast is about an hour per pound at 275 degrees Fahrenheit. The roast in these pictures is on the smaller side: 2.3 pounds. I cooked it for 2 hours and 20 minutes, and it was perfect.👌🏻
I have done a 3 pound roast at 3 hours, and roasts between 4 and 5 pounds at 4 hours. It may take some trial and error, as ovens and environments, altitude, etc. can create slightly different results.
How to make the perfect pot roast
My classic pot roast recipe starts by searing the meat on the stovetop. This gets that yummy crust on the outside that is so full of flavor. It only takes about a minute or two on each side. You want to make sure you preheat your pot so that it has time to get hot. This is what creates that beautiful sear.
Next, deglaze the pan, which is just a fancy way of saying that I pour broth over it and scrape to bring up all of those flavorful bits.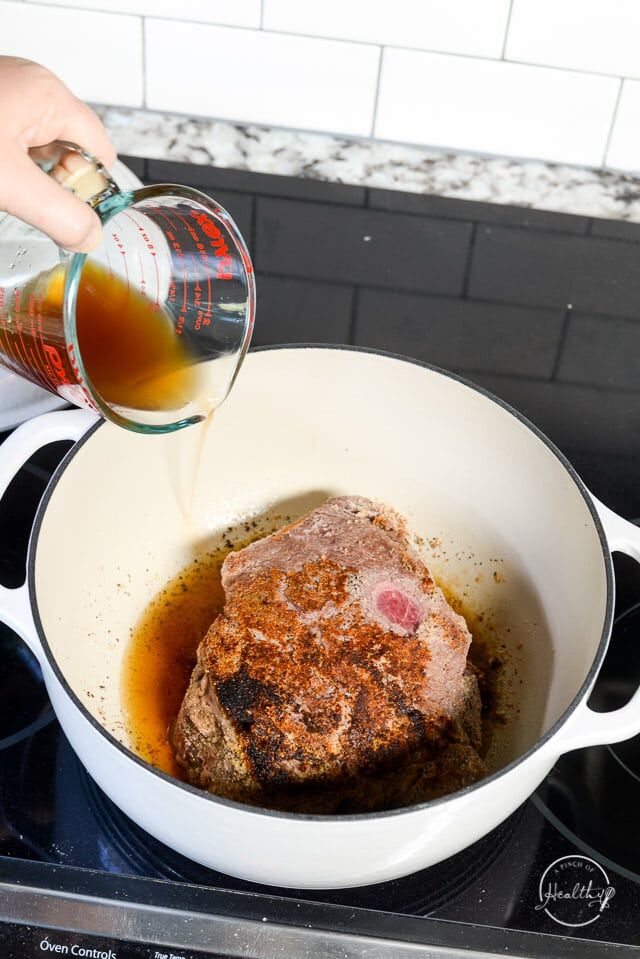 You can remove the roast if you want to, but I find that I can work around it just fine. You can just shift it around a bit to make sure you scrape up those glorious brown bits.
Then add some veggies. Carrots, potatoes and onion are the go-to veggies. However, my family out rules me 3 to 1 on onions.😆 So our onion-hating household just sticks with potatoes and carrots.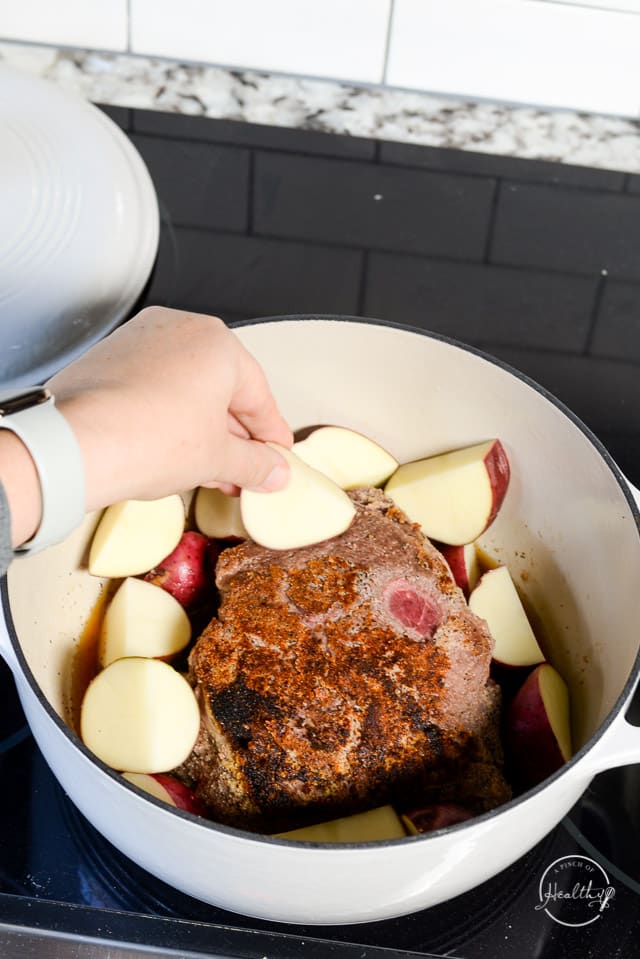 If you do add onion, I recommend quartering them, and I like Vidalias or sweet yellow onions best. Any type work, though.
Put the lid on and cook it low and slow in the oven until it is fall-apart tender.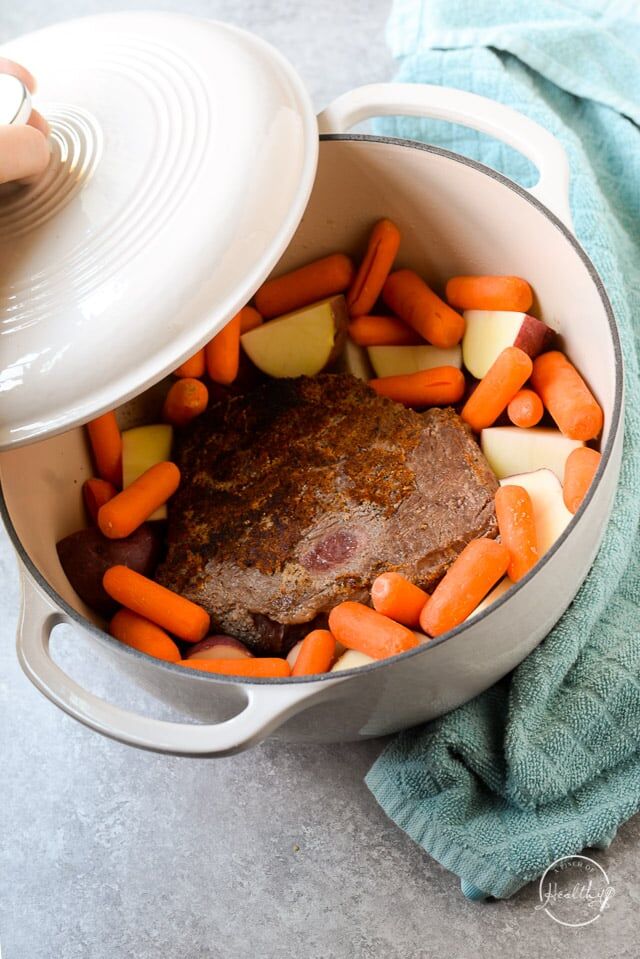 Like, no-knife-necessary tender. You should be able to shred it apart with two forks. Your house is going to smell amazing too. Is there anything homier and more comforting than a proper pot roast dinner? I think not.😍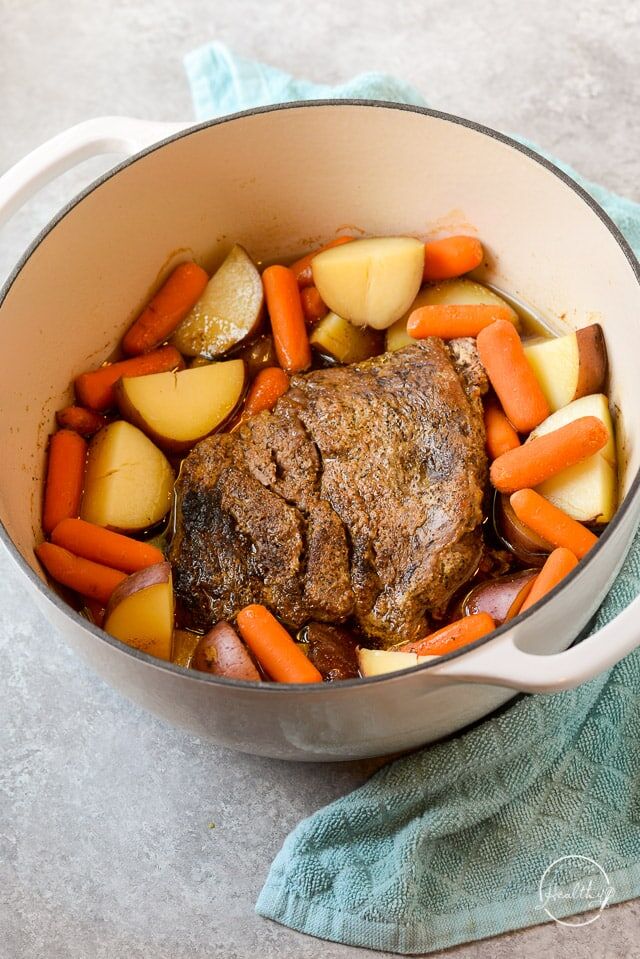 Yum, Yum, YUM!
Classic Pot Roast Recipe
Did you try my classic pot roast recipe? Give it a star rating. Pin it and share it if it looks good to you. And be sure and stay connected on social media!
Instagram | Pinterest | Facebook | YouTube | Twitter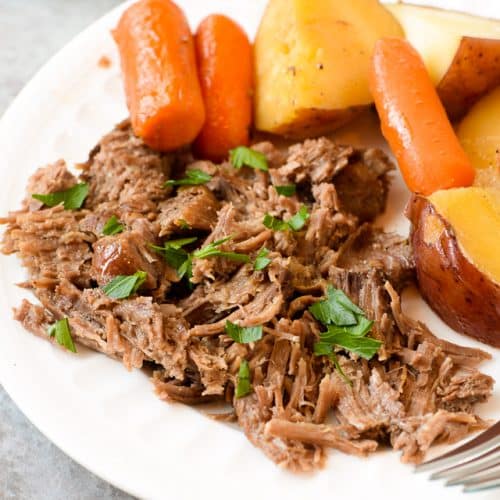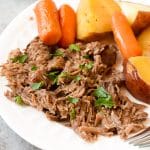 Classic Pot Roast
Classic pot roast is a delicious, warm and comforting meal that your whole family is going to love.
Prep Time 8 minutes
Cook Time 2 hours 20 minutes
Total Time 2 hours 28 minutes
Servings 8 servings
Calories 254 kcal
Ingredients
cooking spray or 1 teaspoon of oil, such as avocado oil
2.3 pound boneless chuck roast (see post for size variations, about an hour per pound)
1.5 teaspoons garlic powder
1.5 teaspoons salt more or less, to taste
1/2 teaspoon black pepper more or less, to taste
1 cup beef broth or stock more or less
1.5 pounds potatoes cut into chunks
3/4 pound baby carrots
Optional: fresh herbs. fresh thyme and rosemary are my go to's, but it is great without these too
Instructions
Preheat the oven to 275 degrees.

Place the dutch oven on the stovetop, add cooking spray or oil, and preheat over medium-high heat.

Season the top of the roast with the salt, pepper and garlic powder.

Place the seasoned side of the roast down in the pan, and season the other side; sear on each side for about 1.5 to 2 minutes.

Add about a cup of the beef broth, and use a wooden spoon to scrape up brown bits. (Watch out for steam!)

Use a wooden spoon to scrape up the brown bits from the bottom of the pan. Note: I used to remove the roast to do this, but I have since learned to work around it and shift it around as needed.

If you remove the roast, be carful to add the roast back to the pan, not to splash the hot liquid.

Add the veggies - onions, potatoes, carrots and herbs (optional - I don't chop, but just put in the whole stems) to the pan. Season veggies with a little additional salt and pepper, if desired.

Put the lid on the pot, and transfer to the oven.

Roast in the oven for about 2 hours and 20 minutes (about an hour per pound of your roast size)
Recipe Notes
Nutritional information is approximate and was calculated using a recipe nutrition label generator. Each serving is approximately 10 PointsPlus on Weight Watchers.
Nutrition Facts
Classic Pot Roast
Amount Per Serving
Calories 254 Calories from Fat 135
% Daily Value*
Fat 15g23%
Saturated Fat 7g44%
Cholesterol 90mg30%
Sodium 687mg30%
Potassium 557mg16%
Carbohydrates 4g1%
Fiber 1g4%
Sugar 2g2%
Protein 26g52%
Vitamin A 5881IU118%
Vitamin C 1mg1%
Calcium 38mg4%
Iron 3mg17%
* Percent Daily Values are based on a 2000 calorie diet.
Note: Classic pot roast originally appeared on A Pinch of Healthy October 6, 2015. It was recently updated with new photos and clarified instructions. Here is what the old photos looked like.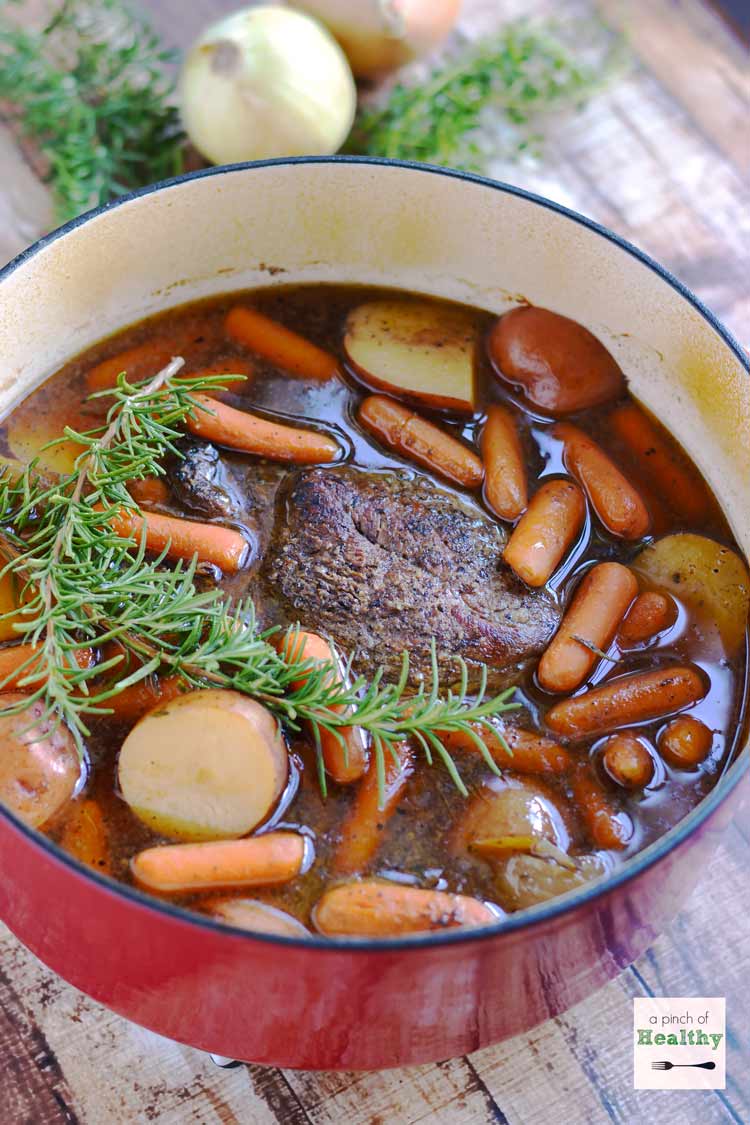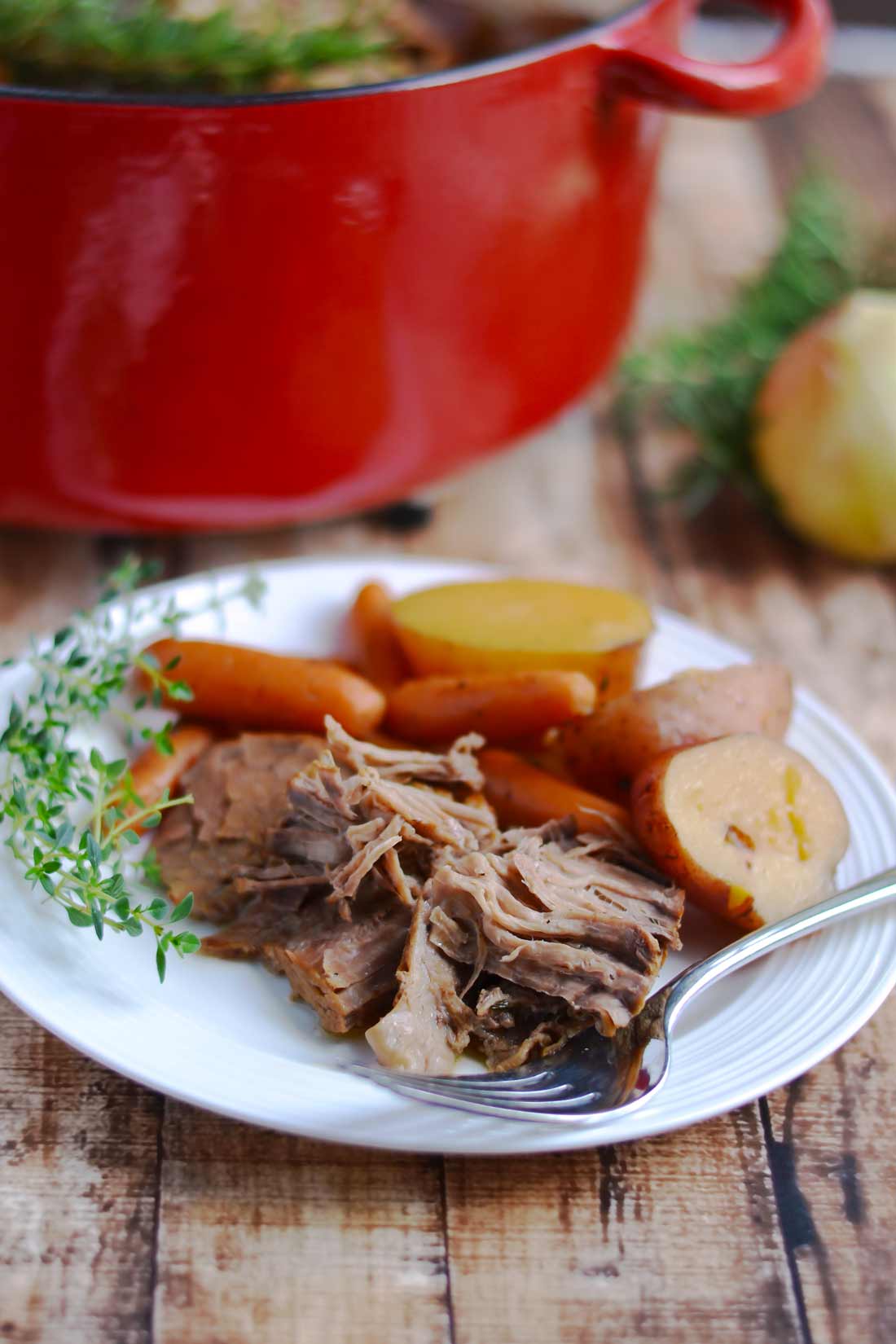 (Visited 32,869 times, 6 visits today)