This is my go-to chicken salad recipe made with thyme and scallions for extra flavor. It is perfect in summer time served with crackers and fruit, or on a sandwich.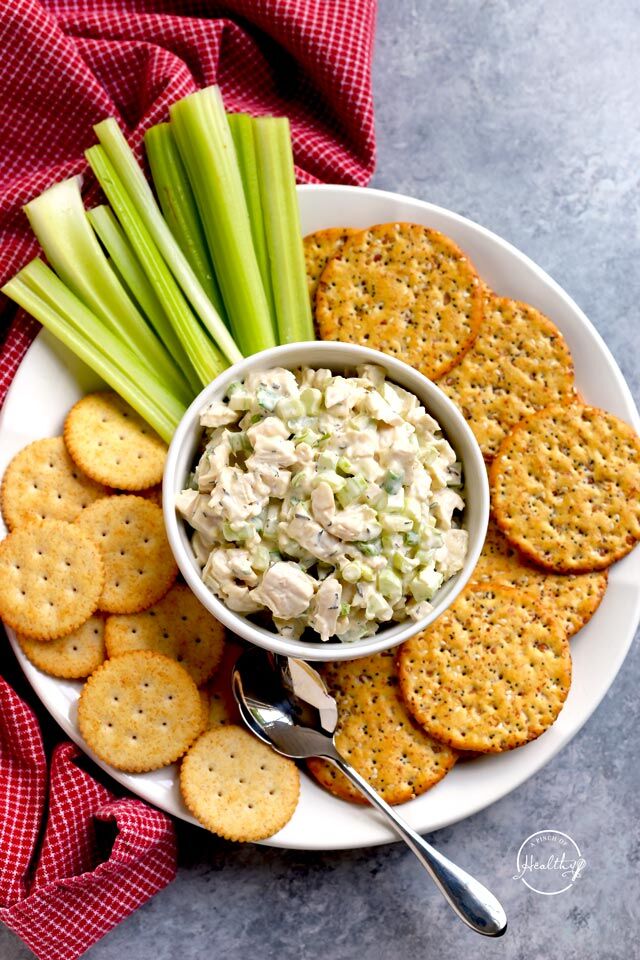 This has been the summer of salads over here!😎🙌🏻 Something about the hot temps just makes me want to nosh on something cool and refreshing.
This chicken salad recipe is perfect for summer, and it is more the savory variety. It is packed with flavor and texture, and I love making a batch of this and eating off it all week for lunches.
How to Make Chicken Salad
I like to mix up my dressing first to make sure everything gets well-mixed and smooth. I use a combination of mayo, Greek yogurt, dijon mustard and thyme.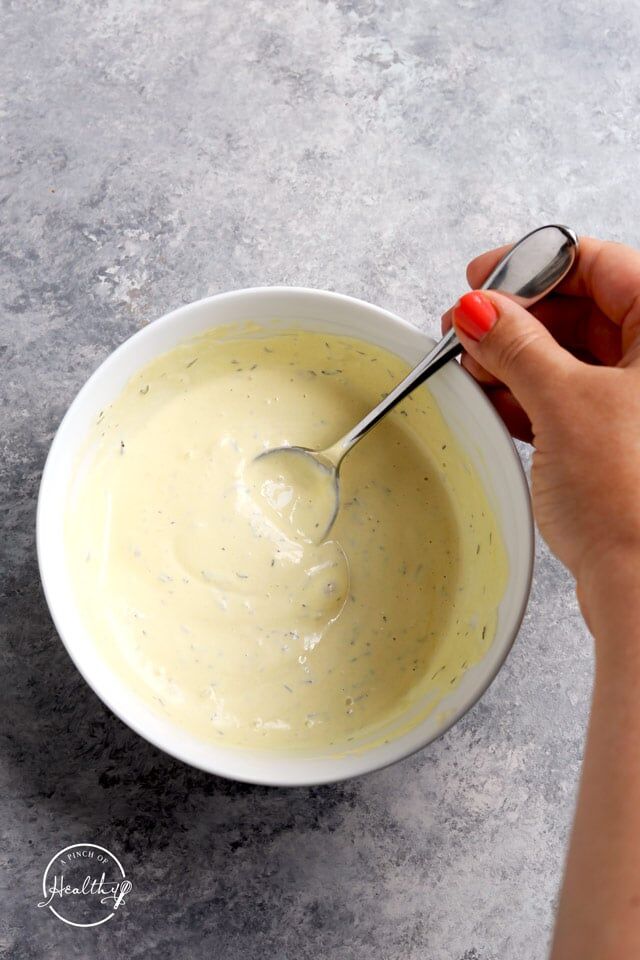 Fresh thyme works best, and I usually just grab some from my herb garden. Herbs are one of the easiest things to grow. I have done virtually zero to maintain my herbs, and they have done great!
I love thyme with chicken, and that is what inspired this particular recipe. The variety I grow is called lemony thyme, but you can use any variety.
Heck, if you don't have any thyme, you could likely substitute another herb like tarragon or flat-leafed parsley. It would still be delicious.
But! I tested using dry thyme in this batch, and it works fine too.
The bulk of the work for this recipe is chopping everything up. I like to dice my celery and scallions pretty thin. The I just add everything to a big mixing bowl.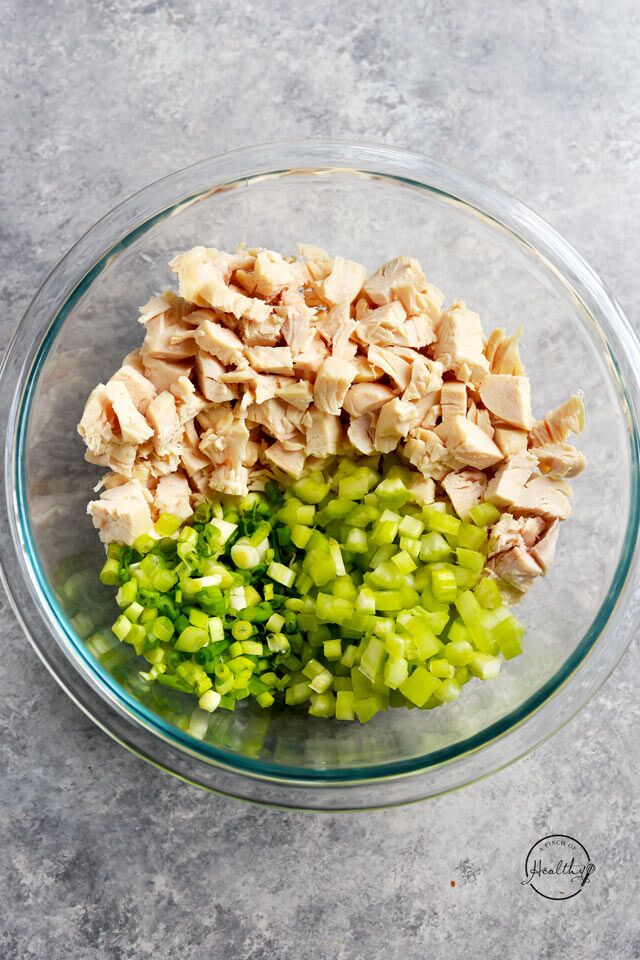 Then I pour the yummy dressing right over the top.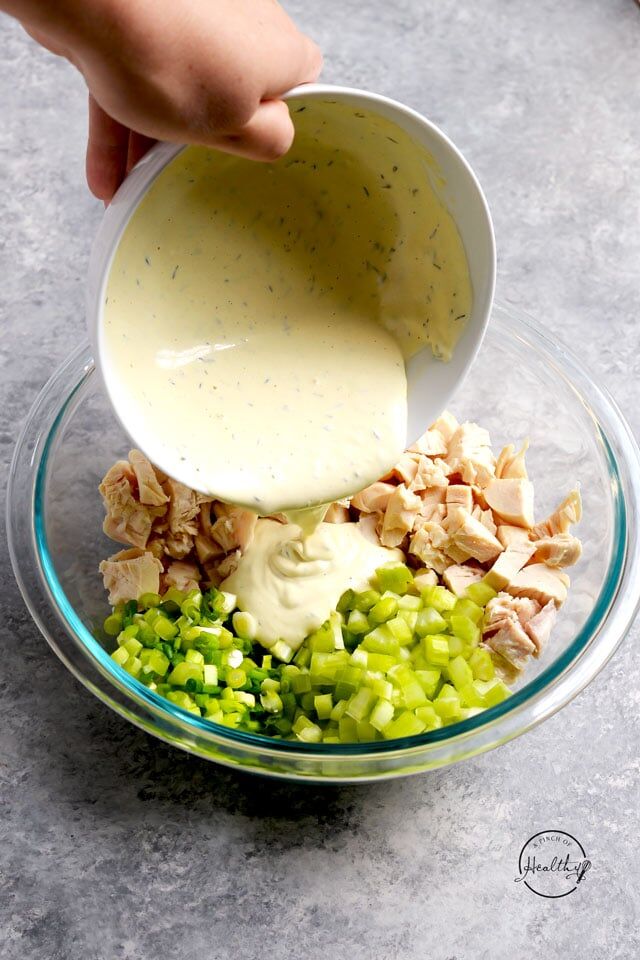 And stir until everything is combined. 😍👌🏻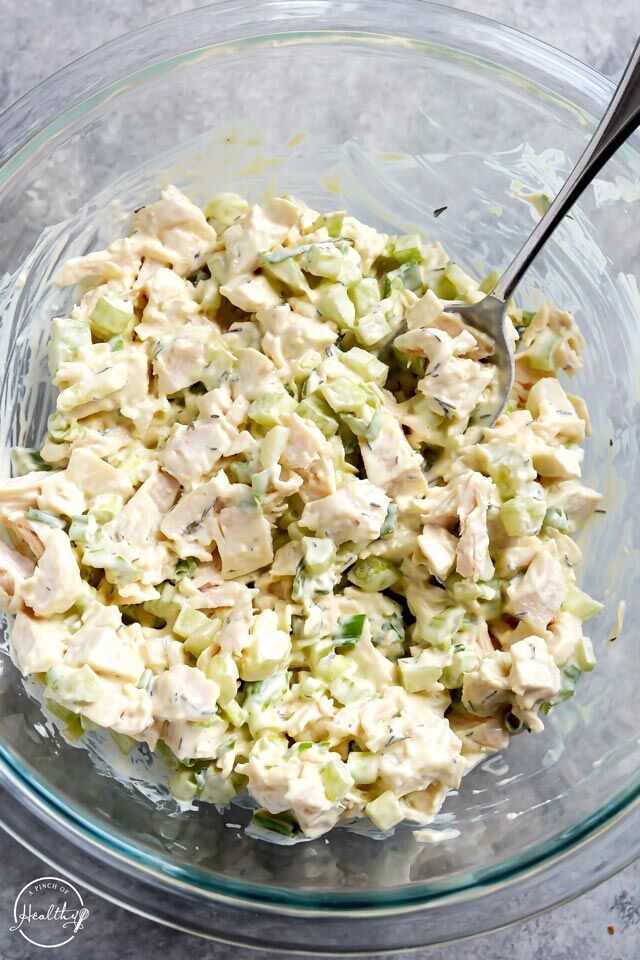 Then I taste it to see if I want to add any salt and pepper. My chicken was already well-seasoned, and the mayo and mustard I was using already had a good amount of salt, so mine only needed a little pepper this time around.
How to Serve Chicken Salad
I like mine two ways: (1) Served with an assortment of crackers, with a side of fruit and/or veg.
Or (2) in a sandwich on hearty bread. 😋 Side note: this would be fantastic on my homemade sourdough sandwich bread!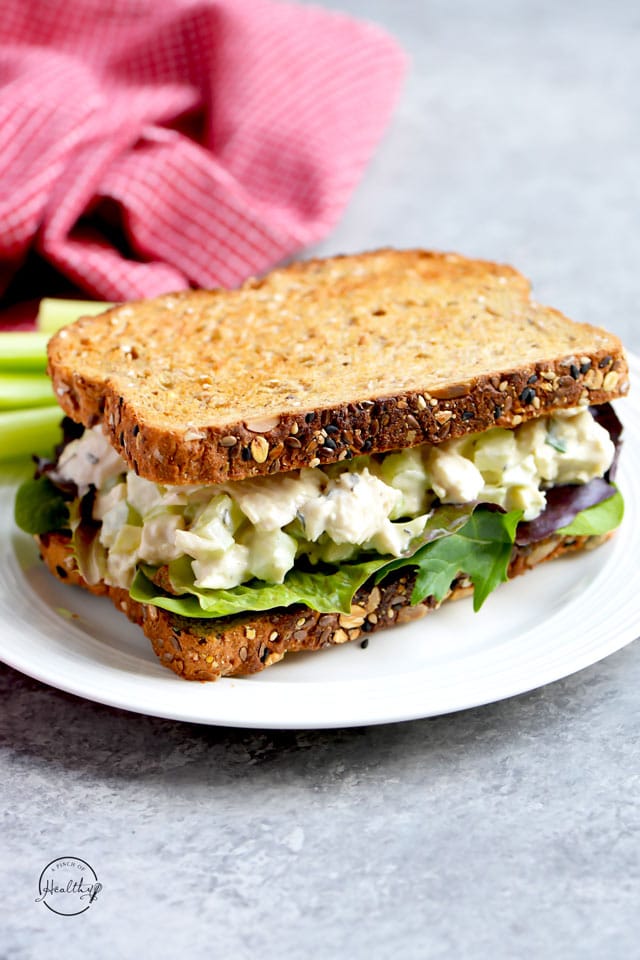 This recipe makes four large servings for myself for the week. If you want to make more, just up the portions using the slider in the recipe card.
How long does chicken salad keep in the fridge?
I would estimate this chicken salad recipe would last anywhere from four days to a week, depending on the freshness of your ingredients.
Tools Used to Make Chicken Salad
Note: These are Amazon affiliate links.
Chicken Salad With Thyme Recipe
Did you try my chicken salad recipe? Give it a star rating. Pin it and share it if it looks good to you. And be sure and stay connected on social media!
Instagram | Pinterest | Facebook | YouTube | Twitter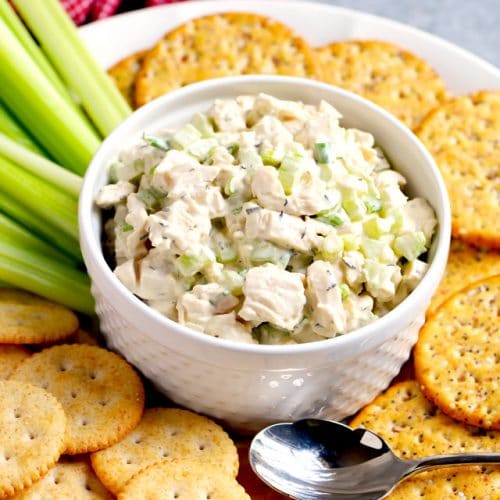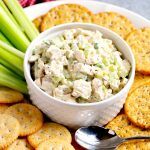 Chicken Salad with Thyme
This healthy chicken salad replaces some (not all) of the mayo with Greek yogurt and dijon mustard. Plus I use fresh thyme and scallions to amp of the flavor.
Prep Time 12 minutes
Total Time 12 minutes
Servings 4 servings
Calories 210 kcal
Ingredients
1/4 cup Mayo (I recommend Duke's, Hellmann's or Trader Joe's brands)
1/4 cup Greek Yogurt (whole or 2% works best)
1 Tablespoon dijon mustard
1 Tablespoon chopped fresh thyme leaves (or 1 teaspoon dried)
4 scallion sliced thin
2 celery stalks thinly diced
12 ounces cooked boneless skinless chicken breast I used Costco Rotisserie chicken breast
salt and pepper to taste
Instructions
Mix the mayo, Greek yougurt, dijon mustard and thyme in a bowl until well-combined.

Add chicken, scallions and celery, and stir to combined.

Serve with crackers or on a sandwich. Refrigerate any leftovers.
Recipe Notes
Nutritional information is approximate and was calculated using a recipe nutrition label generator app.
This recipe will last in the refrigerator for up to a week, depending on the freshness of your ingredients.
You can use fresh thyme or dried (reduced amount noted in recipe). Fresh is better.
I use half Greek yogurt, half mayo. Whole or 2% Greek yogurt tastes best. Alternatively, you can use just mayo (1/2 cup total) and no Greek yogurt.
Nutrition Facts
Chicken Salad with Thyme
Amount Per Serving
Calories 210 Calories from Fat 108
% Daily Value*
Fat 12g18%
Saturated Fat 2g13%
Cholesterol 60mg20%
Sodium 252mg11%
Potassium 428mg12%
Carbohydrates 2g1%
Fiber 1g4%
Sugar 1g1%
Protein 20g40%
Vitamin A 320IU6%
Vitamin C 6.7mg8%
Calcium 42mg4%
Iron 0.8mg4%
* Percent Daily Values are based on a 2000 calorie diet.
This recipe originally appeared on A Pinch of Healthy on October 5, 2014.
(Visited 19,001 times, 1 visits today)