Today I am sharing my healthy blueberry oat muffins recipe. These are a real showstopper, y'all.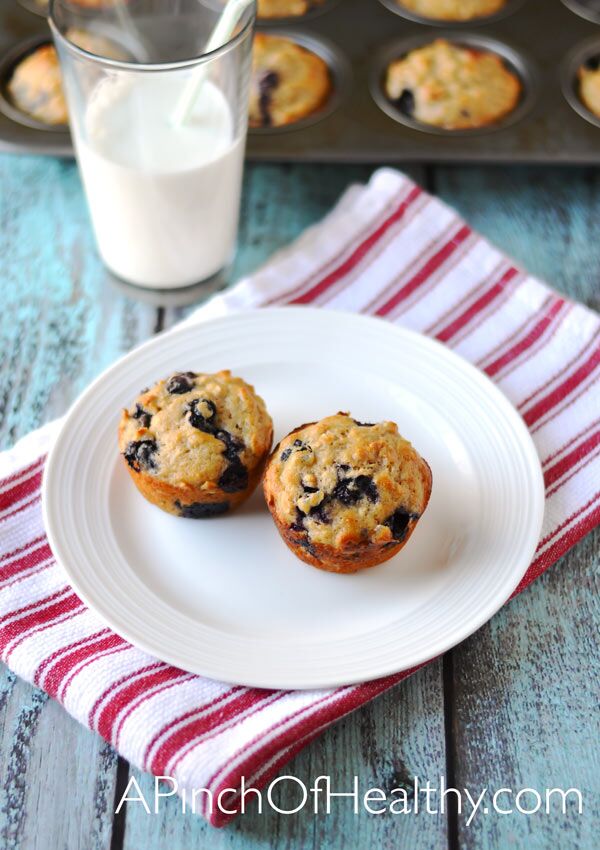 And bonus points that they are 100% whole grain and refined sugar free. Shhhhhh! Don't tell my husband and kids! They are sweetened with pure maple syrup (<-thank you Costco for the giant jug of pure 100% maple syrup).
Now, I don't get hung up on trying to make something "clean" or healthy before I eat it. But sometimes I get inspired to try a more whole-food sub here or there. Sometimes it works, and sometimes it doesn't. 😜
This recipe totally works. And these muffins y'all! They seriously taste amazing. Soooo yummy! 😋👌🏻
So my secret weapons for this recipe? In addition to the aforementioned maple syrup, I use Greek yogurt and coconut oil to give these great texture and a bit more nutrition.
Oh, and I have I mentioned my favorite ingredient for baking? Whole wheat pastry flour!
This flour has earned a permanent spot on my grocery list. It is 100% whole wheat, but it is so very much lighter and fluffier than its plain whole wheat counterpart. You can get it at Whole Foods, and probably a whole lot of other places. If you can't find it locally, I have found it for you on Amazon here: Bob's Red Mill Organic Pastry Flour Whole Wheat, 5 lbs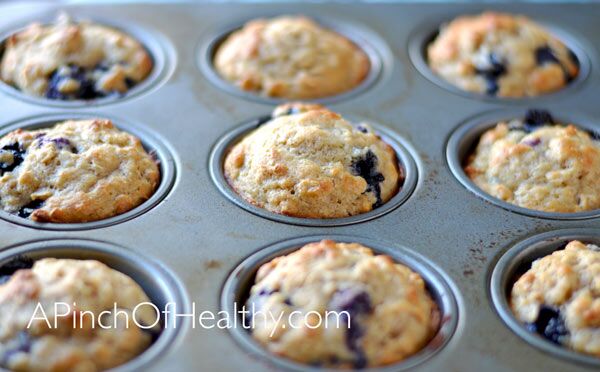 These muffins were partially inspired by my husband when he brought home some sad looking mass-produced blueberry muffins from the grocery store one day. They had fake blueberry flecks, plus a bunch of ingredients that I could not pronounce.
These are a more nutritious version, and you don't have to sacrifice on taste one bit. Pinkie promise!
And to prove it, I gave them to my husband, four-year-old son and one year old daughter…who ALL ate them happily.
Oh! Funny story real quick! When my son brings home art work, he will tell me, "I made that Mommy!" My response is always, "I am so proud of you!"
Well, when I told him that mommy made these muffins for him as I was feeding him breakfast, he said, "Mommy, I am SO proud of you!" 😂🤣
He also said, "YUMMY, Mommy." 💖👌🏻
Tools Used to Make Blueberry Oat Muffins
This post may contain affiliate links, which pay a referral fee to me at no additional cost to you. My full affiliate disclosure can be seen here.
Blueberry Oat Muffins Recipe
I hope y'all enjoy this recipe! Pin it and share it if you like it.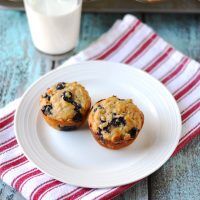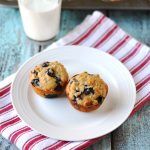 Blueberry Oat Muffins
These blueberry oat muffins are made with wholesome ingredients: whole wheat pastry flour, maple syrup, coconut oil and Greek yogurt. Delicious, refined sugar free and 100% whole grain.
Prep Time 7 minutes
Cook Time 18 minutes
Total Time 25 minutes
Servings 12
Calories 161 kcal
Ingredients
1 1/3 cups whole wheat pastry flour
1 cup old fashioned oats
2 teaspoons baking powder
3/4 teaspoon salt
1/2 teaspoon ground cinnamon
1/4 teaspoon baking soda
1/2 cup 100% pure maple syrup
1 egg
1 cup Greek yogurt
3 Tablespoons unrefined coconut oil melted
1 teaspoon pure vanilla extract
1 cup fresh blueberries
Instructions
Preheat over to 400 degrees.

Mix the flour, oats, baking powder, salt, cinnamon and baking soda in a medium bowl, and set aside.

In a separate bowl, using an electric mixer, combine the maple syrup, egg, Greek yogurt and vanilla on low for about a minute.

Scrape the sides of the bowl, and turn the mixer back on low.

Turn off the mixer, and stir in dry ingredients just until moistened. (Or, incorporate them slowly with the mixer on low as shown in the video, being careful not to over-mix.)

Slowly stream in the melted coconut oil until well-combined, about 30 seconds.

Gently fold in the blueberries.

Use cooking spray or baking liners to coat a 12-cup standard muffin tin.

Spoon in the batter about three fourths full in each cup.

Bake for about 18 to 20 minutes at 400 degrees, until toothpick comes out clean.

Cool for 5 minutes before removing from pan to a wire rack.
Recipe Video
Nutrition Facts
Blueberry Oat Muffins
Amount Per Serving
Calories 161 Calories from Fat 36
% Daily Value*
Fat 4g6%
Saturated Fat 3g19%
Cholesterol 14mg5%
Sodium 181mg8%
Potassium 208mg6%
Carbohydrates 26g9%
Fiber 2g8%
Sugar 9g10%
Protein 4g8%
Vitamin A 25IU1%
Vitamin C 1.2mg1%
Calcium 72mg7%
Iron 0.9mg5%
* Percent Daily Values are based on a 2000 calorie diet.
(Visited 49,095 times, 3 visits today)