I sometimes wonder to myself whether to talk about blogging here. But based on feedback and page views, it seems that people are truly curious. So I decided to share some of the overall goals I have for myself and for A Pinch of Healthy for 2015.
Granted, January is two thirds of the way over, so I am not sure I can call this a "resolutions" post. However! I am a fan of making goals all year long, not just at New Years. So I am just going to go with calling this my blogging goals for 2015.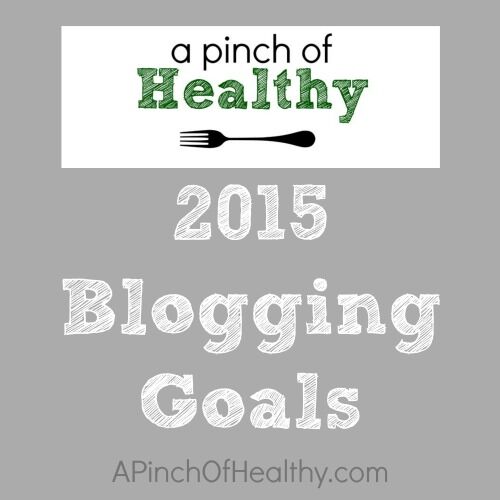 1. Use Daily and Weekly Scheduling to Better Focus my Time, Attention and Energy
Starting a blog can be overwhelming, intimidating, exciting and even terrifying. There are SO many things on the perpetual to-do list that you could really drive yourself nuts trying to do it all (<-been there!).
I get a lot of questions about what blog-related tasks that I do. A few examples:
Writing and re-writing recipes
Testing recipes (usually somewhere between 2 and 4 attempts, sometimes more)
Styling and photographing the food
Editing photos
Cataloging/organizing photos
Writing & editing actual blog posts
Submitting all recipes to food sharing sites (Foodgawker, Tastespotting, etc.)
Reading and commenting on other blogs
Interacting and commenting on all social media (Pinterest, Instagram, Twitter and Facebook)
Website design and improvements (<- the task that never ends!)
Fixing all the broken things (technical issues, also never-ending)
Cyber security (i.e., staying a step ahead of hackers, spammers and malicious people, and there are MASSES of them)
Responding to emails from readers and potential sponsors/ advertisers
Participating in networking events and meet-ups
Checking all the stats (earnings, page views, social media stats)
Tracking expenses and income
Does all of that make your head hurt?! It does mine.
This year I want to focus my efforts in a more intentional and effective way. For example:
NOT getting sucked into open-ended Instagram surfing
NOT diving face first into a YouTube wormhole when I should be doing more productive things!
Being that (1) I am a mom and (2) I work a 40-hour-a-week day job, I do not have a ton of extra time. Blogging mostly takes place on nights and weekends. I want need to make the best and most productive use of my time.
I love blogging, but I do not want to become burned out to the points that it is no longer fun. Focusing my time, attention and energy is really essential to keep the wheels turning.
So my specific plan is to calendar everything and develop a more formal workflow. And to stick to that schedule! I also want to be tagging tasks for things I could have somebody else do when I have the resources to outsource a few things.
2. Network with other bloggers in real life by attending local events and at least one blogging conference.
I am so happy that I found Birmingham Bloggers!


I already went to my first meet-up, and it was really fun.
A also intend to go to at least one blogging conference in 2015. Conferences are a great way to learn new skills, discover great resources and network with other writers/ bloggers/ foodies.
3. Improve traffic generated by Pinterest

I hear many food bloggers say that Pinterest drives most of their traffic, and I am mystified by this statement. For example, looking at my analytics I see that I only had 204 visits to my blog from Pinterest in the last 30 days. So there is HUGE room for improvement there.
A few strategies that I have already implemented:
Improving my food photography – things have got to be pretty to get pinned, and that is just reality.
I was able to implement rich pins for A Pinch of Healthy. This means that when you view a recipe of mine from within Pinterest, you will see the ingredients already listed within the pin itself. This helps with click-through traffic. Also Pinterest is smart enough to go ahead and categorize recipes into buckets, such as vegetarian, gluten-free, paleo, low carb, etc.
I am trying out a pin scheduling software, Tailwind. (<-Contact me if you would like to try it for one month free. I give a 1-month free trial away to somebody else, and they give me a month free. Win/win!) This software allows me to schedule pins for higher traffic times. The idea is that this will help re-pin rates and, as a result, increase traffic driven to my website. It also contains a ton of analytics to see what pins are performing best.
4. Take a photography class

I have seen what a HUGE difference improving my food photography has helped in 2014. So I want to continue to grow my skill level in 2015.
5. Explore blogging professionally
Technically, I guess I am already blogging professionally since I receive income from (1) ad networks, (2) affiliate/ referrals and (3) a few sponsored activities.
However! Every cent of income has been put right back into this blog. I have invested money into several technological upgrades to improve the functionality, speed and appearance of A Pinch of Healthy.
I have also bought a new laptop, new camera lens and some photo editing software to improve image quality. These things do not come cheap.
So I guess when I say "blogging professionally," what I really am referring to is getting paid for my time and effort. Whether that would be to the level of a side-hustle that funds my kid's college account…or whether it grows to the level of replacing my day-job…I don't know yet.
I have SO many questions about pro blogging:
How do pro bloggers spend their time?
How much time is put into what activities?
What does it take to earn a living from blogging, and would I even want to do that?
Can you stay true to yourself and your message and still earn a decent living?(<- because I hate sales-y things)
Is it possible to monetize without ruining the user experience?
Is freelancing a viable option for me, using the blog as my portfolio
I did join Food Blogger Pro (<-affiliate link) last year, and that has been hugely helpful to me.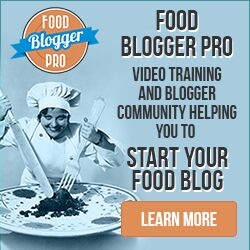 The material and resources are awesome. But even better is the community of fellow bloggers, many of whom have already "gone pro" and are so generous with their (1) knowledge and (2) time. That is invaluable to me!
I also just want to say that I did not get into to blogging to make money (see why I blog here), and I do not recommend that as a reason to start blogging. If I wanted to solely make money, there are oodles of other ways to turn a buck that are much faster, much easier than blogging. Most likely, the first few years are going to be you paying money to blog.
Blogging is HARD work and is a labor of love for my readers. I would love to be able to devote more time to it, which is ultimately why I want to go pro. I can say without hesitation that even if I fail miserably at going pro, this experience has been well worth it!
Besides all of the valuable skills that I have learned for myself through blogging…If I can help just one person feel a little more hopeful, a little more empowered, a little more encouraged on their own road to better health, then my work here is worth it!
So in conclusion…
I hope you enjoyed reading about my blogging goals for 2015! I am excited to see where this year takes A Pinch of Healthy.
Questions for you:
Have you ever thought about starting a blog?
Do you set blogging (or other) goals for yourself?
Bloggers – are you attending any conferences this year?
Follow my blog with Bloglovin
(Visited 990 times, 1 visits today)