Note: This post contains affiliate links.  All opinions are always my own.
One year ago today, I published my very first (embarrassingly bad) blog post ever.  Up until a month or so ago, I was blogging under a different site name, but I am still celebrating my one year blog-a-versary!
I have learned SO much in this past year.  Mostly that this blogging stuff is really hard work!  I am SO thankful to those of you who have read, watched and followed me over this past year. You all mean more to me than you could imagine! There is still so much for me to learn, but I just learn as I go.  And I hope you stick with me as I continue to improve myself and my website!
As for YOU, I wanted to get you guys a present.   And since I cannot gift you ALL (I wish I could), I will be doing a small give-away on Friday.  So stay tuned for that!
So on to my weekly What I Ate Wednesday post, where I share a sample day of my healthy eats.  I have been doing Weight Watchers since October 2013, and I am down over 30 pounds so far.  The weight is coming off slowly, but surely. I am a big believer of consistent baby steps, and making weight loss as painless and even enjoyable as possible!
So for breakfast I had a breakfast sandwich on a whole wheat bagel thin (3pp) with egg whites (1pp), thin Colby jack cheese (1pp) and a single slice of Applegate Farms organic uncured black forest ham (0pp for the one slice).  I also had a banana and two cups of coffee with real half and half (1pp) and real sugar (1pp).
For lunch I had some leftover home-made pizza.  I make my own crust from scratch, which is easier than it sounds if you have a bread machine
or a KitchenAid Mixer
 with a dough hook! I have had several requests already, so I will share that recipe as soon as I can write it up and snap some photos.
Anyway, making it myself makes me feel like it is slightly healthier. This batch had mushrooms, red and green peppers and ham.  It came out to 7 PointsPlus per slice, and I had two slices (14pp), plus I had a side salad with my home-made balsamic vinaigrette (1pp).

For snack I had a banana and a few chunks of watermelon (not pictured – sorry!)
For dinner I made an old favorite – turkey vegetable soup (7pp) with some skillet corn bread (3pp- not pictured).
I ended up using a couple of my weekly points for the day. But for homemade pizza? Totally worth it!
For more WIAW fun, head on over to Peas and Crayons: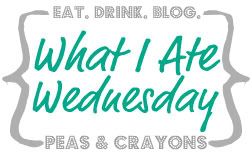 (Visited 249 times, 1 visits today)