This is the best carrot cake recipe I have ever tasted, and it is my mom's recipe that my family has enjoyed for many years.
The holidays are right around the corner, and it was getting about time for another amazing dessert recipe on the blog. I thought it would be the perfect time to share my mom's carrot cake recipe. 🙌🏻 It is the classic carrot cake recipe, made from scratch with cream cheese icing, and it is amazing!!!
Now many of y'all already know this. But if you are new, here's the newsflash: I don't health-i-fy desserts. Like, ever. 💁🏼‍♀️ I share them in their most delicious and enjoyable form, which is how they ought to be enjoyed in my humble opinion.
And for the love of all things good..why would I mess with the best carrot cake recipe I have ever tasted?!🤷🏼‍♀️ The people deserve this recipe.👊🏻 And you shall have it, internet friends.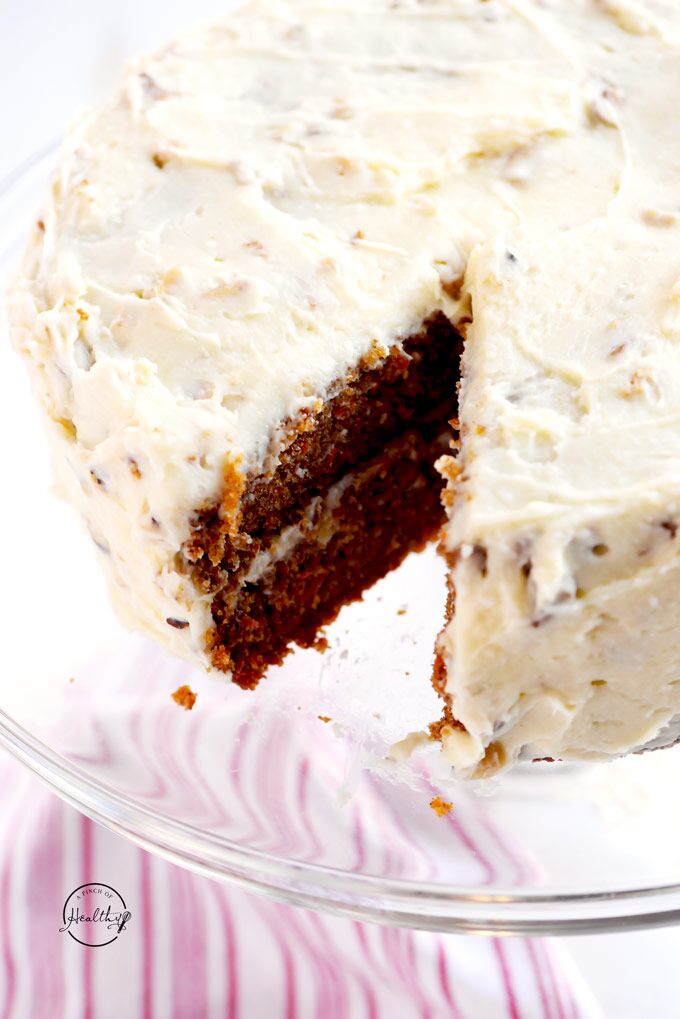 Side note: See my dessert recipe archives here, if you want more desserts! But back to the best carrot cake recipe ever.
The texture and flavor of this cake is amazing! Pillowy cake meets decadent cream cheese buttercream plus crunchy chopped walnuts.😋 It is a home run, y'all!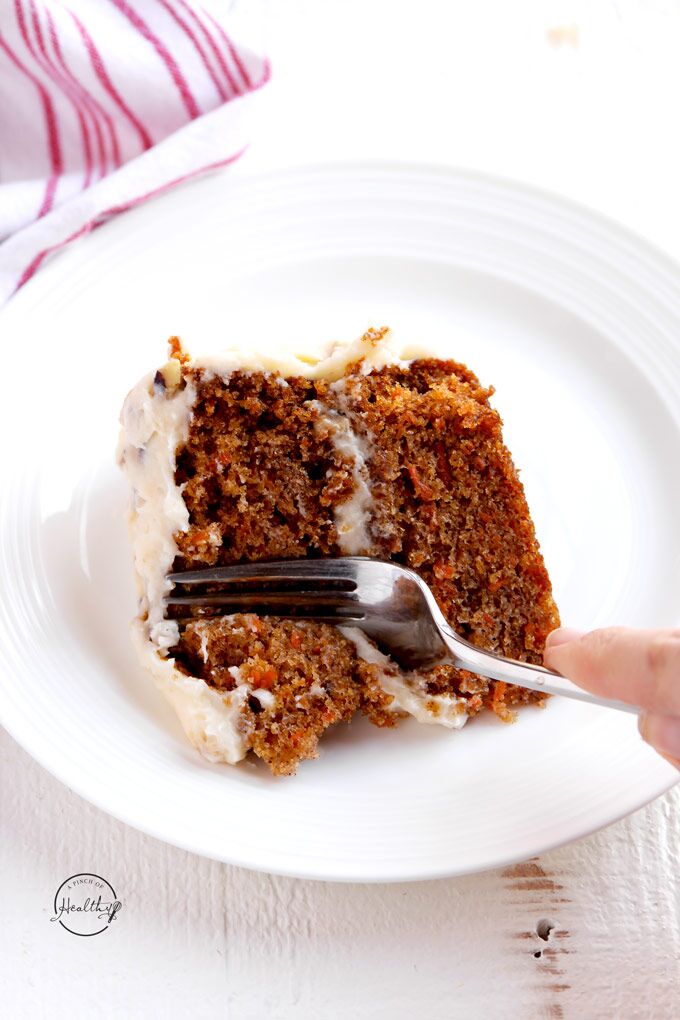 If you are allergic to walnuts and need a substitute, chopped pecans work well too.
Also, I shred my carrots in the food processor (linked in tools section below), using the grater attachment. You can also use a box grater, but that is just a little more work. I prefer to press a button and let the machine do the work for me. 😎💪🏻
Last, just like with any cake recipe, be sure and let the cake fully cool before you attempt to ice it. Otherwise it'll just melt and slide off the cake, making a huge mess. Have patience, and let the cake cool all the way.
I hope y'all enjoy this recipe as much as we have over the years!
Tools Used to Make the Best Carrot Cake
This post may contain affiliate links, which pay a referral fee to me at no additional cost to you. My full affiliate disclosure can be seen here.
Best Carrot Cake Recipe
Did you try this carrot cake recipe? Give it a star rating. Pin it and share it if it looks good to you. And be sure and stay connected on social media!
Instagram | Pinterest | Facebook | YouTube | Twitter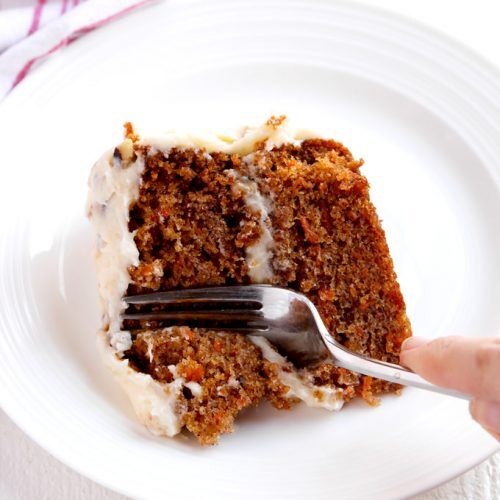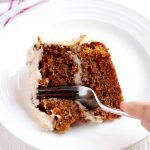 Best Carrot Cake (Mom's Recipe)
This is the best carrot cake recipe I have ever tasted, and it is my mom's recipe that my family has enjoyed for many years.

Prep Time 17 minutes
Cook Time 35 minutes
Total Time 52 minutes
Servings 16 slices
Calories 432 kcal
Ingredients
For the cake
2 cups all purpose flour
2 teaspoons baking soda
1 teaspoon salt
2 teaspoons cinnamon
2 cups sugar
4 eggs
1 1/2 cups oil
1/2 teaspoon pure vanilla extract
3 cups grated carrots
For the cream cheese frosting
1 package cream cheese, softened (8 ounce package)
1 stick butter, softened
1 pound confectioners' sugar (powdered sugar)
1 teaspoon pure vanilla extract
1/2 cup chopped walnuts
Instructions
For the cake
Preheat oven to 350 degrees.

In a large mixing bowl, mix together all dry ingredients - flour, baking soda, salt, cinnamon and sugar; set aside.

In the bowl of your stand mixer (or other large bowl if you are using a hand mixer), beat together the eggs, oil, and vanilla.

With the mixer on low, slowly incorporate dry ingredients and shredded carrots, mixing until just combined.

Pour into 2 greased 9-inch cake pans. Bake until toothpick comes out clean, about 35 minutes.
For the cream cheese frosting
Combine the cream cheese, butter, powdered sugar and vanilla, and beat with a mixer until smooth. Start out at a low speed, and gently ramp up until it looks like frosting (about a minute).

Add walnuts in last, and beat a few seconds to incorporate.

Frost the cake only after it has cooled completely.
Recipe Notes
If you are allergic to walnuts, pecans make a great substitute.
Nutrition Facts
Best Carrot Cake (Mom's Recipe)
Amount Per Serving
Calories 432 Calories from Fat 144
% Daily Value*
Fat 16g25%
Saturated Fat 7g44%
Cholesterol 71mg24%
Sodium 411mg18%
Potassium 144mg4%
Carbohydrates 68g23%
Fiber 1g4%
Sugar 54g60%
Protein 4g8%
Vitamin A 4435IU89%
Vitamin C 1.4mg2%
Calcium 38mg4%
Iron 1.2mg7%
* Percent Daily Values are based on a 2000 calorie diet.
Note: This recipe originally appeared on A Pinch of Healthy March 19, 2018.
(Visited 19,934 times, 1 visits today)